« Food Thread: What Has Eight Legs And A Beak? Dinner!
|
Main
|
Sunday Overnight Open Thread (7/14/19) »
July 14, 2019
Gun Thread: Op-Ed Edition [Weasel]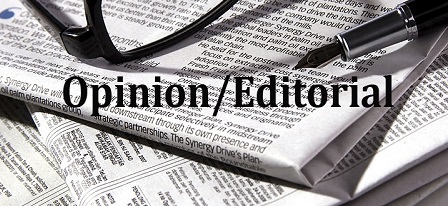 Since I have been writing the weekly Gun Thread, I have intentionally tried to keep it apolitical. Honestly, I think we get enough coverage of the rage-inducing antics of the left during the week and it's nice to take a break from that on the weekends and discuss something we all seem to enjoy to one degree or another. Plus, I'm pretty sure we all share essentially the same position on the subject of firearms, so there isn't much point in discussing how much we all agree with each other on the same thing. So please forgive me for dipping a toe in the political waters and following up on the topic from last week of how our rights and freedoms are under constant assault and how they must be protected.

The political balance in my home state of Virginia has tipped to the point where the densely populated and liberal areas of Northern and Southeastern Virginia have matched the number of conservatives in the rest of the Commonwealth. Today, Republicans maintain razor-thin majorities in the state House and Senate of 51-49 and 21-19, respectively. Every seat in both the upper and lower chambers are up for reelection in November 2019, so the democrats are within striking distance of regaining legislative control for the first time in 20 years. These 2019 Virginia elections will become the battleground for gun rights vs. gun control for the rest of the country. This means you. Very large sums of special interest money will flow into the Commonwealth in an effort to influence these elections. What is at stake? Everything.
Our reprehensible post-birth-abortion governor of Virginia, Ralph "Blackface" Northam, immediately politicized the tragic May 11, 2019 Virginia Beach shooting to advance his liberal gun-control agenda and divert national attention from his vile comments and sophomoric antics which very nearly drove him from office earlier in the year. You may recall the circumstances where 12 city employees were murdered by a deranged co-worker in a government building where the city employees were prohibited by policy from carrying firearms for self-defense. Northam's solution? The usual litany of leftist gun-controls, none of which would have made any difference in the Virginia Beach shooting.
So the Governor calls a special session of the General Assembly for July 9th, and leftists dutifully pulled out all the stops introducing a long list of bills including everything from declaring an annual Gun Violence Awareness Day, up to banning and confiscation of so-called "assault rifles". Republicans adjourned the session without debating the bills, referring them instead to the Virginia State Crime Commission for study. The Republican majority bought us some time, but the threat to our gun rights isn't going away. After the November elections, the Republicans could find themselves in the minority and unable to control the legislature.
So why am I telling you all this? Because as I mentioned above, it may be happening in Virginia this time, but the reality is the left will not stop until they deprive you of your rights under the Second Amendment. A loss in Virginia this November is a loss for us all. Think I'm being alarmist and hysterical? Then roll the dice and let's all find out the hard way.
What can you do? Support your state and local candidates who support the Second Amendment and make sure you VOTE. If you live in a liberal district, make sure your state and local representatives know your position and then leverage your voice by donating to pro-gun lobbying groups such as the NRA-ILA or Gun Owners of America. Identify your state NRA affiliate organization and find out what they're doing to protect your rights, and then volunteer to help them do it. Do not simply leave the protection of your rights to others and hope for the best.
Get involved and make a difference before it's too late and you're forced to make some difficult decisions.
Thanks for indulging me - back to our regularly scheduled programming...
*******
Trijicon ACOG
Every time I pick up this rifle I am reminded how much I like the optics - the Trijicon ACOG or Advanced Combat Optical Gunsight.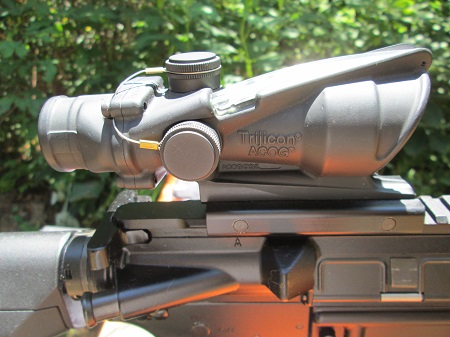 Trijicon ACOG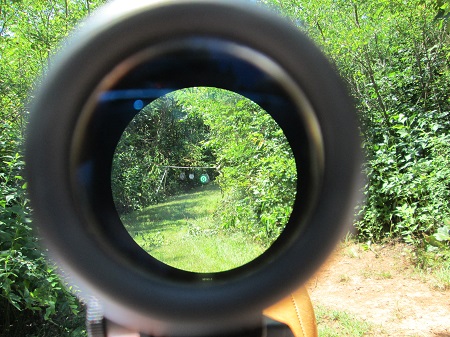 Target View - note green horseshoe aim point
This particular model, the TA31RCO-2, is a 4x32 scope which uses tritium to keep the aiming point illuminated day or night. The reticle is uncluttered but does have windage subtensions and a bullet drop compensator calibrated for .223 caliber to 800 meters which are nearly impossible to see in the photo. The glass is bright and crisp and the fixed 4x magnification is perfect. A variant of this scope is issued to U.S. Marines and I do not have a single bad thing to say about it which isn't unusual as reviews are almost always overwhelmingly positive. It's pricey, with retail starting around $1,500, but if you make the investment you will not be disappointed. Weasel Approved.
*******
Link-O-Rama
VSSA July 9 Legislative Update
NZ Gun Confiscation Not Going Well (h/t ibguy)
Pistol Optics: Speaking of Trijicon
Grand View Outdoors: The Kentucky Rifle
OutdoorLife: Five Iconic Lever-Action Rifles
NRA Shooting Sports USA Magazine
***Mail Bag***
Programming Note: Gun Thread editorial staff are working their way through some lengthy Mail Bag submissions. Thanks for your patience!

***
This week's entry comes from ERF who is one lucky hombre, taking his son to shoot his great grandfather's Stevens rifle.



Stevens Tip-Up rifle
Our pal ERF tells us:

Before my dad had passed away, he had given me several guns to make sure to take care of and hand down to my children when appropriate. One of those guns was my great grandfather's Stevens Tip-Up rifle in 32 long rifle (center fire). For years, dad had kept one spent shell in the gun case in hope that someday he would get a chance to shoot it. Unfortunately, that day never came. However, with the advent of cowboy shoots, many of the old ammunition that had been long discontinued has made a comeback and I purchased a box of 32 long rifle (.32-40). A friend of mine is a gunsmith and he gave the rifle a good checkup before we went out to shoot it.
We set a date where my sons, myself, and my friend were all available and went out to shoot. The gun shoots great. We haven't had a chance to put it to the test on a range with targets, but based on our first opportunity, it nailed an aluminum can multiple times at around 50 yards with open sights. It has a kick similar to a .22. It is heavy with an octagon barrel of similar weight to my TC .50 caliber Hawken.
Now how cool is that? Thanks ERF! This is exactly the sort of mail bag entry we love to see!
******
Please note the new and improved gmail account morongunthread at gmail dot com. An informal Gun Thread archive can be found HERE. If you have a question you would like to ask Gun Thread Staff offline, just send us a note and we'll do our best to answer. If you care to share the story of your favorite firearm, send a picture with your nic and tell us what you sadly lost in the tragic canoe accident. If you would like to remain completely anonymous, just say so. Lurkers are always welcome!
That's it for this week - have you been to the range?

posted by Open Blogger at
07:00 PM
|
Access Comments