« Our Robot Overlords Are Coming For You!
|
Main
|
Gun Thread: Op-Ed Edition [Weasel] »
July 14, 2019
Food Thread: What Has Eight Legs And A Beak? Dinner!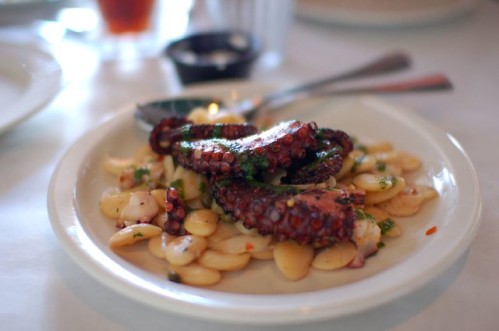 When I eat in restaurants I try not to order stuff I make at home. For instance, as tempting as a big steak is, I know that I can prepare it as well, and most often better than all but a few steak houses, and for a fraction of the cost.
But some things just cry out to be ordered at restaurants, and octopus is high on the list. But I don't know why! My mom used to make it all the time, so I have seen it prepared more times than I can count. And it doesn't seem difficult...boiling it gently with some seasonings until it is tender, then going on to the final prep from there. My preferred method is grilled, and if you want my money, the simplest way to get it is to put grilled octopus on the menu. A few weeks ago I had a taste of Pacific halibut served on a bed of crispy octopus rounds. I think they were fried, and they were fantastic! Who knew! Octopus frites!
There is a fantastic fish store just a few minutes from Chez Dildo, and they have octopus, either frozen or fresh, all of the time. So why am I intimidated?
Does anyone out there make octopus, and if so, how do you do it?
******
I use thermometers all of the time when I cook, although my goal is not so much avoidance of gatrointestinal upset as the correct temperature for maximum enjoyment. But...regardless of the reasons, they are an indispensable part of cooking, and anyone who cooks more than occasionally would be well served by a good probe!
From the duh files: Here's why consumers don't use thermometers when cooking
One of the major reasons that consumers don't use thermometers, researchers found, is because they tend to draw inspiration from outside sources -- celebrity chefs, cookbook authors, magazines, restaurant managers, and food blogs. These outlets rarely ever mention or demonstrate the importance of cooking food to proper temperatures.
Well, let us pretend that this is a valid study with reasonable conclusions. What's wrong with copying what celebrity chefs do?
I'll tell you one thing that is very wrong! They don't pay much attention to cleanliness. Watch one of them wash his hands after preparing something with raw chicken. Go ahead...I dare you! It's a token wave under the faucet, that they probably contaminated by turning it on, and soap is just an idea in most of their kitchens.
Yeah, I'm exaggerating, but I do wish that they would explain what proper food handling and cooking actually means. For instance, I make a mean marinated and grilled chicken. I also use the original marinade to recoat the chicken, part way through cooking. Is that bad? Well, my grill runs at about 375° when I make that dish, so the surface contamination (I assume it is contaminated) is quickly heated far past the point at which bacteria die.
Food safety is mostly being smart and thinking through the process so that no inadvertent contamination occurs. And keeping cold stuff cold and hot stuff hot.
See? Simple.

******
Wow. The Japanese are very strange people. And yes, I get that it is a publicity stunt, but somebody is going to pull out a credit card and buy one of those grapes. That's just weird.
Japanese grape bunch sold for $11,000
[Hat Tip: artisanal'ette]
******
I heartily approve of this list, especially the first four. And I haven't tried all of them, but breakfast is the perfect meal during which to try strange regional foods. It's usually inexpensive, and sometimes you are on your company's dime. So the next time you see a scrapple-and-eggs combo...go for it!
Regional Breakfast Foods You Didn't Know Existed
******
There is lots of salmon in the stores around here, but the price seems to have gone up sharply, and I don't know why. perhaps all of those Mestizos we are keeping out of the country are actually a vast pool of experienced salmon fishermen. Anyway,
commenter redc1c4 has some thoughts about cedar planks and salmon.
And he is correct about the planks. What stores are getting for $1 worth of cedar is ridiculous! Of course I screw up almost all of the time when I grill fish, so I just cook it on the stove and finish it in the oven.
******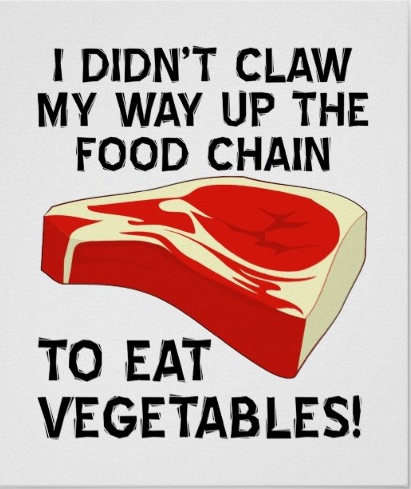 ******
Food and cooking tips, triple-cream cheeses, young wild pigs, crisp bacon, thick and fluffy pita, and good tomatoes that aren't square, pale pink and covered with Mestizo E.coli:
cbd dot aoshq at gmail dot com
. Any advocacy of French Toast with syrup will result in disciplinary action up to and including being
nuked from orbit.
And yes, shaking a Manhattan is blasphemy...it's in the Bible!
&topic=world_news">

posted by CBD at
04:00 PM
|
Access Comments