« Food Thread: Tacos And Kale And Carrots And Berries And...
Good Food is Good!
|
Main
|
Sunday Overnight Open Thread (7/7/19) »
July 07, 2019
Gun Thread: Right to Keep and Bear Arms [Weasel]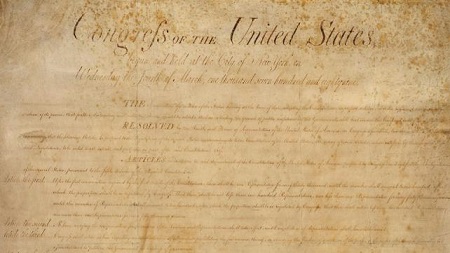 We recently celebrated the anniversary of the birth of our nation, the greatest ever conceived by man. I am unapologetic in my love for this country and for the principles on which it was founded. Seemingly more than ever before, these founding principles are under assault and are not guaranteed to survive unless they are protected. With the anniversary of our Declaration of Independence freshly in the rear-view mirror, it might be a good time to review some of the words written 13 years later and contained in our Bill of Rights, specifically those of Amendment II.
Let's pursue some happiness, shall we?
Familiar to us all are the words of Amendment II to our Bill of Rights:
A well regulated Militia, being necessary to the security of a free State, the right of the people to keep and bear Arms, shall not be infringed.
I must confess I get more than a little tired of hearing the tortured logic employed by the left in their attempt to dilute or deny our rights under the Second Amendment. For me, the bottom line is this; my guns are my right, my property, and nobody touches them unless I say it's OK, or I'm dead. This is my red line and I don't owe anyone any further explanation. You want them, you're going to have to take them, so who wants to be first at the door? Simply put; Molon Labe, assholes.
But ending right there is going to make for a pretty short gun thread, so let's discuss it. The left makes all sorts of arguments on why this right is no longer applicable in this day and age. What do you think? Was the Second Amendment written to ensure an armed citizenry existed as a pool for raising a militia, or as a means of protection for the people from oppression by a powerful federal government? Does a distinction even matter when the right is so unambiguously stated?
***
Still need more gun stuff. Oh! Maybe this is something!
I was at the farm a couple of weeks ago and had a brief encounter with a black bear which are evidently plentiful in the area. I was sitting in the shade enjoying a beautiful summer afternoon when I spotted the largest black bear I've ever seen, and I've seen a bunch of them. It was about 75 yards away, down wind and sitting by itself watching me. I would estimate its size at between 350 and 400 pounds. I know that black bears are generally wary of people and will scare off if you yell or throw something like a rock or a pinecone at them. However, being this was a rather bigly large bear and uncertain whether it had seen the pinecone memo, I decided to grab a gun in case it turned out to be a large, uninformed, unfriendly and hungry bear.
I always have guns with me while I'm at the farm. On this trip I had two rifles; a semi-automatic .308 and an AR-15, but both were cased and in the truck some distance away. I also had a bag of handguns nearby, so it was going to be one of those; a 9mm, a .357 Magnum, or my carry gun in .45ACP. I figured what I needed was something loud to scare the bear away if the yelling & pinecone business didn't work, and realistically any of the three would have probably sufficed from the loudness perspective, but I sure as hell wasn't going to be found dead and bear-chewed with a 9mm in my hand when I had a .357 and a .45 available.
The ammo I had for the .357 was 158 gr magnum soft point, and for the .45, 220gr hollow point - both self-defense loads. Although there were two more rounds available in the .45 magazine than in the revolver, the one I grabbed was the .357 because I figured it had the greater muzzle energy. I later confirmed this was the case with the .357 Magnum at 535 foot pounds versus the .45 at 464 foot pounds, but otherwise I have no idea how to evaluate the difference.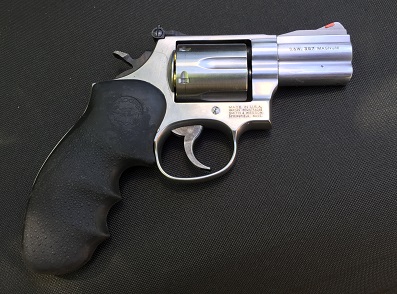 Bear fightin' gun
Again, I didn't think I would need the gun at all and it turns out I didn't, and at most I figured I might have to put a round in the dirt to get the bear's attention, but if I had to shoot the damn thing I figured bigger in the form of the .357 Magnum was better than two extra rounds in the .45ACP. Because I'm a retard, I only took out one of the guns instead of simply grabbing the whole bag.
Assuming you are as mentally afflicted as I apparently am, which of the handguns would you have chosen?
***
Earlier this week Nurse ratched mentioned she was going to the range and I asked if she was planning to focus on a particular aspect of shooting in addition to just having fun. Whenever I'm shooting I like to spend at least some time focusing on one aspect of the process; a smooth trigger pull, not anticipating the shot, sight picture alignment - those sorts of things. I don't make a big production out of it, but I take the time to practice something rather than just making expensive holes in paper. A few months back lin-duh sent in this video by Silverado Shooting Academy which is an excellent presentation with great ideas to incorporate into your range time.
*******
Link-O-Rama
Black Rifle Coffee: 20% Off thru Tonight!
Collectors Firearms: 10% Off thru Tonight!
Powder Valley: Component Sale thru Monday July 8th
National Smallbore Rifle Championship Centennial
Comprehensive 22LR Ammo Test
Handgun Tip: Lose the Bullseye
Back to Basics: Holsters
***Mail Bag***
Programming Note: Gun Thread editorial staff are working their way through some lengthy Mail Bag submissions. Thanks for your patience!

***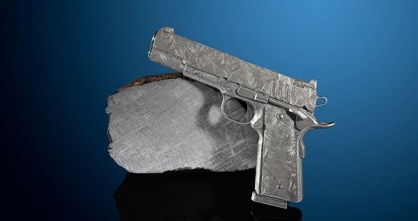 One of Two!
Our pal Skip sends us the following link to a pair of really unusual 1911s . Not sure if the bidding is still open!
*************
Please note the new and improved gmail account morongunthread at gmail dot com. An informal Gun Thread archive can be found HERE. If you have a question you would like to ask Gun Thread Staff offline, just send us a note and we'll do our best to answer. If you care to share the story of your favorite firearm, send a picture with your nic and tell us what you sadly lost in the tragic canoe accident. If you would like to remain completely anonymous, just say so. Lurkers are always welcome!
That's it for this week - have you been to the range?

posted by Open Blogger at
07:00 PM
|
Access Comments