« No Scott, Antifa Isn't Just A Bunch Of Guys Having A Bit Of Fun...
|
Main
|
Gun Thread: Right to Keep and Bear Arms [Weasel] »
July 07, 2019
Food Thread: Tacos And Kale And Carrots And Berries And...
Good Food is Good!
No, not the Americanized version, with spicy ground meat and some shredded lettuce in a corn tortilla shell (although I will eat those in a pinch). I mean the minimalist versions that are ubiquitous in Mexico. A couple of fresh flour tortillas with some interesting meat (or fish!), a bit of chopped onion, maybe some pico de gallo and a few sprigs of cilantro. And that's it. But as minimalist food it's hard to beat, especially if the ingredients are interesting. I love the Mexican versions of pulled pork, which seem to be aggressively marinated and seasoned, and are perfect on top of a fresh tortilla. The texture of pulled, chopped or thinly sliced pork is far better than the ground version, and it doesn't take very long to do it, so you have no excuse!
I think tacos are like omelets or roast chicken or other deceptively simple foods. There is nothing complicated about them, yet most people and restaurants do a mediocre job of them. They are the true measure of a cook.
Full disclosure...the first good tacos I ever had were served at the back door of a Mexican restaurant in San Francisco, after bar closing time, when (I assume) the line cooks were wrapping up and wanted to make a few bucks selling the last of the night's food, rather than having to put it away for the next day's service.
So...where are the best tacos found? I have had good ones in NYC and Chicago, but it's hard to beat California. I have very little experience in Texas and Arizona and New Mexico, so the Horde will have to fill in those blanks!
******
Anyone who can listen to the end is a braver Moron than I...
******
I am not a hipster, so I immediately recoiled in horror at this dish. But my wife's cousin made it, and it was spectacular! Who'd a thunk it...Swiss Chard? That's almost as bad as kale!
What? Oh. Yeah. He started us with a kale salad. And that too was grand.
Chard and Sausage with Crispy Spiced Chickpeas
The greens were fantastically fresh, and I think that makes all the difference in the world. I'm not sure how good it would have been had we just wandered down the aisle at our local supermarket and grabbed the week-old stuff from the pile. But if you can find truly fresh greens, then I suggest you make this dish.

******
This guy is great! Anyone who tells me that a dish is practically vegetarian except for the bacon is okay in my book.
Ba'corn (Cheesy Bacon Corn Gratin)
Push past his irritating way of speaking. I have no idea why he sounds the way he does, but it is a little weird.
******
From commenter "sl" comes a ridiculously simple dessert.
I don't remember where I got this but it's great when you are inundated with berries like I am (raspberries, blueberries, blackberries).
Just mix a box of angel food cake with a 15.75 oz (approx) can lemon pie filling. Bake 350° for 20 minutes til done (usually according to package directions). Cool and slice. Serve with fresh berries and whipped cream.
Inundated with berries. Yeah...that happens to me all the time.
Bastard.

******
From artisanal'ette comes a mildly disturbing glance into the heads of the Brits. Yes, they are a very strange people.
Carrot Colours - The Pigment Power of Carrots
I don't buy most of this. I doubt very much that the differences in color mean much of anything nutritionally. But it made me chuckle...
******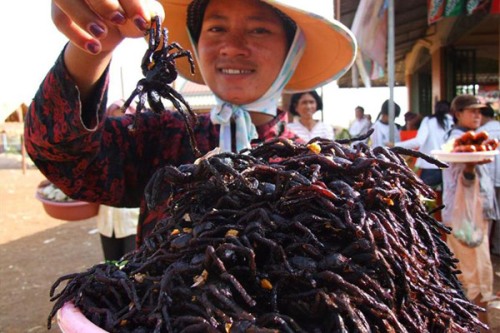 ******
Food and cooking tips, triple-cream cheeses, young wild pigs, crisp bacon, thick and fluffy pita, and good tomatoes that aren't square, pale pink and covered with Mestizo E.coli:
cbd dot aoshq at gmail dot com
. Any advocacy of French Toast with syrup will result in disciplinary action up to and including being
nuked from orbit.
And yes, shaking a Manhattan is blasphemy...it's in the Bible!
&topic=world_news">

posted by CBD at
04:00 PM
|
Access Comments