« Open Thread
|
Main
|
Non-Morning Report Report 7/5/19 »
July 04, 2019
Happy Birthday America! ONT
Happy birthday USA!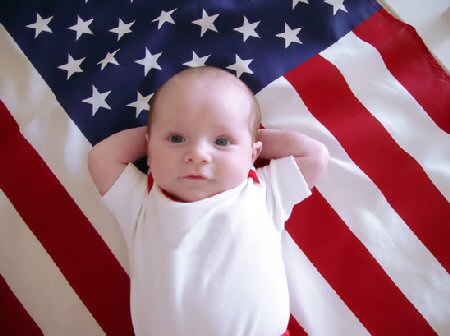 I hope everybody had a great 4th with family, friends and fireworks! Lots of folks writing lots of stuff about today, but I hadn't seen this before.
So how was your day today? What did you do? Anything fun? Memorable? Funny? I sent July 4th driving through the Midwest. Above, a brilliant blue sky laced with cotton candy clouds. To the right, a field of corn, and in the distance a rail head and silo. To my left a giant crane flying a huge American flag. American Heart by John David was on the radio.
I'm not ashamed to admit that I had tears in my eyes, it was so beautiful, so quintessentially American. And no, I won't apologize.
Finally though, I'd like to note that what makes America so special is us. We Americans. Last week I met two stellar examples of the breed. If you recall, I was stranded in North Dakota. Well, Moron lurker and occasional poster Oldgeezer contacted me. He and his wife (I won't call her Ms. Oldgeezer, she's far too smart and classy for that) picked us up, put us up in their house, and when it turned out that the RV wasn't going to be repaired until after the weekend, they let us stay in their Bismarck condo, and use their town car, while they went home to their full time house. Gingy and I were blown away by their kindness and their willingness to go above and beyond to help out a fellow Moron. Americans are the best people on Earth, but surely Morons are the best Americans. Oldgeezer, you have our undying gratitude.
Tonight's ONT brought to you by Irongrampa:
"Hold your head high and hold your head proud. You're an American, and this is the greatest country in history"

posted by WeirdDave at
09:50 PM
|
Access Comments