« Scenes from the End of the American Republic
|
Main
|
The Morning Report - 07/3/19 »
July 02, 2019
Tuesday Overnight Open Thread (7/2/19)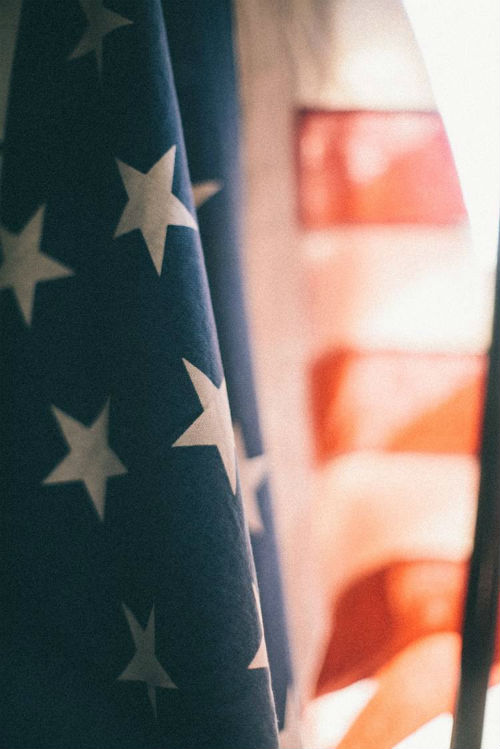 ***
The Quotes of The Day

Quote I

He's done some irreparable damage to some things and he's got to answer for them. It reinforced the anal opening that I believe Mueller to be," Rep. Louie Gohmert (R-TX)

Quote II

If the basis of popular government in peacetime is virtue, the basis of popular government during a revolution is both virtue and terror; virtue, without which terror is baneful; terror, without which virtue is powerless. Terror is nothing more than speedy, severe and inflexible justice; it is thus an emanation of virtue; it is less a principle in itself, than a consequence of the general principle of democracy, applied to the most pressing needs of the patrie.Maximilien Robespierre

Quote III

"Unless we do something pretty miraculous, but the Democrats, it seems to me, they want to have open borders. And for the life of me, I cannot figure that out. It's one thing because I want people to come to our country. We need them because we have all these companies coming in."... The only problem is that they have to come in through a process. They have to come in legally. It's also very unfair. You have millions of people online for years trying to get into a country. ... But, yeah, we will be removing large numbers of people. People have to understand," President Donald Trump

Quote IV

"Words cannot express my disappointment at this terrible decision. I am embarrassed for Nike. Nike is an iconic American brand and American company. This country, our system of government and free enterprise have allowed them to prosper and flourish." Gov. Doug Ducey (R-AZ)
***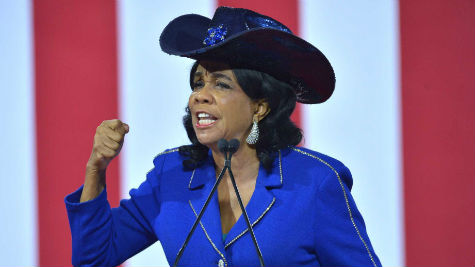 A turd with a cowboy hat is still a turd...................

Hey Congress critter Frederica Wilson, LOL'd get fucked.

Those people who are online making fun of members of Congress are a disgrace and there is no need for anyone to think that is unacceptable," Wilson said during a press conference. "We are going to shut them down and work with whoever it is to shut them down, and they should be prosecuted."
Bring. It. On.
***

Feature not bug? California background check system for ammo purchases, Situation Normal All F*cked Up.

Who could have possibly seen this coming? The same ultra-competent bureaucrats who brought Golden State gun owners an online system that couldn't adequately handle mandated "assault weapon" registration last year were tasked with putting together a new system for performing background checks on ammunition sales.

And…surprise! The ammo background check process so far is impossibly buggy and glitch-ridden. Retailers are turning away customers because they can't log in or navigate the kludgy system.
***

Auto giant Lee Iacocca dead at age 94.
***
Samsung hasn't commented much on its decision to delay the Galaxy Fold and address design flaws, but it's opening up a little today. The company's electronics division CEO, DJ Koh, told those at a media event that he "pushed [the phone] through before it was ready." The setback was "embarrassing," he added. While Koh didn't elaborate on what happened, the statement suggests that Samsung was in a hurry to get the Fold out the door and claim some bragging rights.

Been there, done that. IYKWIMAITYD.
***

Can a bad diet lead to male infertility issues?

Male fertility is being irreversibly damaged by a diet of western junk food by the time men reach 18, a study has found.

A groundbreaking investigation has established that teenagers who favour high-fat and processed foods like pizzas, chips and snacks are killing off sperm-producing cells that can never be replaced.

It showed that a diet dominated by fish, chicken, vegetables and fruit is best is for protecting those cells and ensuring healthy levels of sperm.
***
Dear Virtue Signaling Billionaire.

Thank you for your patriotic concern about our nation's democracy and the global climate. The willingness shown to submit yourselves to higher tax rates warms my heart as we approach the season in which we celebrate US Independence from Britain, brought about mostly over a concern about arbitrary taxation without adequate representation.

Your plans, as presented, are somewhat vague other than a call for the federal government to tax your "wealth" (as opposed to income). Wealth, not to mention income, comes in a variety of forms. A more detailed plan would specify the forms of wealth to be taxed (e.g., real estate, cash held in bank accounts). However, I take it on good faith that you are willing to submit yourselves to the public generosity that only Congress and the Internal Revenue Service could compel.

The appeal to presidential candidates indicates that such a plan will rely upon an amenable person winning the 2020 general election as well as a majority of Congressional representatives favorable to this idea. Add to this the time spent drafting, voting upon, and implementing a viable "wealth tax" and we might be looking at another 2-3 years before revenue from this plan starts drifting in. Alas, the problems detailed in your letter – from climate change to economic growth to cultivating a general sense of fairness – seem to suggest that more immediate action is necessary.

Fortunately, there is a quicker and perhaps more simple solution. After just a few minutes on the Internet, I discovered that the US Treasury accepts voluntary gift donations to reduce debt held by the public. The link can be found here, with more explicit instructions on who to make the check out to and where to send it here. You don't have to wait for all that pesky legislative debate and cumbersome bureaucracy to start making a difference immediately. Even better, this proposal avoids the reems of paperwork needed for the typical tax filing and won't require you to contact your accountant.

Simply calculate what you consider to be your fair share, write the check, and drop it in the mail. Your honorable wishes realized, instantaneously! Better yet, you can do this every year.
It's a longer read. But, well worth it.
***
***
On our second date, he was tripping on mushrooms. All logic says I should have run the other way. But I did the opposite. I didn't know anything about his alcoholism yet (nor the extent of his drug use) so we proceeded to hang out at a bar down the street. We got tacos on Myrtle Avenue later that night, by which point he was so far gone that he sat slumped over in a chair barely able to keep his head up, clinging to me while I struggled to order four tacos in Spanish. To say I was freaking out is an understatement. I was thinking about how I'd get him up the four flights of stairs to his apartment, worried about whether his roommates were home and if they knew or how I'd hide this from them, but also hopeful that if something really terrible happened, someone would be there to help. I also worried about what the woman behind the counter was thinking and whether she thought I was drunk or high, too. Mostly, I was wondering what I could possibly do to help this person. I was terrified and clearly in over my head but already in so deep. My heart was already breaking.

That is what it feels like to love an addict.
***

The dead father and his child, not Trump's fault.
In an interview with the BBC, Bukele said his country is to blame for the deaths and that it was up to his government to solve the problems that force people to make the dangerous trek to America.

"People don't flee their homes because they want to, people flee their homes because they feel they have to," Bukele noted. "Why? Because they don't have a job, because they are being threatened by gangs, because they don't have basic things like water, education, health."
***

Is the invincible cockroach on its way?

The day that squeamish humans—and exterminators—have long feared may have come at last: Cockroaches are becoming invincible. Or at least German cockroaches (Blattella germanica) are, according to a new study. Researchers have found that these creatures, which have long been a prevalent urban pest, are becoming increasingly resistant to almost every kind of chemical insecticide.

Not all insecticides are created equal. Some degrade the nervous system, whereas others attack the exoskeleton; they also have to be left out for varying amounts of time. But many insects, including cockroaches, have evolved resistance to at least one of the most commonly-used insecticides. And because cockroaches live only for about 100 days, that resistance can evolve quickly, with genes from the most resistant cockroaches being passed to the next generation.
***

The Oregon Legislature has passed a bill that largely bans single-family zoning statewide. It's a notable win for zoning reform advocates.

On Sunday, the Oregon Senate passed HB 2001 by a 17-9 vote, with Republicans and Democrats lining up on both sides of the bill. The Oregon House approved its version of the bill two weeks ago in a similarly bipartisan 43-16 vote.

HB 2001 legalizes the development of duplexes on residential land currently zoned for single-family housing in all communities with a population of 10,000 or more. The bill also allows for the construction of "missing middle" housing—a term which refers to three- and four-unit homes—on single-family-zoned land in cities of 25,000 or more.

The bill is intended to arrest mounting rents and home prices by easing restrictions on the supply of new housing.
***

Big Cows

The ONT Musical Interlude
On this day: 2 Jul 1962
Jimi Hendrix was honourably discharged from the 101st Airborne Paratroopers, after breaking his ankle during his 26th and final parachute jump. via thisdayinmusic.com
***

I'm just thinking out loud here, wouldn't it be easier to ask him if he were cheating? Nope, instead you are a Genius Award Winner.

A woman who allegedly thought her husband was cheating on her was arrested Tuesday after falsely reporting that her husband had killed her, police say.

Rebbecca Spring Nielson, 44, of Bluffdale, was arrested for investigation of criminal mischief and making a false police report involving death.

The unusual incident started about 2 a.m. Tuesday when a woman called 911 after receiving text messages from a person purporting to be Nielson's husband, stating that "he had shot his wife and didn't know what to do," according to a Salt Lake County Jail report. The woman asked the man if he was serious, and he responded by text that he wasn't joking, the report states.

Police officers from Saratoga Springs/Bluffdale, Herriman and the Unified Police Department responded to the husband's Bluffdale home, surrounded it, and ordered the residents to come out.
***

Too good a story to wait until Saturday's Ace of Spade's Pet Thread. Tonight's Feel Good Story of The Day.

House With a Heart, an animal sanctuary in Gaithersburg, Maryland, gives aging pets a happy home for their final years. Housing exclusively senior animals, the nonprofit rescues senior cats and dogs that have been given up by their families, and makes sure they are safe and loved, day and night. Sher Polvinale and her colleagues oversee the daily care of more than twenty dogs, and spare no expense when it comes to making sure the dogs are happy and healthy.
***

Tonight's ONT has been brought to you by Customer Service.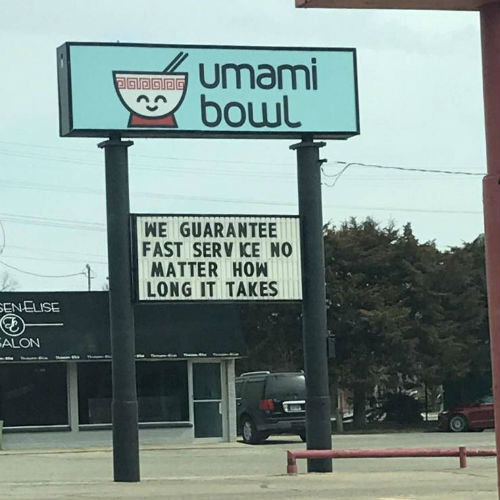 Notice: Posted with permission by the Ace Media Empire and AceCorp, LLC. Contrary to popular belief The ONT is available in all 50 states and Puerto Rico.

posted by Misanthropic Humanitarian at
09:58 PM
|
Access Comments