« Food Thread: The Rosé Rose From The Ice, Smelling Like A Rose
|
Main
|
Sunday Overnight Open Thread (6/30/19) »
June 30, 2019
Gun Thread: Rifling and Twist Rate [Weasel]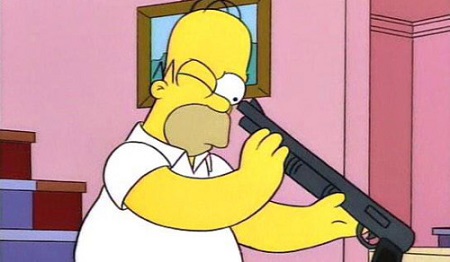 Rifling - we've all heard the term, but what does it mean? Rifling a barrel is the process of machining helical grooves inside the bore to impart spin on a bullet and stabilize it in flight. Credit for the idea goes to one of two inventors sometime in the 15th or 16th century. A spinning projectile is much more accurate to longer distances than one which is merely lobbed from a smoothbore barrel, and I'm not sure why it took the British so long to catch on. Let's take a look at the process, shall we?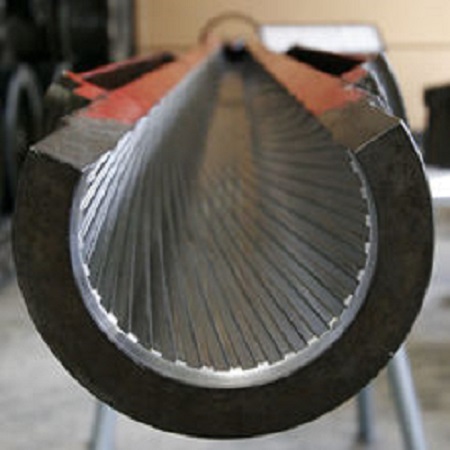 Cutaway 105mm Tank Gun Barrel
There are three general machining techniques used to achieve the pattern of lands (high part) and grooves (low part); cut , button, and broach rifling. In "cut" rifling, an adjustable cutter is pulled through a cold barrel multiple times to make a single groove. The process is repeated until the desired number of grooves and depth are achieved. Cut rifling is an older and slower process, but results in very accurate barrels in the hands of a skilled machinist. The second is "button" rifling, where a very hard bullet shaped button is pushed or pulled through a cold barrel displacing metal to impart the desired pattern in a single pass. This is a more modern process which lends itself to mass production. Button rifled barrels can also be accurate. Lastly, "broach" rifling is sort of a hybrid of cut and button processes. A broach is a metal bar with multiple cutters of increasing depth which cut the pattern in a single pass. There are pros and cons for each method depending on the application and your budget.
Q: Gee, Weasel, that's fascinating! What do you use in your match guns?
A: Thanks for asking - I use barrels which are cut rifled.
Q: Excellent choice for accuracy! How about all of your other guns?
A: Uh, well, I don't really know and never gave it much thought. No more questions!
Regardless of the rifling process used, a key element is the twist rate, or the distance along the length of the barrel it takes the rifling to make one complete revolution. This twist rate should be stamped on the barrel, but can also be measured at home with a cleaning rod. Without delving into a whole lot of math and aerodynamic theory, the twist rate is important because different combinations of bullet design factors require different amounts of gyroscopic spin created by the rifling to properly stabilize them in flight.
It is not, as stabilization charts would imply, solely the weight of the bullet that makes a difference, but also length and several other factors including muzzle velocity and the bullets ballistic coefficient. The general rule is longer and heavier bullets require more spin or "faster" rifling to stabilize them. Ammunition manufacturers list the bullet weight on the packaging and that's what is used to generally group bullets in stabilization charts. For the aspiring Rocket Surgeons out there, many online stabilization calculators are available which are useful for determining if a rifle will stabilize a particular bullet. Here's one from Berger and another from JBM Ballistics if you're curious and have some basic information on a particular bullet. Both of these use the Miller Twist Rule and the required inputs can usually be found buried somewhere in the bullet manufacturer's website. The Berger calculator helpfully contains a library of their bullet specifications, but if you don't know what bullet you're using and the necessary data, just stick with a chart.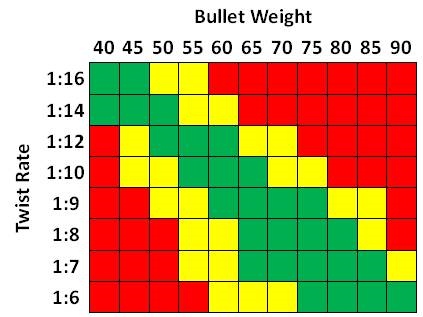 Sample 5.56mm Stabilization Chart

So why am I telling you all this? Very simply put, if you are wondering why some ammo shoots well in your rife while other ammo doesn't, it may be that you have not correctly matched a particular bullet and load to your rifle barrel twist. If you under stabilize a bullet or spin it too slowly it will not fly true and may begin to tumble (not good), and if you over-stabliize or spin a bullet too bigly, the jackets can separate and the bullet will disintegrate (very not good). Scroll down in the following articles here and here for recommended bullet weights by caliber and twist rate.
Suggested Reading
Modern Advancements in Long Range Shooting - Volume 1 by Bryan Litz. This is a serious work not recommended for the math adverse. Having said that, the concepts are well presented and it's well worth your time, particularly if you are interested in shooting at longer distances. For those simply wanting to improve group size at a few hundred yards, a general understanding of the material and concepts will suffice.
So how many people believe they have used mismatched bullets and rifle twists, and what were the results? Have you since used a stability calculator? Has anyone had good luck outside the recommended performance envelopes or with marginally stabilized bullets?
*******
Link-O-Rama
American Rifleman Article: Rifling
Berger Bullets FAQ: Twist Rates
Guns and Ammo Article: Pairing Ammo and Twist Rates
Chuck Hawks: Rifling Twist Rates
Bison Ballistics: Barrel Twist and Bullet Stability
***Mail Bag***
PSA courtesy of our pal ibguy who reminds us: cigarette smoking is bad for your health!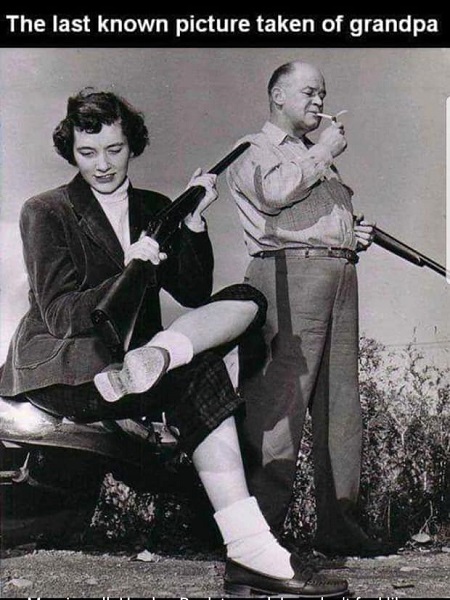 *************
Please note the new and improved gmail account morongunthread at gmail dot com. An informal Gun Thread archive can be found HERE. If you have a question you would like to ask Gun Thread Staff offline, just send us a note and we'll do our best to answer. If you care to share the story of your favorite firearm, send a picture with your nic and tell us what you sadly lost in the tragic canoe accident. If you would like to remain completely anonymous, just say so. Lurkers are always welcome!
That's it for this week - have you been to the range?

posted by Open Blogger at
07:00 PM
|
Access Comments