« Tuesday Overnight Open Thread (6/18/19)
|
Main
|
Mid-Morning Open Thread »
June 19, 2019
The Morning Report - 6/19/19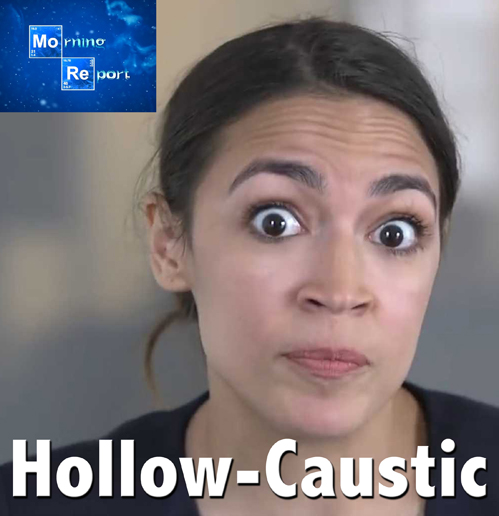 Good morning kids. Midweek with lots of ground to cover so here we go. First up, to the border we go where the President not just threw red meat, but an entire herd of cattle still mooing with his statement that he was going to begin deporting "millions" of illegal aliens beginning next week. Even my first instinct was to look at this as either a misstatement or a wild boast, but given the fact that Donald Trump is arguably the only elected official I can think of who never gives up on at least giving 110% of his energy to fulfilling his promises, he certainly has now got my attention with that statement. Aside from non-enforcement of immigration laws and border controls already on the books, the key reason that 30-40 million illegal aliens have jumped our border is unfettered access to the pockets of the American taxpayer. I don't know how the President intends on following through on deporting millions, but I can guarantee that if you disincentivize them from coming here in the first place, and cut off those already in-country, Ross Perot's "giant sucking sound" will be the combined footsteps of foreigners going south, and not American jobs and our economy down the crapper. Plus, imprison and confiscate the assets of any company and its executives who knowingly employ illegal aliens.
I guess the fly in the ointment to that is not only the opposition from the Democrats in DC and in blue shit-hole city halls and state houses, but the bought and paid-for CoC-whores of the GOP-e who will suddenly discover the wonders of Federalism in citing the 10th Amendment, ironically to uphold lawlessness that will be given the imprimatur of the Roberts-led SCOTUS. How coincidental that Andrew Cuomo passed a law in New York granting driver's licenses to illegal aliens which really means instant voter registration, no doubt 100% Democrat. Circling back to yesterday, California's Gavin "Threesome" Newsom boasted about how California's becoming a de-facto Socialist dictatorship is a harbinger for the rest of America. Well, it only got that way after a rogue judge dumped Prop 187, a wildly popular ballot initiative that sought to protect the voter rolls from illegals, and allowed the invasion of the once Golden State to turn it (seemingly) permanently Democrat. So, yes indeed, ramp up the deportations of anyone and everyone here illegally, no matter how long they have been here, pour encourager les autres. And as for California, strip it of statehood. It is now essentially an enemy nation on our western border, as is New York and all the other bastions of Marxism scattered all over the map. The actions of Cuomo, Newsom and their fellow tyrants in passing blatantly illegal laws as well as ignoring laws already on the books and the Constitution itself are tantamount to insurrection. The problem is the entrenched bureaucracy and dangerously corrupt judiciary that will fight all efforts to rectify the situation, which could not have happened in the first place had the ground rules been observed in the first place. Once again, the problem of trying to reestablish the rule of law and respect for our Constitution with an enemy that ignores it at every turn. But I digress.
The links in this section include ICE publishing a list of criminal aliens shielded by sanctuary cities, Feds warning of deported criminals reentering the US under cover of the migrant invaders, Senate GOP fecklessness on the crisis, while Julian Castro, the son of a rabid La Raza racialist, assures us that the border has never been more secure and Nancy Palsi's dentures rattle out bilge about DACAns being the real Americans or something.
On to the Clinton/Obama Coup and Congressional Persecution of Trump, where the President has instructed former White House staffer Hope Hicks not to testify about her work in the administration, Manhattan prosecutors persecutors have caved to the DoJ and will not chuck political prisoner Paul Manafort in Rikers Island, yes it is well past time to string up Andrew McCabe and it's curious why no one is interested in looking for Hillary's e-mails.
Dem Scandal Sheet: Crooked Chicago machine pol charged with fraud fresh off attending a Joe Bidet fundraiser.
Civil War 2.0: Joe Bidet seems to endorse starting a revolution when Republicans refuse to cooperate. Another lover of Durbin-linked "Hodgkinson's" Disease?
The big story in politics was the President's rally in Orlando last night to kick off his 2020 reelection campaign. The Amway Arena was packed to the rafters as he and VP Pence hit on the themes of the roaring economy, foreign policy leadership and sanity, packing the courts with non-Marxists, the border crisis, the sanctity of human life and the insanity of the Democrat-Left-Media Complex. Compare and contrast with Tom Styrene's impeachment follies, Eric Swallowswell's NRA protest and the shuttering of the Bialystock and Bloom Clinton roadshow. Yup. It's gonna be an early night for sure. Again.
Next up we have big-boobed, bucktoothed, bug-eyed and brain-dead Bolshevik Chiquita Khruschev AOC now quadrupling down on her completely insane comparison of ICE detaining illegal aliens to, you guessed it: The Holocaust. Despite being ripped to shreds by everyone from Dan Crenshaw, Liz Cheney, Steven Crowder and the Simon Wiesenthal Center, the dolt is quadrupling down on her assertions. I almost want her not to lose her House Seat because if any reasonable person gets within earshot of her donkey chompers when they get going, that's one less vote for a Democrat anywhere. Also, Joey Bidet wants a revolution and yet he says he feels like he has a target on his back, Trump is about to get an AOSHQ platinum membership with diamond clusters for saying he'll live-Tweet the Democrat debates, polls showing black Americans feel he's done more for them than his predecessor, Eliot Engel targeted for termination by the Joo-haters for criticizing his incest aficionado Joo-hater colleague, severely heterosexual Booker criticized by his fans for his severely incompetent mayoralty of Newark, five -count 'em five! - big essays on the insane policy platform of the Dem 2020 field, chicks tend to vote Democrat (go figure), and wrapping up with three links on the push for slavery reparations for people at least four generations removed from ancestors who were slaves. Still waiting for my check from Egypt for the pyramids, yo.
First Amendment and Fake News Fakery: Agitprop Media circles the wagons around Chiquita Khruschev, is antitrust the way to go in dealing with Big Brother Big Tech, South Carolina Dems are as transparent as a Christo's lead curtain wrapping the Gowanus Canal, and a frightening look at Big Tech bugging all of us.
Guns: Dallas shooter at a courthouse was met with immediate armed response. But, gun-free zones!
Abortion: Planned Parenthood's last stand in Missouri? And blonde blowhard Gillibrand doubles down on banning any and all pro-lifers from any judgeship. You're gonna have to go a lot more radical than merely silencing political opposition, chunky, if you want to elevate your dead candidacy.
Foreign Desk: The Iran situation tops the category with Mike Pompeo addressing all the war-war talk, yes we should be promoting regime change in Iran and Caroline Glick looks at the complicity of the Euro-Peons in propping up the Farsis, David Reaboi gives a lecture on the threat from Qatar and the fecklessness of our own side in dealing with them, and Trump has some words about the European Central Bank, mostly not kind.
DEE-Fense: Military warning about the Chi-Com 5-G infestation vis a vis our military hardware.
Domestic Desk: Patrick Shanahan withdraws from consideration as Defense Secretary amid growing domestic abuse allegations (meh, we need a tough guy here, no? [sarc]), and two essays about Zimbabwe on the Pacific.
The Economy: Bernie's commie idea about employee ownership is actually a red nether hair away from being almost capitalist, President Trump awards Art Laffer the Medal of Freedom, which is appropriate since his ideas generated close to 100 trillion with a "t" dollars in global wealth, and the White House Economic Adviser assures us Trump is serious about deficit/debt reduction. I did not hear the rally but if he mentioned it in Orlando, that's a good sign. But I doubt it.
Crime & Punishment: former gym teacher pretends he's Joe Bidet and gets charged with 28 counts of fondling first-graders, and the Oberlin penalty could be a hollow victory as, ironically, GOP-led tort reform in Ohio could significantly reduce the money they have to pay. Ugh; that means the SJW Nazis will be emboldened in the future.
Education: Dennis Prager wants to know what mental disorders did your kids come home from college with and the Department of Education is investigating the Jew-hatred at Duke and UNC. Good for Molly DeVos. She seems to be accomplishing much on the down low.
Feminazism, Homosexualization, Transgender Psychosis: 2020 Dems all endorse bill destroying female sports by allowing male freaks to compete, MasterCard no longer requires a legal name if it hurts your identity (insane), Psychology Today utterly devolves to rag status, and a look at this sick Muslim practice of "bacha bazi" and what it portends for what I predict is the ultimate normalization of pedophilia in the US.
Hither and Yon: Even Marxist icon Woody Guthrie gets swept up in the SJW cultural revolution and lastly multiculturalism is indeed a cancer on a free, prosperous society.
Anyway, links from around the world, across the nation and up your street. Have a better one and remain blessed.
NOTE: The opinions expressed in some links may or may not reflect my own. I include them because of their relevance to the discussion of a particular issue.


AMNESTY, IMMIGRATION, MIGRANT INVASION BORDER WALL, BORDER SECURITY


posted by at
07:07 AM
|
Access Comments