« Monday Overnight Open Thread (6/17/19)
|
Main
|
Mid-Morning Open Thread »
June 18, 2019
The Morning Report - 6/18/19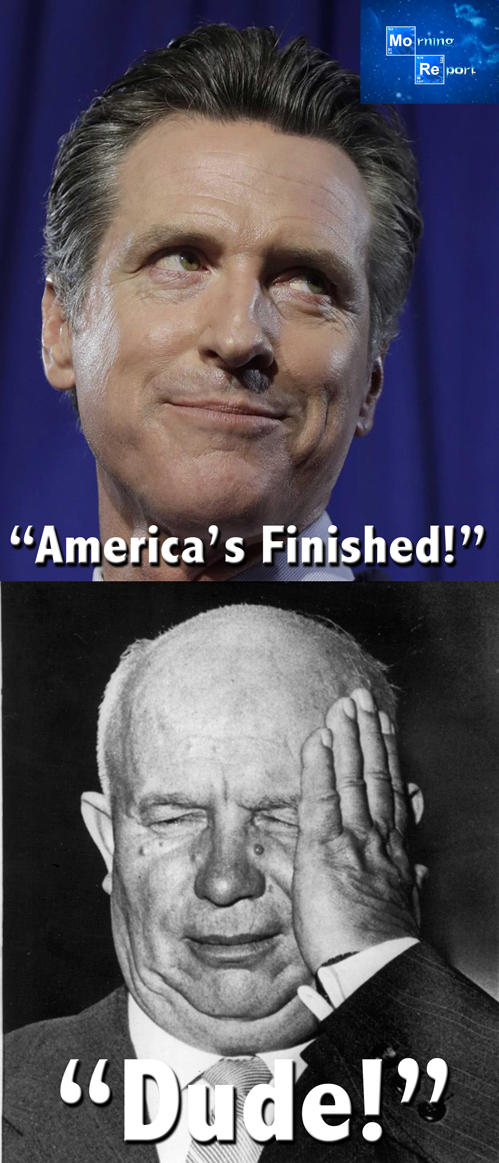 Good morning kids. Tuesday's child is full of links so here we go. First to the border and the immigration/illegal alien invasion crisis where the President is still as serious as a heart attack to keep his promises on securing our border by following through in withholding hundreds of millions in foreign aid to Central American nations whose citizens are being encouraged to depopulate through Mexico and over the Rio Grande. If he really wants them to sit up and take notice, a hefty tax on remittances plus some sort of executive order cutting off those invaders already in country from Uncle Sugar would do the trick, following on yesterday's news about one policy being implemented in that regard (along with prosecuting American businesses that knowingly employ them). If you look in the education section, there's another heartwarming link about schools and teachers that openly admit illegal alien children losing federal dollars thanks to Trump administration reforms cutting them off. On another positive note, Cocaine Mitch is going to force a vote in the Senate on Trump's border security funding. Obviously, it'll be dead in the House but it puts the spotlight on the Dems as fundamentally unserious, and indeed aiding and abetting, in this crisis. Hell, even the Democrat Mayor of border town Del Rio, TX is going ape over illegals being dumped on his jurisdiction. Instead of turning your ire on John Cornyn, champ, you might want to reconsider the policies and ideology of your own political party that brought you and us to this disaster. Meh, a leopard changing his spots, right?
On the downside, a couple of rage-inducing items including the Ninth Circus giving Fourth Amendment protections to illegal alien lawbreakers, the number of Africans from the Ebola Belt crossing the Rio Grande is getting ridiculous (which begs the question, how the hell are they getting across the Atlantic in the first place? Via package deals on Air-Nazi-Collaborator, I assume), and Andrew Cuomo just signed a bill giving illegal aliens in New York State driver's licenses. One can assume their registering to vote Democrat is a mere formality, but still. I would think the President will notice this and, in turn, ramp up ICE raids in NYC and other Democrat strongholds and repatriate as many to where they belong and ignore the goddam courts. This is war. For real.
Rounding out this category, and seguing nicely into the next, we have an ex-Mexican envoy meddling in our affairs by openly urging Trump's political enemies here to sabotage him as retribution for forcing Mexico's hand with tariffs.
Speaking of foreign meddling, to the Clinton/Obama-Orchestrated Coup Against President Trump where it seems as if Obama, fresh off secret meetings with Merkel and Macron, may be meeting with Italian PM Renzi to get their stories straight in the event the Barr blowtorch points in their direction. Recall that Renzi weaponized his intel services in pimping the Russia collusion hoax. And, Judicial Watch has uncovered the Obama State Department's role in the attempted coup. Lastly, David Harsanyi reminds us that, in light of the idiotic reaction to Trump's "Norway gaffe," the dossier and everything and everyone attached to it was all about foreign interference in our affairs. And not by Trump, but by the Democrat-Left-Globalist-Media cabal.
In Officially-Sanctioned Democrat Jew-Hatred, it seems we have a little blue-on-blue action with rabid leftist Jan Schakowsky (wife of thug-for-hire employment agency owner Robert Creamer) not on board with Bro-Fo Omar's assertion that legitimate criticism of her views is just "weaponization of anti-Semitism" as a means to attack her. Get thee to a mikvah, Jan, and go bobbing for apples.
Politics: The estimable Jeffrey Lord is high on Trump's 2020 chances, noting the wacky polls a year and a half from election day, and that seems to be mirrored by the throngs of Trump supporters queueing up nearly 40 hours in advance of a rally to be held in Florida, presumably where he will formally announce his reelection bid. And yet, the Democrats are already running anti-Trump ads even before the first primary debate has taken place and a nominee yet to be selected (your definition of that word may vary, all things considered). Also, three essays exposing creepy groper veep Joey Bidet, Hillary Clinton projects, mostly projectile halitosis and chutzpocritical bilge about Trump, Gavin Newsom, the overlord of the failed feudal state of California spouts a Nikita Khruschev-like boast about America, as he completely misrepresents how his state got in the state it is now in. And that would be by importing voters to supplant the citizenry which led to toxic socialism gone mad. It'd be a real shame if Newsom came down with typhus, mumps and bubonic plague. Yup. Real shame, that.
Also, Rabbi Fischer states the obvious but he does it so eloquently, Chiquita Khruschev is in a panic over new polls showing her constituents are not fans of hers. I hope former Mark Levin staffer Richie Valdez has a real shot at dumping her. With Team Trump thinking some blue areas like Oregon are ripe for being picked off come 2020, the NRCC is backing them by targeting bucks to take out long-time Oregon Dem Pete DeFazio, another warning about this dangerous interstate compact to trash the electoral college, the Dems could rebuild the so-called "blue wall" by retaking the swing states Trump took and yet still lose in 2020, another low-life piece of shit Christ-hater running for Congress and the great Victor Davis Hanson with a fine outing on how Trump has not just overturned the tables of the money-changers in the temple, but chopped them to bits and set them on fire. Well worth a read.
First Amendment and Fake News Fakery: SCOTUS rules private firms are not bound by first amendment rules, the MFM as pimps of Chi-Com propaganda, Civil War reenactments are racist or something, Twitter pimps religion of peace propaganda, maybe the de-platforming of conservatives is an opportunity, and an essay in support of the anti-US flag burning law. Over to you, CBD (click here for his post arguing the opposite from this past weekend [do not comment on old threads]).
Guns: What if Eric Swallowswell gave an anti-NRA protest and fewer people showed up than a Jm J Acosta book-signing?
Abortion: Reading Justice Thomas' tea leaves as they could apply to Roe v Wade, and Vermont's GOP governor goes full baby-killer. I'd say primary his ass but it's Vermont.
Foreign Desk: The Iran situation tops the links where the US is sending 1,000 troops to the region to bolster security, new sanctions being imposed on a Farsi financial institution that funds the nuke program, the Iran Deal supporters' blather proves Trump was right to scrap that scam, celebrating the Hong Kong protestors seeming victory (try that shit in Peking and they might get a very different reaction), NSA Bolton warning of continued Chi-Com cyber warfare, and another look at Brexit through the lens of Ireland-Northern Ireland hard border controls and what that means overall.
We-All-Slam-For-I-Slam: A warning to the Trump administration to not be to hasty in designating the Muslim Brotherhood a terrorist organization, ironically from some of that groups biggest critics. Hmm.
Domestic Desk: As Gavin Newsom bangs his shoe about America going under, his state's pension fund is circling the bowl because they rejected tobacco and guns, and Daniel Greenfield notes the doubling of that state's budget in just eight short years. I wonder how that could've happened (sarc). Also, why can't we see this secret Democrat list of judicial nominee dream (nightmare) candidates and more schadenboner about Agriculture Department staffers being moved to Kansas City.
The Economy: Chiquita Khruschev AOC smears Jeff Bezos as a greedy, rich bastard. Could it be sour grapes over her idiotic nixing of Amazon's Long Island City HQ, or just plain old anti-capitalist propaganda? Funny, considering Bezos is a big lefty.
Church Sex Scandal: Cardinal Vignano confirms the allegations against Cardinal Rossi.
Healthcare: In the words of Joe Jackson, "everything gives you cancer."
Education: Students think Trump is a horrid racist, until they find out the words they thought were his came from Joey Bidet's filthy sewer, and a NJ high school bans military sashes from graduation. I assume ISIS flags or rainbow homo banners are de rigeur...
Red Greens: Advocacy group pays conference fees for mayors to promote lawsuits against big oil. Quid pro quo anyone? Also, if solar energy is a bust in Nevada, it ain't gonna fly anywhere.
Hither and Yon: Harvard rescinds Kyle Kashuv's admission because of alleged racist comments he made when he was 16. If only his folks were Democrats and he wore blackface. Nike going full SJW retard (fat models for an athletic brand?), the Clinton's Broadway show is the flop that Bialystock and Bloom should've produced (hell, maybe they did nudge-nudge wink-wink), Christian Toto on Hollywood's continued ignoring the first rule of holes with three new flicks, Teen Vogue thinks prostitution is a noble profession your kids should be encouraged to consider, on the heels of being dragged kicking and screaming to include Clarence Thomas in an exhibition, the Smithsonian is proud to highlight a new documentary on that great American... Angela Davis.
Lastly, Gloria Vanderbilt, the heiress who reinvented herself time and again over the course of her life has passed away at 95. RIP.
Anyway, links from around the world, across the nation and up your street. Have a better one and remain blessed.
NOTE: The opinions expressed in some links may or may not reflect my own. I include them because of their relevance to the discussion of a particular issue.


AMNESTY, IMMIGRATION, MIGRANT INVASION BORDER WALL, BORDER SECURITY


posted by at
07:10 AM
|
Access Comments