« Roses Are Red, Poetry Is Hard, ONT
|
Main
|
Mid-Morning Open Thread »
June 14, 2019
The Morning Report - 6/14/19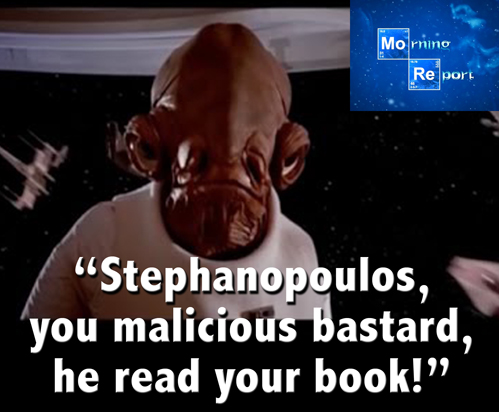 Good morning kids. The weekend is here so let's get right to it. The big story the Democrat-Media-Complex is pushing is President Trump's "gaffe" and/or proof positive that he needs to be removed from office immediately and sent to Leavenworth or Old Sparky concerning his comment about accepting "dirt" on political opponents from foreign governments. Let's try and unpack a few things and put them into perspective. First, the question posed was a hypothetical. Second, and I'm no legal eagle, unless there is some sort of quid-pro-quo involved I don't see the strict illegality of accepting information regardless of the source (of course it behooves the recipient to vet the source and the material thoroughly). Third, the people who have their hair on fire over this are completely ignoring the fact that Hillary Clinton and company actually engaged and paid foreign powers, among them our geopolitical enemies, to manufacture "evidence" to be used not only as "opposition research" but as a pretext to pervert our courts in order to spy on Trump.
And, as egregious and blatantly criminal as that was, it's only one instance of Democrats up and down the line and over the course of decades colluding, conspiring and taking bribes from foreign powers for the purposes of monetary or political gain. Hello, Clinton Foundation and Global Initiative that was selling access to the State Department and presumed White House? Hello, enabling the sale of 20% of our uranium reserves to Russia? Hello Bill Clinton engineering the sale of top-secret missile technology to the Chi-Coms via Loral Space Industries? Hello Bill Clinton again selling the Lincoln Bedroom like it was a hot-sheet motel? Hello Obama provably accepting foreign campaign donations? Hello Teddy Kennedy secretly meeting with the Soviets in 1984 to sabotage Reagan's foreign policy vis a vis "Star Wars?" Hello Al Gore calling donors from his office at the White House? Hello, Obama actively interfering in the Israeli and Albanian elections? Hello, Joe Bidet using his influence to steer Chi-Com and Ukrainian business, no doubt for political influence, to his failure of a son? Hello, Obama in 2012 reassuring the Russians that he'll be more flexible after the election to sabotage and dismantle our nuclear deterrent? And so on, and so on, and scooby-doobie-doobie. (UPDATE: I almost forgot Adam Schiff-for-Brains being pranked by two Ukrainian comedians posing as Putin intelligence agents who offered to send him compromising dirt on Trump, and he told them he would have his assistants stay in touch with them. And that is recorded on tape)
So with that in mind, someone please tell me how Donald Trump, answering a completely hypothetical question about what he maybe might do in just accepting "dirt" without any quid pro quo involved is even remotely in the same universe as the aforementioned? Oh, yeah. Not Democrat-Leftist-Globalist. With that aside, let's get down to brass tacks on the practical implications of this "gaffe," if you will and if you consider them as such, the mistakes the President made. His biggest, some are arguing, is even sitting down with George Stephanopoulos in the first place. Considering Trump has spent the past two and a half years justifiably blasting what he accurately called "fake news" how can he not recognize that he is about to confront the biggest Leftist with a press pass of all time? The man was a co-henchman in the Clinton White House who helped engineer the total destruction of political enemies, real and perceived. The other one is, considering Trump is a master at messaging, I don't understand why, instead of taking the bait by answering Stephanopoulos' set-up question, he didn't immediately cite the phony dossier and force the little homunculus to go into Clinton defense mode? Opportunity lost IMHO.
On a broader level, the "Norway" gaffe has re-energized the Left not only in its new messaging that Trump somehow has admitted his guilt in rigging 2016 with Putin by saying what he would do in the future, it seemingly allows them to use this as a pretext to delegitimize the 2020 election if Trump wins that one. And then we get another Mueller persecution all over again. That is if the Democrats don't outright steal 2020 via the insane State Compact or attempting to once again strong-arm Electoral College electors into not voting as they are pledged (see the link in the Politics section). So, in that light, this was an unforced error that might have some serious ramifications going forward.
I say "might" because this is Trump we are talking about and the times have changed. As we all know, the Left is itching to pull the trigger on impeachment but even the botox and Efferdent-addled Nancy Palsi understands to do so while Trump is hovering in the 40% approval range and without control of the Senate to convict him and remove him from office, it's political suicide for the Dems for 2020 and maybe beyond that. So, that said, was this a gaffe on Trump's part or a deliberate attempt to goad the Dems over the edge and push for impeachment? More people than ever have come to the conclusion that the Russia collusion story was a hoax and a smear campaign to destroy Trump, so the calculus might be that what he said (and I ascribe to this) is essentially no harm, no foul, all things considered. As the esteemed Thomas Lifson over at the great American Thinker states:
...Laura] Ingraham said it seemed like he was "playing with" Stephanopoulos a bit but added, "Putting him in that situation, I don't get it."

Here is some help for the perplexed: as the DoJ inspector general's report looms and U.S. attorney John Durham's mandate has been described in the broadest terms by AG Barr, Trump has the Democrats nattering on about how treasonous it is to accept any information from any foreign country. How about paying Russian agents with campaign money for fake dirt on an opponent, even if laundered through a law firm and Fusion GPS?

When and if indictments related to Fusion GPS are revealed, the defense lines of the progressives will have some Trump-sized holes in them...
Check and mate? Quite possibly. There is no doubt that not only is Trump a master communicator but perhaps for the first time ever, he has succeeded in turning the political narrative of Dem-Left good GOP-Conservative evil on its head, as well as the way DC operates and most crucially pulling back the curtain and exposing a lot of naked, ugly truths about people and institutions. But that said, as much as I love Trump, sometimes you just have to admit that a gaffe is a gaffe. George Patton was a hell of a general, but his mouth sometimes was his worst enemy. Meh; he spoke the truth and the press and DC were his enemy (sound familiar). But unlike Patton, Trump possesses two powerful traits: he fully understands messaging and the media and, most crucially, he is brutally honest about who and what he is, what he is going to do and keeping his promises come hell or high water. Shorter Sefton: This too shall pass, and Trump will use the slings and arrows of this to his advantage.
Elsewhere on this topic, Lindsay Graham echoes my sentiments, Andrew McCabe deserves the rack, Eric Swallowswell is now firmly in the impeachment camp, plus good Roger Simon on the disgusting attempt to destroy Kellyanne Conway with phony hosta Act prosecutions, and an examination of the real foreign interference and collusion that attempted to, and still attempts to sabotage and decapitate Trump.
Now on to the border and the immigration crisis where SCOTUS has been asked to delay the ruling on the census citizenship question, sophisticated drones found operating near the border adds another dimension to the national security threat and ICE nabs 140 illegals, 42 with criminal records in a Midwest raid. Good. Ramp up the raids, expatriate with extreme prejudice and prosecute the living shit out of any business that hires the foreigners.
Civil War 2.0: Highly recommend Angelo Codevilla's latest essay, which hits home my frightening point of how to use the rule of law and the Constitution to fight a political enemy that recognizes neither. If you read between the lines, even he seems to think that the unthinkable may be inevitable. Also, Trump supporter speaks out after the violent encounter with a transgender freak, and that "innocent" black man martyred in cold blood by the evil police in Tennessee that sparked rioting? He was wanted in Mississippi for shooting a man.
Politics: A look at the first Dem prexy debate roster, Mollie Hemingway and the NY Post editors are high on Trump in '20, Sarah Huckabee Sanders is stepping down as press secretary and is evidently eyeing a run at the governorship of Arkansas, Kamala-Toe blathering that she would prosecute Trump if she is elected, Joe's Man-Chin may be ankling the Senate (so much for Dems gaining control), Nancy Palsi pissed at Cocaine Mitch for killing crazy radical House bills, the Maosits are going after the so-called moderates including long time incumbent Henry Cuellar, Bernie sez we're going to love getting taxed out the ying yang, California Democrat billionaire interfering in Mississippi election, Alan Dershowitz just won't let go of the crazy, wife of Duncan Hunter pleads guilty to corruption charges (ugh and feh), the record on veeps running and winning after two-term prexies, Leftists declare there will be no debate on moral questions, and a look at how they might swipe the 2020 elections.
First Amendment and Fake News Fakery: Daniel Greenfield declares a new civil rights movement, Fakebook adopting Chi-Com social credit system for users, what did Zuckerberg know and when did he know it? House reps demanding Twitter bans Hamas, Media smears Trump with allusions to Jap internment camps for illegal kids, YouTube is a menace to free speech, and is Trump the target of this Netflix propaganda film about the Central Park 5 animals? Stay tuned to the Crime section for more on this.
Guns: House GOP moves to end gun-free zones. Nice optics even if it stands no chance... right now.
Abortion: Tank Abrams loves baby-killing but not job-killing boycotts, dark money millions fund the baby killers, big abortion's big lie and the utter hypocrisy and failure of Planned Parenthood.
Foreign Desk: Now that we place the blame on Iran for the oil tanker attacks, what will Trump do?, mass protests planned for Hong Kong this weekend, Chi-Coms test new missile, (thanks Bill Clinton!), a look at the Danish elections and immigration, Caroline Glick connects the BDS-terrorism dots, and Humberto Fontova high on Trump socking it to Castro, and by extension Obama.
We-All-Slam-For-I-Slam: Islam and the compatibility with an open American society (spoiler alert: it isn't).
Domestic Desk: On Jon Stewart Liebowitz's grandstanding for 9/11 victims, Pennsy legislature to repeal a booze tax, pension reform goes bust in California, and an essay on improving struggling regions.
The Economy: Denver elects a woman who makes Bernie Sanders look like Milton Friedman.
Crime and Punishment: IG says the DoJ brought foreigners here to be witnesses and then somehow lost track of them, British law enforcement about as rational and sane as you'd expect, Oakland decriminalize 'shrooms and peyote because it's better to be ripped out of your gourd than step in feces and needles while being robbed, and about that Central Park 5, they were guilty as hell and deserved to be hung, drawn and quartered for what they did. Don't let the fucking media gaslight you on this one. I was here and I remember it like yesterday. Bastards.
Healthcare: Another possible cure for Alzheimer's on the horizon, and AARP in big battle to keep medicine expensive for seniors.
Red Greens: Set back for the commies as judge rules against NY AG in attempt to call all of Goldman Sachs as a witness, or something.
Feminazism and Transgender Psychosis: Some real vile items today as Vermont is allowing taxpayer funded child mutilation, Oxford bans an academic from speaking the truth about tranny insanity and feminazis would really be disappointed with an ERA.
Hither and Yon: Christian Toto on the SJW critics slamming the new Shaft (can you dig it?), a look at the real Chernobyl disaster and its political aftermath, Thomas Sowell brings it (can you dig it!), sad take on the culture war, Larry Elder on the racism myth that just won't die, and how ignorance fuels the America-hate from within. Same as it ever was. Have a great weekend.
Anyway, links from around the world, across the nation and up your street. Have a better one and remain blessed.
NOTE: The opinions expressed in some links may or may not reflect my own. I include them because of their relevance to the discussion of a particular issue.


AMNESTY, IMMIGRATION, MIGRANT INVASION BORDER WALL, BORDER SECURITY


posted by at
07:44 AM
|
Access Comments