« Tuesday Overnight Open Thread (6/11/19)
|
Main
|
Mid-Morning Open Thread »
June 12, 2019
The Morning Report - 6/12/19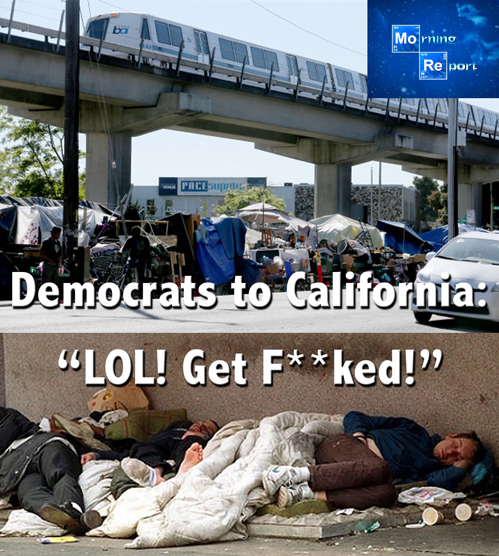 Good morning kids. Midweek so here we go. First up it's the crisis at the border where the Democrat-Left-Media Complex has IMHO completely lost the narrative in being forced to admit that there is a crisis at our border, that the tariff threat against Mexico actually accomplished in days what was claimed was impossible for decades, and that mass illegal immigration brings crime, disease and economic catastrophe to the citizenry and many other ills that ultimately destroy our national identity and sovereignty. But still, they persisted!
Pat Leahy, who alive looks worse than Thad Cochran now dead for a week, led the Democrats in blocking emergency funds to deal with the catastrophe at our southern border. Well, they had to, I guess because a) despite all of the above they can never concede they were wrong and b) they cannot give President Trump a political victory which really is not even on his radar since everything he has done in the past two and half years is for the good of the nation. Plus, swamping the nation with millions of people to create a giant new underclass is the political end-game for them, especially if they can populate Texas and/or Florida. The destruction of America via the dissolution of its culture and the concomitant balkanization as well as collapsing the economy is also a big part of that equation for the purely ideologically-driven on the Left.
And that leaves the question of the putative opposition party, today's GOP, and whither are they bound. They did everything they could to derail Trump from before the election right up to the midterms, and even now, for a host of reasons. There isn't a bureaucracy or pork project they'll say no to and they have no problems with open borders since the corporatists at the Chamber of Commerce want cheap labor, either by closing factories here and opening them in third world shit-holes, or importing third world shit-holes in the form of cheap illegal alien labor here. The election of Trump meant the American people want that stopped. So, for the GOP it will be a time of choosing: it's either to do what we demand of you in return for our vote or get a primary challenge. The Chamber of Commerce, like other seemingly reliable bastions of American values is not what it once was. It is working hand in glove with the globalist enterprise to dismantle America, its values and culture. It presents a danger, albeit on another front, that potentially is as dangerous as Big Brother/Big Tech. It needs to be neutralized, like yesterday.
Rounding out this category, Bro-Fo Omar continues spewing anti-American newspeak about ICE, one Texas town on the front line has had enough, and two good essays on the homeless and illegal alien crises as well as holding politicians accountable for the criminality unleashed by their "sanctuary" policies. Amen.
On to the Clinton/Obama Anti-Trump Coup and Congressional Persecutions where the Dems vote to hold AG William Barr and former White House counsel Don McGahn in contempt for refusing to appear before their sham kangaroo court, and that's funny because back in '95 Joe Bidet heaped praise on William Barr as the best AG ever, lead Watergate co-conspirator and crook John Dean's (adding that to the AOS Style Guide) appearance was a disaster for the Democrats, the narrative about Christopher Steele being an impeccable intelligence source also evaporates, and, surprise! The FBI's notes pertaining to Hilary Clinton's e-mails go missing, unexpectedly, as Judicial Watch was about to get its hands on them.
Dem Leftist Scandal Sheet: Joe Bidet must have gotten onto a rotten batch of paste because fresh off being ripped for plagiarism last week, he goes ahead and swipes creepy porn shyster Michael Avenatti's campaign slogan. Also, what the hell is wrong with Virginia? A Dem who was charged with having sex with a minor wins his primary and some anti-lobbying Progressive group endorses a Lindsay Graham challenger who turns out to be an ex big time corporate lobbyist.
Civil War 2.0: Oberlin's comeuppance. May a thousand Caterpillar dozers bloom and Rachel Corrie the campus into the ground.
Politics: The Joe Bidet follies continue where, get this, he promises he's going to cure cancer if he's elected. Meanwhile, Trump lit into him with a crude but 100% accurate description of his being selected by Obama, and lastly the flip-flopping moves from abortion to the Chi-Coms where suddenly, the paste-eating goniffing girl-groper sees them as a threat. And this is the guy the Dems are rigging the primaries to win? Elsewhere, Fauxca-Has-Been's tax plan is unworkable, punitive in the extreme and unconstitutional, but Chief Justice Roberts has a red pen for that. In any case, despite the buzz that her star is rising as high as her cheekbones, she's ain't polling well in her own home state. Meanwhile, Team Trump is considering putting resources into blue stronghold Oregon. Why not? Rush Limbaugh said yesterday he should even travel early and often to California. I agree. This President has done so many things that defy the so-called conventional wisdom that have turned out to be wildly successful. Can he win the state despite it being a lock for the Democrats? Maybe not, but by shining a light on the abject misery, squalor and corruption, he will force the Dems there and elsewhere to defend their policies that turned what once was a golden state in every sense of that word into Zimbabwe on the Pacific.
Also, with an ego and delusions exceeding her girth, Tank Abrams might actually announce she too is running in 2020. She's also pissed at Joe Bidet presuming she'll get in the back of his bus. Lastly Chiquita Khruschev, the woman of the people who already earns gets a paycheck for $174,000 a year wants another $4,500, but it's not a raise-raise, and some Maoist front group is all in to pack the SCOTUS. Another 10 like Clarence Thomas and I'm down for that struggle.
First Amendment and Fake News Fakery: More Google blacklisting revealed, more calls to stand up to YouTube, TuCa notes the Farsi Ferret's book is up there on the NY Times Bestseller List but has yet to sell a copy, NBC names college radio DJ Rachel Maddow as a prexy debate moderator, Google shielding Jussie Galore from critical search words, NY Times ends political cartoons in the international edition after the backlash over the anti-Semitic ones but describes Milton Friedman as some sort of "alt-right" extremist, and John Cleese lights up Twitter. Good for him. Finally.
Guns: Tom Massie seeks rolling back restrictions and arming teachers.
Abortion: Incorrect prenatal testing leads to more women aborting their babies.
Foreign Desk: A big story with huge implications about the Brits covering up a major Hezbollah terror plot in order to preserve the Iran Nuke Sellout, Japanese PM Abe will go to Teheran to meet the Mullahs (why?!), State Department says "pfft" to Javad Zarif, Iran and Afghanistan nuking up together, will the Chi-Coms send tanks to Hong Kong?, Trump floating more tariffs at Chi-Coms if they don't come to the table at the G-20, another look at the Chi-Com Muslim concentration camps, Stuart Smalley's Buick on loan to the anti-Brexiteers?, and a look at Huawei, big tech and the Chi-Com plot to dominate the world.
DEE-Fense: Democrats in the House in a possible budget showdown over DoD money going to the border wall.
We-All-Slam-For-I-Slam: SCOTUS to Muslim terrorist in Gitmo: learn to code.
Domestic Desk: Dems to Gold Star families: FOAD, Mike Bogren withdraws his name from judicial nomination but Margot Cleveland of The Federalist who is related to him defends him from the accusations of being a bigot, NYC's corrupt scofflaw follies and a look at two Democrat metropolitan shit-holes.
The Economy: UAW and Anti-VW groups blasting agitprop over Tennessee airwaves.
Healthcare: Surprisingly, the AMA continues to be against assisted suicide.
Education: Open letter to AG Barr to go after the SJP and two essays on what today's education is really all about.
Red Greens: Daniel Greenfield on the glaciers are melting lie, Dems keep pimping that Green New Deal, union boss sez LA mayor Garcetti's own version of the GND is turning people off big time, and Obama fluky Gina McCarthy is all bitter about the current EPA touting industrial development and environmentalism going hand in hand.
Feminazism, Homosexualization: Yes, drag queens and kids do not mix well.
Hither and Yon: Chicago Field Museum has Lo-T-Rex, minority kids and spelling bees, Salena Zito on the road again, this time at a rural gas station, Christian Toto profiling a sci-fi writer who rejects PC, Dennis Prager on Leftism making people meaner and finally, the 52nd anniversary of Israel's incredible 6 Day War victory.
Anyway, links from around the world, across the nation and up your street. Have a better one and remain blessed.
NOTE: The opinions expressed in some links may or may not reflect my own. I include them because of their relevance to the discussion of a particular issue.


AMNESTY, IMMIGRATION, MIGRANT INVASION BORDER WALL, BORDER SECURITY


posted by at
07:40 AM
|
Access Comments