« Saturday Gardening Thread, How's June workin' out for ya? [KT]
|
Main
|
Saturday Afternoon Chess Thread 06-15-2019 »
June 15, 2019
Ace of Spades Pet Thread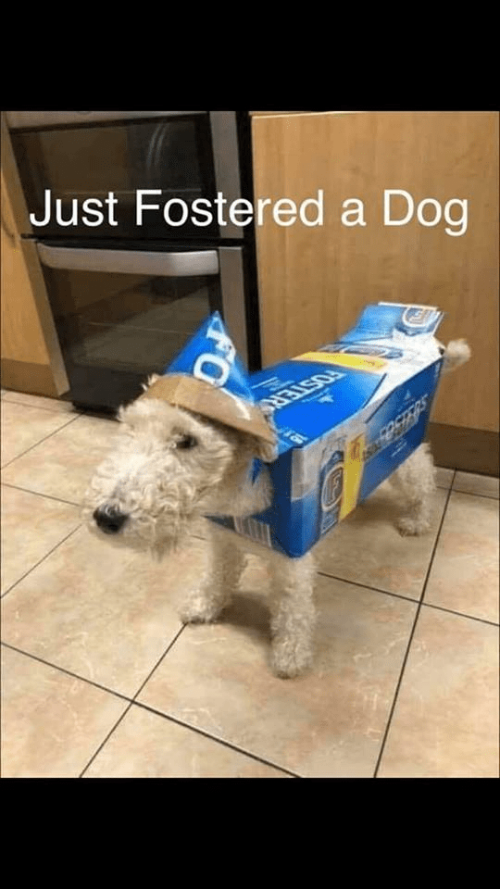 ***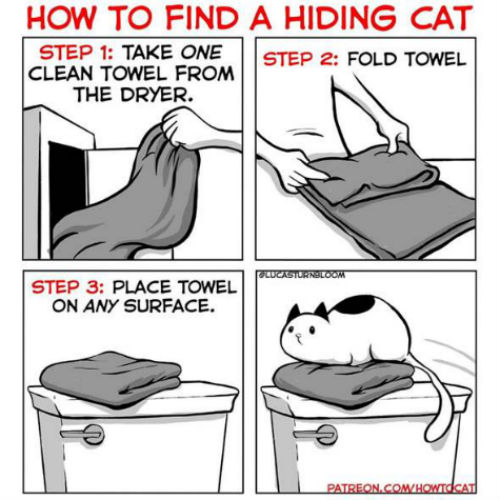 (H/T Legally Sufficient)
***
Good afternoon Morons, Lurkers and everyone in between. Welcome to the almost world famous Ace of Spades Pet Thread. The Pet Thread appreciates your indulgence last weekend. It has been a crazy spring here at Villa Misanthrope.
***
A Little of This. A Little of That.
***

Do you know why dogs are called "Man's best friend"? Here's the story that explains it.
***

Science here at the almost world famous AoS Pet Thread..............
***
H/T CBD
Meet The PetMorons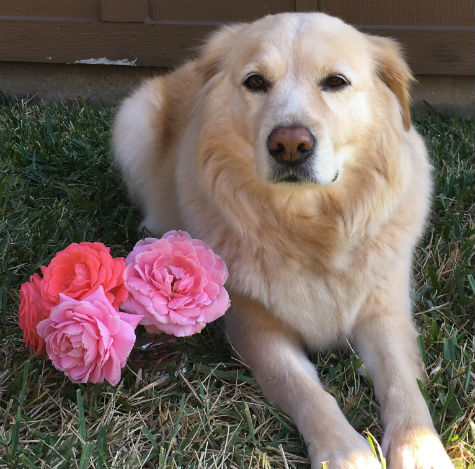 (Finnie)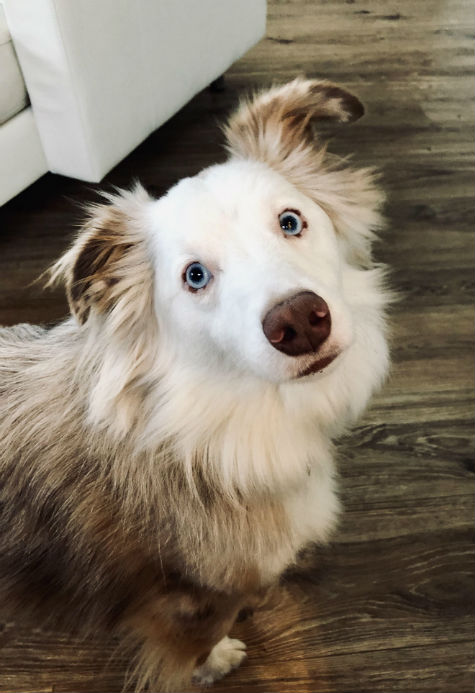 (Frankie)
Been lurking since the early days... occasional poster... I'm Sapguy from Dallas.

Everyone knows that the kids always suffer the most in a divorce. Well below is my beloved Finnie who is now with my ex-wife. She is a 12 year old Nova Scotia duck toller mix and a better dog doesn't exist. She lives on the other side of the Country and so I only get pictures of her now and then. I miss throwing the ball for her terribly. She never met a pizza crust she didn't love or a squirrel that she didn't want to catch. I can't think about her without tears...


I couldn't take the silence without her so I found a friend to help me get by. This is Frankie, a miniature Aussie. He loves to play fetch as much as Finnie did, and keeps a constant eye on my every move. Every night he has to get some pets before he will lay down at the foot of the bed... he gives me joy just by being around. God gave us dogs so that we had role models.

Gorgeous animals Sapguy> It's a bummer that you lost custody of Finnie, but Frankie appears to be a special pup.
***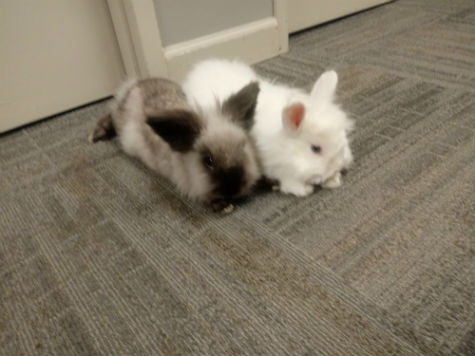 Greetings WF Pet Thread,

You have featured my personal pets, but I thought I would share my work pets: Thumper and Snowball. I work running a school at a residential treatment center for abused boys. About 3 years ago we were trying to decide on a therapy pet for the facility to be used in treatment with the boys. Two years ago our CEO came in one day with 3 baby rabbits - sadly Gizmo, the third bunny, died last year. They were not being used for therapy at all, so we decided to use them to teach the boys job skills. The boys apply for a Bunny Caretaker position, interview, and train to take care of them at night and on weekends. In the past year since my best friend and fellow bunny lover retired, they have become my bunny boys and I have too much fun with them throughout the work week. They are sweet, funny, and loving little fluff balls who just celebrated their 2nd birthday this year on Easter Sunday so they are real Easter Bunnies! Thanks for the Pet Thread - love it as always! - Cindi T.
Not only are they cute and cuddly pets they are also Feel Good Stories. What an awesome idea for the pets and the young men. Thanks so much for sharing!
***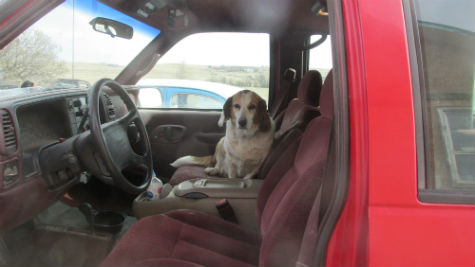 And here is a pic of Pogo the doggie. Well, I will attach it. - AOP
Pogo looks right at home riding shotgun for you Alberta Oil Peon. He looks a little short to be a sled dog. Thanks for sharing.
***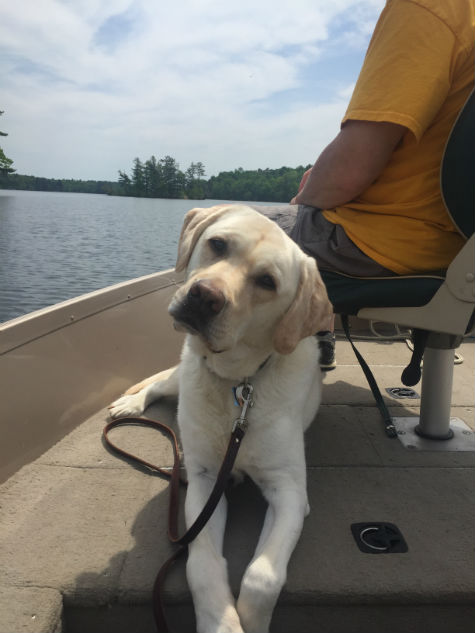 MH, This is Gunner. 6 year old yellow lab. My youngest son is a hunting enthusiast. He saved up his money to buy Gunner when he was 16. He then trained him to become a push button pheasant-grouse-waterfowl hunting dog as well as a super house dog. I'm really proud of him for how Gunner turned out. Gunner lives with us as his Dad is a senior at university.

Gunner was a little out of sorts last week so we took him in for an exam and blood work. We were thinking Lymes again. We got the news yesterday that it was a super aggressive form of acute Leukemia. Not treatable by chemo. Dogs with this diagnosis typically live days to a few weeks.

My son is coming home Friday and we will put Gunner out of his pain Saturday at 11 am. Our hearts are broken and we will miss him terribly. We will all hold him as he passes. Until then, Gunner always has a person snuggling him or giving him treats.

I'm not sure this is pet thread material or not. It's a downer. But if you want to use it, this is an experience we all share in some way, shape, or form. I mentioned this in comments and there was a cathartic response from several people who went through this sort of thing. Up to you my friend.-Maud'dib
Yeah, it's a downer. But we are pet lovers. And we understand the pain and heartbreak one goes through in these circumstances. Nothing wrong with venting we are the Moron Horde, that's what we are for.
***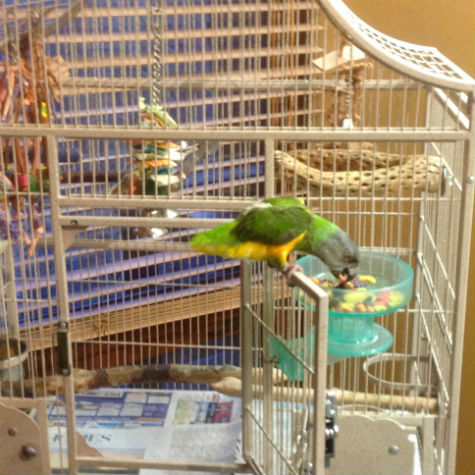 Long time Lurker here. Some months ago I sent you a picture of my black cap conure Hugo Whistler. This is Bronwyn our beautiful Senegal. She was a shy and quiet lady. Hugo is the rowdy one. She was pretty much a one person bird — that person being me. She used to ride on my shoulder while I cooked. But slowly she began to just stay in her cage and only occasionally come out. The short story is that it turned out she had epilepsy. We took her to Cornell where they have a fabulous veterinary school. We got medicine for her and spent a year and a half giving her her medicine and a very nice life. I sat with her on her last day, wanting to be with her when she died. But, she refused to go until I left the room. She's buried in the garden and there's a plaque there to commemorate her. It's very hard losing a companion bird. But she gave us lots of love and lots of joy.

What a colorful and beautiful bird. She had wonderful people taking care of her up to the end. Pets they give so much and expect so little in return. Condolences on your loss.
***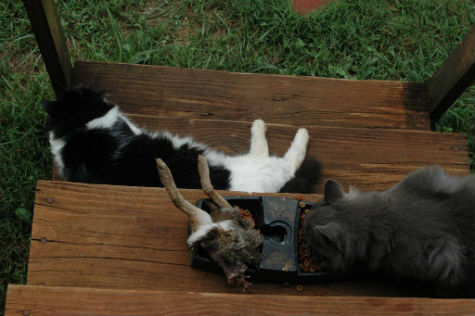 This photo is from several years back. I can't recall exactly when. I found this back half of a rabbit on top of the dry crap I serve the cats everyday. The one with her back to the camera put it there, apparently as a hint of what she'd prefer to find every morning. The grey cat minding his own business wasn't even tempted to steal the rabbit, as he knew that he'd get beat into the middle of next week if he touched his sister's kill. - Ingrate.

Well, we finally got our technical skills to match. Sorry it has taken so long to post your pet photo. Quite the brunch buffet there. Thanks for the submission.
***

A diverse group of pets today, doggehs, kittehs, bird and bunnies. Thanks so much for submitting the photos.
Do you have something you wish to share? Well we are here at petmorons at gmail dot com.
Have a great week!!!

posted by Misanthropic Humanitarian at
03:00 PM
|
Access Comments