« Thread before the Gardening Thread, June 15 [KT]
|
Main
|
Ace of Spades Pet Thread »
June 15, 2019
Saturday Gardening Thread, How's June workin' out for ya? [KT]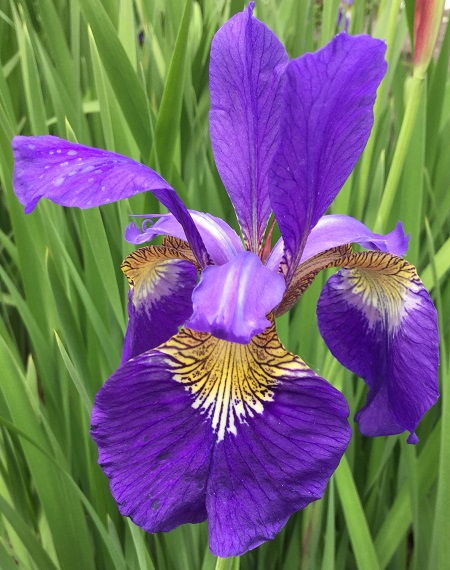 Hi, Gardeners! June is supposed to be a great gardening month. Is it for you? Anyone dealing with flooding?
The striking photo above is from Admirale's Mate in Andover, MA. Can you tell what kind of iris it is?

Edibles
Anybody planted watermelon? Be prepared. From my creative niece brigade.
Fruit season should be revving up in the San Joaquin Valley. Early cherries are done. Our Apriums are gone, and most of the commercial apricots are probably gone finished, too. This is a better climate for peaches and nectarines than for apricots, because summer usually heats up pretty early.
Any local fruit on where you are?
Carnivorous and Native Plants
Another Pitcher Plant from our carnivorous plant specialist, Tony Litwin. I expect there are some bugs in the pitchers this time of year.
S. Flava ornata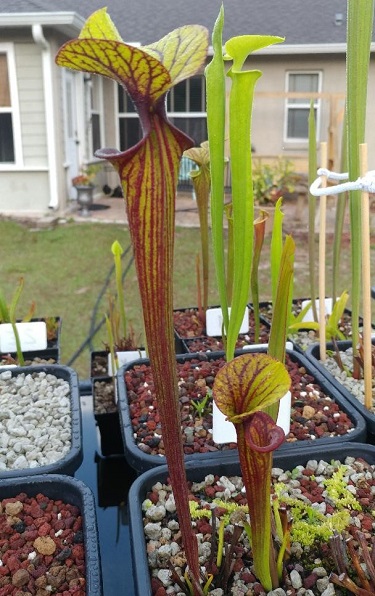 And something different from Tony, a native wildflower. Not carnivorous:
Just thought everyone would like to see the Rain Lilies Zephyranthus Atamasco that popped up on my property after a violent thunderstorm we had the other day. Seems here in Central Florida, they only do that after an extreme heavy rain and thunderstorm which makes them bloom, and then when they are done in a week or so, they disappear again until next year. Last year they didn't appear at all, and this year they are putting on quite the display. Hope everyone enjoys them as much as I do.

Although you can get them thru a native nursery, they grow wild and these are a wild colony. What's funny is that I also have them growing haphazardly over my lawn with one here and two there. They also grow along roads around here until they disappear in a week or so.

They are one of the few native wildflowers here in central Florida. Not common but a joy to see when they appear.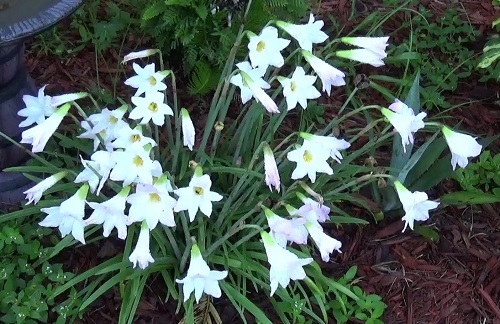 What a nice surprise! You can buy other species (and maybe some hybrids) of Zephyranthus (AKA Zephyr Flower or Fairy Lily) for gardens in other parts of the country. Some are white, others yellow or pink. Some will bloom repeatedly through the season with intermittent watering in mild winter areas.
A while ago, The Invisible Hand sent in a native plant on a different scale. I'm pretty sure it is Romneya coulteri, the biggest wildflower in California. Sunset notes that it is difficult to propagate (from root cuttings or seeds) but difficult to dig up once established. Don't need much water once established. There are two named varieties. There is also a species or subspecies with hairy buds.
They can be invasive where there is summer irrigation. Especially in light, sandy soil. They spread by rhizomes. They make good cut flowers. You can cut the plants back in fall nearly to the ground. You can consider a root barrier to keep them from getting too big.
Look kind of like fried eggs, don't they? So do the Prickly Poppies, which are usually grown as annuals.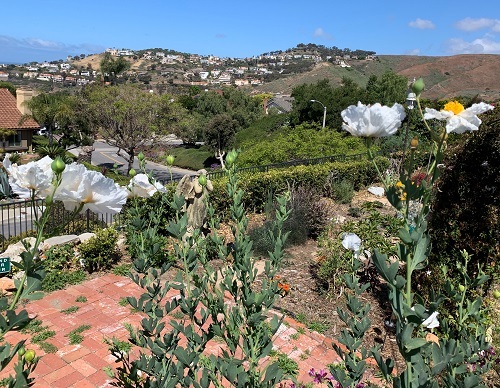 Botanical Gardens
Keena sent in the following intriguing plant photos last week:
Our visit to the San Diego Botanic Garden this week showed that the Sapphire Tower plant from Chile was blooming. It's a gorgeous color. Kind of a teal/turquoise with these bright orange stamen. I've never seen a color quite like this before. Really beautiful.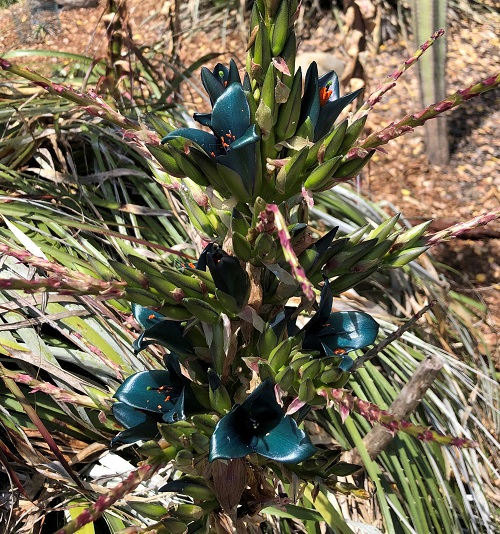 Closer view of the flower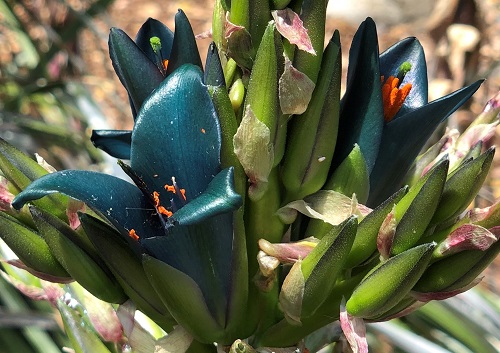 Very unusual. Looks like they may have some other unusual plants at that garden, too.
Meanwhile, a few weeks ago one of my nieces went to the 300 year old Magnolia Plantation, with low country gardens and critters, in Charleston, SC.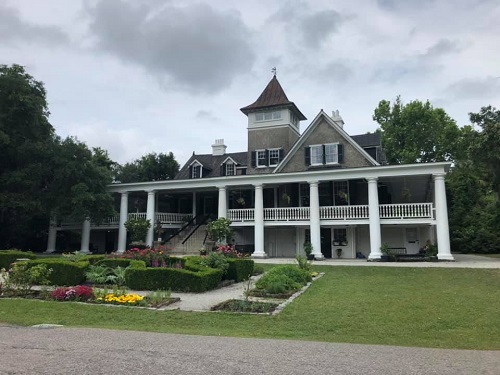 Ever wanted a big porch?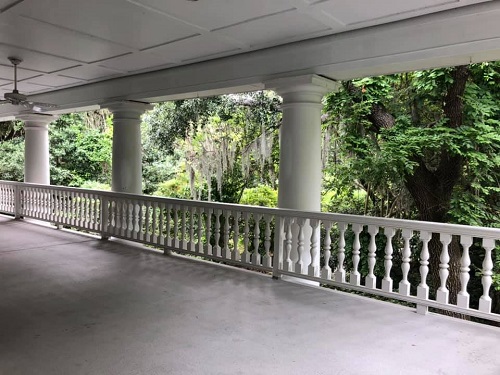 Like they said, low country.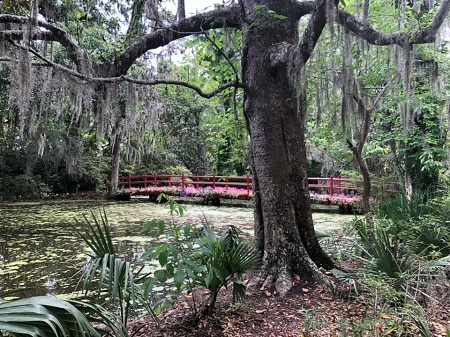 Careful.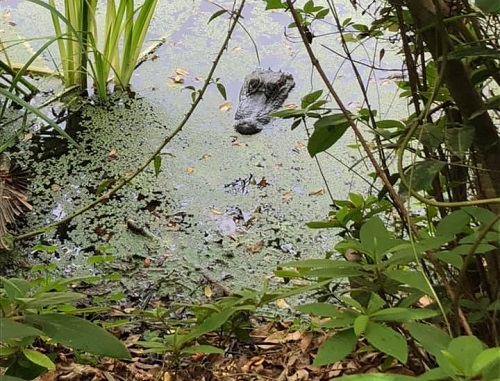 Prey?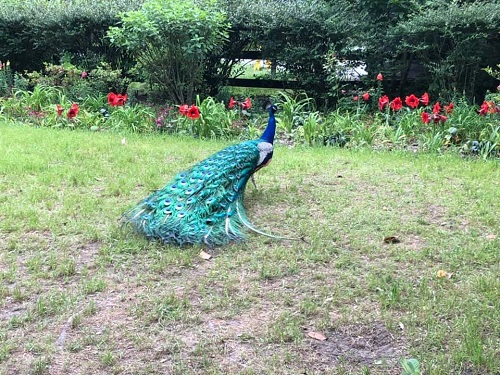 Gardens of The Horde
S. Lynn sent in a good idea for a bulb cover a while ago. We will be discussing later what to do with bulbs after they bloom. If you have any experiences to share, please do.
The bachelor buttons that seeded from last year help cover the dying leaves from my bulbs. Great little accident. Glad I didn't pull the seedlings out last winter.
If you would like to send information and/or photos for the Saturday Gardening Thread, the address is:
ktinthegarden
at g mail dot com
Include your nic unless you want to remain a lurker.


posted by Open Blogger at
12:14 PM
|
Access Comments