« Food Thread: What's The Password? Swordfish!
|
Main
|
Sunday Overnight Open Thread (6/9/19) »
June 09, 2019
Gun Thread: Weapons of D-Day [Weasel]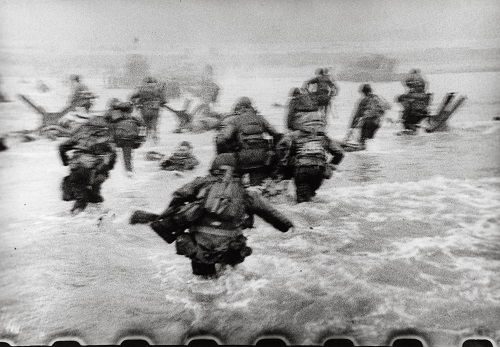 Omaha Beach - June 6, 1944
Of all the D-Day combat photos to choose from, I liked this one the best. The blurry image seems to best capture a chaotic instant in time at Omaha Beach. Let's take a look at three of the weapons these incredibly brave young men would have been carrying, shall we?



1945 Springfield Armory M1 Garand
Although many different weapons were brought ashore that day, most of the soldiers would have been carrying the main battle rifle of the time, the U.S. Rifle, Caliber .30, M1. Designed by John Cantius Garand, in 1936 the rifle bearing his name became the first standard issue semi-automatic infantry rifle in the world and which General George S. Patton famously called "the greatest battle implement ever devised." Nearly six million of these wonderful rifles were built by wartime suppliers Springfield Armory and Winchester Repeating Arms, and later Harrington & Richardson, International Harvester and Beretta.
Weighing about 10 pounds, the M1 fires a .30-'06 cartridge from an 8 round internal clip (yes, a clip) and has a stated maximum effective range of 500 yards although the rifle is accurate to much greater distances. They are an absolute joy to shoot, as anyone who has had the opportunity will be only too happy to tell you. These are the rifles which allowed the men with uncommon courage to change the course of history.
The paratroopers landing in France the night before the invasion would have most likely been carrying the M1 Carbine. This particular rifle has serial number low enough that it could have been there. Some of you may recall the M1 Carbine from the February 17, 2018 Gun Thread.


1944 General Motors, Inland Division - M1 Carbine
Quoting from that thread:

Prior to WWII, the Army had decided the M1 Garand primary battle rifle was too big and clunky for support troops and paratroopers and requested a smaller, lighter rifle be developed. The Winchester design eventually prevailed and went into production in 1941. The semi-automatic carbine, a gas operated, rotating bolt design, was approximately 36 inches in length and weighed in at just over 5 pounds. An even more compact version with a folding stock was developed for Airborne units. With production ending in 1945, more than 6 million of the rifles were made and have seen use by armies and civilians around the world, even to this day.
Others of you may recall this pistol from the September 2, 2018 Gun Thread.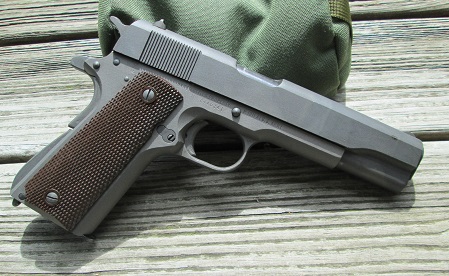 1945 Remington Rand M1911A1
To quote my own deathless prose from that thread:

Designed by John M Browning, the M1911 and 1911A1 chambered in .45 ACP (Automatic Colt Pistol) served as the country's standard-issue sidearm for 75 years. Military testing began around 1906 and continued until the design was formally adopted in 1911. An autoloader based on the short recoil principle of operation, it has been universally acknowledged for its durability, simplicity and reliability.

Over the years, countless variants of the same basic design have been produced and remain very popular among shooters today. Millions were produced under military contract with notable wartime manufacturers including Remington Rand, Ithaca Gun Co., Union Switch and Signal, and Singer.

Volumes have been written about the 1911, the quintessential military sidearm and the standard against which all other autoloading pistols are measured. The example pictured above, one of the last produced by Remington Rand in 1945, has been through the arsenal process at least once and remains a fine shooter to this day.
The M1, the M1 Carbine and the M1911 are fantastic weapons which I am very happy to own. When I shoot these guns, I cannot help wonder where they have been and about the soldiers who have carried them. These weapons are the tools of freedom. They are an important part of American history, fine examples of the industrial art of the period, and virtually guaranteed to put a smile on your face.
Here is a link to President Trump's remarks commemorating the 75th anniversary of the Allied landing on the beaches of Normandy. He absolutely nails it, and it's well worth your time if you haven't already seen it.
*******
Link-O-Rama
Amazon: Collector's Guide to the M1 Garand and M1 Carbine
GCA - The Garand Collectors Association
Fulton Armory: M1 Garand Rifles and Parts
The Civilian Marksmanship Program: M1 Garand Sales
Article: M1 Carbine
Book: M1 Carbine Wartime Production
Book: M1 Carbine Owners Guide
War Department Field Manual - U.S. Carbine, Caliber .30, M1
Browning Website: History of the M1911
Collectors Guide to the M1911
SightM1911: Super Mega Assload of M1911 Information
M1911 Forum
***Mail Bag***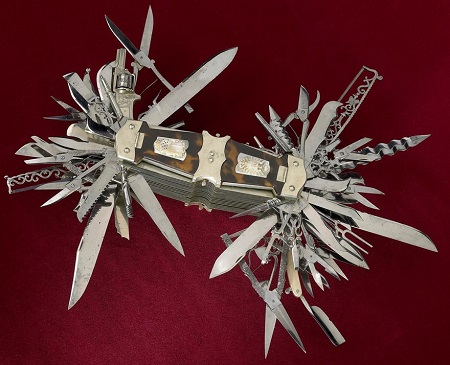 Giant Multi-tool - h/t hcurmudgeon
What the ever loving hell is a multi-tool doing in the Gun Thread you ask? Well if you look closely, among other things it has a functional five shot .22 cal revolver. Thanks hcurmudgeon!
*************
Please note the new and improved gmail account morongunthread at gmail dot com. An informal Gun Thread archive can be found HERE. If you have a question you would like to ask Gun Thread Staff offline, just send us a note and we'll do our best to answer. If you care to share the story of your favorite firearm, send a picture with your nic and tell us what you sadly lost in the tragic canoe accident. If you would like to remain completely anonymous, just say so. Lurkers are always welcome!
That's it for this week - have you been to the range?

posted by Open Blogger at
07:00 PM
|
Access Comments