« Food Thread: "Give Us The Tools, And We Will Finish The Job"
|
Main
|
(6/2/19)Sunday Overnight Open Thread »
June 02, 2019
Gun Thread: Customer Service [Weasel]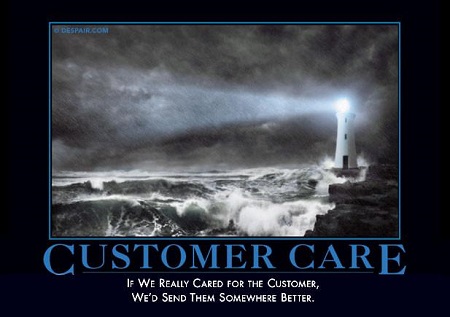 Last week I included a link sent in by redc14 on a Kimber firearm recall. The issue, I think, was some sort of defective optics base plate that could potentially come off and cause problems for the shooter. Anyhoo, I asked what sort of experiences people have had with various firearm manufacturers customer service and while the question elicited a few comments during the thread, I also received a number of emails on the topic and I thought it might be fun to discuss it a little more this week.
Before I became a wildly rich and famous writer of gun threads, I used to spend some time on a few different gun discussion forums. I happen to own a few Sig Sauer pistols and Smith & Wesson revolvers and discussion boards for these products were a place I spent some time where factory customer service was a frequent topic. Overall, I'd say the Smith & Wesson comments were almost all wildly positive, and while a little more balanced, the Sig Sauer comments were in general very favorable.
Although I have never had a firearm recalled or even experienced a serious problem, I have had occasion to contact each of these company's customer service departments for technical advice or to order small parts. Without exception, the representatives I spoke with were knowledgeable, courteous and helpful; and frequently provided small parts such as springs, pins and the like at no charge. I cannot honestly say I have had anything close to a bad experience with either one.
One place that I received remarkable customer service was with the CMP. I decided to have a M1917 rebarreled and cannot say enough about the people I dealt with at their Anniston, AL Custom Shop, or the work they did on my rifle. Due to the volume of work they receive, you fill out some forms and are placed on a waitlist before sending them your gun. In my case the wait was about 6 months but I wasn't in a hurry, so it wasn't a big deal. When the time came, I discussed at length how I wanted the chamber on the new barrel cut and they did it exactly as I requested. Honestly, I was not expecting them to be nearly as accommodating to my special requests as they were, but rather expected them to offer a single 'standard' chamber profile. The turnaround time was fast and they even replaced a few internal parts which they observed were worn at no charge and without being asked to do so. Amazing service they must perform hundreds of times a month.
And these experiences were not only limited to big manufacturers. In fact, I have had really nothing but favorable experiences with firearms related product manufacturers of all sizes, including some very small outfits producing highly specialized parts and tools. I suspect this is because firearms owners and enthusiasts are typically a friendly lot and most of the people working in these businesses are shooters, as well. I honestly cannot think of another single industry that is so well represented.
So my experiences have all been favorable. How about yours? In an age of impersonal online retailers, most of the time all aspects of customer service and product support seem to have long vanished in the rear-view mirror. Have you had a noteworthy personal experience with firearms related companies, good or bad?
*****
Well now let's see what else there is to talk about:
It happened again this week, this time in Virginia Beach. A lunatic went into a city office building and started shooting co-workers. Before the cops showed up and ended the carnage there were 12 dead, six wounded and countless lives changed forever. The city building in question was by policy a designated "Gun Free Zone" and apparently everyone was following the rules except the asshole doing the shooting. The Crime Prevention Research Center statistics show that between 1950 and 2018, 97.8% of mass public shootings have occurred in areas where citizens are prohibited from protecting themselves and others. Think about that. Think about the difference one or more armed employees in the building could have made in the outcome of this senseless act.
Clearly, legislators in Louisiana are paying attention.
***
Just in time for Father's Day! Our pal
rhomboid
sends us this interesting link to a website by a guy who seems to know a lot about
WWII flamethrowers
. This website is worth poking around on for a while. There is a ton of good information and it's well presented. Thanks rhomboid!
***
Ballistic Coefficient is a measure of a projectile's ability to overcome air resistance, and becomes more important as we shoot at longer distances.
Introduction to the G1 and G7 Ballistic Drag Models
WARNING: MATH! Expect to see this material again.
*******
Link-O-Rama
Georgia Arms - Free Rifle Case Offer
Article: Reminders for Giving Firearms for Father's Day
Shooting Times: Revolver vs. Semiauto - A Ballistic Oddity
Great Article: Ammoland - S&W New Departure Safety Hammerless
Inaugural Creedmoor 150 Match - Muzzleloaders!
***Mail Bag***
This weeks entry was sent in by 'ette Bean Counteress of Rohan who tells us:

I saw the Henry side gate .30-30 lever action and I had to have it. I have a soft spot for lever actions. Hope to pop a few rounds off very soon. My first Henry!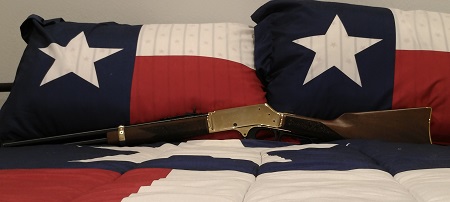 Very nice BCoR! I'm sure we'd all love to hear your range report!
What part of the country are you from, by the way?
*************
Please note the new and improved gmail account morongunthread at gmail dot com. An informal Gun Thread archive can be found HERE. If you have a question you would like to ask Gun Thread Staff offline, just send us a note and we'll do our best to answer. If you care to share the story of your favorite firearm, send a picture with your nic and tell us what you sadly lost in the tragic canoe accident. If you would like to remain completely anonymous, just say so. Lurkers are always welcome!
That's it for this week - have you been to the range?

posted by Open Blogger at
07:00 PM
|
Access Comments