« EMT 06/02/19, Tempest edition
|
Main
|
Bill de Blasio For President! At least His Campaign Will keep Him Out Of NYC »
June 02, 2019
Sunday Morning Book Thread 06-02-2019

Good morning to all you 'rons, 'ettes, lurkers, and lurkettes, wine moms, frat bros, crétins sans pantalon, thugs, pugs, hornswogglers, Methodists and everybody who's holding your beer. Welcome once again to the stately, prestigious, internationally acclaimed and high-class Sunday Morning Book Thread, a weekly compendium of reviews, observations, snark, and a continuing conversation on books, reading, writing, and publishing by escaped oafs who follow words with their fingers and whose lips move as they read. Unlike other AoSHQ comment threads, the Sunday Morning Book Thread is so hoity-toity, pants are required. Even if it's these pants, which look absolutely appalling, even on Houston fans.

Pic Note
What are those empty shelves doing up there on the second level? NEED MOAR BOOKS!

It Pays To Increase Your Word Power®
Meaning "without any hope of recovery", the expression HIGH AND DRY originally referred to boats and ships that had been beached for so long that their timbers had dried out, rendering them unusable.
Usage: Kind of like this, then, only perhaps higher up on the beach: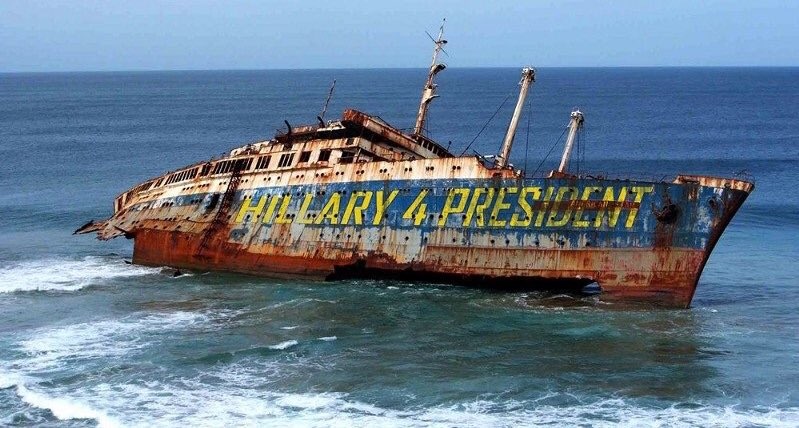 CLFA Book(s) of the Year
The voting has concluded, and here are the results of the Conservative-Libertarian Fiction Alliance Book of the Year 2019 contest. Our own Jack July (Oldsailor's Poet) came in 3rd for his book Amy Lynn: hostaet, the fifth of his Amy Lynn series.


It's Not History, It's Howard Zinn
I guess that rat bastard commie Howard Zinn's A People's History of the United States has been a standard high school text book for a number of years now. Which would explain why most high school graduates are completely ignorant of actual history. This is a battlefield that conservatives have totally lost, or should I say, gave up without a fight. Most of us didn't realize what was happening, this long march through the institutions by the rat bastard commies, until it was too late.
Zinn is only good if you want to teach students to hate their past, hate their upbringing, hate their parents, and hate their very lives. All it can do is fill them with self-loathing and contempt for everything that they know and have ever experienced. Which, obviously, was Zinn's intent.
But in order to discard Zinn's execrable propaganda text, we need something to replace it with. As a wise man once said, you can't beat something with nothing. So, what do we have? Do we have anything, particularly something that could be used as a high school history text. As a matter of fact, we do. We have the newly published Land of Hope: An Invitation to the Great American Story by historian Wilfred M. McClay of the University of Oklahoma. In contrast to existing history texts, which
...are more likely to reflect the skeptical or partial outlook of specialized professional academic historians...[o]r they disproportionately reflect the outlook of radical critics of American society, whose one-sided accounts lack the balance of a larger perspective and have had an enormous, and largely negative, effect upon the teaching of American history in American high schools and colleges.

This state of affairs cannot continue for long without producing serious consequences. A great nation needs and deserves a great and coherent narrative, as an expression of its own self-understanding; and it needs to be able to convey that narrative to its young effectively. It perhaps goes without saying that such a narrative cannot be a fairy tale or a whitewash of the past; it will not be convincing if it is not truthful. But there is no necessary contradiction between an honest account of the American past and an inspiring one. This account seeks to provide both.
Emphasis mine. A good overview of what this book is about is here. The bottom line is, do we want the history of our country taught by historians who hate America, or by those who love her?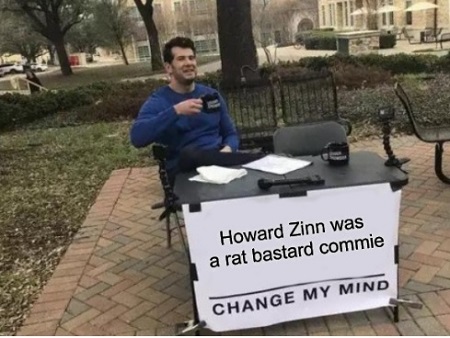 Moron Recommendations
Memorial Day brought out a couple of good, military-themed recommendations:
178 I always miss the book thread because church, but anyone who's looking for an on-point book to read should check out The Unknowns by Patrick K. O'Donnell. It's all about the soldiers who were selected to be a part of the Tomb of the Unknown Soldier project. Truly awe-inspiring war stories.

Posted by: Brunette the 'Ette at May 27, 2019 10:44 AM (adsVM)
The Unknowns: The Untold Story of America's Unknown Soldier and WWI's Most Decorated Heroes Who Brought Him Home:
When the first Unknown Soldier was laid to rest in Arlington, General John Pershing, commander of the American Expeditionary Force in WWI, seleted eight of America's most decorated, battle-hardened veterans to serve as Body Bearers. For the first time O'Donnell portrays their heroics on the battlefield one hundred years ago, thereby animating the Tomb by giving voice to all who have served. The Body Bearers appropriately spanned America's service branches and specialties. Their ranks include a cowboy who relived the charge of the light brigade, an American Indian who heroically breached mountains of German barbed wire, a salty New Englander who dueled a U-boat for hours in a fierce gunfight, a tough New Yorker who sacrificed his body to save his ship, and an indomitable gunner who, though blinded by gas, nonetheless overcame five machine-gun nests. Their stories slip easily into the larger narrative of America's involvement in the conflict, transporting readers into the midst of dramatic battles during 1917–1918 that ultimately decided the Great War.
The Kindle edition is $11.01.
294 There was a great book written back in the early 80's called "America's First Battles" that was mandatory reading for Army officers. It was, I thought, a pretty good expose of the US in the first battles in out first wars, from the Revolutionary War to Viet Nam. Bottom line, we didn't do well and for a lot of reasons.

Posted by: Diogenes at May 26, 2019 12:13 PM (0tfLf)
Here is the book he's talking about: America's First Battles, 1776-1965:
This volume, a collection of eleven original essays by many of the foremost U.S. military historians, focuses on the transition of the Army from parade ground to battleground in each of nine wars the United States has fought. Through careful analysis of organization, training, and tactical doctrine, each essay seeks to explain the strengths and weaknesses evidenced by the outcome of the first significant engagement or campaign of the war. The concluding essay sets out to synthesize the findings and to discover whether or not American first battles manifest a characteristic "rhythm."

America's First Battles provides a novel and intellectually challenging view of how America has prepared for war and how operations and tactics have changed over time. The thrust of the book—the emphasis on operational history—is at the forefront of scholarly activity in military history.
Only available in hardcover or paperback, no ebook editions.
___________
And now we turn from the world of war to the world of weed:
28 I finally had a chance to read something I wasn't paid to read, and devoured Tell Your Children by Alex Berenson. It's a history and deep dive into how marijuana affects societies and individuals, especially as it moves toward legalization. I bought it out of curiosity when it was reviewed favorably by both Mother Jones and the National Review. I found it highly enlightening and useful. I'm considering it for high school and college graduation gifts next year.

Posted by: Catherine in MO at May 26, 2019 09:28 AM (6zbVX)
Tell Your Children: The Truth About Marijuana, Mental Illness, and Violence
An eye-opening report [that] reveals the link between teenage marijuana use and mental illness, and a hidden epidemic of violence caused by the drug—facts the media have ignored as the United States rushes to legalize cannabis...But legalization has been built on myths– that marijuana arrests fill prisons; that most doctors want to use cannabis as medicine; that it can somehow stem the opiate epidemic; that it is not just harmless but beneficial for mental health. In this meticulously reported book, Alex Berenson, a former New York Times reporter, explodes those myths.
So, it turns out that smoking weed is actually bad for you. The devil you say. And any book that is reviewed favorably by both Mother Jones and the National Review is probably worth looking at.
___________
Causes of Separation is the 2nd of a 2-part series. The first is The Powers of the Earth and the action takes place in the not-too-distant future:
Earth in 2064 is politically corrupt and in economic decline. The Long Depression has dragged on for 56 years, and the Bureau of Sustainable Research is hard at work making sure that no new technologies disrupt the planned economy. Ten years ago a band of malcontents, dreamers, and libertarian radicals bolted privately-developed anti-gravity drives onto rusty sea-going cargo ships, loaded them to the gills with 20th-century tunnel-boring machines and earthmoving equipment, and set sail - for the Moon.
And that's when the fight started. What, a bunch of freedom-loving people living their own lives, indepedently, not bothering anybody else? We can't have that. This reminds me, naturally, of Heinlein's classic novel The Moon Is A Harsh Mistress. I'm certain that the similarity is intentional.
I like this note from Travis Corcoran, the author:
I came of age reading the great science fiction novels of the 50s, 60s, 70s, and 80s, but somewhere between the 1980s and today, though, science fiction went wrong.

The science, the stories, the heroism that made science fiction great - these have given way to novelisations of TV shows and movies and video games, space melodramas, and stories about social justice, women, and marginalized people. I wanted that great science fiction back - so I wrote the books I wanted to see on the shelves. This is a project to get those books into your hands.
The Kindle edition for this first book is $4.99, but it's well over 600 pages long, so you get a lot of bang for your buck. And then buy the sequel, 700+ pages for $5.99.
___________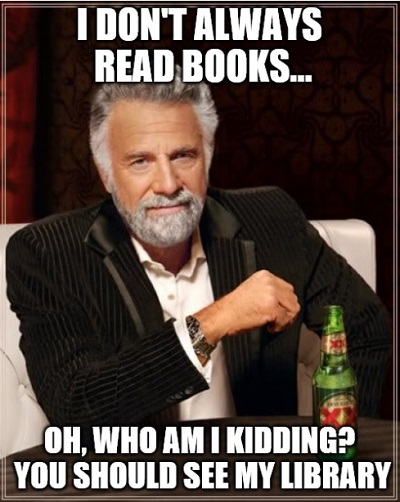 ___________
If you like, you can follow me on Twitter, where I make the occasional snarky comment.
___________
So that's all for this week. As always, book thread tips, suggestions, bribes, insults, threats, ugly pants pics and moron library submissions may be sent to OregonMuse, Proprietor, AoSHQ Book Thread, at the book thread e-mail address: aoshqbookthread, followed by the 'at' sign, and then 'G' mail, and then dot cee oh emm.
What have you all been reading this week? Hopefully something good, because, as you all know, life is too short to be reading lousy books.

posted by OregonMuse at
08:49 AM
|
Access Comments