« Saturday Gardening Thread, The Garden Retreat [KT]
|
Main
|
Saturday Afternoon Chess Thread 06-01-2019 »
June 01, 2019
Ace of Spades Pet Thread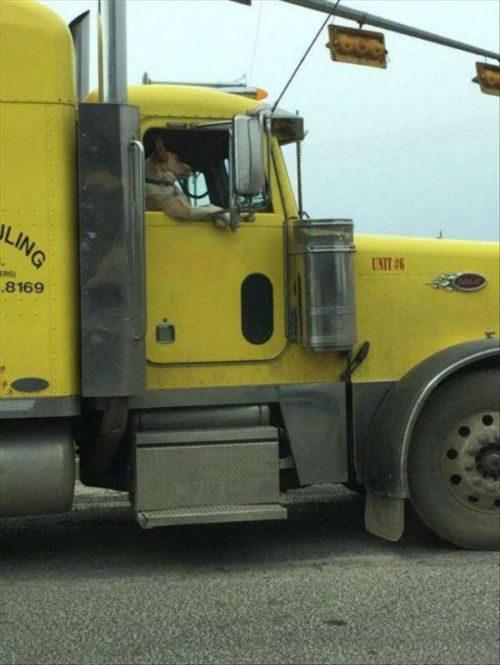 ***

Good afternoon and welcome to the almost world famous Ace of Spades Pet Thread. C'mon and ride shotgun with us this afternoon.
***
A Little of This. A Little of That.

I agree, when I go, I want to go like this. H/T ibguy
***

Buddy Mercury, he still cracks me up.
Meet The PetMorons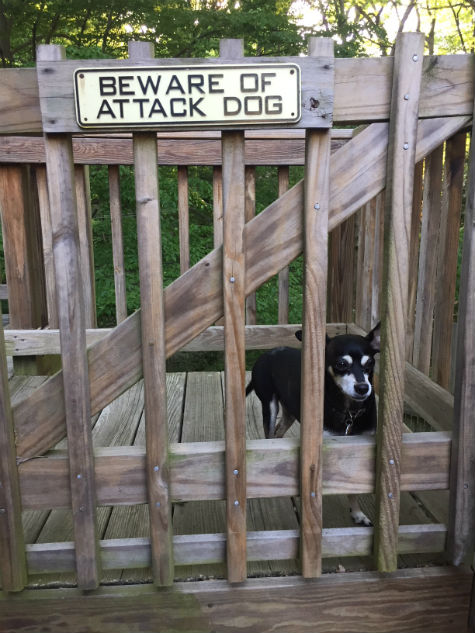 WeaselDog - Ever Vigilant! - Weasel
I bet the bark is worse than the bite? We are so happy that you are so protected. Thanks for the submission.
***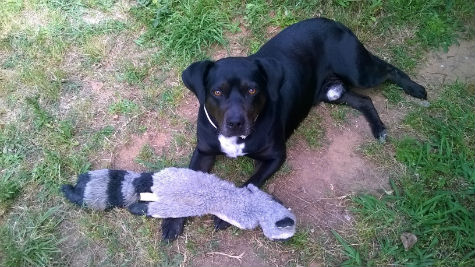 Scout with a fresh kill. He's happier on his no grain diet. - freaked

Wow, what a vicious doggeh there freaked. We appreciate hearing about your dangerous dog Scout.
***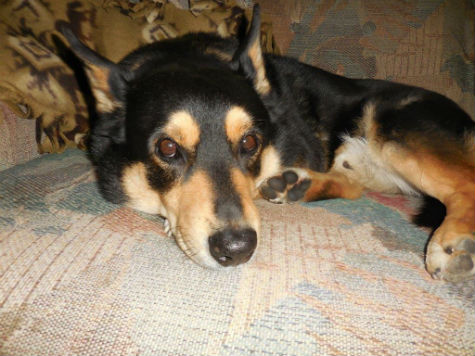 Moronic lurker here for the last couple year or so. Rush had mentioned your site and now I'm here lurking daily and love Saturdays pet thread. This is Spike, Corgi-Dachshund and whatever else jumped the fence, now 11 years and has become dads shadow, hates thunder, loves car rides been through a rough last two years fighting skin fungi from flea infestation…bad juju. He's pretty much back to where he is supposed to be @ 41 lbs., takes thyroid meds….I call him my 2K buddy after paying for a rebuild of his right ACL….worth every penny….;>) Biscuit pic is when he turned a year old in his favorite child's recliner. - Warm Regards, Ed
Thanks Ed for all of the photos, it was really difficult to choose just one. Great looking dog and fortunately his human doesn't mind spending big bucks. Great job! Thanks for your support.
***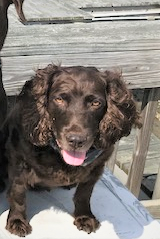 &&&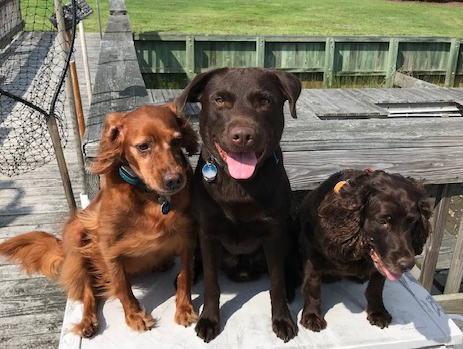 Two photos attached of my dogs.

First attachment is the recently departed Miller. She succumbed to a short but devastating case of canine lymphoma. She came to me as an twelve week old puppy. Originally owned by my son and future ex-daughter-in-law. Too active for them in a condo so they gave her to me for visiting rights. She turned into one of the favorite dogs of my 2.5x29 life. With just a little training and encouragement she developed into an enthusiastic and determined retriever. There was nothing she would not bring to hand; frisbees, tennis balls, training dummies, doves, ducks, woodcock, and more than a handful of baby opossums.

The second photo is the intact pack before Miller passed. The red dog is a red setter (not Irish) named Ms. Kay. She lives to hunt but unfortunately there are too few opportunities any more. Somewhat aloof, she is still a pleasure to have around. The big, brown goofball, is General, the chocolate lab. Small by lab standards, only 65 lbs, he is the most athletic labs I've ever encountered. They are both grand-dogs, owned by the grand-son, but I am primarily custodian.

Hope this is in a format you can use. - Agitator

First of all, condolences for the loss of Miller. Canine Lymphoma is a bitch, f*ck cancer. The rest of the crew looks awesome and appear to be so well behaved. We appreciate your submission today.
***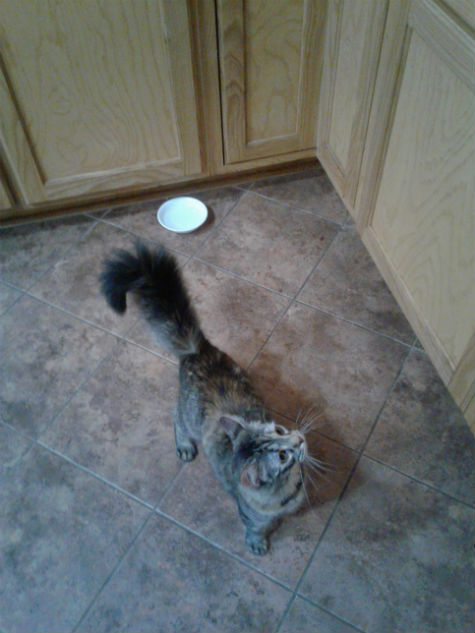 Well, she's a kitten, really. 6 months old, but she's already a moron.
She started life as StarLite, cause she had a bit of white on her nose and that's what the grand daughter thought she should be named. She lost that, and Grandma got her, and named her Molly.
I call her "Coontail Keetay" for obvious reasons, and because I can. - Mark
Does that poor kitteh even know her name? She's a cutie, sounds like she is well loved. Thanks for your submission.
***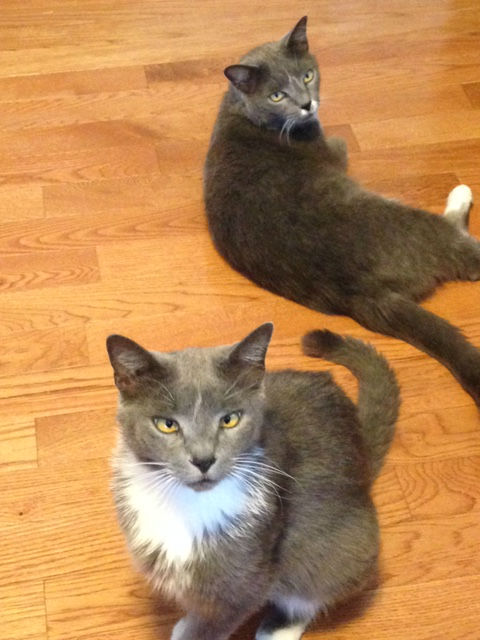 These two boys are brothers adopted from the animal shelter. Fitz (short for Colonel Fitzwilliam) in front and Kingsley in back. They're patiently waiting for Dad to fetch their dinner.
The two gray kitties featured this week prompted me to share our boys with the horde. Kingsley follows my husband around like a dog and runs out to meet him when he sees husband's truck coming up the road. Fitz is a lover and loves to snuggle up with us. - Kay
These two boys hit the jackpot when you went to the animal shelter. What a very nice family. Not only are they cute they sound like they have wonderful personalities. Thanks for sharing.
***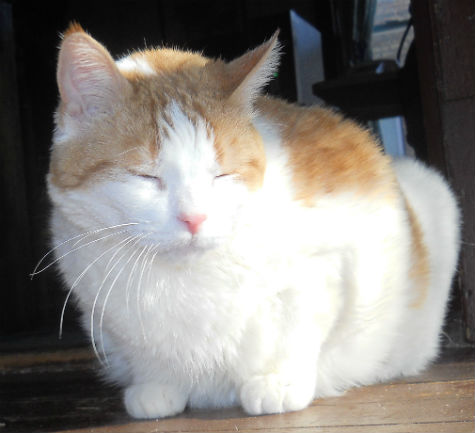 From gp:
Buddy passed away Saturday May 18 2019. He was almost 18 years old. He was a very friendly cat, and made many cat pals in his long life. He was devoted to his older brother Tugboat. He loved his sisters Star, Sunny, Boots, and his friends Seth, Blue, Moose, Dreamer, Jackson, Mitten, Marble, Dottie, Tiny, Tom, Cheesehead and Flash. He enjoyed eating, begging, lying in the sun, making the bed, and being cradled in peoples' arms.
Damn. The passing of one's pet is such a tough experience. You had 17+ years with Buddy, remember the good times. Our condolences from the Pet Thread.
***
As usual all of you Morons came through with great pet photos and stories. Thank you. If you have something you wish to share with us. Please drop us a line or two at petmorons at gmail dot com.
Thanks for stopping by and have a great week!!

posted by Misanthropic Humanitarian at
03:00 PM
|
Access Comments