« The Intellectual Dark Web and Education [KT]
|
Main
|
Ace of Spades Pet Thread »
May 11, 2019
Saturday Gardening Thread, Mothers' Day Weekend Edition [KT]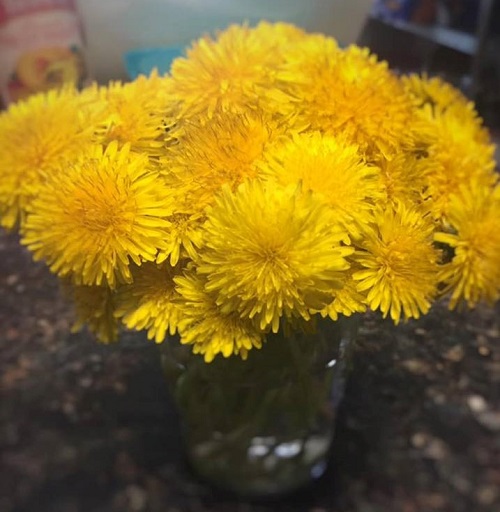 Hello, gardeners and garden admirers! Above, a bouquet picked by a 6-year-old girl for her mother, my niece (soon to be a mother again). One of the best uses for dandelions. She has helped her kids develop an affinity for gardening.
Kids in the Garden
When you turn three little girls loose in their own garden area, don't expect elegance. Might get some fun, though.
We have a small space next to the front porch that's full sun where everything planted there dies in the heat of summer, because there's cement all around that basically cooks all the plants we've tried there.

So we got some desert plants and let the girls make a fairy garden.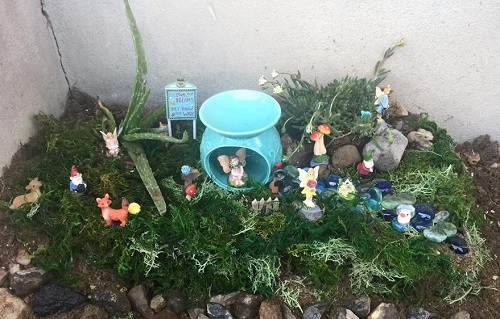 You can see photos of some plants that might work as additions to this fairy garden in a Plant Palette for the town of Camp Verde, Arizona. These are the plants that are used in municipal plantings. First up is Angelita Daisy, a remarkably tough little plant that can bloom most of the season if deadheaded. I also like Firecracker Penstemon. The Gaillardia featured in one of our recent threads also shows up here. I think the flowers are a little too big for that fairy garden, though. This tough little plant is closer to fairy garden scale.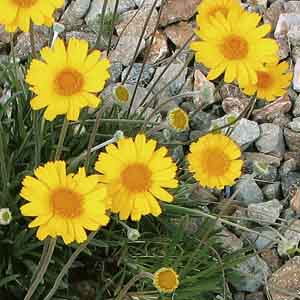 Angelita Daisy
If you would like to plan a trip with Mom, Camp Verde is a town of about 10,000 people. It is near the Montezuma Castle National Monument (would your house look this good 800 years from now?) located in Verde Valley. The Marvel Comics superhero characters James and John Proudstar are from a reservation in Camp Verde. Now there is a casino on tribal land.
We have apparently missed the Pecan, Wine and Antiques Festival in February. But there is still a chance to attend the Crawdad festival in June or the Corn Festival in July.
If your fairy garden is not in a fry zone, you might want to try Woolly Cinquefoil, scientific name , Potentilla megalantha. It is a touchable little plant. Louis the Plant Geek has a nice little summary. AKA Strawberry Cinquefoil, because the leaves look a lot like wild strawberry leaves.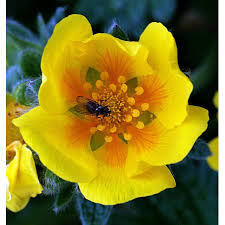 There is also a native plant called Woolly Cinquefoil, but it looks woollier (it's grey) and more native. To avoid confusion, use scientific names along with common names.
More Travel Ideas
National Geographic, 10 flower-viewing destinations. U.S. destinations are in North Carolina, Washington D.C., Montana and California. Can you think of others?
Ever thought about going to Slovenia? Recognize these flowers?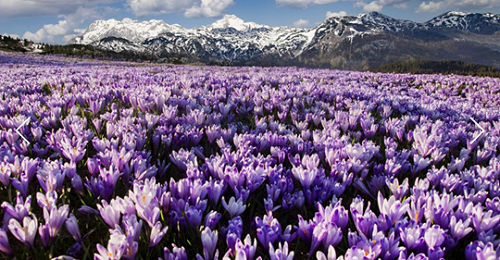 Island Girl only needs to go to her backyard in Kauai for a little tropical excursion. Know what these plants are?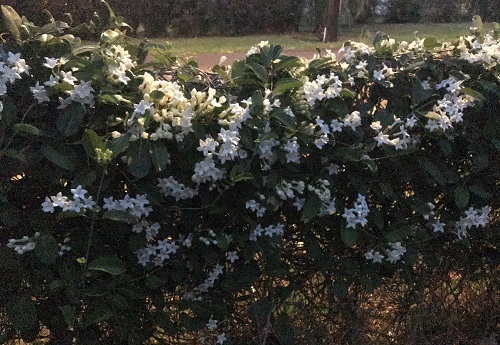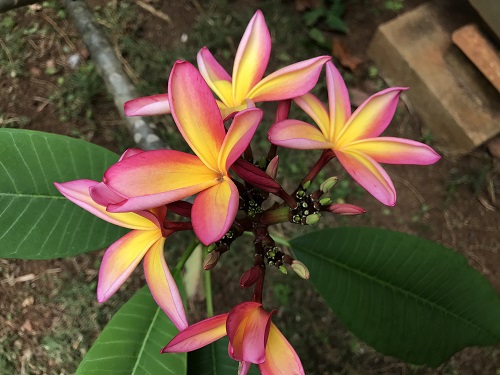 If you can't make it to Hawaii, you might try one of the above plants indoors if you are up to a challenge.
The Edible Garden
Cumberland Astro sent in a strawberry update.
My little 4' x 4' patch of Tribute strawberries is having a productive Spring. The 2nd picture is just what I picked today. My experience with these strawberries is that there is a big flush of fruit for about a month in late Spring, and then a small but steady stream of fruit throughout Summer.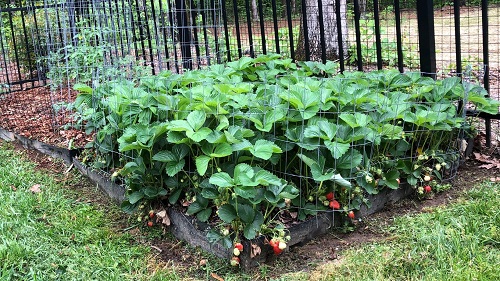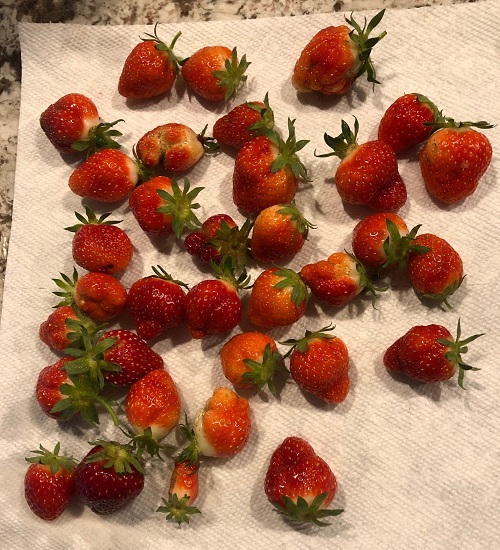 Looks like he made a good choice when he chose Tribute.
40 miles north sent in a photo of some baby red table grapes. Or these could be the blossoms. It has taken me a while to post them. When the baby grapes get a little larger, table grapes can be thinned, or the tips of the bunches cut off. Commercial growers treat them with hormones and such to get larger grapes.
I have never seen them form this early. They almost look like broccoli when they first form: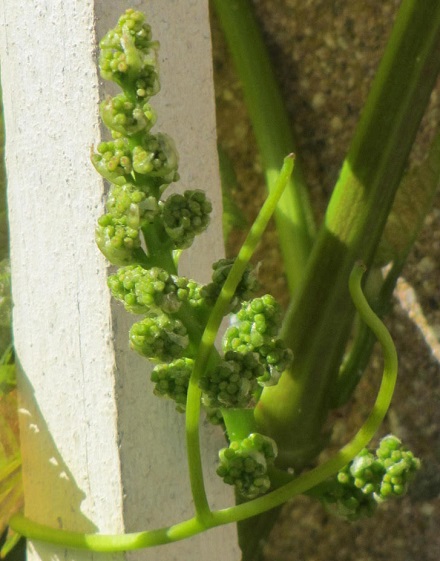 and here's a Coreopsis that bloomed for a couple weeks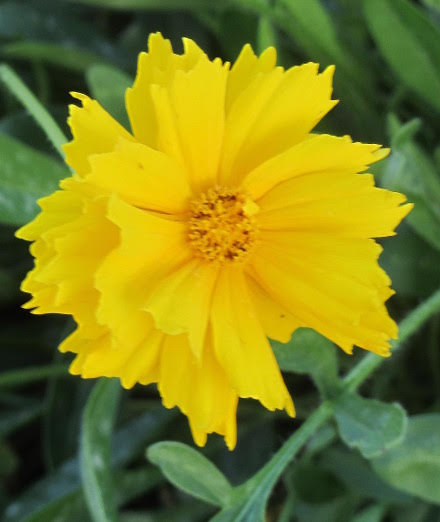 Don't eat the Coreopsis.
Hank Curmudgeon sent along a link to a piece about the 10 best vegetables for urban gardeners, with growing tips. Would you change the list?
Last Week
From last week's comments, book recommendations for identifying wild plants. Good source if you are foraging, or taking a trip with Mom.
I also ran across a book at this link about carnivorous plants. I love that we have carnivorous plant enthusiasts in The Horde.
Gardens of The Horde
From a few weeks back, Wee Kreek Farm Girl has a patch of Parry's Penstemon in her yard that keeps growing. It's a different color than the Firecracker Penstemon mentioned above, but culture is similar.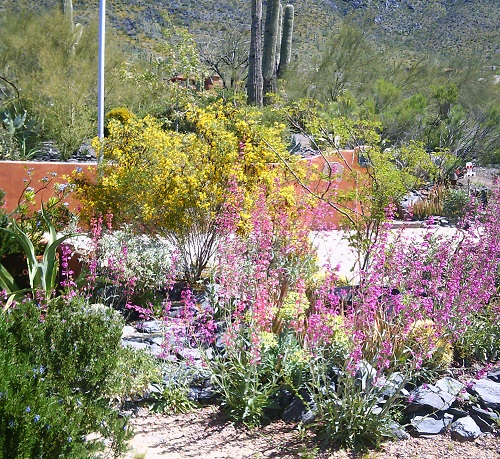 From an Anonymous Lurker:
Older pic of an area in the yard. I love the red plant. Lotus berthelotii or common name Parrot's Beak. Easy to grow and in my yard annual or not it seems to come back at least one more time.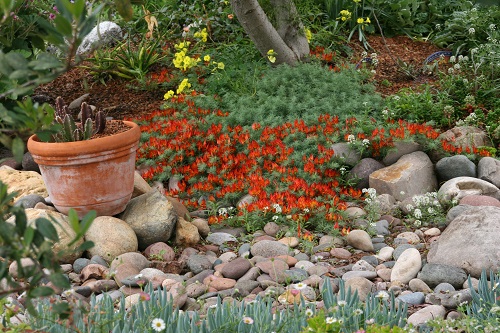 Nice landscaping. And that Lotus is kind of different from other plants called "lotus".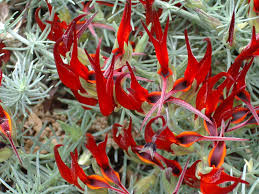 We have a few nice photos lined up for next week. If you would like to send information and/or photos for the Saturday Gardening Thread, the address is:
ktinthegarden
at g mail dot com
Include your nic unless you want to remain a lurker.


posted by Open Blogger at
01:02 PM
|
Access Comments