« Tuesday Overnight Open Thread (4/30/19)
|
Main
|
Mid-Morning Open Thread [Kris] »
May 01, 2019
The Morning Report - 5/1/19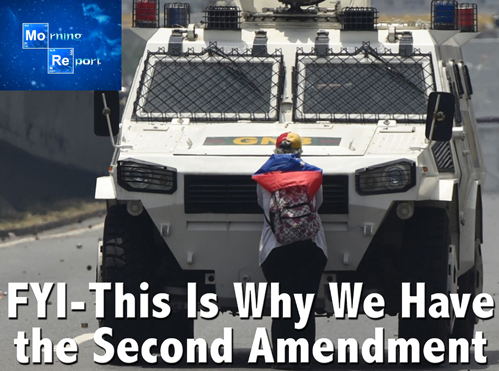 Good morning kids. The Venezuela crisis tops all news for this first day of May. President Trump and his administration, most notably Secretary of State Pompeo and National Security Adviser Bolton, are throwing unequivocal support behind opposition leader Juan Guaido and are renewing the call for Nicolas Maduro to leave. According to Pompeo, the corrupt commie was all set to jet off to Cuba when Vladimir Putin reportedly told him to stay put. Obviously this is 100% proof positive that Trump is colluding with Russia, right Schiff-for-Brains? In any case, thousands are taking to the streets to protest the regime, which has caused the latter to violently crack down. Yesterday saw what is being described as a "Tiananmen Square moment" where protestors have been run over by government vehicles. Funny how Bernardo Sandersnista and Chiquita Kruschev are strangely silent about that.
We've got links covering the news as of late last night as well as a rather topical piece in the Second Amendment section where people bemoan the government's confiscation of citizen-owed firearms 10 years ago. For those not aware, it was the first thing Hitler and Stalin, and many others of their ilk, did the moment they seized power, and it's what their fellow travelers in the Democrat-Socialist Party are itching to do. Remember, the only thing gun control controls is the people. As for Venezuela, despite some defections, the military is still backing the regime and Maduro is also tripling the size of some sort of civilian militia, arming them to the teeth, ironically with much of the weaponry seized from the civilian population. Circling back, we all know that Maduro must go. The only thing up for a debate is how to go about excising that cancer. Aside from the immiseration of his own people, the Venezuelan regime is a destabilizing element in the entire hemisphere and their extremely close alliance with Iran as well as its proxies in Hezbollah cannot be allowed to continue for obvious national security reasons. Does that mean I support invading Venezuela with US troops? No. But a ramping up of all pressure short of direct open armed intervention is required, IMHO. The situation is still fluid, so stay tuned for more updates as and when they happen.
Moving on to the Congressional Coup, evidently Robert Mueller is mewling about being upstaged by AG Barr's four-page summary and press conference. The Democrat-Media Complex is obfuscating and openly lying about his complaint, making it seem as if he is disagreeing with Barr's summary, when in fact he isn't. He's just pissed that he stole the narrative and didn't allow the smears and insinuendos of the 400-plus-page opposition research cum "report" to get any traction, effectively smothering it.
On the border, more evidence of a complete crisis with the insane numbers coming across as well as the insane dollars being made by smugglers and other vermin in the mass asylum/invasion scam. Still, the President is determined to crack down on this, especially on the visa overstay front. It was and will remain a key issue with voters as we head into the 2020 election season.
Speaking of which, scanning the Democrat scandal sheet, we see that Rotten Apple mayor Bill de Bolshevik is at the center of a scandal involving massive grade inflation in the city's schools. Meanwhile, homelessness and crime are now approaching pre-Giuliani levels but that's not going to stop this unreconstructed America-hating radical from running for President on a platform includes ludditism on a massive scale and the slogan that all the wealth is evidently in the wrong hands. Unfortunately, New York's woes are masked by the overall booming economy and its status as an international center for finance that shields this lanky hunk of piss from political consequences. Well, that and the insanity of the majority of my fellow citizens. Also, with triple-crown season upon us (the Preakness in particular), and the corruption of Baltimore's disappearing mayor, we have a like-father-like-daughter examination of the sordid past and present of Charm City's own charming Nancy "Palsi" Pelosi. Lastly, Dennis Prager's take on why strident Democrat Jews aren't too bothered by the New York Times' cartoons as well as Bro-Fo Omar's collusion with known terrorist organizations.
To politics in general where the top items include Joe Bidet's jumping into the race with a speech that sounded as if it were being given by Palsi Pelosi's drunken epileptic brother, $60 million in dark money heading his way, and as the hypocrisy in his smearing Trump as a tyrant with the record of his own boss' actual proven tyrannical behavior. Meanwhile, the other pasty, white geezer Bernardo Sandersnista is doubling down on allowing convicted felons to vote Democrat. With these two, its not about how old they are but about how old, rotting and decrepit are their ideas. But, that's not stopping the Young Pioneers fresh from Comsomol training with a mixology specialization from going after Democrat stalwarts in NYC like Gregory Meeks and Yvette Clarke. Elsewhere, desperate to be relevant, blonde white blivit Gillibrand plays beer pong for votes, Jeffrey Lord on capitalist activism in Pennsylvania, and two essays on the Democrat madness.
First Amendment: Caroline Glick takes a whack at the New York Times' institutional Jew hatred, the same rag's eagerness to bash Catholics, the media bite the hand that feeds them by ripping Palsi and Schemer for making nice with Trump on infrastructure, persecution of Christian adoptions in the wake of Obergfell, and Christian Toto on the non-comedy agitprop of late night comedy shows.
Abortion: Great essay on the devaluation of human life by the Left.
Foreign Desk: Looking beyond Venezuela, aging Japanese Emperor Akihito abdicates the throne, worsening persecution of the faithful by the godless heathens of Chi-Com land, Catholic leaders call Francis the Talking Pope a heretic, German hypocrisy on Israel, US sends the first official delegation to participate in the March of the Living, and Spengler on the slow but steady Chi-Com threat.
DEE-Fense: NSA ramps up civilian unmasking (no wonder Bob has been absent), and Chiquita Khruschev calls victims of the VA health system liars. Gotta defend socialized healthcare at all costs, right colada-tits?
We-All-Slam-For-I-Slam: Sri Lanka cracks down on burqas, yashmaks et al in the aftermath of Islamic mass butchery, members of the religion of peace slaughter Christians in Burkina Faso and it took Trump to define the Muslim Brotherhood for what it is.
Domestic News: Trump pow-wows with Palsi and Schemer and they actually agree on a no-taxpayer funded (allegedly) $2 trillion in infrastructure. Big win for the President as the meeting had zero acrimony and by meeting with a President they have painted as illegitimate, they have angered their base and gave him legitimacy. Also, Steve Moore is a great pick for the Fed but the link's author says be wary of those who claim he's a shoe-in for confirmation.
Crime Blotter: UNC shooting leaves two dead and the shooter in custody, and a look at the criminal, animal behavior that must never be mentioned of black college beach week in Virginia.
Healthcare: West Virginia hospitals sue the opioid makers (isn't Opioid Ron Howard's replicant?), evidence of the Democrat civil war as a Center For American Progress health plan gets scuttled, and yes indeed to leper colonies for the anti-vaccination crowd.
Education: RedForEd commie front group planning walkouts in the Carolinas and Jersey, your top 10 campus Joo-hatred incidents, the National Black Teacher of the Year spews bigoted bile to his charges, and the DePaul cultural revolutionaries are gunning for the hide of a professor who blasphemed against their golden calf.
Red Greens: Daniel Greenfield dissects the de Bolshevik green madness, it's clean and carbon free but no nukes is still a thing with the Left, some in the GOP still embrace the climate change hoax/scam, and Blotto O'Rourke says don't blame G-d for natural disasters.
Feminazism: Death to pronouns!
Hither and Yon: Correlation between a Netflix show and spike in teen suicides, San Diego mourns the loss of a synagogue shooting victim who shielded the rabbi, even Milo doesn't know what he's talking about and finally, with the spiking of Jew hatred all over the world and here, a look back to 1919 and the 100th anniversary of the most violent pogrom in the Ukraine that capped off a 40-year period of growing persecution and slaughter in the Pale of Settlement, and presaged the annihilation to come 20 years later. Lest we forget, and sadly from the headlines, that looks to be the case.
Anyway, links from around the world, across the nation and up your street. Have a better one and remain blessed.
NOTE: The opinions expressed in some links may or may not reflect my own. I include them because of their relevance to the discussion of a particular issue.

posted by at
07:00 AM
|
Access Comments