« The Morning Report - 5/1/19
|
Main
|
The Morning Rant »
May 01, 2019
Mid-Morning Open Thread [Kris]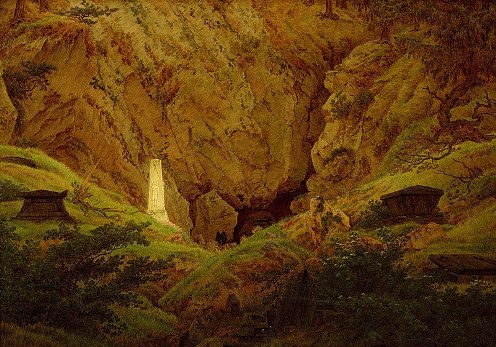 Grabmale Alter Helden (Tombs Of Ancient Heroes)
Caspar David Friedrich
When I was asked to submit a guest post, I honestly didn't know what to pick. I decided to go with my favorite work by one of my top three artists, Caspar David Friedrich. His career spans the turn of the 19th century and is one of the most important German artists of the last few centuries. His style is militant Romanticism and in the first few decades, he used it to express his feelings during the Napoleonic Wars. This one is not his most famous, nor his best. That may be his "Wanderer Above the Fog". It is my favorite, however, because it is dripping with emotional nationalism (before there was a German nation), has a buttload of symbolism and hope, and is very anti-French. Friedrich hated the French in general and Napoleon in particular. He despised Neoclassicism and used his Romantic style to wage an ideological and aesthetic war against it and them. In this way he is very similar to Britain's JMW Turner. This is also an unusual Friedrich because it was very rare for him not to show the sky, instead the composition is dominated by this massive, impenetrable cliff and dark, eerie cave.
The ancient heroes of the title are those who fought foreign invaders for German independence and identity, starting with Arminius whose tomb is the cave in the very center of the work. If you zoom in you can see a carving on the large stone to the left of the opening. Napoleon styled himself as the last of the Roman emperors. Friedrich saw his army as Rome again invading Germany. Therefore, Arminius has risen to defend his people one more time. Other tombs and monuments are of varying age to represent the heroes of different eras. The glowing white obelisk is new. It is the tomb of the fallen Germans of the Napoleonic Wars. They are buried in the same graveyard as Arminius, on his right-hand side. This cemetery is the Germanic Arlington, it's most hallowed ground. Their struggle was the same as Arminius' and as honorable.
To the left of the white monument is a broken pine tree that has re-sprouted. To Friedrich, pine trees symbolized Germany. The pine tree broke and fell and was thought to be dead, but it has life in it yet. In front of the cave are two French chasseurs. They appear in quite a few of Friedrich's works of the era and represent the power of the French army. Here they are tiny, dwarfed by the cliff and tomb, the trees and the monuments. That army is nothing like it was a few years before when it dominated Europe. Finally, in the very front, crawling along the ruins is a tricolor snake, the colors of the French flag.
Unfortunately, thanks to Adolph, there are very few Friedrichs left. Many were stored in a tower in Dresden and were destroyed during the bombing of that city during WWII.
Enjoy.
Kris

posted by CBD at
09:30 AM
|
Access Comments