« Are we ready for an AOC 2.0? [KT]
|
Main
|
Ace of Spades Pet Thread »
April 27, 2019
Saturday Gardening Thread, End of April [KT]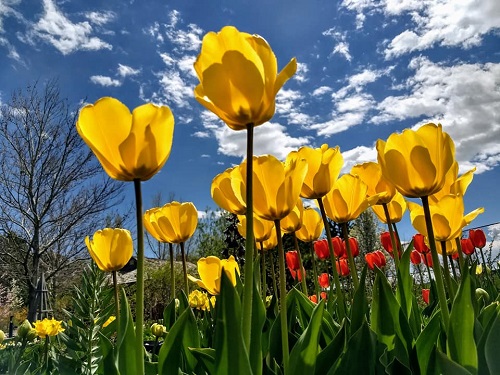 The League of Cousins and Friends
As seen from the photo above, one of my cousins and his wife visited the Tulip Festival at Thanksgiving Point in Utah this week.
There are flowers in addition to tulips blooming. Care to identify these?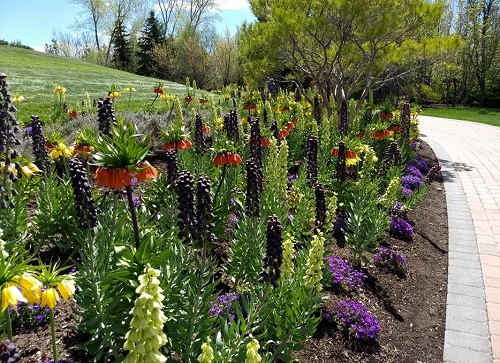 They also went through the butterfly biosphere.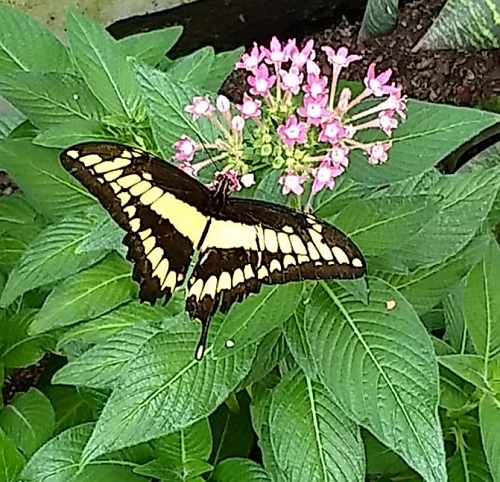 Anyone want to identify that Swallowtail? I think it is feeding on a Pentas. Good butterfly nectar plant.
Dr_No also sent in a beautiful photo:
The tulips shown in this image have, sadly, gone the way of all things physical. While they were here, tho', they put on a great display for all to see. The regrettable part was the number of people who passed 'em by without so much as a glance. That being said, they put on terrific displays of color and lasted for far too short a time - but they were terrific while they were here. Enjoy ...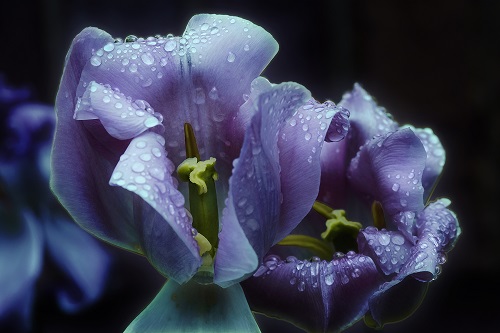 Advice for a Lurker
I live in Northern Va and this is across the street from me. I have no idea what it is, but I want one or two. I read Ace everyday and have since about the beginning but Im a lurker. I dont think I have ever commented.

Its about 3 feet tall. Its actually two bushes close together.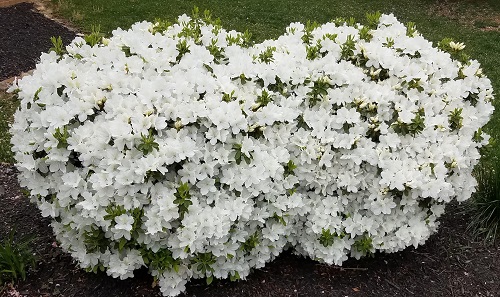 I think they're azaleas. Correct me if I'm wrong.
We have seen some beautiful azaleas here in the past few weeks. This week Cumberland Astro sent in a photo of his:
The azaleas in the attached picture are in my front yard, but I can't claim credit for them - they were here when I bought the house and I haven't done anything special for them. The soil is naturally acidic here on the Cumberland Plateau, and there must have been some ideal combination of rain and Winter/Spring weather this year to produce this beautiful flush of flowers. By contrast, they barely bloomed at all last year following the brutally cold winter of 2017-2018.

The exposure is due south, therefore with no trees in the front yard, these azaleas never get any shade.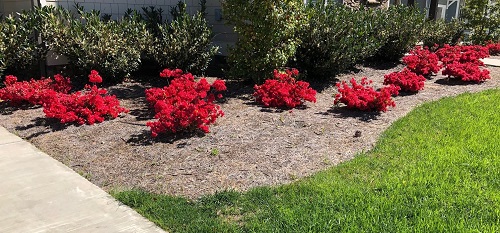 Success with azaleas can depend on which cultivar you choose (they have different sun/shade and climate requirements) and how you plant them. Any advice for our lurker?
Farm and Market Corner
Cauliflower and cabbage have been nice in the markets here. Several varieties of apples have been in storage too long. What stands out in your local produce stands?
I think a new, later variety of navel oranges must have hit the groves here in California, because they are staying in good shape longer than they used to. Anybody have any inside information?
Local strawberries are on. We picked up some. The are great. Even plain, as you can see from the missing berries in the photo. Won't last long in the heat we're having right now.
For recipes calling for crushed, sweetened berries, I prefer finger-crushed berries. Got a good recipe?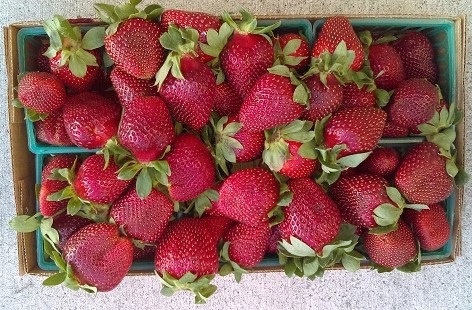 More Pitcher Plants
Our resident outdoor carnivorous plant expert, Tony Litwin, has to keep track of the scientific names of his plants.
S. leucophylla 'Hurricane Creek'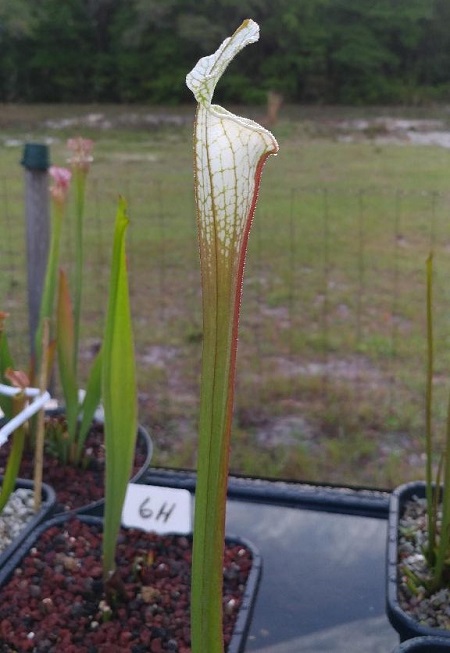 S. rubra gulfensis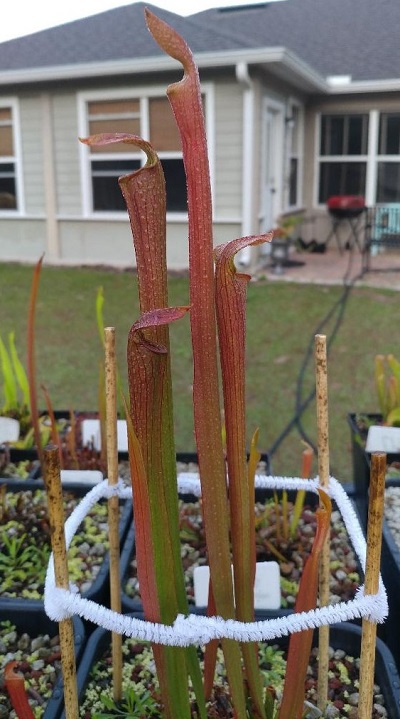 S. rubra wherryii 'Chatom Giant'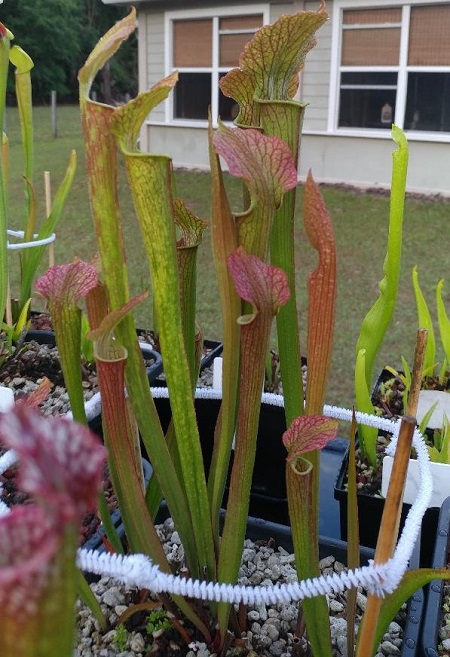 Fascinating plants.
Gardens of The Horde
Gordon in Minnesota sent in some indoor photos:
Now fully LED illuminated! Considering I started with a single T5 fluorescent tube for grow lighting, it's gotten bigger and brighter. That fixture is on the right in the picture, but it has an LED tube in it now. The two boxes in the middle are Roleandro, one alleged to be 300 watt equivalent and the other 600 watts. Honestly, they seem about equally bright. But with all the light, I'm getting less spindly seedlings. I feel like I could successfully accomplish grafting now, except I didn't grow any rootstock this year.
Any other indoor growing going on?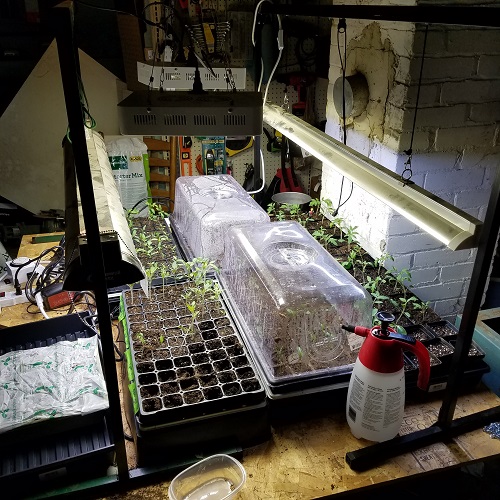 The explorer in the tomato jungle kind of looks like the bad guy from Deadpool 2, but I know he's not. He's been hiding in the basement for at least 20 years, and I found him the other day. Now he's the nursery mascot.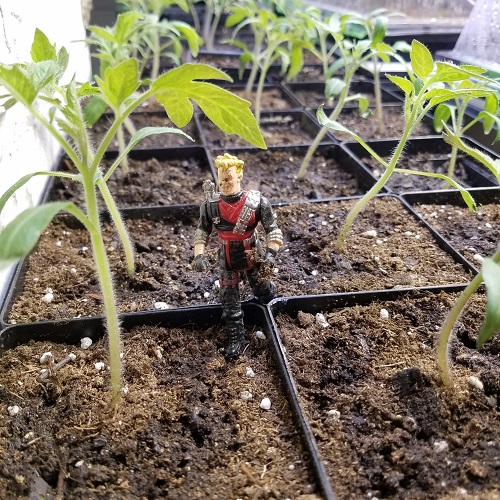 I like him.
From the famous Pat* in Idaho:
Those Johnny Jump-Ups I occasionally mention.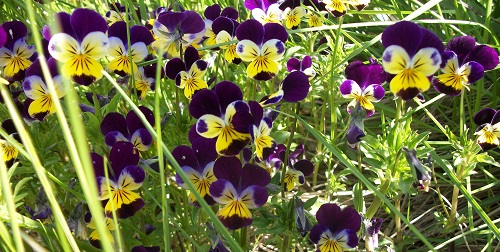 From The Invisible Hand
I love these.
Mexican Evening Primrose. Don't let them get away from you. They will be much worse than runaway nasturtiums.
Lovely, aren't they.? Waiting to see what blooms on the stalk to the left.
Well, it got up to 99 degrees here yesterday in the Central San Joaquin Valley. I have some Portulaca blooming in a pot with some aloes. Still working on weed control. Picked up some pre-blooming Portulaca, and half of them have started blooming. They don't seem to mind the heat.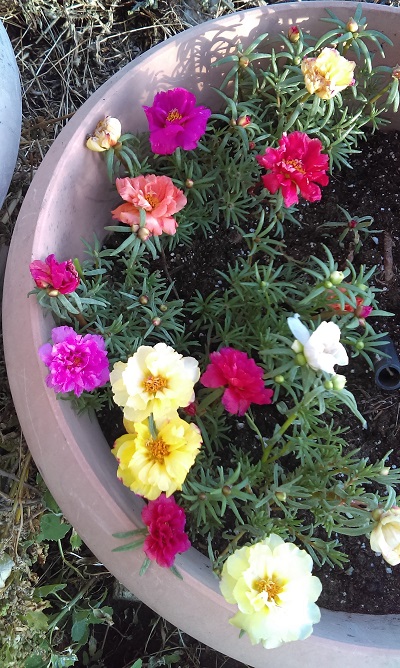 What's going on in your yard?
We have more photos and information from The Horde for next week. If you would like to send information and/or photos for the Saturday Gardening Thread, the address is:
ktinthegarden
at g mail dot com
Include your nic unless you want to remain a lurker.

posted by Open Blogger at
01:04 PM
|
Access Comments