« Saturday Morning Coffee Break
|
Main
|
Saturday Gardening Thread, End of April [KT] »
April 27, 2019
Are we ready for an AOC 2.0? [KT]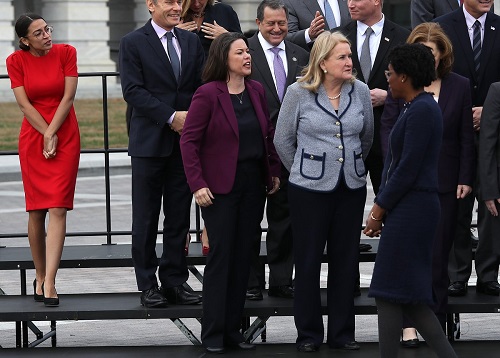 Serving your mid-day open thread needs
What happens when a socialist smarter than AOC shows up?
(h/t Baldilocks)
Are we ready?

This piece has includes several fun, incisive phrases. But it may be a little too densely colorful for some people to tackle on a Saturday. If so, you might save it for later.
It suggests that AOC's star is fading. Do you agree?

Beginning in the mode of epic poetry is made necessary to match the epic, and tragic, self-regard of this its subject, one Alexandria Ocasio-Cortez . . .
Where to trace this sudden fall from grace? Perhaps we could start with Ocasio-Cortez's disastrous friendship with Representatives Ilhan Omar (D-Minn.) and Rashida Tlaib (D-Mich.)--two women so blatant and shameless in their support for a hostile foreign ideology that even Henry Wallace would blush to see it.

Perhaps we could point to her fatal decision to stake her political career on the so-called Green New Deal, an alleged "policy document" that would be so utterly corrosive to the American economy and body politic that it may as well be called the Gangrene New Deal.
Although you might recall that it attracted approval from most prospective Democrat 2020 presidential candidates at the time. Not that they wanted to discuss specifics.
Back to our original piece:
For all of AOC's Medea-esque descent into madness, it would be foolish to dismiss the ideology that she has, albeit shrilly and unpersuasively, attempted to introduce as the Democratic Party's primary vision.

Which brings me to the Green New Deal, itself. Having read the document, I would say Mike Lee's attack on it as an unserious aesthetic document doesn't capture the problem at all. The Green New Deal resolution is not aesthetics masquerading as policy: it's a panic attack disguised as a political program. . . .

And yet, "it is an intersectional vision, and a more authentic one than the visions of 'intersectionality' held by people who claim to believe in the concept."
The author even compares the goal of AOC's Green New Deal to C.S. Lewis' vision of hell.
This poisonous utopian dream, which is a form of the greatest species of social pollution ever conceived, will find more adherents. It will be expressed by voices more successful because more careful and skillful than AOC's. It will come from people much harder to confound and goad into incoherence. In this respect, Ocasio-Cortez is no visionary: she is merely the designated captain of a plague ship sent into the harbor of America by decades of subversive activism.

This captainess will go down with her ship, but the disease is on our shores one way or another. Curing it will take a lot more than just spanking a few children: it will take a serious, and no less comprehensive offer to multiple adrift younger generations that fits their needs more ably and more sensibly than this Green Fever Dream ever could. The task of constructing that alternative will take far abler minds than the Right presently has on offer . . .
Can you think of anyone on the national stage who is ready to effectively counter the message of an AOC 2.0? How about in academia?
A FEW THINGS I NOTICED THIS WEEK
Joe Biden
Looks like Baldilocks is having a hard time picturing Joe Biden as AOC 2.0, even though he has been trying hard to adapt himself to the New Left. "Outline of the role that Joseph Biden has had in the mass incarceration of black Americans. In short, he built that. "
So his own kids were caught with drugs and got off, eh?
Just as a reminder, there has been some historical revision over the years about blacks and crack cocaine. Blacks really were asking for the authorities to crack down on drug dealers.
But Biden et al. seem to have gone too far in the crack vs. powder cocaine sentencing thing.
California
Google walkout. I know this has already been covered, but it cracks me up. There are probably additional appropriate reactions.
Ed Driscoll picks up some news about the High Speed Rail fiasco. How was the project "captured" by costly consultants? What a mystery. And why are they "built into" the project?
Locally, I see lines of really massive heavy equipment parked idle, costing the taxpayers big bucks, as decisions are made about the inane (sort of) high speed rail line from Bakersfield to Merced. Amtrak train passengers have a good view of a lot of that heavy equipment.
The Power of "No"
Ok so Charlize Theron's 7 year old thinks he is a girl and Theron who has apparently not embraced the power of NO! is going along with it and being celebrated for it by the press.

It make one wonder what she would call her son on, for example if her (am I allowed to say "her" now) son decided he was Superman ( or apparently now Supergirl ) would Theron go along with it and allow him (or is it her) to jump off the roof to fly? Would he (She?) be allowed to jump in front of a train or truck to stop it and would any attempt to prevent such and act be considered bad parenting?

Apparently to the media and Hollywood elite it would.
Picture for a moment if Theron's son decided he was Donald Trump.
Just as a reminder, Theron said, "I thought she was a boy....Until she looked at me when she was three years old and said: 'I'm not a boy!'"
I can see it now: "He looked at me when he was three years old and said: 'I'm Donald Trump'. So I am raising him as Donald Trump."
Senate staffers may not always be useless
The recent letter from Senator Grassley to Attorney General Barr about potential spying on the Trump campaign during 2016 reminded me how I came to appreciate letters from his office during the Kavanaugh confirmation hearings. They were intelligently written. This one is brief and to the point. It is also signed by Senator Johnson, but I got the impression that it had originated in Grassley's office.
Well done.
What about British cooperation with the Russians?
Speaking of spys, Kimberley Strassel asks:
How did Mr. Mueller spend two years investigating every aspect of Russian interference...and not consider the possibility that the [Steele] dossier was part of the Russian interference effort?
VDH, a little ahead of the crowd
. . . Mueller's team went down every blind alley relating to its investigation--except where Obama-era officials were likely culpable for relevant unethical or illegal behavior.
Hope you have a great weekend.
Remember, this thread is open all day. It is the Thread before the Gardening Thread.
Serving your mid-day open thread needs

posted by Open Blogger at
11:15 AM
|
Access Comments