« Saturday Morning Coffee Break
|
Main
|
Saturday Gardening Thread [KT] »
April 20, 2019
The New Futurism [KT]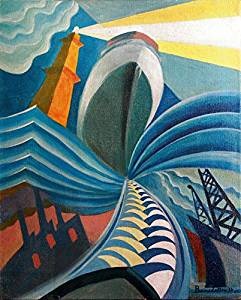 The City Rises (1935)
Happy Easter Saturday! Today, as we remember not to trust too much in the Arm of Flesh, perhaps we should also consider not trusting too much in the inventions of the Arm of Flesh.
Last week we discussed surrealism. This artistic and philosophical movement got going between the World Wars. Futurism, as art, started before World War I, extending from 1909 to 1944. Note on representative pieces at the link.
From the Tate Museum:
Futurism was launched by the Italian poet Filippo Tommaso Marinetti in 1909. On 20 February he published his Manifesto of Futurism on the front page of the Paris newspaper Le Figaro.

Among modernist movements futurism was exceptionally vehement in its denunciation of the past. This was because in Italy the weight of past culture was felt as particularly oppressive. In the Manifesto, Marinetti asserted that 'we will free Italy from her innumerable museums which cover her like countless cemeteries'. What the futurists proposed instead was an art that celebrated the modern world of industry and technology:

We declare...a new beauty, the beauty of speed. A racing motor car...is more beautiful than the Victory of Samothrace. (A celebrated ancient Greek sculpture in the Louvre museum in Paris.)
Sort of reminds me of the architecture historian who thinks the fire at Notre Dame was liberating because the building was overburdened with meaning. Along with the librarian who wants to eliminate book collections because they, you know, help explain culture.
Wired called the Italian futurists "techno-utopians". Maybe there are some of those today, too.
Today, when we talk about futurism, we're not usually talking about sculpture, painting, or poetry. Futurists today are scenario builders, people with advanced degrees in strategic foresight, science fiction writers, consultants to businesses. . .

And today's Futurists almost never link their work to the existence of Marinetti, and the Italian movement that came before them. This is in part because Marinetti was an artist, and the Italian Futurists worked in paint and bronze and clay, rather than future forecasts. And there is no direct link between Marinetti's group and the strategic foresight consultants working today. But the link is also one that today's futurists would prefer to avoid in part because of another element of the artists behind the Futurist Manifesto of 1909: Marinetti and his cohort embraced and championed fascism.
There are some lefty positions in the next section of the article. I think it is seriously off-base about James Damore, for example. But still, this may be something to think about:
Today's technologists love to eschew history for the same reason the Italian Futurists did, but if they ignore the lessons contained in that movement, they're bound to repeat it. And I'll leave it to you to guess who said this, Marinetti or Musk: "Standing on the world's summit we launch once again our insolent challenge to the Stars!"
Futurism.com has top billing today for a piece in which a professor declares that total surveillance is the only way to save humanity.
Keep an eye on these folks.
Meanwhile, is this the future of tech/entertainment?
Since PBS couldn't handle a hot property like Sesame Street and it has gone over to HBO, we now have "crossover". Onward to the future! I think some Facebook scolds may find something familiar in this clip:
Hope you have a great weekend, with at least a little time in the non-tech world. Have a wonderful Easter.

Yes, this is the Thread before the Gardening Thread.
Serving your mid-day open thread needs

posted by Open Blogger at
11:23 AM
|
Access Comments