« The New Futurism [KT]
|
Main
|
Ace of Spades Pet Thread »
April 20, 2019
Saturday Gardening Thread [KT]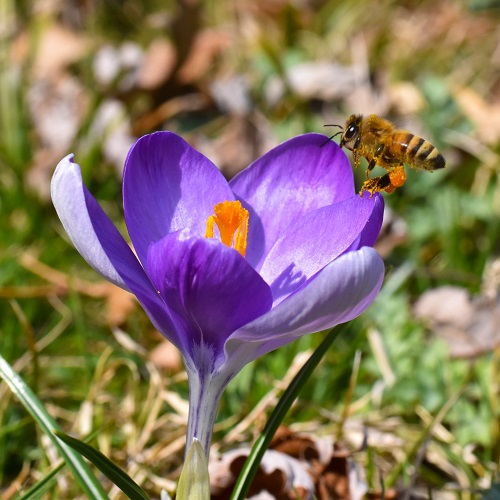 Hello, gardeners and garden admirers! Today we try to say goodbye to winter and welcome spring. Lots of bright colors today. A few veggies and such, and some gardening tips.
I really like the photo above. It reminds me that the bees of Notre Dame Cathedral survived the blaze. Our photo is from crisis du jour. He calls it "Touchdown":
I'm a longtime lurker at Ace. I post rarely (once per year, +/-) but read daily, including your gardening thread when I have opportunity ... which is infrequently because I work most Saturdays. Even so, thanks for your efforts in making the Gardening posts! They're a good break from the weekday focus on politics and culture.

I didn't realize until today that you publish reader-submitted photos. I don't have a garden - and my thumb is not green at all - but I do have a camera and a Flickr page. Over the years I've posted more than 100 flower photos at Flickr, mostly closeup shots using my 'macro' lens. I often have no idea what it is I'm shooting; I just point the camera at something that looks pretty and press the button.
This is an example of what a macro lens can do. "Spring Smile":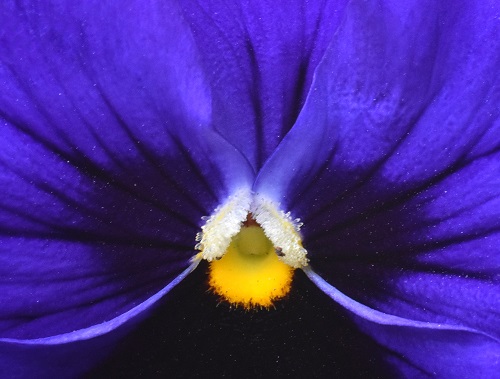 There are some other great photographers in The Horde, too. Don in Kansas has some new photos up. And some other interesting posts.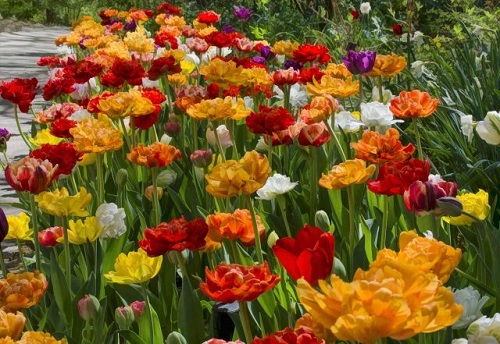 Welcoming Azaleas
ALH sent in a photo of some welcoming plants. White is a good choice against that dark brick:
Hi, this is the front flower bed at my house. We planted these azaleas about 4 years ago. They are finally big enough to put on quite a show!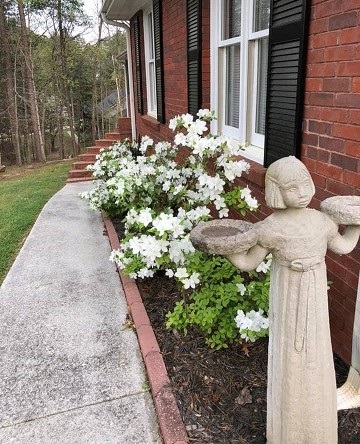 I think Jane D'oh's azaleas have been delighting visitors for more than four years. We are glad that the deer haven't eaten them.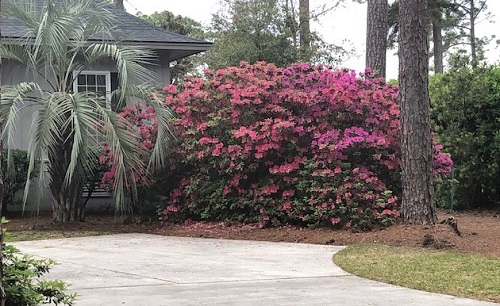 A closer view of one of them.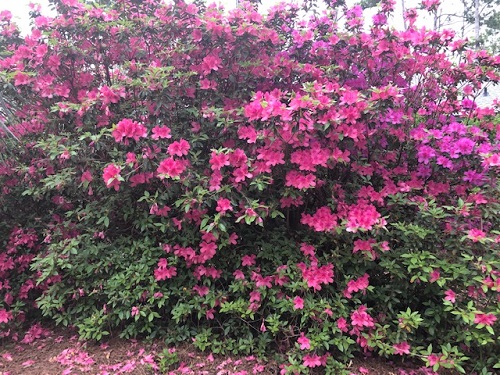 Overwintering Tips
From S. Lynn, in one of the less-frigid parts of Idaho:
Planted carrots and garlic last fall. They are growing like gang-busters with the warmer weather. The lettuce was reseeded from last year. Ducks and chicks love it.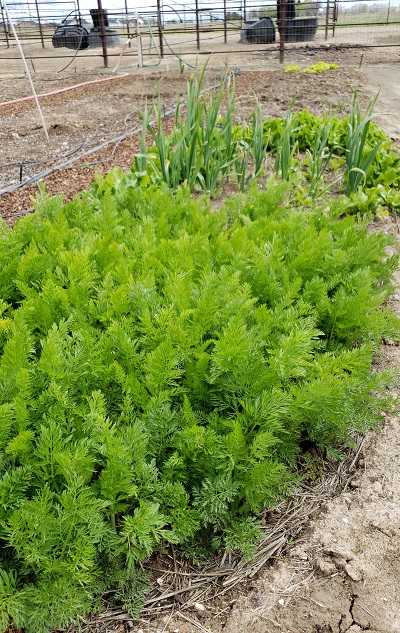 About those carrots:
I planted then in the fall. Were about an inch high at the first snow. Covered them with hay. I love to experiment.
There's more:
My herb garden survived the winter. I covered it with plastic sheeting to help guard against snow, wind and freezing temps..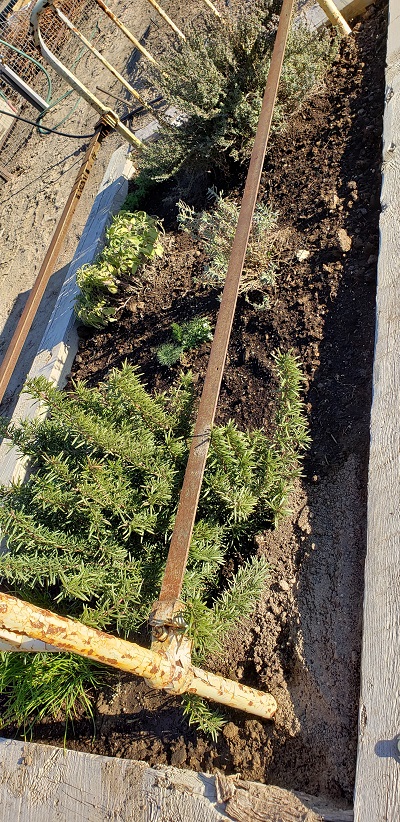 I guess you could say her daffodils, tulips and hyaciths (which "smell heavenly") overwintered, too.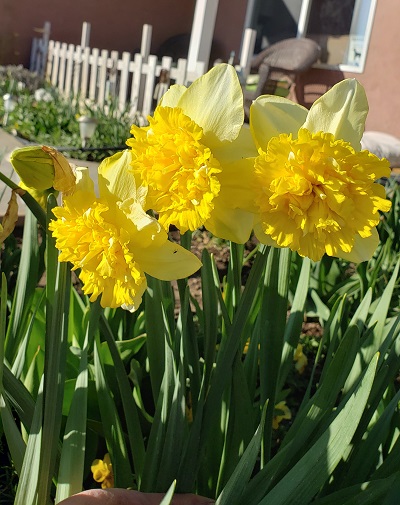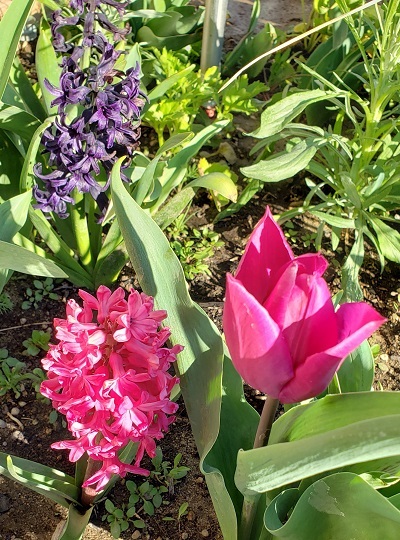 From my cousin in Utah who keeps the geraniums in her basement over winter:
The geraniums are almost ready to go back out as soon as the weather gets a little warmer. They have had a wonderful winter some of them are ready to bloom and their leaves are huge! They loved the cold winter downstairs.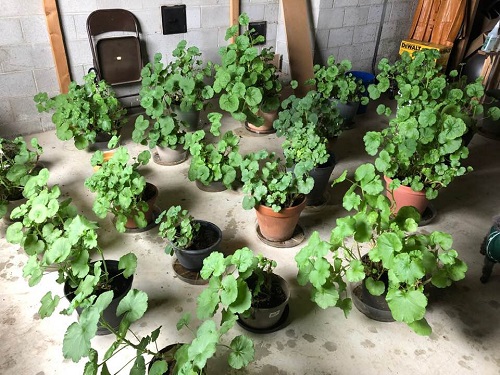 A friend who had tried to keep geraniums over the winter and had given up asked how she did it.
I trim them when I bring them in because the summer leaves die quite quickly. Some of the growth just needs to be taken off. I do Miracle Grow a few times over the winter and water them ever 3 weeks. Right now before going out, they need more water.

You probably give up when they look quite ugly, but they seem to recover. I think trimming them down might be the key. Some of mine only looked like stalks after their fall trimming.

When you take them back out, they go through a bit of a shock and might look a bit sad for a couple of weeks, but they get better. They are by a west window in my unfinished basement, not heated.
Little trip to Switzerland and Italy
Since we last visited our Swiss doggie friend, Rocky, he has played in the snow some.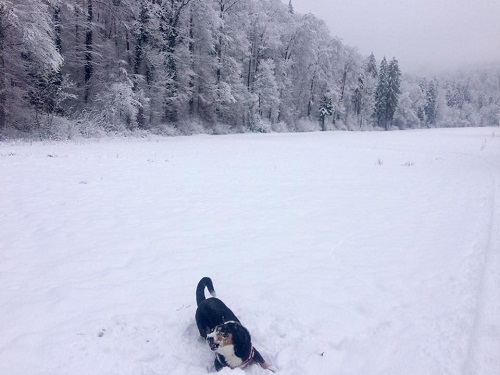 He has visited mountain communities.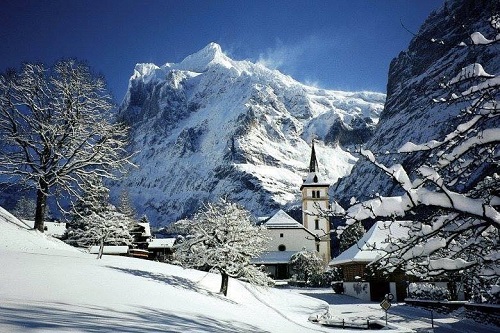 His human parents went to Rome.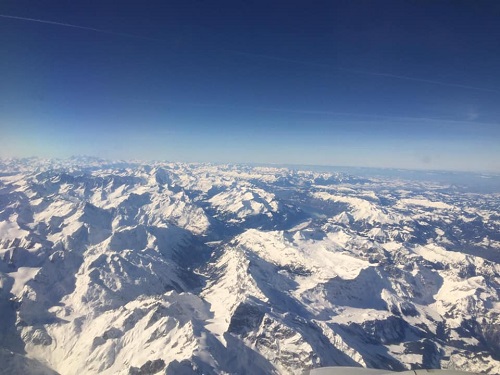 And took a photo of this old olive tree. Fitting for Easter Week, I think.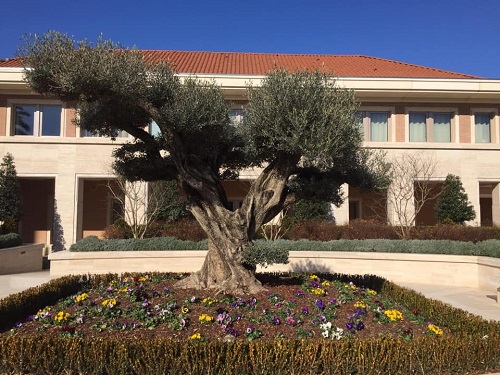 Now, back home in Rocky's garden, it is spring. I guess they call Bleeding Hearts (Dicentras) "Tears of the Heart". Might be more fitting. What do you think?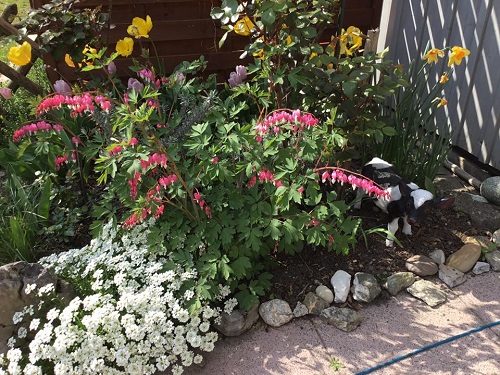 Also note that they seem to have garden cow statuettes in place of garden gnomes in Switzerland. In honor of the Swiss love of cows, Here is a bovine playing fetch.
Have a great Easter weekend. Try to spend a little time outdoors if you can.
We have some great photos that we didn't get to today. But we will take more. If you would like to send information and/or photos for the Saturday Gardening Thread, the address is:
ktinthegarden
at g mail dot com
Include your nic unless you want to remain a lurker.


posted by Open Blogger at
12:59 PM
|
Access Comments