« Wednesday Overnight Open Thread (4/17/19)
|
Main
|
Mid-Morning Open Thread »
April 18, 2019
The Morning Report - 4/18/19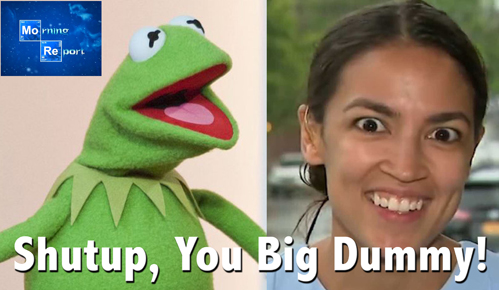 Good morning kids. Thursday and breaking late last night a man has been arrested trying to enter New York City's St. Patrick's Cathedral with two cans of gasoline, lighter fluid and lighters. We've been trying to reach Shepherd Smith and Neil Cavuto to get their expert analysis, but we've been told they're under an I-95 overpass near the Meadowlands, servicing the local chapter of Vermin Supreme. All seriousness aside, the code 10 whack-a-doo in question is identified as one Marc Lamparello, 37, a Jersey resident and a grad student at CUNY seeking a PhD in philosophy. Perfect! Meh, given the political landscape here in New York, this guy could be a future mayor or governor... if he doesn't flame out along the way.
We now return to our regularly scheduled meshugas, where the big story for today is the long anticipated release of the Mueller Report, which as we all know is the aftermath of the world's longest running smear campaign against a sitting president in an effort to stall and coverup the revelation that the Clinton/Obama/Deep State perpetrators of the aforementioned are the actual colluders, traitors and criminals worthy of a long drop from a short rope. The "report" such as it is will of course find Trump guilty of zero crimes but, as it is authored by a few dozen Democrat/Hillary loyalists led by shyster-cum-Roland Freisler Andrew Weissman, every page will no doubt be jam-packed with "insinuendos," smears and other swipes at the President's character that will be the fodder for the Democrat-Media-Complex to fill every minute of airtime and every column inch every day until November of 2020. And since anti-Trump co-conspirator Mueller conveniently omitted any statements clearing the president of obstruction of justice, that will also sustain the attack on him going forward. But how can you obstruct justice for crimes that were never committed? Oops, I forgot; the Lavrenty Beria codicil. Silly me.
Of course, adding fuel to the fire is a press conference that has been called by AG Wiliam Barr that will precede the release of the report, with former deputy AG Rod Rosenpenis in attendance. The Left is going positively ape over this and ever since Barr's four-page summary that essentially exonerated Trump, they've thrown every accusation at him for covering up Trump's crimes that are sure to be in the unreduced report that has been denied them. Forget the fact that had there been any, Mueller would've gone to the press immediately. And, much as I loathe Rosenpenis, recall in July of last year, that late Friday press conference where 12 Russians were indicted for hacking where he declared:
...There is no allegation in the indictment that any American was a knowing participant in the alleged unlawful activity or knew they were communicating with Russian intelligence officers. There is no allegation in the indictment that the charged conduct altered the vote count or changed the outcome of the 2016 election...
That was July of 2018. And yet Mueller persisted for another 8 months, after knowing full well probably on the day he was given the assignment that there was zero evidence that Trump was guilty of anything. But of course, he had his job to do like a good little Fifth Columnist. Meanwhile, Christopher Steele, the author of the tripe that was used as a pretext to dupe (or not) the FISA courts to give a rogue DoJ and FBI the wiretaps to spy on the campaign and then the nascent presidency of Trump, is refusing to meet with the department's IG. I wonder if there'll be a 3AM raid on his house where he too can be dragged away handcuffed in his tidy whiteys in front of the TV cameras like Paul Manafort. Meh, who am I kidding? Two Americas, yo. And on that note, Great One Mark Levin takes us on a trip down memory lane where we relive the real collusion between the Clintons and the Chinese during the 1996 campaign. Funny how none of that ever gets spoken of in the media.
To the border we go where the migrant invasion crisis continues. And it plus our non-immigration system in general tops the Ipsos poll for Republican voters as their top issue. Meanwhile, Ben Carson and HUD come in from nowhere to announce they are going to crackdown on illegal aliens abusing the public housing system. Bravo, and let this spread to every agency that illegal aliens leech off of, as well as enforcing the laws strictly and with harsh penalties of knowing employers of same. And as a DHS panel calls for more action (I thought you guys at DHS provide the action), Yuma, Arizona is declaring a state of emergency. Also, send the dreamy DREAMers to live in Bernie's six plush dachas and one of Obama's sparks of humanity is charged with murdering the father of 10.
Dem Scandal Sheet: Kim Foxx fixxed Jussie Galore's case after recusing herself, the UAW bribery scandal deepens with implications for unions fighting right-to-work legislation, and T.J. "B.J." Cox is indeed a goniffing Democrat weasel (BIRM).
In Democrat Joo-Hatred, Rancida Tliban hosts terror-affiliated Joo-haters on Capitol Hill, Nancy Palsi insists the Democrat Party has no taint of anti-Semitism, right after meeting with rabid anti-Semite Jeremy Corbyn, and perhaps there is a distancing of some Dems from "Bro-Fo" Omar. Legit revulsion or political expediency? You make the call.
In general politics, Dems think Florida is key to beat Trump in '20, Dems hate "dark money" except when they get it, Jim Messina not high on Bernie's chances, Bernie and Blotto are cheap bastards and hypocrites, Bernie attacks legit redskin for attacking Fauxca-Has-Been, a look at entrepreneurship, the electoral college and reparations, Spengler on the Democrat klown kar, and a victim of socialism has some choice words for those pimping it today.
First Amendment and Fake News Fakery: He may look like a mincing milquetoast but Butthead Buttplug will demand you bake that cake and Schiff-for-Brains is the pinup girl in every city room.
Guns: Gun grabbers gunning for pro-gun Nevada sheriffs.
Abortion: OB-GYN challenges the storyline of Unplanned and don't believe the phony polling about American approval of Roe v Wade.
Notre Dame Fire Aftermath: The priest who rescued the crown of thorns and other relics is some guy, jihadi savages ululate and masturbate over the conflagration, let the rebuilding begin and yes, whether it was terrorism or not, what happened serves to underscore the mass desecration of churches all over France.
Foreign Desk: Trump hoping to create a commie-free hemisphere ("charity" begins here at home too, Mr. President), the administration turns the screws tighter on Venezuela, reports indicate the NorKs are testing a new weapon, more Brexit analysis including an American angle vis a vis independent trade deals with the US and their fate in Congress, the latter directs all maps and other paraphernalia to officially indicate the Golan Heights as part of Israel, Canuck conservatives score big win in Alberta, and the Chi-Coms are a threat to freedom everywhere.
Military Affairs: What's this? F-35s and naval assets being deployed to the Gulf region.
We-All-Slam-For-I-Slam: Some court just threw out years of rulings from military judges against the USS Cole terrorists, and Instagram cuts off IRGC officials. How can we get their cool swag now?
The Economy: California is leading the way... in the highest gas prices in the nation, and where are the GOP YIMBYs?
Crime and Punishment: Kamala-Toe regrets being hard on parents of juvies, that 5-year-old boy thrown from a balcony at the Mall of America is in critical condition, and a NY parole board frees terrorist Judith Clark. Disgusting, but hey, it's Democrat-controlled New York.
Education: North Carolina public schools announce May Day off for the commies to hold a #Red-for-Ed protest, Middlebury College censors conservative lecture on totalitarianism (hey, they obviously are experts in the subject), and what the hell happened to the University of Tulsa? That's a rhetorical question.
Red Greens: Chiquita Khruschev AOC releases an insane, even for her, agitprop cartoon video pimping the Green Leap Backwards to children, and a look at radical environmentalism and something known as "transhumanism," which involves immortality, and the conflict between the two.
Feminazism: Dennis Prager on the heavy price of femme rage.
Hither and Yon: "You gotta fight. For your right..." to choke the chicken? Christian Toto on two anti-Fox propaganda flicks, a rave for the play Hadestown, on the Left's need to rewrite history and the great Victor Davis Hanson with a high level view on where things are heading.
Anyway, links from around the world, across the nation and up your street. Have a better one and remain blessed.
NOTE: The opinions expressed in some links may or may not reflect my own. I include them because of their relevance to the discussion of a particular issue.


posted by at
07:48 AM
|
Access Comments