« Notre Dame Fire Strikes Amidst Wave of Vandalism and Arson at Christian Churches in France
|
Main
|
The Morning Report - 4/18/19 »
April 17, 2019
Wednesday Overnight Open Thread (4/17/19)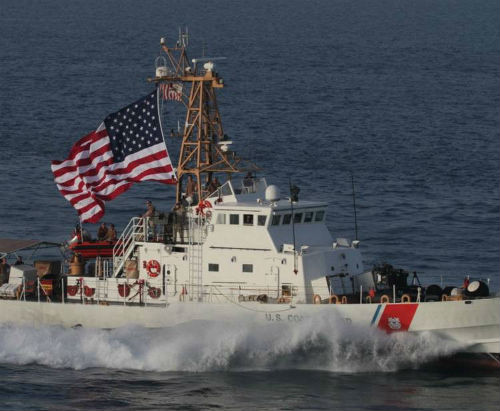 ***
The Quotes of The Day

Quote I

"Despite repeated claims that CAIR is a benign, mainstream civil-rights advocacy group, the truth remains that CAIR has a long history of financing terrorist groups like Hamas, Hezbollah and al Qaeda. Since 9/11, 15 CAIR leaders have been criminally convicted or implicated in terrorism investigations—including one convicted for violating sanctions of Iraq and another for financing al Qaeda and the Taliban." Louisiana Attorney General Jeff Landry (R.)

Quote II

"I don't think I know a single judge who has allowed religion to interfere with their jobs. "I think if you start the day on your knees, you approach your job differently from when you start thinking that someone anointed you to impose your will on others."Justice Clarence Thomas

Quote III

America is a land that bans books, has political prisoners and condemns people to a form of internal exile where they cannot have a job or maintain a normal life. Ten years ago, if someone said Americans would lose their jobs because they liked something on social media, only the aluminum foil hat types would have believed it. Such things were considered impossible just a decade ago. In the 1980's, these were the sorts of things that happened in the Soviet Union, which was why communism was considered evil. The Z Blog
***
***
A female high school student has been expelled from her school after she kneed a boy in the groin while he was blocking her from leaving the girls bathroom. The boy, along with 6 other male students, entered the girls' restroom at North Pole High School in Alaska to protest a selfie taken in a boy's bathroom by a student transitioning from female to male.

The male students intended to do the same in the girl's bathroom, that was occupied by the girl. The student expelled and the transgender student were not connected in any way, but the female student who was blocked from leaving felt threatened, which is why she used self-defense.
***

Older men at the range.

***

Why should I donate money to charity when I donate myself to politics? So asked Robert Francis O'Rourke.

Mrs. Mis. Hum. calls him a "dick". That's pretty strong coming from her.
***

As us 29 year olds approach Medicare and Social Security eligibility, we must pay attention to the little details.

Long-time readers may recall our series of interviews with attorney Kent Brown about his lawsuit against the Fed's "because Social Security officials claim that folks must forfeit their Social Security benefits if they withdraw from (or choose not to enroll in) Medicare."

[ed: Original and follow-up posts are here and here]

One would think that since neither of these are in any way legislatively connected, this would be a non-issue.

One would think that, but one would be incorrect:

"Is there something in the original Medicare legislation that dictated this? Surprisingly, the answer is no ... Nothing in the Social Security or Medicare statutes state that one must take Medicare in order to receive Social Security payments (or vice versa)"

So how did this come about?

Two words: Washington, DC.
***

Swimming in pudding. J/K Rolling in grits.

The World Grits Festival in South Carolina featured an eating contest for the traditional breakfast food in addition to a "Rolling in the Grits" contest.

The festival, held in St. George, featured Tom McCoskey capturing his seventh consecutive title in the grits eating contest, besting competitors including his own sister.
***

Tonight's geography lesson..........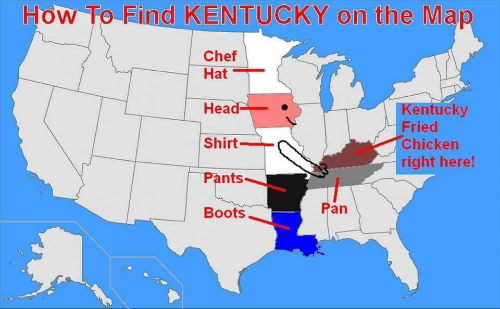 ***
My father and I didn't always get along. But as I hit the awkward age of 13 or 14, not a boy, not a man, there was one thing that we enjoyed together on Saturday nights. AWA Wrestling. Boy am I glad I didn't know this then.

What is professional wrestling? Without a well-written story, it's just two adults fighting each other in scanty clothing. With a great story though, wrestling is nothing short of magnificent. It's an art just like music, movies or any other television show. Wrestlers are actors who have diverse personalities and play the part extremely well.

There is so much going on behind the scenes, much more than just a few moves, a finish, and a winner to each match. One of the first things people learn is that everything that plays out on camera in wrestling is predetermined with storylines being composed like a play written for a large audience.

Have you ever gone to the theaters in anticipation of a movie and been completely disappointed because it was not written well? The same could be said for a wrestling match.
***
Tonight's doping scandal. NFL? No. NBA? No. MLB? No. Hope you're sitting down. Bridge. Yes, bridge the card game.

When a top athlete is caught using performance-enhancing drugs in an elite competition, like the Olympics, it's big news. But humans will make a competition out of anything, and even the most obscure tests of skill and talent have their cheaters. Even the card game bridge.

Early 2019 delighted the world with news of the world's #1 Bridge player, Geir Helgemo, being suspended after getting caught doping. Of course, if you read a little deeper, you'll see that Helgemo was using two drugs to increase his testosterone, which increases your Bridge skills in ... no way whatsoever? Maybe his strategy involved intimidating other players with his sudden influx of chest hair?
***
It turns out that trusting the word of a con artist might not always be the best choice.

Following Lori Loughlin and husband Mossimo Giannulli's decision to plead not guilty to the charges facing them in connection to the college admissions scandal on Monday, a source close to the 54-year-old actress tells ET that she feels like those who orchestrated the scheme misled her about the severity of her involvement.

"[Lori and her husband] claim they were under the impression they might be breaking rules, but not laws," the source says. "They feel they were manipulated by those involved and are planning that as part of their defense."
***

Not only does this guy have a horseshoe stuck up his ass. He also has a steel rod through his skull.

Construction Worker Miraculously Survives Getting An Iron Rod Through His Skull

21-year-old Sanjay Bahe was doing routine repair work one second and had an iron rod impaling his head the next.
***

The FCC is looking for naughty people.

With ever more streaming options and set-top boxes than any one person could ever possibly need, it's certainly much more convenient to cut the cord than ever before. But if you're looking to cut corners with the devices you're using for those services, you may want to reconsider.

The Federal Communications Commission last week issued an enforcement advisory to remind consumers and distributors about its policies around unauthorized set-top boxes and streaming devices—namely, don't even think about it.
***
The ONT Musical Interlude
Born on this day: April 17th 1934 - Don Kirshner
American music publisher, talent manager, and songwriter Don Kirshner who helped launch the careers of Neil Diamond, Bobby Darin, Carole King, Neil Sedaka and The Archies. Kirshner was hired by the producers of The Monkees to provide hit-worthy songs to accompany the television program and also served as a music consultant for almost two dozen TV series between 1966 and 1977. He died on January 17, 2011. via thisdayinmusic.com
Not mentioned is that he basically bank rolled the band Kansas.
On this day: April 17th, 1987 - Carlton Barrett
Reggae drummer and percussion player Carlton Barrett of The Wailers was shot dead outside his house in Kingston, Jamaica. Joined Bob Marley and The Wailers in 1970, wrote the Marley song 'War'. Barrett was the originator of the one-drop rhythm, a percussive drumming style. via thisdayinmusic.com
***

I'm envious that he could build the car of his dreams. His long range planning on the other hand makes him tonight's Genius Award Winner 1st Runner-up

Super cars have captured speed enthusiasts since they were first introduced. These mountains of metal and horsepower are works of art in their own rights. I mean, when was the last time you saw an ugly super car? These speed machines capture our imagination with their beauty and raw power. They are meant for two things, to go fast and looks amazing. So when Ken Imhoff first saw the Lamborghini Countach in the movie Cannonball Run, he found himself falling in love with the legendary car. This started on him on a journey that culminated 17 years later when he unveiled what he had kept under wraps for so long. What he made with his own two hands is so amazing that I almost couldn't speak. You seriously won't want to miss this.
***

Cursing and shouting at students. Genius Award Winner.

A substitute teacher in Kentucky has been arrested for allegedly endangering middle school students by teaching while drunk. Yes, forget drinking and driving, now it's drinking and teaching. This according to 32-year-old Brook Ellen West, who I want to say was having a very harsh morning.

West was arrested on charges of public intoxication and endangering the welfare of a minor. Scott County Sheriff's deputies stated she confessed to the incident after questioning and told authorities that she had a total of four shots of vodka while teaching a class at Royal Springs Middle School in Georgetown.
***

If this is true, I'll never have to pay for electricity again.Tonight's Feel Good Story of The Day.


Researchers have developed a first-of-its-kind device that can generate electricity from falling snow.

The inexpensive device, which was developed by UCLA scientists, is small, thin, and flexible like a sheet of plastic.

"The device can work in remote areas because it provides its own power and does not need batteries," said senior author Richard Kaner. "It's a very clever device – a weather station that can tell you how much snow is falling, the direction the snow is falling, and the direction and speed of the wind."
***

Tonight's ONT has been brought to you by Self-Help Books.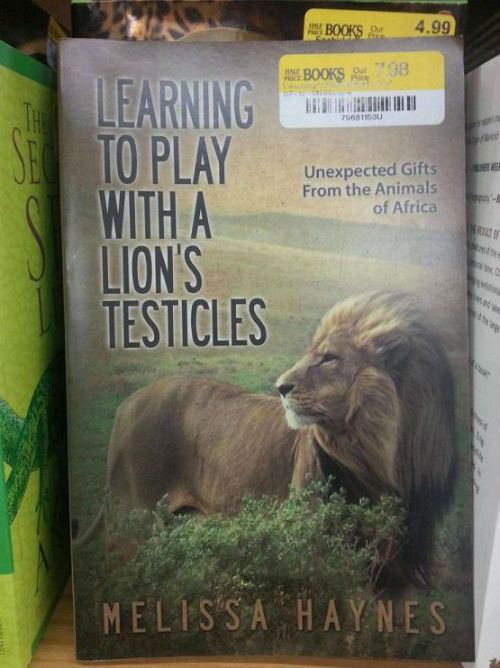 Notice: Posted with permission by the Ace Media Empire and AceCorp, LLC. The views expressed here are not necessarily those of Ace, his Media Empire or his red-headed step child AceCorp, LLC.


posted by Misanthropic Humanitarian at
10:00 PM
|
Access Comments