« The Difference Between Personal And Public Principles And Ethics
|
Main
|
Gun Thread: Reloading 101 Pt. Dos [Weasel] »
April 14, 2019
Food Thread: "Against Stupidity, The Very Gods Themselves Contend In Vain"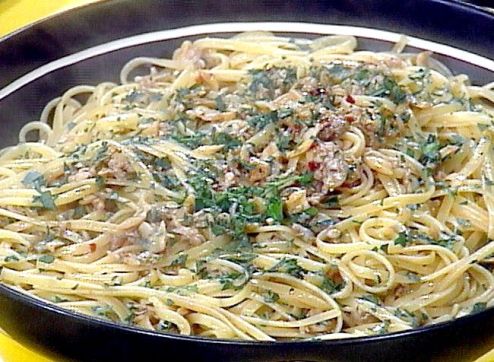 I was wandering aimlessly through the market, desperately seeking some divine spark that would guide me to that night's dinner, when I stumbled across some nice looking chopped clams at the seafood counter. I had used them before in pasta with clam sauce, and they were quite good, as was the recipe I had used many times in the past. So I swooped in and grabbed a couple of containers, knowing that it was an easy and satisfying dish. Oh, and since bacon was on sale, I grabbed a pound, because everyone needs bacon. Yes, I have about three pounds in the freezer. What's your point?
Anyway, the bacon was for a meat sauce. Yes..bacon in meat sauce. I had seen an easy and easily modifiable recipe for it a few days before, and having something like that in the refrigerator is rarely a bad idea. A pound or two of ground chuck and I was off to the races!
I have most of my recipes in a large file on my home PC, so it was easy to find the clam sauce recipe. I searched for "clams," printed the first hit, then onto the internet for the printed version of the meat sauce with bacon, and I was ready to rumble!
The meat sauce recipe was stupidly simple, and in reality I didn't need the printed version because it wasn't much different than most generic recipes. And the clam sauce recipe was an old friend, so what could go wrong?
As it turns out...quite a bit. The bacon sauce was fine. Actually, better than fine. It was damned good, and it's going into my recipe file after a few changes. On the other hand, the clam sauce was a resounding dud. Why? Because your friendly neighborhood Dildo printed the wrong one, and didn't pay any attention until it was too late.
I often save recipes to look at, with very little intention to use them. And that's what I had printed by mistake. The tried and true recipe moldered in its electronic dungeon while the untested and thoroughly crappy one got to prance around my kitchen, blowing Bronx cheers and mocking me for being an idiot.
What's the moral of this story? Hell, I have no idea. Maybe, "Don't be stupid?"
******
Here's another in what I expect to be a long line of Morons with more impressive baking chops than mine.
I remember staying at a B&B with a great outdoor patio, complete with a wood-fired oven. At dinner one night (thankfully it wasn't communal tables!) the chef brought out a chunk of bread he had baked in that oven just a few hours before. It was great, as most fresh bread is, but it had a lovely faint smokiness that really intrigued me.
Take it away, commenter "Brian" with his hand-built oven...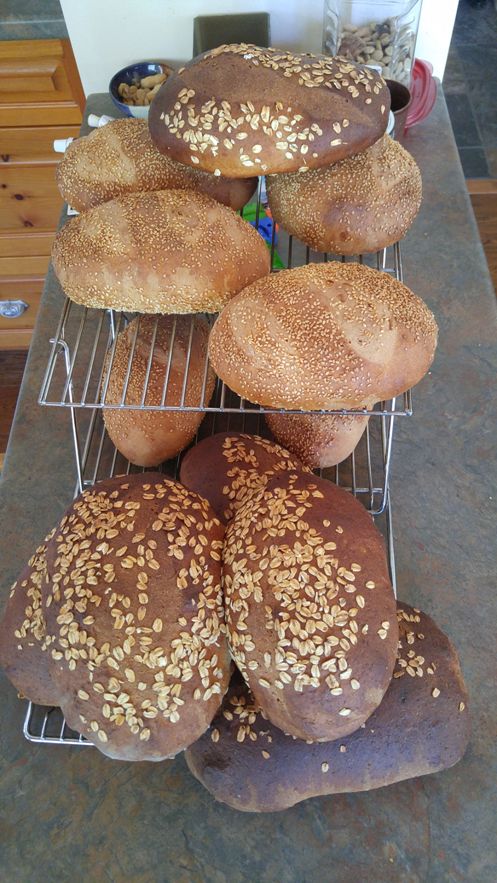 I'll first say that I've never had any formal cooking or baking training, I just picked up stuff watching my mother, experimenting over the years & more recently the internet.

Regarding temperature control: with a wood fired oven you have very little. Unknown to me prior to building my oven, the chimney for the fire is outside the oven. Once you put the door in place, the dome of the oven is totally enclosed. Picture an igloo. The chimney comes off the tunnel part & the door is located between the tunnel & dome.

If you're making something with the door off, like pizza or naan, you can keep a small fire going off to the side to keep the temperature up. When you make bread, you clean out the fire & ash before you bake. When the loaves go in it's the stored heat in the big mass of fire brick that does the baking. Once the fire is out, the temperature of the fire brick evens out (this is called soaking) then starts to slowly decline. How slowly it declines depends mostly on how much insulation you have jammed into the enclosure (you can't have too much). The trick for making bread is to have the loaves ready to go when the oven temperature has declined to your baking temperature.

This may sound hard to coordinate but it's not once you get used to how your oven behaves - and every oven behaves differently. Something I've learned about making bread in my oven: baking temperature & time are quite flexible - the bread may turn out lighter or darker or crispier but it is always excellent. I put some thermocouples in my oven which I used to monitor temperature at various places. You can see them in the build photos. Initially I recorded data every time I fired the oven but now I know how it behaves so it's more just a cool geeky feature.

Regarding humidity, I use a misting spray bottle to spray the loaves when they go in & a bit into the oven before closing the door.
Here's his oven, and below it is a link to a great video of him making bagels!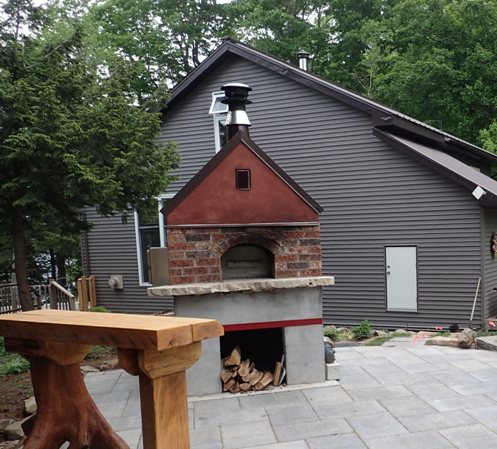 ******
From commenter "S. Lynn" comes an interesting way to use barrel staves. My personal preference is to use them for barrels holding wine or Scotch or bourbon, but this is nice too!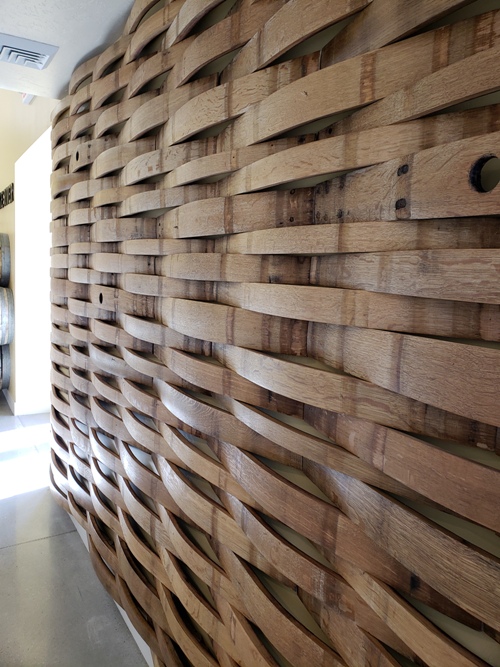 ******
"Cheribebe" likes fresh pita! here's a recipe she found....
Easy Pita Bread Recipe
I am rapidly coming to the realization that my goal of thick and fluffy pitas is more dependent on technique than recipe. Leaving the dough a bit thicker, letting it rise a bit more, and not promoting the pocket by letting it steam open is the key. Or not, and I am fooling myself. But the worst case is that I will have lots of fresh pita to eat.
******
Now that I look at it again, it isn't so generic, and I didn't really follow the recipe. I used chicken stock instead of beef stock, no bay leaf, I used powdered ancho chile instead of fresh green chile, no tomato paste, and I used rough chopped tomatoes for a very rustic flavor.
Spaghetti with Bacon and Beef Sauce
Yes, it's Rachel Ray. So sue me.
I'm not proud. if it tastes good I''ll cook it and eat itt. Happily. With gusto, and with food flying.

******
Food and cooking tips, triple-cream cheeses, young wild pigs, Venison Steak and Eggs (Swiped from Garrett), thick and fluffy pita and good tomatoes that aren't square, pale pink and covered with Mestizo E.coli:
cbd dot aoshq at gmail dot com
. Any advocacy of French Toast with syrup will result in disciplinary action up to and including being
nuked from orbit.
******
&topic=world_news">

posted by CBD at
04:00 PM
|
Access Comments