« Sunday Overnight Open Thread (4/7/19)
|
Main
|
Mid-Morning Open Thread »
April 08, 2019
The Morning Report - 4/8/19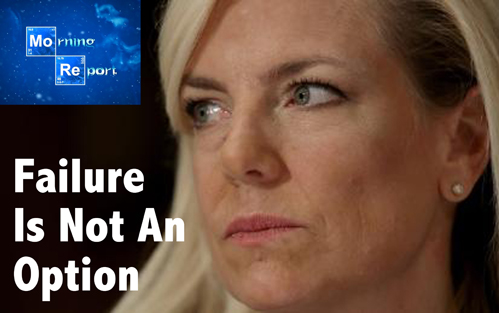 Good morning kids. Start of a brand new week so here we go. The top story for today is the forcing out of Kirstjen Nielsen from her post as head of DHS and reportedly a shakeup of the agency in the wake of its complete inability to handle the migrant invasion crisis. Nielsen has been replaced by Kevin MacAleenan, who's currently serving as U.S. Customs and Border Protection commissioner. More on him in a second. Nielsen's appointment, as with many in the initial staffing up of the administration across virtually all cabinet posts, was problematic from the get-go. She was pro-DACA amnesty and more than likely one of those go-along-to-get-along DC apparatchiks whose primary function was to do nothing to impede the Democrat-Left-Globalist enterprise. Looking at her interim successor's track record, it appears to be more of the same unless and until the President nominates and confirms an absolute hardliner on border security, enforcement of our laws and an end to this premeditated invasion.
To be fair, I cannot necessarily blame Nielsen for the situation at the border. This latest round of engineered migration and depopulation is being orchestrated by a consortium of individuals and groups, both foreign and domestic, that share the goal of destabilizing and overthrowing America as founded. As I said, Nielsen may not share in those goals but her fecklessness and willingness to cede the moral and legal high ground to the Democrat-Left-Media complex was inexcusable. In any case, between her and individuals like Jeff Sessionszzzzz, H.R. McMaster, Rex Tillerson, Gary Cohn and a number of others, the President was seriously compromised almost from the get-go. Call it naivete about how DC operates and its viewing him as its mortal enemy from day one (and before), though it was one of his very few mistakes, it was a big one. In any case, when you consider the bureaucracy itself is populated with unelected lifers who, if they are not 99.99% leftist are 100% dedicated to preserving the teat from which they suckle, perhaps, the pooch was screwed long before Trump even arrived on the scene.
That said, we still face a crisis at our border with thousands upon thousands of illiterate peasants being funneled our way with the intention of bolstering the already 30 million-plus foreigners already here and waiting for the chance to vote Democrat. And like Nielsen et al, we still have a bureaucracy that is doing nothing to stop this and in fact actively working to undermine us. Per the Daniel Horowitz piece at Conservative Review:
"...But there is another important catch in this development. Remember how members of Congress, including a number of self-described conservatives, expressed outrage that the Trump administration reprogrammed defense funding for the quintessential defense function of border security? Well, now that HHS has reprogrammed funding from sacred federal health programs to essentially facilitate the smuggler criminal conspiracy against America and to resettle volatile illegal alien teens in our schools and communities, not a single person will protest. Funding the cartels and nourishing the growth of MS-13 while leaving taxpayers with the tab is evidently the true quintessential function of our government.

How is it that more and more of our money is being pumped into a circuitous operation that enriches evil cartels and nourishes the growth of vicious gangs without any questions? How is it that our laws say the exact opposite of this government policy, one judge even accusing the government of successfully "complet[ing]" the "goal of the conspiracy" of drug smugglers at "significant expense" to taxpayers, and yet nobody stands up for we the people?..."
This Alex Azar over at HHS is another one, along with dozens or even hundreds of others in DC that needs to be fired. The hell with due process, the corrupt judiciary and the government unions. They are all actively working to undermine not just the President but the republic itself. This is a national emergency and in fact it is war. It's about time Trump and his allies fight it as such, damn the torpedoes.
On to the rest of the news where the aftermath of the Mueller Deception and the ramping up of the next phase of the attempted coup against the president sees continued calls demanding to see the President's tax returns, Devin Nunes to submit criminal referrals to the DoJ about the Obama regime's handling of the Russia "collusion" story, and Victor Davis Hanson with a great recap of the entire mess.
Dem Scandal Sheet: Big news is that top Dems reportedly colluded Ukraine to interfere with the 2016 elections, Twitter backs away from the SPLC while Amazon is silent, corrupt hack Kim Foxx plays race card, and a corrupt UAW official was a Democrat super-delegate. Also, Blotto Beto calls Bibi a racist, and protesters interrupt Trump just as he began speaking at a Jewish Republican event.
Civil War 2.0: The never ending threat of same and a man was arrested for threatening to kill "Bro-Fo" Omar. Meh, we need to invoke the Leftists' demand and ask "Bro-Fo" to look inward to see what she did to make him so angry at her.
Politics: Dems poo-poo GOP push for the Jewish vote, Trump polling very well, so-called "Justice Democrats" going after the DCCC for protecting incumbents, Mayor Buttplug flip flops "all lives matter" as everyone is jumping on the reparations bandwagon, prominent black investor rips Chiquita Khruschev, Fauxca-Has-Been grows louder and shriller as her prospects sink deeper and deeper, Kamala-Toe is predictable, 4 questions for idiots gunning for the Electoral College, two good essays on the fate of the Democrats, abortion is going to be a big issue next year and Obama may be gone but his ego goes on and on and on...
First Amendment and Fake News Fakery: Agitprop media continues spewing big lie about Trump calling illegals "animals," and Michigan AG's free speech muzzling faces a legal challenge.
Guns: I see there was a temporary stay on Friday to the striking down of California's magazine law and the Dems try sneaking gun control into a continuation of the violence against women law. Of hooks and crooks...
Foreign Desk: The big story is Venezuela as unrest and misery continue for the people, the question is what will the US do particularly now that Russia is moving in to support Maduro and test Trump. For now, the US is blocking that country's oil shipments to Cuba. It's a hot mess, but it is our hemisphere, Maduro is a thug and an ally of Iran and he needs to go. Elsewhere, a crucial Israeli election is today and Iran gets a pass to lay mines in Yemen.
DEE-fense: A look at Trump's space success.
We-All-Slam-For-I-Slam: Dems pushing sharia? No!, Trump Administration declares Iran IRGC a terrorist organization, and a pro-Hamas leader is in a South Florida anti-crime group.
Domestic News: AARP sweetheart deals with government go under the microscope, Medicaid fraudsters to be removed from the teat (not nearly enough but a start), government added 14,000 jobs (feh), and Daniel Greenfield on a billion dollars down the dumper.
Crime and Punishment: WV Supreme Court judge goes to the slammer, Paper Lace smells a comeback, , a look at the Social Justice prosecutors and transnational criminality.
Education: What happened to Common Core and racialism in the pedagogy.
Red Greens: Barbara Lee escapes petri dish, and perhaps the law-fare angle of "climate change" huxterism might be over.
Actual Science: Richard Fernandez on the SMOD and other things.
Hither and Yon: Black actor risks career death by praising Trump and slamming Obama, and two essays, one from friend of the Morning Report Christian Toto on Best of Enemies.
Anyway, links from around the world, across the nation and up your street. Have a better one and remain blessed.
NOTE: The opinions expressed in some links may or may not reflect my own. I include them because of their relevance to the discussion of a particular issue.

BORDER WALL, MIGRANT INVASION, AMNESTY, IMMIGRATION, BORDER SECURITY


posted by at
07:57 AM
|
Access Comments