« A Thread For The Nightwalkers
|
Main
|
Mid-Morning Open Thread »
April 05, 2019
The Morning Report - 4/5/19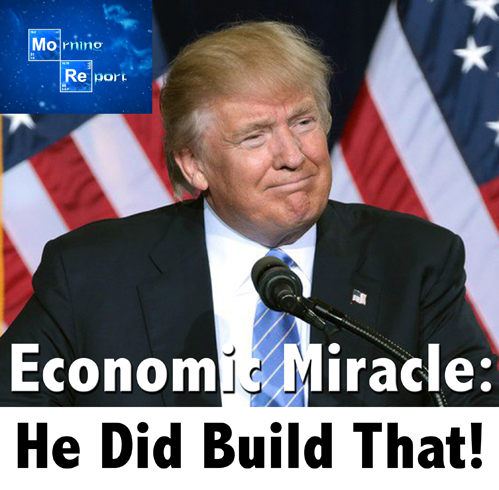 Good morning kids. The weekend's here and since nothing substantively has changed or developed in our top stories there are a couple of items worth highlighting since doubtless the agitprop media arm of the Democrat-Leftist-Globalist enterprise is sure to bury or otherwise distort them. First...
US WEEKLY JOBLESS CLAIMS HIT 50-YEAR LOW
And...
BLUE COLLAR WORKERS ENJOY WAGE HIKES THANKS TO "SHORTAGE" OF FOREIGN WORKERS
Note to Mr. Obama, Chiquita Khruschev AOC and all the other assorted nuts, flakes and fruits of the Democrat-Socialist variety: you definitely did not build that. It's exclusively the work of President Trump his economic policies and to some extent the attempt to cut off the flow of low wage foreigners supplanting the American worker despite the best efforts of the Chamber of Commerce to do otherwise. Just to cut off any troll or other vermin who attempts to refute this, Obama himself publicly and repeatedly stated that America's best days were behind it, so get used to the decline and fall of our standard of living. He even attempted to mock candidate Trump's promises to make the American economy great again - many now largely kept as highlighted by this editorial and the lives most of you are now actually living - by spouting some drivel about "what's he gonna do, wave a magic wand?!"
Well, in fact he did. It's called free market capitalism that lets businesses, entrepreneurs and people keep significantly more of their money (NB: it's not the government's money first... yet) by lowering taxes and tax rates which spurs growth in the form of economic activity and investment. January 20th, 2017 was not the idiotic fantasy of 8 years earlier "when the planet cooled and the seas began to lower" but the reality of when the economy fired up and the rising tide lifted all boats.
So, yes, well get to all the meshugas in due course, but I want to end the week on these extremely positive notes. The insanity of the Democrat-Left I think will wind up devouring them, as Conrad Black and others posit come November of 2020. But the best way to defeat them is for this president to deliver on his promises to restore the American economic way of life for every citizen. And in order to really do that effectively he must deliver on the other pillar of his candidacy and presidency which is to restore our national sovereignty with secure borders and sane immigration policy. That touches upon the second highlighted headline and link in the Economy section, and to quote from that Breitbart piece:
...Blue collar and middle class wages, overall, have jumped four percent over the last 12 months thanks to Trump's tightened labor market, Goldman Sachs analysis has revealed.

"Wage growth has picked up sharply in the bottom half of the wage distribution... The solid wage growth suggests a relatively optimistic outlook on consumption," the analysis reported.

White House adviser Ivanka Trump has routinely touted the benefits to the working class of the president's preferred low-immigration, higher-wage economy rather than the corporate interest and donor class' preferred low wage economic model with endless illegal and legal immigration.

"[Large and small business employers are now competing for workers] in a tight labor market," Ivanka Trump previously said. "A tight labor market is good. Wages are finally going up for the American worker."

While wages continue to rise for America's blue collar and working class, soaring levels of illegal immigration expected to the U.S. threaten wage gains for U.S. workers, as companies could enjoy a saturated labor market by the end of the year...
Bingo. And this underscores why we cannot have open borders and endless waves of low-skilled/no-skilled illiterate third world peasantry simultaneously eroding our prosperity as well as our national identity, heritage and culture. It also illustrates the strange bedfellows phenomenon of people like the Koch Brothers and Julian Castro finding themselves aligned on this issue, albeit for different reasons.
Staying on immigration, we have the continued alarming news that thousands of border jumpers that are caught are being released into the US because there's no infrastructure to contain them before repatriation back to where they came from. This is insanity and it's not some grassroots, natural phenomenon. Someone or some group(s) is organizing what amounts to a premeditated mass invasion which is being aided and abetted by the governments of Mexico as well as the Guatemala, Honduras, El Salvador. Despite the corruption and the narco-terrorist armies within its territory, Mexico still has the ability to seal its souther borders to those Central American states and stop this insanity. It isn't and it must be dealt with. The president has threatened to seal our borders as well as hit Mexico with tariffs but is delaying that action. Why? I also think he should start taxing remittances and heavily as punishment. There are those that argue the negative effects to us ("no avocado toast! ZOMFG!!") but that's not the way to look at it. Think of those adversely affected as Private Pyle's platoon being punished whenever he fucks up. An economic beating with metaphorical soap bars in towels is "the proper motivation" IMHO, and it's way past time to do it. On a more positive note, ICE conducted its largest mass arrest of nearly 300 illegals at a cell phone refurbishing business in Dallas. What should also happen is that the company's executives who knowingly hired and employed them should be squeezed as hard or harder than Michael Flynn and Paul Manafort: Stiff fines and imprisonment not at Club Fed. This should not be an occasional one-off; it should be happening on a daily basis and massively all over the country.
In other news, the Congressional anti-Trump persecution continues with a story about Jerrold "Saturated Fat" Nadler briefing some shady dark money leftist group which is totally on the up and up I'm sure and a look at the traitors who pushed RussiaGate. We also have Nancy Palsi clattering her dentures for Trump to release his tax returns. Again, if over the past 40-odd years Trump had done anything illegal vis a vis tax evasion, don't you think he'd have had to face the music for it, especially with an IRS populated with the likes of Lerner and Koskinen? No, Nancy. But as long as we're on the subject, what about your tax returns as well as that of your corrupt mobbed-up father?
The Joe "Boldfinger" Biden story continues with some Dems circling the wagons and others jockeying for position to stick a knife in him, Chicago is taking action against Jussie Galore while the CPD police union is now openly calling for hack DA Kim Foxx to resign, and while everyone is shrieking about Mueller and Barr covering up, let's take a stroll down memory lane or more accurately plumb the depths of the media memory hole to dig up the biggest actual cover ups and crimes of Preezy Kenya-Kona Blend. Plus, in Democrat Joo-Hate news, Louis Farrakkkhan has a novel theory about a nice Jewish boy from Bethlehem, and a look at the taqqiya sunrise that is "Bro-Fo" Omar.
Civil War 2.0: Raving leftist loses her job (she works?) after terrorizing and doxxing an elderly man in a MAGA hat, and a thug protestor disrupts a Candace Owens and Charlie Kirk TPUSA speech.
In general politics, several good essays highlighting the rising fortunes of President Trump and the simultaneous seeming disintegration of the Democrat Party for 2020. The latter is illustrated by the candidates rushing to kiss Al Sharpton's manhole cover medallion, Daniel Greenfield does real journalism on Mayor Buttplug's horrible tenure leading South Bend, mostly to ruin, Blotto Beto trivializes the Holocaust and is hot and horny for reparations, Cuck Schemer is right to be alarmed at Trump packing the courts; mostly because his picks denude their power to legislate from the bench, Chiquita Khruschev is out of her freaking mind, and both gun grabbing Tim Ryan and Tom Styrene are considering and reconsidering diving into the Kommie Klown Kar.
Abortion: Howard Schultz is trying to move towards the center in opposing third trimester infanticide, appeals court upholds Kentucky law mandating the playing of an unborn heartbeat before an abortion and Dems desperate to bury the born alive bill from scrutiny and their opposition to it.
First Amendment and Fake News Fakery: DoJ hits back at the Slimes and National Laughingstock Mueller report distortions, CNN was destroyed in the first quarter of 2019, a look at the evil Google gaggle who muzzled the nice black lady, over a year since Trump nixed net neutering, and Levin slams the Democrat attempt to silence Fox News.
Foreign Desk: Venezuelan thug regime courts more Red Army boots on the ground and Syria thug voices support, how Wendy's is being prevented from opening in Europe, and Syria sez it will recapture the Golan Heights. Pfft.
DEE-fense: Thom Tillis wants allegations of retribution against Green Berets blowing the whistle on SJW sabotaging of readiness investigated, and with that Indian anti-satellite test the arms race in space heats up.
We-All-Slam-For-I-Slam: McCain Institute's troubling connections to terrorism-loving state Qatar, and Raymond Ibrahim with the correct take on medieval history, although he does ignore the Jews caught in the middle of it all.
Domestic Affairs: Kisor v. Wilkie case at SCOTUS could have tremendous implications in kneecapping the bureaucracy, and Trump nominates Jovita Carranza to replace the ankling Linda McMahon as new head of the SBA. In economic affairs, along with the great news about unemployment the idiotic news that the Dems have yet another scam/scheme to "insure" peoples' livelihoods (probably a backdoor codicil on page 947 to nationalize 401Ks too), with Cookie Milano and others threatening to boycott Georgia, it's a good time to look at why blue shit-holes like Hollywood turn to red states in the first place, and a look at the homeless crisis and housing shortages.
Crime & Punishment: Nice essay on Dolores Huerta in relation to crime, disparate impact, alleged racism in policing, etc.
Healthcare: Euthanasia is a killer and Obamacare is going to be "made comfortable" at least until 2021.
Education: Joo-hate at Emory and taqqiya at Wayne State.
Feminazism and the War on Normalcy: Women's Hall of Fame drinks the Kool-Aid, and the evil that is radical feminism.
Hither and Yon: New meaning to the song "It Takes Two," Christian Toto laughs at Comedy Central, the Unplanned effect, and finally the top 10 most evil people ever.

Anyway, links from around the world, across the nation and up your street. Have a better one and remain blessed.
NOTE: The opinions expressed in some links may or may not reflect my own. I include them because of their relevance to the discussion of a particular issue.

THE MUELLER DECEPTION, SPYGATE, DEEP STATE, CONGRESSIONAL COUP


posted by at
07:38 AM
|
Access Comments