« Tuesday Overnight Open Thread (4/2/19)
|
Main
|
Mid-Morning Open Thread »
April 03, 2019
The Morning Report - 4/3/19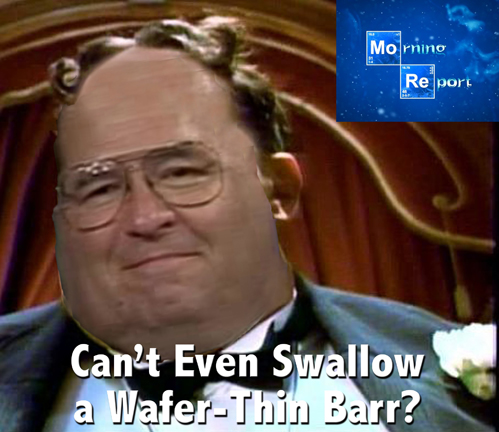 Good morning kids. Wednesday and the beat goes on as to the Democrats shifting gears and going full tilt boogie to disregard any semblance of the rule of law vis a vis the Mueller deception, which is ironically what they are claiming he and AG William Barr are doing in not revealing what they assure everyone is proof positive that Trump stole the 2016 election with Putin. Also, there's the absolute crisis at our border, which has got to be an engineered one that is being funded and fomented by deep-pocketed subversive individuals, groups and governments in order to both make Trump look bad in the eyes of the base by not keeping his number one campaign promise as well as the ongoing plan to water down our national identity and culture and pump up the Democrat base with millions of new voters dependent on Uncle Sugar. Lastly, two more accusers step forward to, er, "finger" Joe Biden, one of them a then-19-year-old coed who said Biden groped her at an event raising awareness of sexual assault. The Democrat-Media-Complex now has to either publicly defend him or look like abject hypocrites in the eyes of the American people. Pass the popcorn.
Starting with the RussiaGate Coup, the propaganda has been laid on so heavy and so thick for so long that even those that are laying it down seem to actually believe it themselves. Rabbi Dov Fischer, over at the Spectator nails it
...Although some members of Congress may be mentally unhinged - for example, an Amy Klobuchar who throws hard solid objects at people, who eats salads with her hair comb and then makes people wash her filthy comb, and who forces underlings to recite their failings to third parties - most of them really are normal everyday types. Their normalcy works against them because it convicts them of willful deceit. Schumer and Pelosi seem to be normal, not mentally ill, not schizophrenic or paranoiac. That leaves only one fair conclusion: (i) they either are pathological liars who lie so frequently that they do not even perceive they are lying, or (ii) they are more mentally healthy than that and thus know they are lying. To grant them the benefit of the doubt, one must determine whether it is kinder to assume them mentally ill or to assume them pathological liars...
Rabbi Fischer, embrace the power of "and." Underscoring the aforementioned is the oleaginous shambling bag of lipids and halitosis otherwise known as Jerrold Nadler who is smearing AG William Barr as a criminal stooge of the criminal president, and demanding the release of the full and unredacted Mueller report. Never mind the fact that it's against a law that the Democrats themselves passed 20-odd years ago in the wake of the Clinton-Lewinsky scandal to shield his and their cronies/accomplices. There's enough salacious dirt on people who in no way, shape or form are guilty of anything except being remotely related to Trump, so that info must be made available to the Dems for the sole purpose of outing them and destroying their lives. Hello? Rule of law? The Constitution? Bueller? Mueller?
But when it's all said and done, what else can the Democrats do? They have so agitated their base to want blood (sometimes literally) as well as the American people by destroying any sense of comity they cannot just say, 'sorry, we were wrong' and move on from there. In any case, any pretense of Democrats following Constitutional norms vanished ages ago, and they have openly outed themselves as the anti-American political party and movement that they always were. Witness the witless Elijah Cummings who is now going after Fox News reporters for suppressing the Sloppy Daniels affair in an effort to muzzle the only major mainstream news outlet that is (or was) openly critical of Democrats' real crimes and misdemeanors and one perceived, rightly or wrongly, as "pro-Trump." I seem to recall Obama and company plotting to put minders on the editorial boards of newspapers and broadcast newsrooms not too long ago. Not that they needed to really since virtually every media outlet in the nation is to one degree or another a house organ of the Democrat-Leftist-Globalist movement. Still, the will to power and the need to subjugate the American people persists.
On the border, the Trump administration is doing everything it can, virtually by itself with zero help from Congress, to attempt to get some sort of handle on the invaders heading our way as well as the upwards of 20-30 million already here. One positive sign is that in California, which for all intents and purposes should be considered a hostile enemy nation on our western border, at least half of the sheriffs there are resisting that state's sanctuary cities laws and going after illegals in their jurisdiction.
That brings us to politics where Joe Biden's troubles continue to grow as well as the schizophrenic reaction from all quarters in the Democrat Party as to what should be done about him. It's patently obvious that the sudden revelations against him are being engineered by political rivals within the Leftist enterprise that want him removed from the 2020 Dem presidential field. That said, there are enough of the old guard, including putative women such as Palsi Pelosi and Jello-Brain Gillibrand who are refusing to criticize the paste-eating fool. Funny how they had the knives out for Brett Kavanaugh up until the very last instant when all of his accusers were exposed as frauds, probably because they were put up to it by the highest levels of Democrat political leadership as well (see also: Dossier, Collusion, Fusion GPS). Despite seeing this year after year, the hypocrisy is absolutely radiant in how Biden is being treated, so we'll see how long the leaders in the so-called "#MeToo" movement and Women's March stay silent, one way or the other on old Boldfinger. Pass the popcorn.
Other items on the Democrat Scandal and Joo-Hate Sheet, California Dem T.J. Cox (is that his porn name?) has ethics/money troubles, "Poonman" Fairfax's accusers are demanding justice, and Tom Cotton is gunning for the SPLC. Meanwhile, Trump has a bit of schadenfreude at the expense of Biden, the late father of gay and acceptable moderate Dem candidate Pete Buttigeig turns out to be a hardcore Marxist professor, Lori Lightfoot becomes first black lesbian mayor of Chicago and is also a hardcore Lefty, Cuck Schemer prevents Feinstein from doing the right thing on disaster relief bill, Chiquita Khruschev AOC defends freakazoid traitor Bradley Manning, Kamala-Toe rips judges who rightly rip transgender psychosis, "Bro-Fo" Omar has a jones for Aunt Zeituni, a look at the Orwellian Democrat "Equality Act," and the House Republicans are forcing the Dems to confront and go on the record about their baby-killing bloodlust.
First Amendment and Fake News Fakery: Rachel Maddow's ratings go down faster than Sandra Fluke during Fleet Week, Tu-Ca ratings destroy all of CNN's prime time shows combined, two essays on the media angle on the collusion failure, David Harsanyi on the NYC City Council "Palestine" critic muzzling, and Daniel Greenfield on San Antonio's brand of religious political oppression.
Guns: A non-Hawaiian judge rules California's high capacity magazine ban is unconstitutional.
Foreign Desk: Amid blackouts and water shortages, the Maduro puppet government is out to get opposition leader Guaido, two essays on the ankling Algerian prexy and what that portends and Prince Charles is a revolting stooge.
DEE-fense: Chinese woman detained attempting to enter Mar-a-Lago with 4 cell phones and malware and the Navy is ramping up construction of a boatload of new destroyers.
We-All-Slam-For-I-Slam: US Islamic scholar praises Brunei's death penalty for homos law. Can we get a reaction from "Bro-Fo" and Rancid Tliban?
Domestic Scene: A look at King Andrew of New York, the Labor Department shit-cans Obama's franchise-killing regulations, two essays on the homeless/housing crisis including Seattleites up in arms about vagrancy. In a city famous for coffee, the residents have yet to wake up from their Socialist torpor and actually smell it. Also, Neil Gorsuch delivers a powerful defense of the death penalty. "But, Gorsuch!" indeed.
Healthcare: Trump does the wise thing and tables discussion of healthcare reforms until after 2020. He was getting bad advice to pivot away from the election-winning issue of the border to this waste of time; for now anyway considering the House is not going to help him one bit. Also, anti-vaxxers and illegal alien invaders are making measles great again. Feh.
Education (or lack thereof): Yale grad gets nabbed running an investment scam, Harvard student government hates Jooz, a University of Hartford student takes method acting to a new level, a look at attempting to restore campus free speech and Walter Williams on the disaster of corrupt academia.
From hither and yon, international adoptions are becoming less and less frequent and lastly, holy octogenarian!; a look at Batman on his 80th anniversary.
Anyway, links from around the world, across the nation and up your street. Have a better one and remain blessed.
NOTE: The opinions expressed in some links may or may not reflect my own. I include them because of their relevance to the discussion of a particular issue.

THE MUELLER DECEPTION, SPYGATE, DEEP STATE, CONGRESSIONAL COUP


posted by J.J. Sefton at
07:32 AM
|
Access Comments