« Monday Overnight Open Thread (4/1/19)
|
Main
|
Mid-Morning Open Thread »
April 02, 2019
The Morning Report - 4/2/19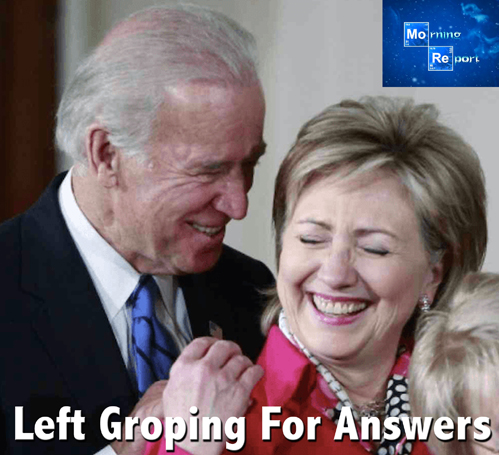 Good morning kids. Tuesday and the lead items continue to be the the slow but hopefully steady shifting of the spotlight away from Trump and on to Clinton and Obama vis a vis the collusion myth, the absolute crisis at our border and the seemingly from out of nowhere Al Franken-ization of Joe "Rockhead" Biden. Let's dive in from the top.
For those wholly unaware, Trump colluding with Russia to steal the 2016 election was a gigantic myth created by the Democrat-Media Complex in "collusion" with Clinton, Obama and their Deep State allies to sabotage the Trump campaign and then to overthrow his Presidency, while simultaneously covering up the treasonous abuse of our law enforcement and intelligence apparatuses to achieve those goals. Bit by bit, from George Papadapoulos, to Donald Trump Jr. and others, including even co-conspirator James Clapper, the pieces of the puzzle are coming together to indicate a plot to utilize FBI and other assets to infiltrate the Trump campaign and administration and then once embedded, commit crimes that would implicate Trump and his staff as actively colluding with Russia, and then set the table to use those crimes as a strong pretext for impeachment, removal from office and perhaps even criminal prosecution.
Well, that went nowhere as is evidenced by the conclusion of the Mueller Report. And not to let that go, Mueller was a fellow conspirator insofar as he knew all of this was a crock on day one and if he was an honest player would have issued his report indicating so before that day was over. He didn't and so helped the media and Democrats smear and cast aspersions on a duly-elected President for his first two years in office in the attempt to drive his poll numbers down and make him politically vulnerable for impeachment - - with absolutely zero evidence to justify it.
Meanwhile, either knowing they have less than nothing to continue this sham of a mockery of two shams of a travesty or whether they have deluded themselves with their own propaganda, the Democrats are now demanding the release of the full unredacted version of Mueller's report. They're not going to get it, as they shouldn't. AG Barr is redacting sections that have no bearing on the case but would only serve as political fodder with which to further slime the President and others. But, even that is a weapon with which they can try to cast aspersions and shriek the equivalent of "fire can't melt steel!" all the way to 2020 and beyond.
On the border, the President has responded to the absolute crisis of mass, seemingly unstoppable mass migrant invasion by calling up even more agents to hold the line, cutting off aid to the key Central American failed states that are perhaps intentionally self-ethnically cleansing their peasantry and putting pressure on Mexico (see the link about the reaction from that country's foreign minister). Also, he is reportedly considering the appointment of an "immigration czar." All well and good, but in reality Trump is the ultimate immigration czar. He should not only be sealing our border, but, Hawaiian Judges Buch M. Danno and Tyne E. Bubbles notwithstanding (as an aside, and actually related, see the link in the Politics section about judges ordering Trump to resign), halting all immigration for at least the duration of his presidency, ramping up apprehension and repatriation of all foreign nationals illegally in country and cutting off every last red cent of Uncle Sugar bennies.
And that brings us to politics where the lead story is the "sudden" revelations about Joe Biden. Sudden is in quotes because Joe Biden's proclivity for fondling, handling, nuzzling and otherwise getting way into the personal space of women has been known for years. Mostly because we have miles of video footage showing him in the act and in front of large audiences to boot. Also because no doubt the powers that be in the Democrat-Left want to knock him out of the Democrat Presidential Klown Kar, either because he's white and male or because Trump would not be like Paul Ryno in the 2012 VP debates, and would utterly destroy him if he were the nominee. Need more proof? Along with the second accuser to come forward is the story that he is deeply involved in some shady dealings involving the Ukraine and his son Hunter's business dealings. Yup, the Biden ship is sinking. No need to shed a tear; He may come across as a paste-eating dolt, but he's been a shrewd, vicious political hack for well over 40 years, most notably in his center stage role in the high-tech attempted lynching of Clarence Thomas. Would have loved him to remain for his gaffe-tastic proclivities but, on the whole, meh. Good riddance.
Elsewhere, the NYC City Council muzzles a "Bro-Fo" Omar critic while she is being investigated for hinky campaign finance shenanigans, a look at the slimy SPLC, Baltimore's Mayor in deep doo-doo over her children's book, Chicago has dueling Jussie Galore protests, Tu-Ca destroys Donkey Chompers as does Liz Cheney, a Jersey Democrat sees reality and says ix-nay on the impeachment talk, Democrats love them some cop-killer Chesimard, two essays on the electoral college, two about Blotto-Beto, and Daniel Greenfield on the Gillibrand fiasco.
First Amendment: Rachel Maddow's chyron revolts in disgust, Zuckerberg's plan to muzzle America, CBS glorifies migrant smugglers, Vox says leave Donkey Chompers alone, and Fake Fapper channels Pauline Kael.
Guns: Obvious news about banning weapons and magazines, New Zealand's gun grabbing comes up just a teeny bit short and the Senate banking chairman warns banks on interfering with the 2-A.
Foreign Desk: Maduro rations power in wake of blackouts (lots of double meaning), Turdogan in possible political trouble in Turkey, Taiwan's prexy loves Trump, more Brexit disaster analysis, should Spain apologize to Muslims, and Israeli tourism is booming despite BDS. Well, when you can control the weather...
Domestic Desk: Crenshaw joins Dondi and Mittelschmerz for socialist lite family leave, Cocaine Mitch goes full speed ahead on judicial confirmations, and New York tells Special Olympics to FOAD. Meanwhile Chiquita Khruschev is staler than a croissant, Seattle is dying alright and a further look at the Portland gay hate crime hoax epidemic.
Healthcare: Trump hints at big news for healthcare but it'll have to wait until after 2020.
Red-Greens: How to combat the propaganda and GE is greening itself into extinction.
Feminazism, Transgender Psychosis: A psych prof fights back against the Lysenkoists and a frightening essay on the disfiguring of our children.
Hither and Yon: The baloney of "unchecked nationalism" and social justice is not justice but perpetual retribution and subjugation.
Anyway, links from around the world, across the nation and up your street. Have a better one and remain blessed.
NOTE: The opinions expressed in some links may or may not reflect my own. I include them because of their relevance to the discussion of a particular issue.

THE MUELLER DECEPTION, SPYGATE, DEEP STATE, CONGRESSIONAL COUP


posted by at
08:09 AM
|
Access Comments