« Sunday Overnight Open Thread (3/31/19)
|
Main
|
Mid-Morning Open Thread »
April 01, 2019
The Morning Report - 4/1/19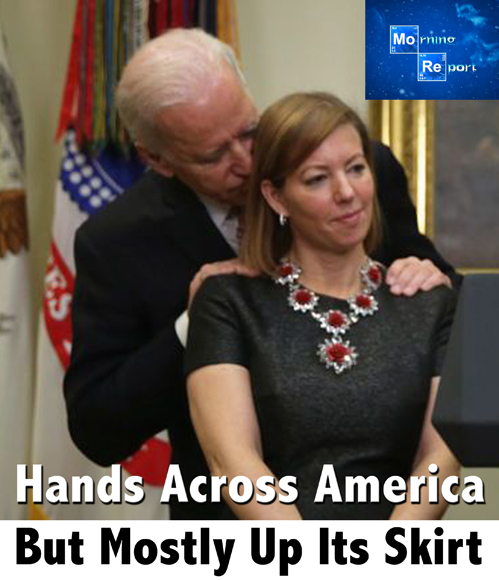 Good morning kids. Monday and happy April Fool's Day. I'm going to make this one brief (no, really) as I have an early business appointment.
Fallout from the implosion of the Mueller Deflection and Clinton/Obama Coup Cover-Up continues, and it's landing almost entirely on that of the Democrat-Left-Media Complex (but you'd never know it if you got your "news" from only them). So far, the two loudest, most repulsive examples of lying and delusion come from that of Adam Schiff-for-Brains and Eric Swallowswell. They are tripling and even quadrupling down on Trump-Russia "collusion" despite the fact that even the media can no longer beat that dead horse and, more significantly, the voting public's perception of the entire thing is that Trump is in fact the victim of persecution. Well, that's all they've got, folks so get used to it. Finally, Daniel Greenfield asks the question of when the real traitorous colluders - Clinton and her allies - be held to account? And what about the media that pumped out and pimped the lies 24/7/365? Probably never. But if it torpedoes anything and everything they stand for in the eyes of just a small percentage of Americans, I call that a win. And one that can be built on.
The other big story is on the immigration front where, reacting to a completely swamped ICE and DHS that cannot stop the hordes of foreigners jumping our border, the President has cut all foreign aid to the Central American nations that are depopulating north of the Rio Grande. He has also threatened to seal the border and halt all immigration. Please, Mr. President. Pull that trigger. And with the wall being built, it helps lock up a big reelection win.
Elsewhere of note, Joe Rockhead Biden's touchy-feely proclivities are drawing unwanted attention both to his candidacy and to Democrats in general, which caused the most chutz-pocritical comment from Dick Durbin, who still refuses to answer questions about his close connection to mass would-be assassin James Hodgkinson, and Virginia's Lt. Gov. Poonman's alleged victims are coming forward for public interviews.
With the success of the anti-Planned Parenthood movie Unplanned,Big Brother Tech is up to its usual nonsense, muzzling opinions counter to its own.
The insane Sandy Hook suit against gun manufacturers is heading to SCOTUS, Colorado counties are becoming 2-A sanctuaries as lefty gun grabbers try to stop that, and Dick's CEO is totes cool with losing millions. Wonder if the stockholders share his sentiments.
On the international scene, the Russians respond to our demands they leave Venezuela by asking when we're leaving Syria, Brazil's president Bolsonaro high on Israel, Turkish elections appear muddled (until Turdogon steals them), about that apology to Mexico from Europe, Germany is not an ally and world reaction to Brunei's harsh homo punishment.
In Education, the 9th anniversary of Common Core and it's as successful as you might imagine (that is, not at all, except for the intention of brainwashing and dumbing down) and a look at NYC's racialism in the Board of Ed.
Red Greens: Some fisherman's group pimping the green energy garbage has ties to the usual commie suspects and Frank Pallone (D)-Olt is leading the fight in Congress to keep us in the Paris Climate accords. A) Trump pulled us out of it and B) it's not a treaty, was never ratified and Advise and Consent; how does it work, jagoff?
The ACLU is suing a Catholic hospital for refusing to honor the whim of a disturbed individual by mangling his genitals and the freaks are coming for your children at a school near you.
From hither and yon, Unplanned is a hit despite the media's attempt to sabotage it, Chris Rock (who I'm not a fan of) at least tells the NAACP/SJW crowd that Jussie Galore is fair game, and two good essays on whither working class Catholics and the madness of Leftist white guilt.
Anyway, links from around the world, across the nation and up your street. Have a better one and remain blessed.
NOTE: The opinions expressed in some links may or may not reflect my own. I include them because of their relevance to the discussion of a particular issue.

THE MUELLER DECEPTION, SPYGATE, DEEP STATE, CONGRESSIONAL COUP


posted by at
05:30 AM
|
Access Comments