« Saturday Afternoon Chess Thread 03-30-2019
|
Main
|
Saturday Overnight Open Thread (3/30/19) »
March 30, 2019
Saturday Evening Movie Thread 03-30-2019 [Hosted By: TheJamesMadison]
Best of 2018: And the Winner is…
So, on my last thread, I provided the link to vote on the Horde's nominations. Over 1,300 votes were recorded, and the winner was clear.
The owner of the second annual Ace of Spades Best Film of the Year goes to:
The Ballad of Buster Scruggs.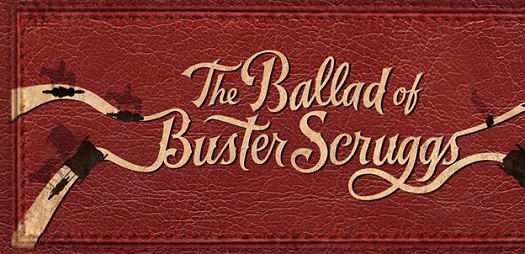 I'm, personally, quite happy with this result, though, I know that the selection wasn't universal. I found the six short films interesting and involving. The most enjoyable was probably the first story, "The Ballad of Buster Scruggs", with the insane and cheerful Buster riding about, killing bounties, and singing with every step of his horse. My favorite, though, was "Meal Ticket", about Liam Neeson and his armless, legless sideshow attraction, an eloquent young man who quoted poetry with impressive readings. The performance creates little profit in the backwoods of the West, and Neeson ends up abandoning the limbless man for a chicken who can do math.
All of the stories carry the Coen Brothers' signature agnosticism about what the meaning of life is and where we will go after we die. It's a true agnosticism that is begging for an answer, so the Coens never actually provide one in their own films, which can cause some frustration on viewers. I, and a plurality of the Horde, find that to be worthwhile.
The Jury Prize
So, in that last thread, I had a few people asking about a particular movie and why it wasn't in the list. My simple response was, "I'd love to have included it, but not enough people nominated it."
Them's the rules.
So, in honor of what I, and some others, thought was the best movie of 2018 that simply not enough people were able to see, I'm awarding the first Jury Prize to:
They Shall Not Grow Old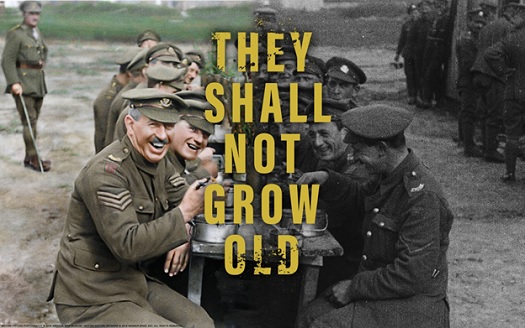 They Shall Not Grow Old is a remarkable documentary on the experiences of trench soldiers during World War I. It takes no stance on the causes of the war, the running of the war, or its closure. It is focused, laser like, on what the individual soldier went through from the run up to the war to going home.
Directed by Peter Jackson, who has a particular interest in the war based on his family's history (his grandfather served in an English regiment) that had extended to collecting paraphernalia of the war from uniforms to infantry weapons to actual artillery. When the Imperial War Museum reached out to him about doing something for the armistice's 100th anniversary, Jackson jumped in with both feet. Using footage solely from the IWM's archives, he had his team of special effects technicians clean up the 100 year old images, colorize them, and provide a third dimension. The technical effects really are remarkable. Clear, bright images of a world long lost to time, the soldiers look as present today as they must have in newsreels back then. Over all of these images lay the voices of actual soldiers recounting their stories in snippets (recorded in the 50s).
The movie's story follows a generic path through the war. It's really the story of every English infantryman from the heady days of excitement that lead to war breaking out, through the early days of movement, to settling into trench life, a battle (which is accomplished visually through contemporary illustrated images), and the wind-down of war and going home. We never learn a single soldier's name, and we rarely see the same soldier's face twice. This, to me, had the makings of creating distance between audience and subject. It's my problem with Battleship Potemkin. However, in They Shall Not Grow Old, the use of the voices of the soldiers themselves is what bridges that gap. We begin to recognize voices, and hear the pain, joy, elation, and reflections on the mundane from the men who experienced it themselves. Matched with that is the extremely respectful tone that the movie takes.
One scene has stayed with me more than any other in the months since I've seen the movie. We see some soldiers hiding down a slope from a raging battle above. They are waiting for the call to move up and contribute. As they wait, they talk, they smoke, and they look directly at the camera. In some of them, it seems as though they know they are about to die, which, we know, they are.
Jackson did a great thing by bringing this film to screen. They Shall Not Grow Old is a great achievement in special effects, but also in making a century old war immediate and emotional in a way that I've never seen before. There are World War I movies that I love (Paths of Glory in particular), but none of what I've seen has made the experiences of the individual soldier so understandable in such vivid terms as what Jackson has accomplished.
The movie is available to stream now, and I highly recommend it.

Back to You
Were you one of those who voted for another movie? Was Ballad just the worst choice possible? Should it have, instead, lost to A Star is Born?
What about They Shall Not Grow Old? Do you think it's a worthy winner for the Jury Prize?
Movies of Today
Opening in Theaters:
Dumbo
The Beach Bum
Unplanned
Next in my Netflix Queue:
Paisan
Movies I Saw This Fortnight:
Here Comes Mr. Jordan (Netflix Rating 4/5 | Quality Rating 3/4) Full Review Poster blurb: "It's nice to break things up with an enjoyable and light comedy about death." [Netflix DVD]
A Lesson in Love (Netflix Rating 4/5 | Quality Rating 3/4) Full Review "It's far from Bergman's best, but it really is quite delightful." [Personal Collection]
The Last Movie (Netflix Rating 1/5 | Quality Rating 0/4) Full Review "This might be the worst movie I've ever seen." ["Library"]
Rome Open City (Netflix Rating 5/5 | Quality Rating 4/4) Full Review "It's a marvelous mix of sad and hope." [Netflix DVD]
Sisters (Netflix Rating 4/5 | Quality Rating 3/4) Full Review "Early Brian de Palma is trashy Brian de Palma, but also talented Brian de Palma." ["Library"]
Scenes from a Marriage (Netflix Rating 5/5 | Quality Rating 4/4) Full Review "It's a remarkable insight into the mind of a man who seemed incapable of loving a single woman, or finding the answers to his biggest questions, but he still ultimately finds some semblance of peace." [Personal Collection]
Mission: Impossible Fallout (Netflix Rating 5/5 | Quality Rating 3.5/4) Full Review "The movie's' not a great intellectual exercise, but it exists proudly in a long tradition of thrilling entertainment that has graced the silver screen for a century." [Personal Collection]
The Raid: Redemption (Netflix Rating 4/5 | Quality Rating 3/4) Full Review "It's grungy and rather brutal in its violence, and the chaos is very well managed from beginning to end." [Netflix Instant]

Contact
Email any suggestions or questions to thejamesmadison.aos at symbol gmail dot com.
Follow me on Twitter.
I've also archived all the old posts here, by request. I'll add new posts a week after they originally post at the HQ.


posted by OregonMuse at
07:13 PM
|
Access Comments