« Reparations in the time of Jussie [KT]
|
Main
|
Ace of Spades Pet Thread »
March 30, 2019
Saturday Gardening Thread, March 30 [KT]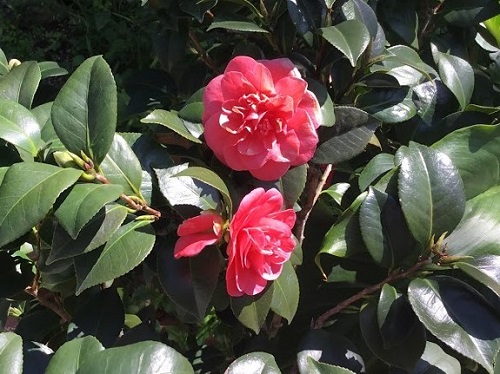 Happy Saturday, Gardeners and Friends of Gardeners! Above, a lovely camellia from the yard of The Invisible Hand and his wife. Below the fold, an impressive tree from a visit to the City of Hope. Do you recognize it? March bloom, Southern California.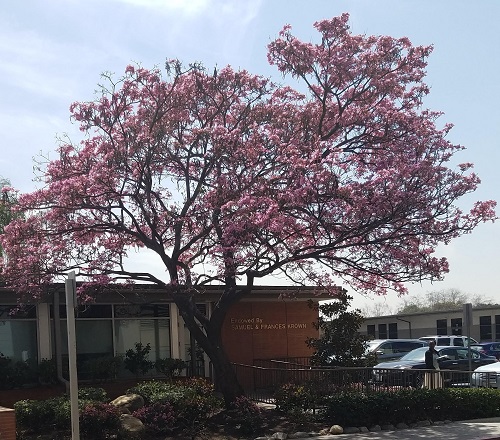 To the Desert
Anonymous for Today sends in the following:
Submitted for your consideration are some wildflower photos taken earlier this month during a trip my wife and I took to Big Bend National Park in Texas. In order are three varieties of prickly pear cactus . . .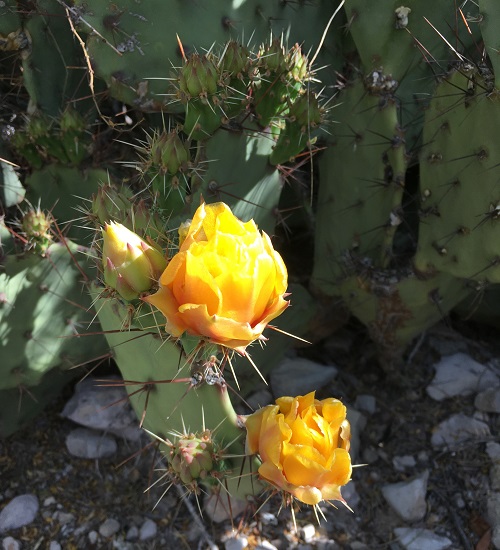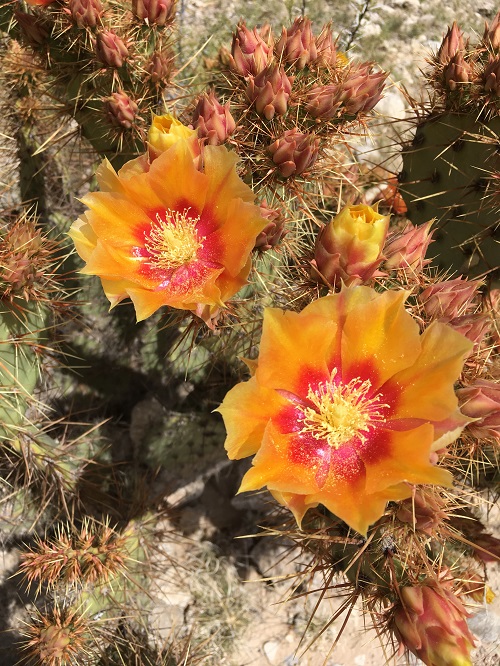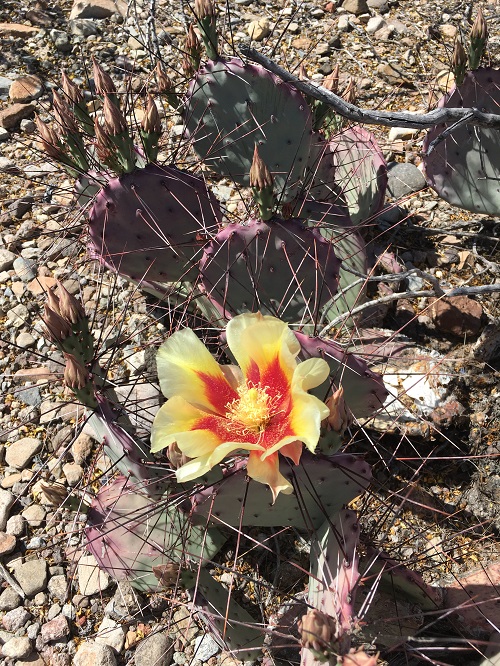 Here's a mystery plant:
This one was in Santa Elena canyon as was the only one we saw during our week prowling around the park. The canyon is very narrow and only receives direct sunlight for a short period each day.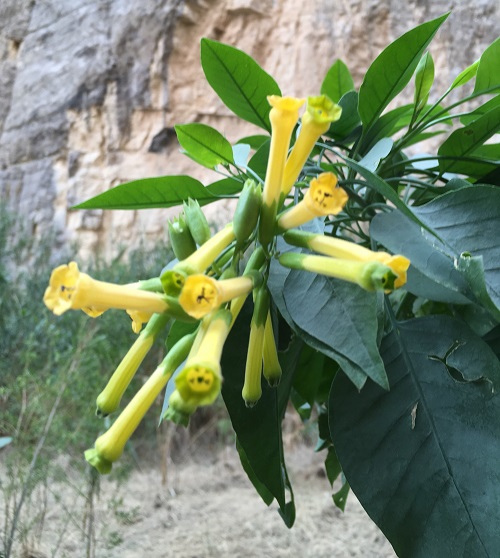 a field of bluebonnets
and closeup of same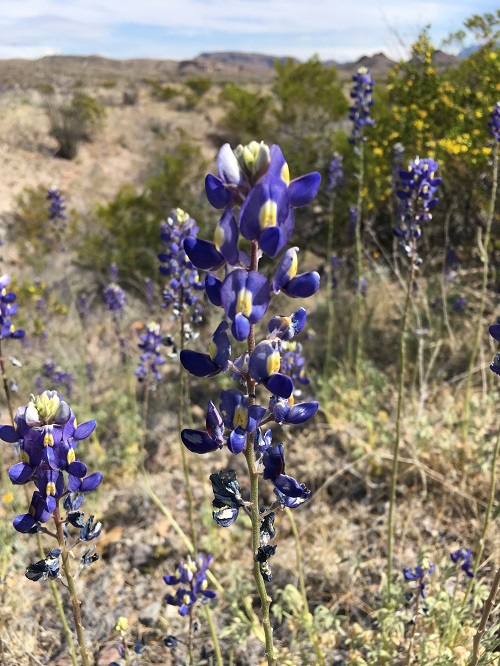 and finally a Torrey's Yucca.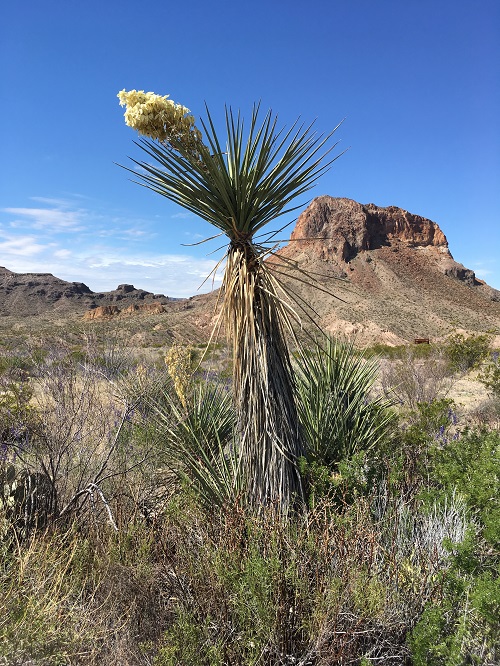 BTW, Big Bend sits along the Rio Grande which, based upon the souvenir vendors hiding in the bushes along some of the trails, is not much of a hindrance to illegal border crossing. Among the souvenirs on offer ($6.00 U.S.) were hastily constructed wooden hiking staffs, into which the words, "NO WALL" had been etched & painted or wood-burned.

To be fair, the Border Patrol/ICE maintains a presence and stops all vehicle coming from the park on the main highways north. Further, the countryside is not particularly hospitable for off-road treks away from the major thoroughfares, but still . . . It's disconcerting to be hiking only to come upon a group of two or three young men on horseback out-of-sight in the vegetation.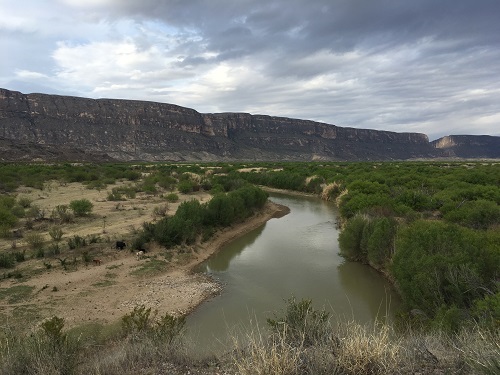 Anyway, the last photo is of the river looking upstream (Texas on the right) with cattle in Mexico for perspective. Photo snapped about 20 feet off one of the park roads.
The Edible Garden
From an earlier report the rest of Wee Kreek Farm Girl's fruit trees, after the snowstorm took out most of her peach blossoms:
The apple tree with the Saguaro cactus in the back ground, is doing very well and is covered in blooms. The frost didn't bother it at all. It is a golden Dorsett apple which does very well here because it only requires 100 chill hours.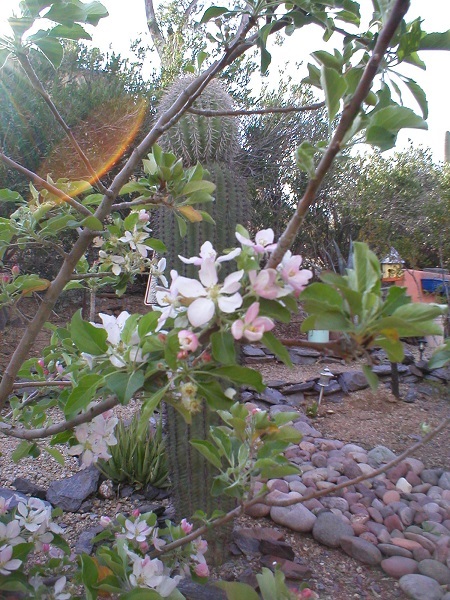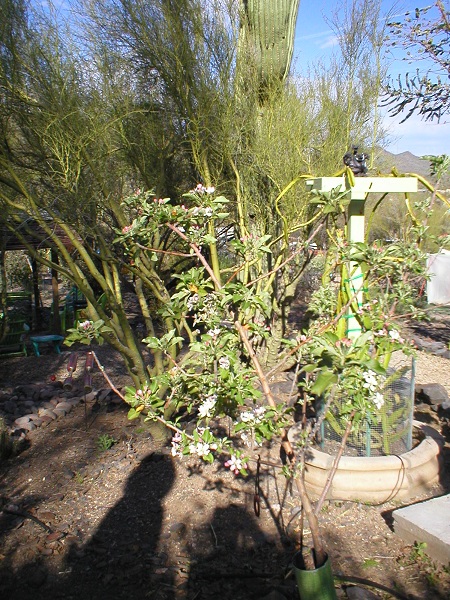 My Apricot tree which is also starting to bloom out, is a Katy apricot that is also a low chill variety that does well in the desert.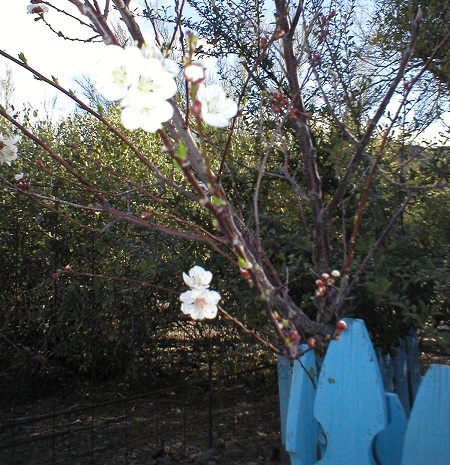 My Pakistan Mulberry which has just started to bud. Some fellow gardeners south of me in Phoenix already have fruit on theirs but mine isn't that far along. I have another variety of Mulberry as well that makes delicious fruit and that is budding out as well.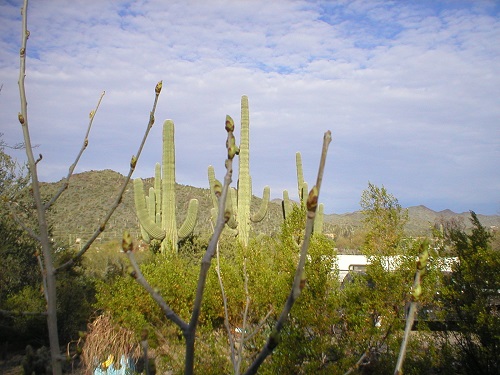 As I recall, the Pakistan mulberry is less juicy (and messy) than most mulberries.
The peach is green and healthy as can be but I think I counted 4 healthy blooms left. The ups and downs of gardening and another life lesson that shows we aren't in control of the things that happen. I will console myself with harvesting the bountiful dill my garden has provided and make some garlic dill refrigerator pickles today.
Anonymous in South Florida sends this update from January (planting time there):
I wanted to send you an update on our vegetable garden. I know the crocuses are starting to make an appearance here and there, but we are filling our produce baskets every day!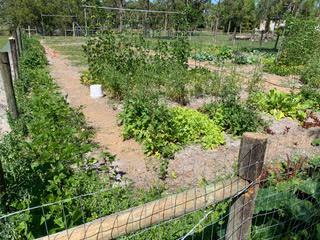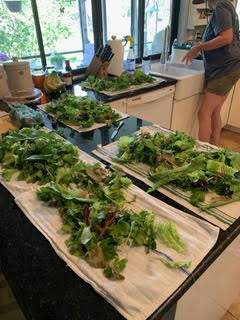 Impressive!
Gardens of The Horde
Anon lurker in San Diego sent in this fun photo last Saturday:
I'm sick in the house with pneumonia and RSV virus so I sent my husband out to take a photo of my newly blooming sparaxis bulbs.

I planted these last fall and so this is the first time they've ever come up. They are under my shoestring acacia tree and surrounded by a bunch of sour grass at the moment. It has been raining here off and on for weeks so weeding is not happening. I have 3 ceramic koi swimming under the tree and I think it all looks very pretty.

Saturday is here and my favorite threads are coming up; the garden thread, and the pet thread! You rock!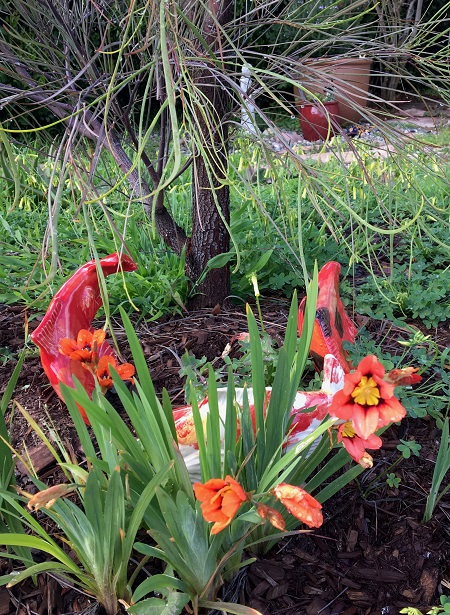 Sparaxis can stay in the ground in San Diego where the soil is not too wet. The colors go nicely with the ceramic koi, don't you think?
Sparaxis (Harlequin Flower) and its relative Ixia can stay in the ground in San Diego and other dry-summer, warm-winter areas where irrigation will not reach them. Re-plant when they become crowded.
Elsewhere, dig after foliage fades and re-plant in fall or in early spring where weather is frosty. Or keep in pots and let them dry out over the summer.
If you would like to send information and/or photos for the Saturday Gardening Thread, the address is:
ktinthegarden
at g mail dot com
Include your nic unless you want to remain a lurker.


posted by Open Blogger at
01:05 PM
|
Access Comments