« Tuesday Overnight Open Thread (3/26/19)
|
Main
|
Mid-Morning Open Thread »
March 27, 2019
The Morning Report - 3/27/19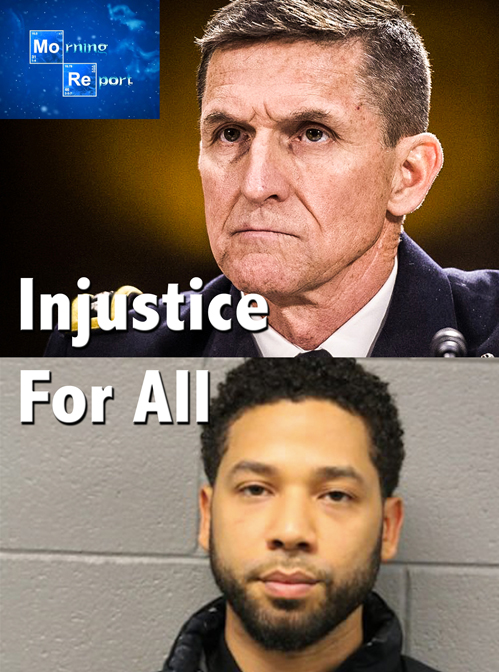 Good morning kids. Midweek and the fallout over the Mueller Deception as well as the outrageous dropping of charges against Jussie Galore for perpetrating a hate crime hoax top the stories, as well as some other very important items that we'll get to in a moment.
The main objectives of the Mueller special counsel investigation were both to cast a pall over the nascent presidency of Donald Trump in an attempt to paralyze his agenda, which was unfortunately mostly successful thanks to a GOP-e all too willing to climb on board because of their hatred of the individual in question and what his goals were, drive his numbers down far enough so as to make impeachment palatable to the American public, as well as to cover up the attempted crimes of Obama and Clinton and their acolytes (yeah, I'm gonna go there because it's slightly more plausible than Trump and Putin fixing an election) - which includes Robert Mueller - in the creation of the Russia collusion hoax in the first place.
Michael Ledeen has a very interesting take on what the main target of the Mueller probe might actually have been - Michael Flynn:
...So there were many high-ranking intelligence officials who were out to get [Michael] Flynn. You can see them at work long before there was a hint of Russiagate, when the target was not yet Donald Trump. But then things got worse for the IC, when Flynn was named to head DIA. By then, the FBI was fully engaged in the anti-Flynn campaign, paying people like Stefan Halper to surveil Flynn's behavior in Great Britain. This produced the fanciful accusation (impossible, for anyone who knew the general) that Flynn had flirted with a good-looking Russian historian. This may have been the start of the "collusion" allegations...
I don't know that Flynn was the main target given the nature of Trump and what his candidacy and subsequent election meant. But in any case, Ledeen lays out a solid and frightening case of a feral intelligence community in service to the globalist enterprise out to nail a mortal threat from within. Plus, his personal ruination at the hands of Mueller, McCabe, Weissmann et al is, as I have stated, the Luca-Brasi-dead-fish warning to anyone who dares to either support Trump and his agenda, or perhaps has the notion to take on the Deep State either as an outsider political candidate or some other general or cabinet-level official out to kneecap its power an influence. Message sent, I guess, since Michael Flynn is $5 million in the red in legal fees and forced to plead guilty to a bullshit process crime in order to spare his family from further suffering at the hands of these cancerous traitors. Too strong a word? Look at what they've done measured against the oaths they take. QED.
When you combine the eagerness with which the press, which is nothing more than a propaganda arm of the Democrat-Left-Globalist enterprise, the damage done to the republic both domestically and in the eyes of friend and foe alike across the globe is considerable, if not incalculable. And yet, with no shame, lacking any self-awareness and merely driven by a rabid hatred of Trump, the people who vote for him and America as founded, they will persist.
All of this segues perfectly into yesterday's bombshell news that Chicago DA Kim Foxx has decided to drop all charges against Jussie Smollett, who engineered a hate crime hoax both as a means to "juice" his value to the producers of his TV show and smear supporters of the President as violent, racist bigots. He faced a slew of serious charges including Federal beefs that could've given him serious prison time and effectively ruined his career. But... He's not Michael Flynn. Far from it in every measure of the word, but in this case politically. And as horrendous as Chicago is from a blue shit-hole perspective the incoming regime is destined to become populated with some absolutely repulsive characters. Kim Foxx is merely emblematic, but I digress.
Michael Flynn and Jussie Smollett are the perfect illustration of the fact that there are two systems of "justice" in America; one for the elite and powerful, or others on the Left and intersectional color chart of an approved victim class, and one for actual Americans. And there is also the court of public opinion where the propaganda machine will do everything in its power to destroy you and everything and everyone you hold dear if it deems necessary. Just ask Nick Sandmann or the Duke lacrosse team, or Tom Delay, or Michael Steinhardt (link also below in Feminazi section). Or Michael Flynn. Or Donald J. Trump.
Elsewhere, the big immigration news is that the attempt to override the President's veto on the national emergency at the border has failed and his declaration stands. A giant flip of the bird to the 12 GOP Senators who tried to sabotage this. Also, sadly, the 9th Circus flips the bird to the Steinle family.
Democrat Joo-Hate and Scandal Sheet: Ted Cruz introduces a real anti-anti-Semitism resolution, "Bro-Fo" hits Palsi for her anti-BDS statements at AIPAC and Steny Hoyer seemed brave before he reverted to being a chickenshit. Elsewhere a prominent SPLC big-wig gets the Stalin airbrush treatment, and the Dems are once again using dodgy websites to get illegal overseas donations. Hello, AG Barr?
Politics: Obama's shit-midas effect in full swing with the Dem House freshmen, Joe Bidet attempts a mea-culpa about his early years as a goniff, Chiquita Khruschev no savvy prosperity and is it time for the Tea Party to rise and prevent the GOP-e from sabotaging Trump in '20?
Abortion: Good news and bad news; the administration cuts off taxpayer funding for overseas baby killing but a hack-in-black declares the NC 20-week abortion ban un-Penumbra-and-Emanational. Bastard.
First Amendment: Conrad Black on the Mueller failure, Wikipedia takes payola to shield Leftist biggies, an anti-PC cartoonist still survives on Instagram, Colbert pulls a Candy Crowley on Chiquita Khruschev, and Nazi collaborator Ghoulish Gulash funding some phony "hate crime" site used by the propagandists.
Guns: No word from the ATF on the bump stock ban, and Lindsay Graham does not understand the words "shall not be infringed." Friggin' goober.
Foreign Desk: US warns Russkies on Venezuela, Russkies accuse US of staging a coup (there, not here), Chi-Coms compare US to Obama's Kenyan happy meal, Pope Francis opens his cake hole to the Mayor of Rome, Mexi-Marxi-Prexy demands Spain and Vatican apologize for bringing civilization to the primitives, and the war on Brigitte Bardot.
DEE-fence: Star Wars (nothing but Star Wars), John Walker Lindh may get an early release in May (here's hoping for an early visit from Malach Ha-Mawis immediately afterwards) and the Chi-Coms are parlaying the secrets they stole or were given them by the Clintons via Loral Space.
We-All-Slam-For-I-Slam: It took 4 days but the Christchurch Mosque shootings are finally being blamed on the you-know-whos, and Sweden today may be our future, G-d forbid.
Domestic Affairs: Social Security being paid to dead people (this is news?), federal spending at its highest since the Porkulus, time for the GOP to get real on entitlement reform (yeah, sure), an tick-tock Illinois. Also, the California disaster and rent control will not help Oregon's housing crisis.
Crime and Punishment: Dark Web opioid ring busted and 12 defendants arraigned in Boston regarding the tuition bribery deal.
Healthcare: Big news is the DoJ telling the court Obamacare is unconstitutional which could lead in the striking down of the entire evil edict, assisted suicide leaves more than one victim, New Jersey becomes 8th state to legalize it, and the evils of computerized medical records.
Education: Virginia schools ask kids to draw hook-nosed shape-shifters, journalism prof smears conservative students, and no wonder the latter feel unsafe on campus, and the greedy bastards at the AFT.
Red Greens: Democrats abstain from vote that kills the Green Nude Eel in the Senate 0-57.
Hither and Yon: Mike Lindell-produced Unplanned proving to be a popular and timely hit, a look at millennials and socialism and lastly the poison killing America: fundamentalist Leftism.
Anyway, links from around the world, across the nation and up your street. Have a better one and remain blessed.
NOTE: The opinions expressed in some links may or may not reflect my own. I include them because of their relevance to the discussion of a particular issue.
MUELLER REPORT AFTERMATH, SPYGATE, DEEP STATE, CONGRESSIONAL COUP

posted by at
08:04 AM
|
Access Comments