« Thread before the Gardening Thread, Censored [KT]
|
Main
|
Ace of Spades Pet Thread »
March 23, 2019
Saturday Gardening Thread: Spring! [KT]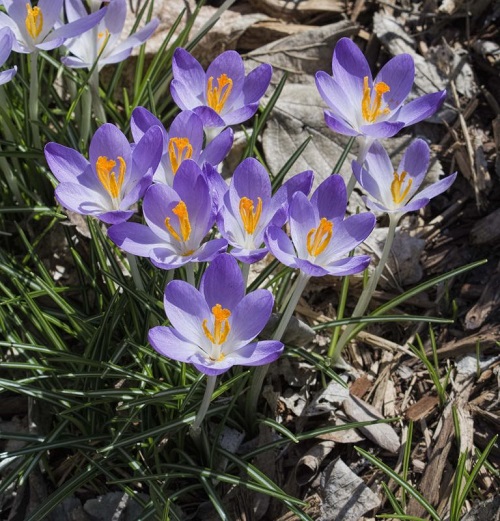 Spring has sprung! At least in Kansas, where Don visited the botanical garden.
Winter hung on like the respiratory crud that was going around earlier this year, but it looks like it's finally gone. It won't officially be spring until the first tornado watch, but I did find a little color on my visit to the botanical garden this past weekend.
As always, his photos can be viewed in greater detail by clicking over to his post. You can work the jigsaw puzzle, too. He also took a photo of some daffodils that jumped the gun a little, early in the month. A photo that gives hope to those still struggling with ice and snow.
Outdoor Carnivorous Plants
Our resident outdoor carnivorous plant specialist, Tony Litwin, has sent in some early spring photos. This is one area of botany where knowing scientific names of your plants counts:
It's me again with pics of my plants I would like to share with everyone. Pic 1 is of Drosera Filiformis Florida Red( tall red plant ) and Pinguicula Primulflora( greenish yellow flat plant ), pic 2 is of Sarracenia Alata Rubrioperculata( tall green plant ) and Sarracenia Leucophylla Chipola River( tall white plant ), pic 3 is of Sarracenia Rosea Chipola River, pic 4 is of Sarracenia Flava flowers and pic 5 is of Sarracenia Alata Pubuscens.

Most of the rest of my plants are still coming up and are quite small right now, but in a month or so, I will have some very tall pitchers on some of my Flavas and Atatas. Anyway I hope you enjoy these early spring pics and I'll send more later in the spring when they are all up and eating.
"When they are all up and eating . . . . "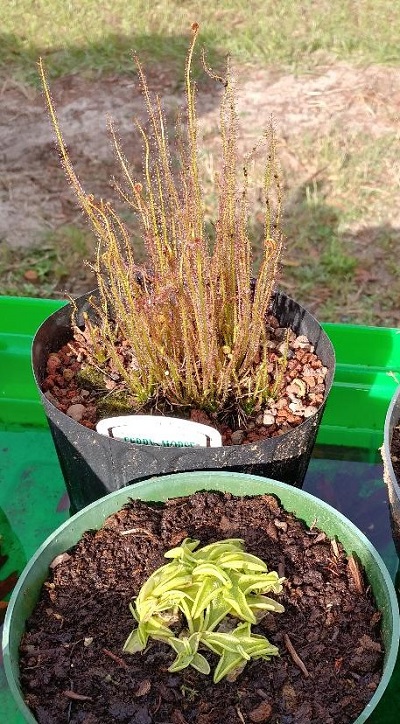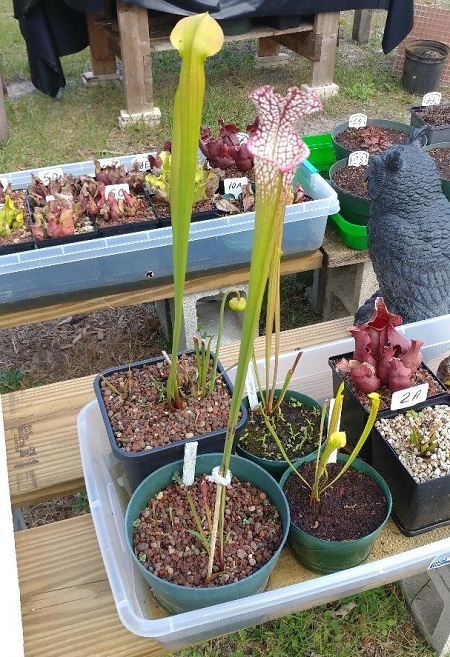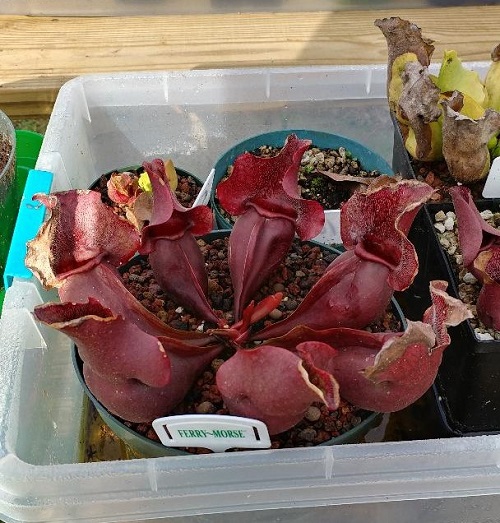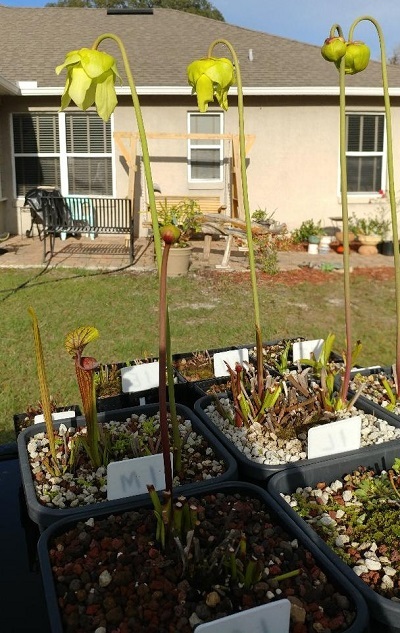 Fascinating plants. Interesting forms. Which one do you like best? I'm kind of partial to the second one.
The edible garden
The only thing I have been eating out of the garden this week is chickweed. We will be doing more on weeds later. Edible and otherwise. You harvesting anything?
If anyone is planning on planting a grape vine, let us know and we will try to help with regional choices. Important in the case of grapes. In the meantime, we can answer questions like, Why do grapes explode in the microwave?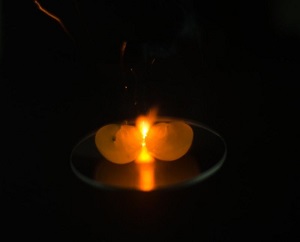 Critters
Dr_No sent in the following bit of anthropomophism:
The bird, viewed with just the right amount of Willing Suspension of Disbelief, could appear to be in the process of taking an on-stage / pre-performance bow prior to displaying his aquatic talents in the waiting water below ... or, maybe not. Sometimes a bird is just a bird ...
On the other hand, we set things up so we can watch their shows . . .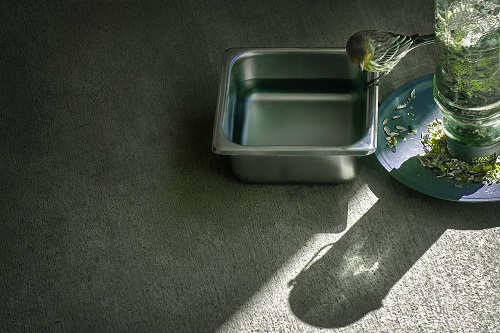 From Hank Curmudgeon:
explains the use of "eye spots" on insects in an instant.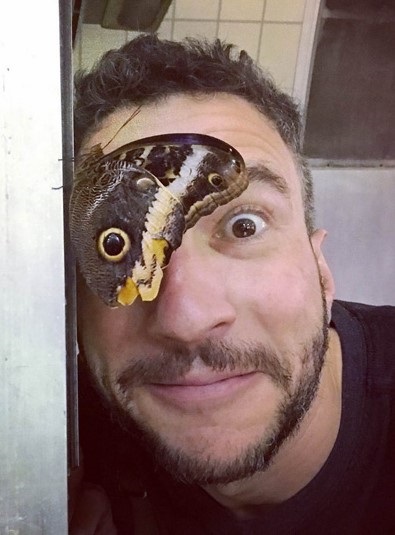 Illiniwek send the following update last week:
nothing popping up here yet but the 2" daffodils, but we had a warmer week and hopefully got most of the frost out of the ground.

This group of geese have come by a few times.

Hopefully last week was the last of the snow.
Quite a view . . . .
Gardens of The Horde
The Invisible Hand sent in some photos this week from San Clemente, but I am running out of time, so I am just posting one today, showing the menacing encroachment of the nasturtiums. If only all our problems were like this. I like the slightly creamy yellow ones in front: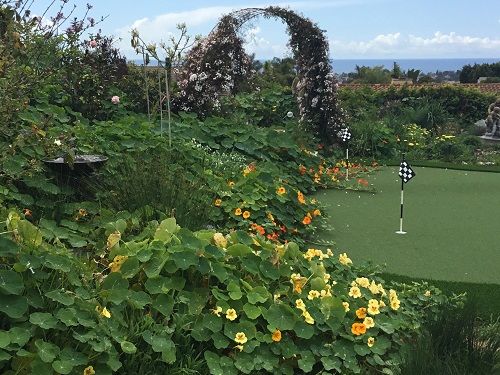 Have a great weekend.
If you would like to send information and/or photos for the Saturday Gardening Thread, the address is:
ktinthegarden
at g mail dot com
Include your nic unless you want to remain a lurker.

posted by Open Blogger at
12:57 PM
|
Access Comments