« Saturday Morning Coffee Break
|
Main
|
Saturday Gardening Thread: Spring! [KT] »
March 23, 2019
Thread before the Gardening Thread, Censored [KT]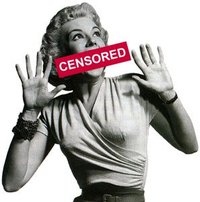 Serving your mid-day open thread needs
Good morning! I expect that there will be further reactions to the Mueller report today, but all I am going to say, along with Tom Fitton, is that Hillary Clinton lost again last night. Feel free to add your own comments and reactions from the news as they come in. This is an open thread.
I thought I would touch on another subject that has been highlighted by the horrible attack in Christchurch, namely censorship and suppression of speech.
On Thursday, Ace posted a piece on President Trump's executive order re-affirming that colleges must defend the right to free speech or lose federal grants.
This order does not really order schools to do more than they're already supposed to be doing -- but it is a shot across the bow that the law will be actually followed going forward, and noncompliant schools will be punished as the law provides, and that "compliance" may be interpreted more strictly than it has in the past.
Because this is America. Not Britain, where a journalist who "misgenders" someone may be guilty of a crime. Speaking of misgendering, Jordan Peterson has been excluded from Cambridge because they have a policy of inclusion. As far as I can tell, this means that they are not willing to discuss his opposition to laws or policies forcing people to use the "preferred pronouns" of anyone who objects to being addressed by obvious pronouns suggested by their appearance, such as "he" and "she".
It is not quite clear to me why Peterson's book has been banned by a leading bookstore in New Zealand following the attack on Muslims in Christchurch. Is it a horrible thing for prospective mass murderers to clean their rooms? Reactions to their vaguely justified move have prompted the bookstore to disappear from Facebook and Twitter.
New Zealand has also banned the terrorist's manifesto, which seems less goofy. You don't want to go around glorifying the guy in the press, like, say, Rolling Stone glorifies selected Islamist terrorists. But this also makes it impossible to know that the killer was an eco-fascist. I was also interested to learn of his admiration for the Chinese government.
Comedy Central suppresses speech another way
One way Comedy Central produces its "comedy" is by interviewing people, then editing their words, even to the extent of cutting and pasting questions and answers so that the answer to question A is seen after question B. A Jewish Youtube guy from Australia recently turned the tables on one of their hosts, Jim Jeffries, by setting down his phone to record the interview:
What he also caught on footage, however, was Jefferies doing and saying things that degraded Islam that the left would be horrified by, especially in the wake of the Christchurch shooting.

Jefferies draws the prophet, Muhammad, before calling Islam dangerous. He also said wearing a burka is stupid, and compared Islam to a dingo. Then proceeded to say that if a dingo ate a Muslim baby it would likely vomit it up.

Jefferies wasn't worried about saying any of these things, as he openly admitted that he never looks bad in his interviews.
Uh-oh.
Once again we are reminded why many people refuse to be interviewed by the leftist media complex, and why they should refuse if they do not have a way to independently record the exchange.
Think this will change Mr. Jeffries' future?
Hope you have a better weekend than Mr. Jeffries is likely to have.

posted by Open Blogger at
11:21 AM
|
Access Comments