« Tuesday Overnight Open Thread (3/12/19)
|
Main
|
Mid-Morning Open Thread »
March 13, 2019
The Morning Report - 3/13/19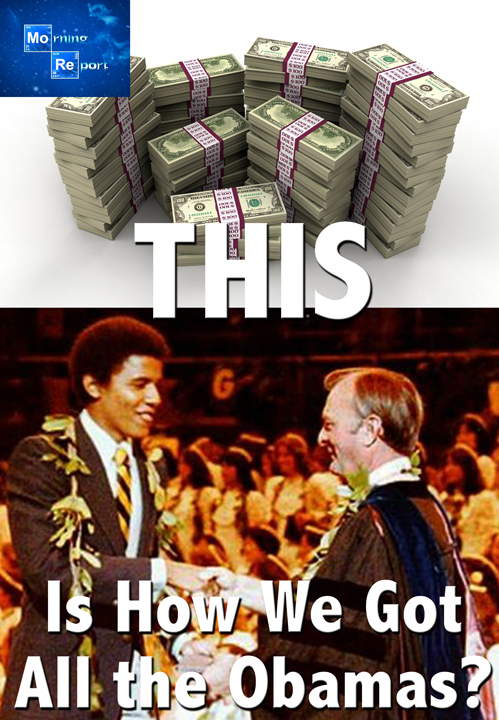 Good morning kids. Midweek and lots of stuff to wade into so here we go. Yesterday's breaking story that Hollywood actresses, and more than likely other well-heeled people, were part of a huge bribery scandal involving millions of dollars paid out to secure spaces in America's top schools for their kids serves to underscore one of the handful of key attributes that defines those of a Leftist Bent: Hypocrisy. As friend and author of the piece in American Spectator Geoffrey Norman puts it:
...The parents who paid were, as the AG announced, " ...a catalog of wealth and privilege." If they weren't well-fixed enough to pay for buildings bearing their names, they still had enough to fork over anywhere from $100,000 to $6.5 million. Among them is an executive at one of those Silicon Valley investment firms where according to news reports, he "...heads [the firm's] business promoting social good." He paid $250,000 to get a picture of his son punting a football phonied up. The kid didn't even play the game.

That qualifies, presumably, as a "social good"...
There's affirmative action and then there's affirmative action, baby. To this day we have yet to see ex-President Obama's transcripts before and after his years (allegedly) at Columbia and Harvard Law. Beyond that shambling, sociopathic narcissist, of greater significance is the fact that graduates, legitimate or otherwise, of Ivy League and other so-called elite institutions of higher learning go on to populate the halls of power and influence of our government and society. It's one thing for some over-achieving son of a bitch to get his sheepskin from Harvard or Yale but what if he got it the old fashioned way, by bribing the bursar? Or being the <2.0 GPA child of alumnus Biff Tadmore who gets in with a secret handshake and a fat endowment? Either way, the result is the same; a completely undeserved elitist attitude that manifests itself years later in the form of malignant, Napoleonic egomaniacs who fancy themselves as the new herrenrasse that will shove us, gently or otherwise (right, Cass Sunstein?) towards our glorious future as drones in a globalist socialist utopia of their making. All the free tree bark you can eat and a fat, black suicide capsule when it runs out, as they let out a gentle sigh whilst chowing down on wagyu beef, arugula and the 1927 Veuve Clicquot Yellow Label Brut. Goes well with a (an?) Holodomor, n'est ce pas?
Funny how these are the same people who divide, denigrate and destroy good, decent honest Americans for our alleged sins against the religion of Social Justice while lying, cheating, bribing and doing whatever they can "by any means necessary" to get over on, and lord over, us. Now, taking all of that into consideration, I invite you to peruse the Mueller Inquisition section, not just for the revelation via the transcripts of traitor Lisa Page's testimony that this was all part of an engineered coup to steal the election for Hillary and failing that overthrow Donald Trump's presidency, but that every player involved - from Brennan to Clapper to Clinton to Obama - is a product of the Ivy League furher-mill. I would dearly love to see their high school and college transcripts because I would wager that a good many of them ain't all that they're cracked up to be, academically speaking. And we all know what they are as people.
Moving on to the political scene, the Democrat Left's got a fever and the only thing that'll cure it is more Joo-hate, like an Orthodox woman pushing a pram being kicked by a passerby. Several good links including putting the blame for the flare up squarely on the slouching shoulders of Barack Obama. In other scandal news besides the college bribery, most of the female Dem prexy hopefuls are desperately trying to hide the sexual harassment tied to their aides and advisers, a NYC bartender is disciplined for refusing service to a MAGA-hat wearer, the Clinton Crime Family film-flammed the Scandis, and the head of the Media Matters persecution squad is a flaming racist, but luckily having the media try and cover it up really matters.
Elsewhere, Dems looking to strangle Texas blue, Liz Cheney rips the Democrats over who and what they are, Rancid Tliban and the untalented Al Green go against Palsi Pelosi on impeachment, Never-Trumper stooge Mike Murphy took big illegal bucks from the Chi-Coms, Palsi Pelosi pulls a total low-class move even for her, an essay on the nexus of Islam and Leftism, and the ripping off of the mask will only serve to drive swing state voters away from the Dems in 2020.
Immigration: Tens of thousands of disease-ridden illegal alien migrant invaders is de facto biological warfare.
Abortion: Interesting take on the subject from, of all people, a former Bernie supporter.
Fake News Fakery: Levin rips CNN, Google is watching you, Bob "kiddie diddler" Menendez has the gall to support a bill protecting reporters after he threatened one who dared question him, and Rabbi Fischer on the attempted muzzling of TuCa.
Guns: Dick's continues to shoot themselves in the face and Kentucky "returns to the law of the land by being the 17th state to respect the second amendment (CBD with the rephrasing).
Foreign Desk: Maduro blames Guaido for the blackouts and not the Joo-Mossad-Weather-Controlling-Shark-Machine, Theresa May blows Brexit again, Senate wants to get tougher on Chi-Coms as Chi-Coms go Islamophobic (sarc), NorK nuke cheating, and more countries ground the Boeing 737 Max but still flying here and in Canada.
Domestically, Senate Republicans doing what they can to get more nominees confirmed, Democrat budget chairman calls Trump budget DOA and two good pieces on the administrative state and bureaucracy and how to kneecap them.
Healthcare: Gene therapy caveats, and calls for repealing Florida healthcare worker restrictions.
Education: Sarah Lawrence students want to wash down the Tide Pods with shots of Snuggle, and a look at school choice for all.
Red Greens: Greenpeace founder calls climate change a total fraud and a Lysenko with a sheepskin writes a fiction about air pollution being caused by white people and adversely/disproportionately affecting people who have colors.
Feminazi and Trans-Psychosis: A Georgia lawmaker wants to cut men's balls off in tit for tat on late term abortion bill.
Hither and Yon: Christian Toto on how Vice tanking took down a producer, and terms of endowment. Not "that" endowment, the other one.
Anyway, links from around the world, across the nation and up your street. Have a better one and remain blessed.
NOTE: The opinions expressed in some links may or may not reflect my own. I include them because of their relevance to the discussion of a particular issue.


BORDER WALL, MIGRANT INVASION, AMNESTY, IMMIGRATION, BORDER SECURITY


posted by at
08:12 AM
|
Access Comments