« Sunday Overnight Open Thread (3/10/19)
|
Main
|
Mid-Morning Open Thread »
March 11, 2019
The Morning Report - 3/11/19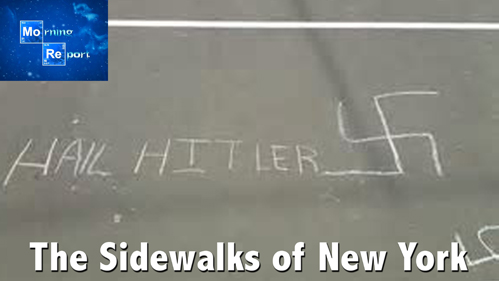 Good morning kids. Start of a new week so here we go. The top story continues to be the officially sanctioned anti-Semitism of the Democrat party. Yes, Ilhan "Bro-Fo" Omar was quite literally plucked right out of the 7th Century and given a seat, and a megaphone, in the United States House of Representatives. Yet her barbaric, unreconstructed Weltanschauung dovetails almost exactly with that of atheist Communism. Andy McCarthy wrote the book on this and it makes the case that there is a nexus between what I consider the real axis of evil and threat to civilization and life as we know it. Among the notable links are an examination of the rap sheet on another walking cancer on the republic Pramila Jayapal, surprise surprise Rancid Taliban was on the payroll of Nazi collaborator George Soros before she ran for Congress (see CBD's link yesterday on the puppet masters of her and all the other "Justice Democrats"), one look at the Congressional Black Caucasoids and it's clear that this anti-Semitism can hardly be called latent and two links asking the cromulent question, whither American Jews and the Democrat Party? If there is the tiniest scintilla of real Yiddishkeit left in the soul of any of my co-religionists (and I have serious doubts that there is), they will run from the Dems as I have done ages ago.
On to the border where the President took a shot at Ann Coulter as well as looking for $8.6 billion more for the wall. How he's going to get that from Congress or against the decrees from the Overlords of Kilauea is beyond me. And it's not just the Latin-American peasantry that's invading us across the Rio Grande. Lastly, an op-ed from the NY Post that I disagree with but that is submitted for your perusal nonetheless. See if you can spot the flaw in the author's logic.
Civil War 2.0: School bus driver abuses a 14-year-old wearing a Trump hat, a look at the Berkeley sucker-punch incident in broader context and the Democrat-Left-Media's hate-crime hoax machine.
Politics: Chiquita Kruschev says where we are as Americans is garbage, and I agree; look what she had her ilk have done to the republic starting in 1913. Also, "Bro-Fo" Omar as blind squirrel finding a pretty big nut, the Democrat institutional voter fraud bill, Ted Lieu is a jagoff, and several essays, including by Victor Davis Hanson, on how the Democrats' latest round of insanity could wipe them out in 2020.
Mueller and House Democrat Inquisition: Schiff-for-Brains is worried that Mueller won't question the President and a look at the real criminals behind the would-be and ongoing coup against Trump and the American people.
Abortion: It's not just for babies but political enemies of the revolution.
First Amendment and Fake News: CAIR wants to muzzle Jeannine Piro for speaking the truth, Twitter silences a Washington Examiner columnist for "learn-to-code" blasphemy and the new "conservative" hire such as she is, at CNN gets demoted from editor to mere pundit because the Left protested.
Guns: Surge in legal gun ownership in California which says something considering the red tape and money, and Hawaii wants the Dems to push a second amendment repeal. Yes, please. Go for it.
Foreign Desk: Yanks and Canucks among the 157 dead in an Ethiopian plane crash, 17 dead in Venezuela's blackout, also most media and internet are dead in its own blackout there, add pink vests to the yellow vests in 17th straight weekend of protests, Chi-Coms slam Sam Brownback for calling the godless commies out on persecuting Christians and who will replace Angela Merkel?
Domestic News: House Ag Chair nixes work requirement for food stamps, Chiquita Kruschev brays about confiscatory taxes for evil corporations, more than half of Californians are set to flee the state (meaning fleeing themselves and reinfecting wherever they land), Wisconsin's new governor looks to sabotage right-to-work status, Palsi Pelosi's dentures clatter out something about a tax scam (well, yes, that is the nature of Democrat-Socialist big government welfare states), NYC is on the verge of another collapse and the Trump economy sets another record for record employment.
Crime and Punishment: Cory Booker isn't just a dumb stooge, he's a lying dumb stooge when it comes to the real reasons of black incarceration, recidivism and drugs.
Healthcare: When Virginia, Illinois and New York get you coming, Maryland House passes assisted suicide bill to get you going.
Education: Commie #RedForEd now screwing with Kentucky as possible strike looms.
Red Greens: Producer of Beta-Beto global warming agitprop flick admits fossil fuel ain't going anywhere.
Real Science: Jews In Space! Israeli lunar lander is set for a touchdown and is the Pacific Northwest ready for when the big one does hit?
Feminazism and Transexual Psychosis: A further look at how Martina Navratilova got "re-educated."
Hither and Yon: Christian Toto on Taylor Swift's political foot-in-mouth disease and Thomas Sowell comes out of retirement at the right time.
Anyway, links from around the world, across the nation and up your street. Have a better one and remain blessed.
NOTE: The opinions expressed in some links may or may not reflect my own. I include them because of their relevance to the discussion of a particular issue.
BORDER WALL, MIGRANT INVASION, AMNESTY, IMMIGRATION, BORDER SECURITY

posted by at
07:47 AM
|
Access Comments