« Who Is Behind The Braying Ass? The Story Of Alexandria Ocasio-Cortez
|
Main
|
Gun Thread: The Sig Sauer 1911 [Weasel] »
March 10, 2019
Food Thread: Neither Snow Nor Rain Nor Heat Nor Gloom Of Night Keeps Me From Eating Steak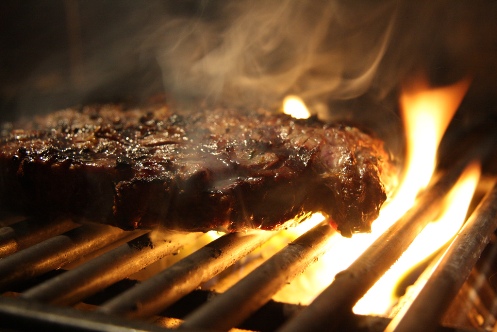 Nope, I didn't grill a damned thing this week, mostly because my grill is under a fair amount of snow. But that doesn't mean I wasn't thinking about it!
I did make some really nice rib steaks on the stove, and they turned out really, really well. My local supermarket often has great sales on prime beef, and while sometimes it looks just...okay...this time it looked rather good, so I grabbed a couple of nice thick ones, just in time for a snowstorm!
But I also have a big burner on my range, and a few very heavy pans, one of which worked perfectly with the two steaks. I prepared them as usual, with a liberal sprinkle of kosher salt on both sides, then a long rest on the counter.
As many of you know, one way that stores minimize the hit to their profits when putting meat on sale is to be rather lazy with trimming. So I knew that I was going to have a fair amount of excess fat on the steaks, which I trimmed (along with the eye of fat in the middle) and used to grease the pan. All that entailed was heating the pan to medium and rendering the chunks of fat (which will almost always have a bit of meat and connective tissue in them) until they were lightly browned. That left a lovely coating of beef tallow on the pan and some equally lovely crunchy-fatty-yummy bits for the cook.
When I was ready to cook I cranked the flame, turned on the exhaust fan to hurricane setting, cracked a kitchen window, and warned the fire department.
When the pan was smoking hot i laid the two steaks down, and using my tongs pressed them immediately to maximize the surface area touching the hot pan.

Then? Nothing! I didn't do a damned thing for more than three long, painful, excruciatingly impotent (I HAVE TO DO SOMETHING!) moments. Then a simple flip and more waiting. Nothing good can come of moving your meat around, so resist the temptation.
I flipped them twice more for a total cooking time of eight minutes, and they came out lovely and crusty and bloody rare. Luckily all three of us were committed carnivores with refined palates, so nobody bitched about it still mooing.
******
The Variations
Or
How to Become a Cocktail Mixin' Genius
By
naturalfake

Bottoms up, morons and 'ettes! Especially the 'ettes!

CBD has given me the opportunity to write a Cocktail Thread. So, send all your complaints and bomb threats to him. I mean, I'm the victim here!

First, I'd like to address a question, which has consumed the waking hours of most of you and even caused you to wake up from your dreams about Jennifer Lawrence or Chris Hemsworth just when the good stuff was about to start.

And that question is: "Hey, naturalfake, naturalfake, how did you become interested in cocktails?"

Well, gather round. As in most things in life, it boils down to two things. One, my parents gave me a Gilbert's Chemistry Set when I was but a wee tad. Mixing chemicals to get reactions and to create something new fascinated me. To the point that I, with the sophistication and finesse of a young Cary Grant playing an old Cary Grant as a cat burglar in "To Catch a Thief", burgled my school to obtain chemicals my stuffy, old parents wouldn't buy me like elemental phosphorous and nitric acid. Several fires and explosions later, I visited my grandparents where I saw my grandfather mix Old Fashion Cocktails for guests and relatives who dropped by. Thus, I learned that making cocktails was a primary form of adult hospitality. Also, since everyone always said that his Old Fashions were the best, I learned that there were degrees of tastiness, that there was an art to making cocktails.

Today, we're going to explore the art of the cocktail by making simple variations(!) to very simple cocktails, which will improve them immensely and make you universally regarded among your family and friends as a Cocktail Makin' Genius.

Variation Numero Uno is a slightly different take on the Vodka Gimlet called "The Goddess of Cocktails Dances Upon Your Tongue" or TGOCDUYT (pronounced "t'gock do it") for short.

I developed this cocktail and get to name it whatever damn thing I want. And, ha ha ha, you have to use the name when ordering it in a bar. Man, will you sound silly! But, such is the way of my people.

The Goddess of Cocktails Dances Upon Your Tongue

1.5 oz Ketel One Botanical Grapefruit and Rose Vodka

1 oz Rose's Lime Juice

Shake with ice. Strain into a cocktail glass.

This is one of those cocktails that just breathes "sophistication". Very light and very easy to drink. The components blend so well together that you and your guests probably won't be able to tell exactly what the ingredients are.

Important: You must use Rose's Lime Juice for this. If you try fresh lime juice and simple syrup, it pushes the flavor straight toward the grapefruit and you lose the balance.

Also, if your bottle of Rose's has been sitting around for the last few hundred years and is tinged brown, throw it away and buy a new bottle. The old one is no longer good.

Variations Two and Three are both takes on the Daiquiri.

Banks Daiquiri

2 oz Banks 5 Island Rum

.75 oz fresh lime juice

.75 oz simple syrup

Shake with ice. Strain into cocktail glass.

Banks 5 Island is a blend of rums from Trinidad, Jamaica, Guyana, Barbados, and Java(Batavia Arrack) aged and then filtered to remove the color but keep the flavor. And what flavor! Each of the rums bring something different to the blend.

This daiquiri is an explosion of tropical fruity flavors. So tropical is this daiquiri that it should be shaken by howler monkeys then poured into a toucan's skull for you to drink from. You simply will not believe this is a 3 component drink.

Bayou Daiquiri

2 oz Bayou Silver Rum

1 oz fresh lime juice

.5 oz simple syrup

Shake with Ice. Strain into cocktail glass.

Bayou Silver Rum is a Louisiana rum and made from cane sugar and molasses. Flavor-wise it falls somewhere between a rum and a Martinique-like rhum. Plus, the bottle has an alligator on the bottle. If science has taught us nothing else, it's taught us that an alligator on the label is the guarantor of quality.

This makes a daiquiri that is all spun sugar and cotton candy with little marshmallow cherubs throwing Peeps all over your tongue while sitting on puffy clouds of rum.

If you happen to make both of these daiquiris and taste them side by side, two things will happen.

One, you will think these are the best daiquiris you've ever tasted. Two, you'll be surprised at how completely different they taste.

This is what makes cocktail making so enjoyable. Finding the right ingredients, which turn a ho-hum everyday cocktail into a wonderful experience.

Important: Banks tends to be drier than Bayou so the recipe is a little different. Try them this way first, but if you like things a little sweeter or more sour then adjust to your preference.

Variation the Last is a Manhattan.

Angel's Envy Manhattan

2 oz Angel's Envy Finished Rye

1 oz Sweet Vermouth

2 dashes Angostura Bitters

Shake with ice. Strain into cocktail glass. Garnish with a cherry.

Angel's Envy Finished Rye is a rye whiskey that's aged in oak casks then aged for a short time in Caribbean Rum(Plantation XO) casks. This makes for a very smooth 100 proof rye that's just loaded with graham crackery and snickerdoodley goodness. The Angostura spices pump up the volume on this exotic rye and turn the staid and stolid Manhattan into a Pirate Raid on the Empire State Building with you as Blackbeard or Anne Bonny. Will you run a train on the Statue of Liberty? You might. Additionally, you will hardly believe that this is a 3 component cocktail.

Important: If that bottle of sweet vermouth has been sitting around for more than 4-6 weeks in your refrigerator (less if outside), it's probably no longer good. Throw it away and get smaller bottles.

In conclusion, what have we learned here today?

We learned that toucan skulls make excellent daiquiri glasses. We learned that while you can find recipes for making explosives, it may not be a good idea to…what? We didn't? Oh well, never mind about that. And lastly, we learned that very simple variations on a traditional cocktail recipe can make you, Yes! You!, regarded and respected among your peers as a Cocktail Makin' Genius.
In addition to being an inventive bartender, Mr. naturalfake is also an author! Head over to Amazon and take a look at his comic novels....
"Wearing the Cat"
******
Good quality grated cheese on food is a joy. And not just on the usual suspects of pasta! Try it on a simple chicken breast or some roasted vegetables like asparagus or broccoli...it adds some zip to a sometimes boring food.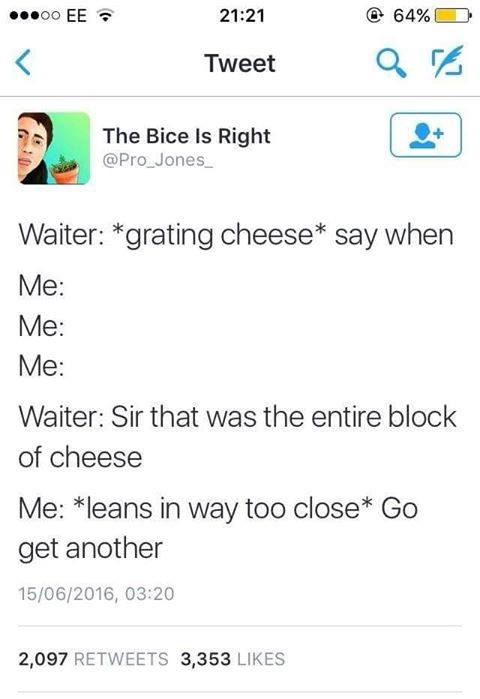 [Hat Tip: Curmudgeon]
Mario Batali is usually pretty good about being a food nag, but one of his pet peeves is using cheese on seafood pastas.
And he is wrong. I have ranted about this before, but it is always good to remind people that the best combinations of foods are the ones YOU like. Will they always be classic? Uh..no...of course not. But what you do in the privacy of your kitchen is entirely up to you.
I cook differently for myself compared to the food I cook for family and friends. Spicy cheeseburgers and pasta with tons of garlic and oil and pulled pork with weird marinades and huge bowls of rice with garlic chili paste and chunks of whatever leftovers I have in the refrigerator aren't dishes I serve to guests, but they sure make me happy!

******
From commenter "next in line" comes a low-carb recipe he vouches for
I have made this recipe for low carb blueberry cream cheese coffee cake countless times, and it is quite delicious, one piece is not enough! You can cut down on the sweetener in all the steps and it is just as good. I find that using the more rustic almond meal as opposed to almond flour made from blanched almonds give better texture and taste.
Low-Carb Blueberry Cream Cheese Coffee Cake
I may have mentioned this in the past, but we had guests for dinner recently and they brought a "gluten-free cake" because of some (real or imagined...I have no idea) dietary requirements. I was prepared to despise it and use it for fodder to mock the gluten lunatics. Much to my dismay it was pretty damned good.
Bastards.

******
From commenter and MoMe host "ibguy" comes another installment in the Horde's instant-pot saga...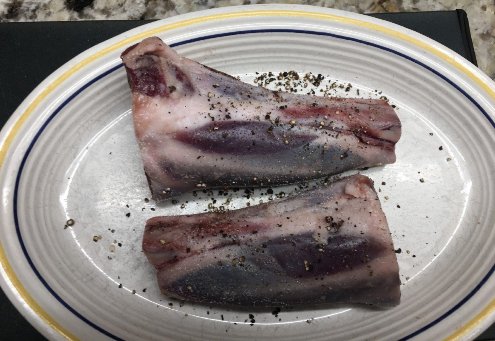 (InstantPot) Lamb Shanks w/Garlic and Port wine (over mashed cauliflower).

Pro's: Super easy, super flavorful recipe. Sooo quick (d'unh). Quite tasty.

Con's: *Too* quick: recipe and cooker both recommended 30 minutes under pressure. Really should have been *at least* 45 minutes, likely an hour (hey, *still* beats all freakin' day). Was very tasty, but came out done more like a lamb chop (texture-wise) than a braise. Still, not bad for first meal cooked in the new gadget. Next attempt, will up the time under pressure.

CORRECTION: This was 100% user error. Did some research tonight, and determined that toughness was b/c I did *fast* release, not slow, *natural* release (of vacuum). Oh well, live and learn.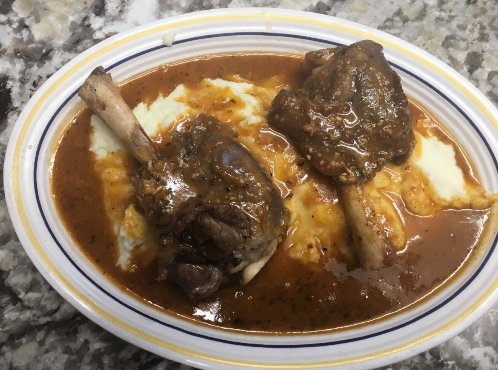 Can anyone explain why that would matter?

******
[Hat Tip: ibguy]
******
Crispy Baked Potatoes With Cheese
It's not really a recipe...it's more of an idea. I was bouncing around the idea of fried potatoes with cheddar, but then realized that with much less mess I could approximate the flavor and texture.
So...I baked a russet potato most of the way, then took it out of the oven to cool slightly before I sliced it in half lengthwise, trying to maximize the surface area of the cut side. Then I coated the cut sides liberally with oil (corn, not olive), and put them cut-side down on an oiled sizzle plate.
Back into the oven (425 degrees) on the pizza steel that lives on the bottom of the oven when not being used. It's the hottest place, and the solid surface conducts heat very quickly to the sizzle plate. After 10-15 minutes the cut side of the potatoes were nice and toasty and crisp and brown. Then, a few slices of cheddar, back into the oven, but this time under the broiler, and after two minutes we had a lovely crispy-baked potato under some bubbly and browned cheese. Not bad with steak. Or marinated flip-flops, or whatever is for dinner.
By the way, I always oil or butter russets beforeI bake them, and also sprinkle them with a bit of kosher salt, which sticks nicely to the fat.

******
Food and cooking tips, triple-cream cheeses, young wild pigs, Venison Steak and Eggs (Swiped from Garrett), thick and fluffy pita and good tomatoes that aren't square, pale pink and covered with Mestizo E.coli:
cbd dot aoshq at gmail dot com
. Any advocacy of French Toast with syrup will result in disciplinary action up to and including being
nuked from orbit.
&topic=world_news">

posted by CBD at
04:00 PM
|
Access Comments