« EMT 03/10/19
|
Main
|
Anti-Semitism In Europe: Whoever Could Be The Culprits? »
March 10, 2019
Sunday Morning Book Thread 03-10-2019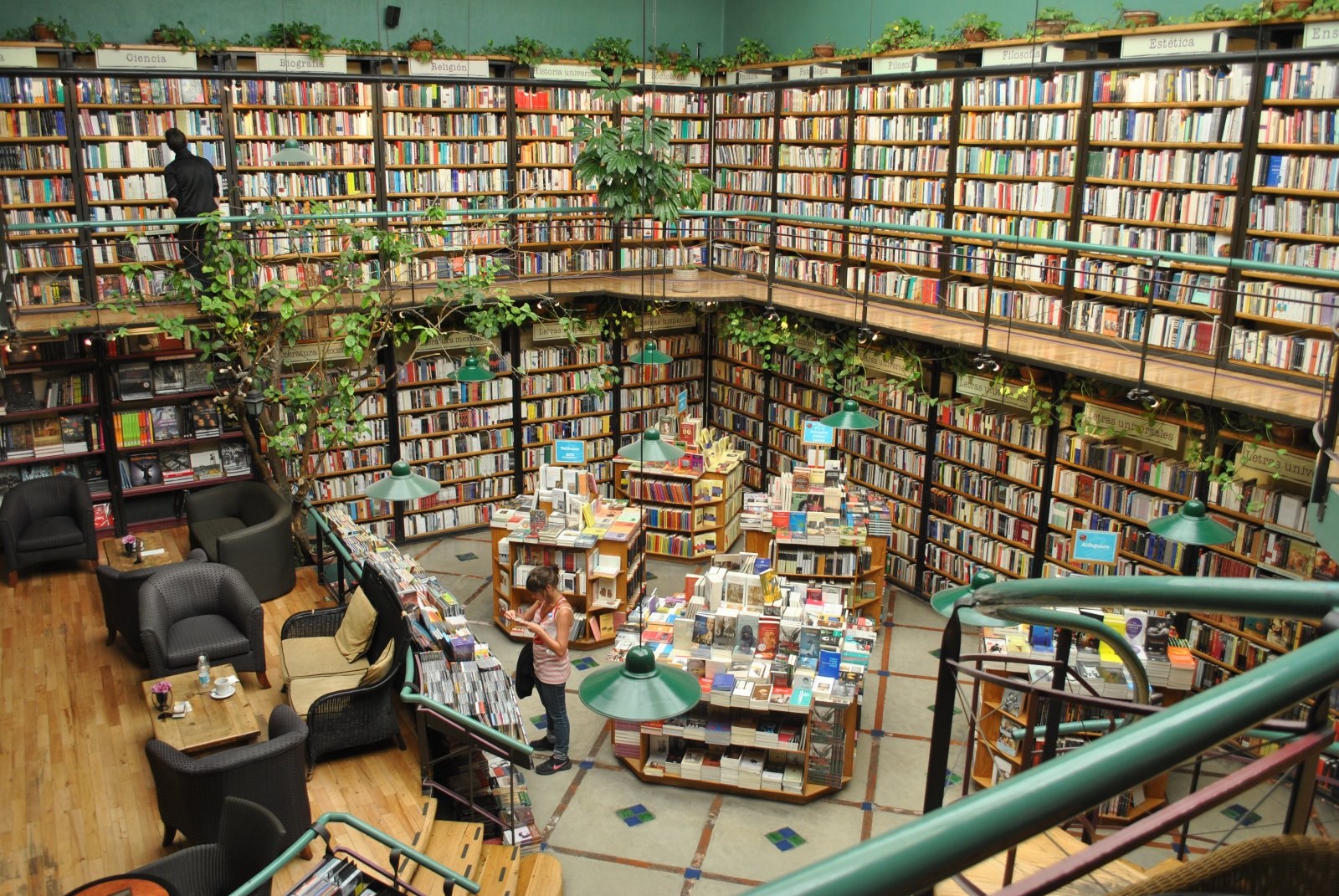 El Péndulo Bookstore and Cafébreria, Mexico City
(click for larger size)

Good morning to all you 'rons, 'ettes, lurkers, and lurkettes, wine moms, frat bros, and everybody who's holding your beer. Welcome once again to the stately, prestigious, internationally acclaimed and high-class Sunday Morning Book Thread, a weekly compendium of reviews, observations, snark, and a continuing conversation on books, reading, writing, and publishing by escaped oafs who follow words with their fingers and whose lips move as they read. Unlike other AoSHQ comment threads, the Sunday Morning Book Thread is so hoity-toity, pants are required. Even if it's these pants, which, surprisingly enough, this time I actually encourage you to click on the link to look at, because they contain their own mockery.
(h/t mindful webworker for the pants link)

Coming Up: Another International De-Lurk Day
I first did one of these back in 2017, so I think it's about time to do another one.
My first book thread was posted on the last Sunday in March of 2012. So, as an anniversary event, on March 25th, the last Sunday of this March, I'd like to have a de-lurk day. I know there are lots of you lurkers and lurkettes out there because (a) ace's audience has been steadily increasing over the years I've been doing to book thread and (b) I get e-mail often from either self-proclaimed lurkers or from folks whose names I don't recognize so I figure they're not a 'regular' HQ commenter.
I know you lurkers do a lot of reading, so I know you have lots to contribute. Therefore, what I'd like you to do is this:
1. Either read a new book or pick an old one you've already read.
2. Write up a short review, what you liked about it, what you didn't like about it, what worked, what didn't, etc. It doesn't have to be big and fancy, a brief paragraph would be fine.
3. If you haven't commented here before, select an anonymous nic for yourself, one that isn't already being used by someone else. Sock-puppeting a regular is one of the few prohibitions we have around here (other than the book thread no-pants prohibition). And if you've been lurking here for any length of time, you should pretty much know who the regulars are.
4. Post your review under your anonymous nic.
5. And that's all. You don't have to stick around, or reply to comments if you don't want to. After de-lurking, you can certainly submerge yourself back down into the murky depths, and that's fine. And for heaven's sake, don't worry about what anybody says. After all, we're all morons.

It Pays To Increase Your Word Power®
Coined in 1880, DETERIORISM is a belief that all things tend to get worse.
Usage: Another word for 'deteriorism' is 'fact'.


The Real Collusion
It is a truism that whatever crimes progressives accuse conservatives and Republican of committing they're actually doing themselves. I don't know why this is true, perhaps an attempt to deflect attention, perhaps merely projection, or maybe a bit of both.
So naturally, the reason they're running around with their hair on fire about Trump's "Russian collusion" is because they've been doing a bit of it themselves.
The Russia Hoax: The Illicit Scheme to Clear Hillary Clinton and Frame Donald Trump by Fox News legal analyst Gregg Jarrett, which
...reveals how persons within the FBI and Barack Obama's Justice Department worked improperly to help elect Hillary Clinton and defeat Donald Trump in the 2016 presidential election.

When this suspected effort failed, those same people appear to have pursued a contrived investigation of President Trump in an attempt to undo the election results and remove him as president.

The evidence suggests that partisans within the FBI and the Department of Justice, driven by personal animus and a misplaced sense of political righteousness, surreptitiously acted to subvert electoral democracy in our country.
Of course, back in the day, progressives thought that collaborating with Russia was cool. In fact, they've been hanging out with Russia and other enemies of America for many years. This is the premise of the book Dupes: How America's Adversaries Have Manipulated Progressives for a Century by Paul Kengor
Based on never-before-published FBI files, Soviet archives, and other primary sources, Dupes exposes the legions of liberals who have furthered the objectives of America's adversaries. Kengor shows not only how such dupes contributed to history's most destructive ideology—Communism, which claimed at least 100 million lives—but also why they are so relevant to today's politics.
Examples include brainiacs like Teddy Kennedy, Jimmy Carter, and John Kerry, not to mention a whole pantload of Hollywood retards. You can purchase the Kindle edition is $9.00.
Kengor has a number of other books that look interesting, such as The Politically Incorrect Guide to Communism, The Communist (Frank Marshall Davis: The Untold Story of Barak Obama's Mentor) and Takedown: From Communists to Progressives, How the Left Has Sabotaged Family and Marriage.

Moron Recommendations
Life before refrigerated train cars:
I also read The Log of A Cowboy: A Narrative of the Old Trail Days by Andy Adams. This was recommended here quite some time ago. The book was originally published in 1903, and is an account of a cattle drive in 1882 from Brownsville, Texas to Fort Benton and the Blackfoot Agency in northwest Montana.

Adams had spent over a decade trading horses and cattle in Texas and trailed herds from Brownsville to Montana. When he wanted to write a book about the trail, he wanted to break away from the boy-meets-girl formula which was popular at the time. He wanted to write down a true account of driving a herd over two thousand miles. This work continues to be cited by historians of the Old West as the best and most reliable account of cowboy life on the trail ever written. It also proved to be an interesting and fast read.

Posted by: Zoltan at March 03, 2019 08:57 AM (qJzsk)
Yeah, the Amazon blurb said that Adams was disgusted with the unrelealistic cowboy fiction that was being written in his day and TLoaC is his response.
The Kindle edition of The Log of a Cowboy A Narrative of the Old Trail Days is available for free. Also available on the Gutenberg site, too.

___________
49 This week I read The Tattooist of Auschwitz, by Heather Morris. I'm running late, so I'll let you check out the Amazon blurb if you're interested. This book is based on interviews with a Holocaust survivor and is highly recommended.

Posted by: SandyCheeks at March 03, 2019 09:13 AM (tGSHk)
This looks like another book they could make a good movie from:
In April 1942, Lale Sokolov, a Slovakian Jew, is forcibly transported to the concentration camps at Auschwitz-Birkenau. When his captors discover that he speaks several languages, he is put to work as a Tätowierer (the German word for tattooist), tasked with permanently marking his fellow prisoners.

Imprisoned for over two and a half years, Lale witnesses horrific atrocities and barbarism—but also incredible acts of bravery and compassion. Risking his own life, he uses his privileged position to exchange jewels and money from murdered Jews for food to keep his fellow prisoners alive.

One day in July 1942, Lale, prisoner 32407, comforts a trembling young woman waiting in line to have the number 34902 tattooed onto her arm. Her name is Gita, and in that first encounter, Lale vows to somehow survive the camp and marry her
The Tattooist of Auschwitz is available on Kindle for $11.99.
___________
66 I was perusing an estate sale and found a reprint of The Slide Rule Simplified, Explained and Illustrated for the Mechanical Trades.

Its first page states that it plainly teaches those simple methods of practical mensuration and geometry constantly required in the practice of learners, or those whose duties are in the workshop or building, and which may be fully comprehended by anyone of moderate abilities.

Ok. I gotta check this out....

Posted by: CrotchetyOldJarhead at March 03, 2019 09:21 AM (iAhR6)
Yeah, "moderate abilities" is a perfect description of me, so I went looking, and found out that this book was still in print:
Once more, Astragal Press has rescued an old and rare book from obscurity, allowing for the broad circulation of information previously limited to the select few who could afford access. This book, first published in 1881, was written about the use of the first standard slide rule made in the United States: a Mannheim-type slide rule made by Stephens Co., a major rule manufacturer.

Included in Riddell's book, aimed primarily at carpenters and joiners, is a wealth of fascinating instruction on the use of the slide rule in everything from making the calculations necessary for constructing circular porches and spiral stairways, to calculating wages owed or the cost of hauling lumber. Included, as well, are lovely plates illustrating various geometric and trigonometric calculations used in construction.

As a source book, it should be of great interest and value to tool collectors, slide rule enthusiasts, and woodworkers.
So then I had to look up Astragal Press, and it still exists. It is a "publisher of books on antique tools, early trades, and early technology." You can browse their books starting from this page. Or you can download a pdf copy of their catalog for offline viewing.
I think many morons, JTB in particular, are going to find some interesting books on that site.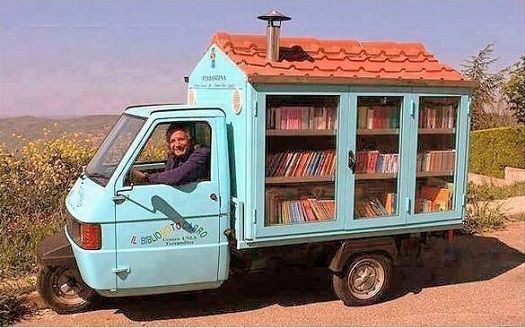 Books By Morons
'Ette author Sabrina Chase has just released the third book of the Argonauts of Space series, Soul Code. She tells me
It features moody rebellious AI space ships, a wannabe kaiju farmer, Space Neanderthal politics, and the alien equivalent of zombie apocalypse planning. And how to hide chocolate from your telepathic girlfriend.
That last item could come in handy for some people. Soul Code is available on Kindle for $3.99. And the previous novels in the series:
Book #1: The Scent of Metal
Book #2: One Blood
___________
"Elections have consequences." That's the tag-line of Escape From Trumplandia, the new novella in the 'Appalling Stories' series by David Dubrow and Ray Zacek. In this story, the consequences are catastrophic. The election of Donald Trump in 2016 has turned out to be so anomalous that it has damaged the fabric of the space-time continuum. America is now plagued with strange new, and mostly carnivorous creatures from alternate universes that have entered through the rupture points. Aaron Moon and a rag-tag band of progressive stalwarts must make the hazardous journey from Colorado, through the WalMart and monster truck littered wastelands of the western states, to the Free State of California, where the Lightbringer Obama still rules, and the skies are not cloudy all day. Will they make it? And what will they get when they find there? If a sneering progressive with stage 4 Trump Derangement Syndrome wrote a dystopian novella about how he views America after the 2016 election, it would like pretty much like this.
That was the blurb I wrote for Dave after he showed me an advanced copy of Appalling Stories 3: Escape from Trumplandia, which you can now purchase for $2.99. Spoiler: it will be a rough journey for Aaron and his woke friends, and not all of them will make it.
Dave also says:
As always, if a Moron wants a free copy of this or any of my e-books, I'm happy to send a copy in exchange for an Amazon review. Just email me at davedauthor at gmail.
___________
'Ette author Libby Malin is the author of mystery, historical and women's fiction and light contemporary romances. She's been published by Harlequin, Sourcebooks, Dorchester, Bancroft and more, and was an Edgar finalist for her first YA mystery. One of her romantic comedies, "Fire Me!," was bought for film by a major studio.
She sent an e-mail earlier in the week to tell me about her latest book:
Titled "In Sickness and in Health," it's a sweet romance that tells the tale of Ava Fulton, who decides the way out of all her problems is to marry a millionaire. As luck would have it, she knows one, but as bad luck would have it, when she reconnects with him, she discovers he's facing grim health news. Nonetheless, they do end up marrying, and she's a wonderful helpmate as he undergoes medical tests and procedures. Things change, though, when his prognosis gets sunnier, and she has to live the "in health" part of her vows...I've self-published it because it doesn't fit easily into some romance niches. It's kind of a crossover between sweet romance and inspirational romance.
In Sickness and in Health is available for 99 cents on Kindle. Here are her other books .

___________
Moronette 'votermom' is putting together a list of moron authors over on the Goodreads site which is intended to be accessible to non-members. Here is the list she has compiled so far. Let her know if there's an author she's missing.
http://www.bookhorde.org/p/aoshq-authors.html
___________
If you like, you can follow me on Twitter, where I make the occasional snarky comment.
___________
Don't forget the AoSHQ reading group on Goodreads. It's meant to support horde writers and to talk about the great books that come up on the book thread. It's called AoSHQ Moron Horde and the link to it is here: https://www.goodreads.com/group/show/175335-aoshq-moron-horde.
___________
So that's all for this week. As always, book thread tips, suggestions, bribes, insults, threats, ugly pants pics and moron library submissions may be sent to OregonMuse, Proprietor, AoSHQ Book Thread, at the book thread e-mail address: aoshqbookthread, followed by the 'at' sign, and then 'G' mail, and then dot cee oh emm.
What have you all been reading this week? Hopefully something good, because, as you all know, life is too short to be reading lousy books.


posted by OregonMuse at
09:00 AM
|
Access Comments