« Tuesday Overnight Open Thread (3/5/19)
|
Main
|
Mid-Morning Open Thread »
March 06, 2019
The Morning Report - 3/6/19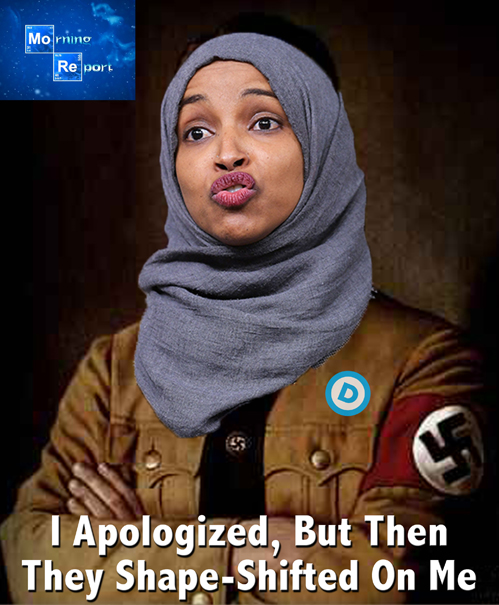 Good morning kids. Midweek so let us commence. The top story continues over from last night, which is what I have referred to and now underscore as officially-sanctioned Democrat Party anti-semitism as policy. And sadly, tragically actually, it is at best ignored and at worst excused by those in that party and elsewhere, putatively of the Hebrew faith. Their reason is understandable; they have been completely absorbed into the pseudo-religion/pagan death cult that is Leftism (stay tuned for the abortion segment). Others who I despise even more are the frauds who, to paraphrase Iowahawk, killed Judaism, gutted it and now walk around in its moldering skin suit and demand respect (see the link about the Palm Beach synagogue). These are the self-gassing Jooz, deluding themselves about the world around them, and cheering on those who will put others and ultimately them into the next iteration of the ovens or the mass graves. Just look at Europe, and especially Sweden to see what may very well be in store for us down the road, if it's not already too late.
Volumes have already been written postulating on why Jews vote Democrat and think the way they do and it's too complicated to go into here without taking up the entire blog for at least a week. For the purposes of this post, you have the twin evils of Leftism and Islam teaming up to achieve a shared geopolitical vision of destroying post-Enlightenment Western civilization, its advances, everything it stands for, and supplanting it with their own. And Bernie Sanders, Donkey Chompers, Nadler, Schumer and all the rest are in for a very rude awakening about what will happen if, G-d forbid, they succeed.
Last night's sham of a mockery of a charade of two shams of a farce of that non-condemnation condemnation proves my point. To wit, the Democrat Party is an anti-Semitic, anti-Christian, anti-American entity that poses an existential threat to our existence. And it's not just the party which is the political apparatus in government. It is also the media and most crucially the schools. They are acting in concert, using the very freedoms they despise to proclaim that what they are doing is in the name of preserving them. Forget Trump. It's not even about him. It's about all of us because we elected him and he has so far jammed a giant monkey wrench into the gears. And whether people are willing to see this or not, the choice is abundantly clear: you are either with us or with the terrorists. There is no middle ground because at this point there is no longer any common ground.
Elsewhere in Civil War 2.0 and Dem Scandal News, Tennessee GOP sounding the alarm bells about increasingly violent attacks on Republicans there, Rabbi Fischer bemoans the war on Judeo-Christians, Donkey Chompers gets ripped for CPAC smears and a good long look at the career of Andrew Weissmann, Mueller's #1 hatchet man and persecutor of innocents and how he helped destroy those associated with Enron.
Amnesty, Immigration: GOP-e/Dems looking to let in thousands more to take away American jobs, exploding numbers of families caught at the border, even the NY Times rates Trump's duct-taped women at the border story as true and the administration's impotence on dealing with Sanctuary Cities.
Politics: Key stories include Trump's snark on hearing Hillary won't run/stumble in '20, Doomberg is not in, even the ACLU rips the Dems' new election thievery plan as unconstitutional, Candace Owens calls for "a black new deal," Maxine "Polluted" Waters yells impeaches and herb foady-fi and why that is not helpful to Dems and Salena Zito on Trump Venezuela policy and how he can use that to attract voters from that community here.
Coup: With Mueller all but dead in the water, what Trump can do to thwart Nads Nadler and company. Joe DiGenova suggests Trump tells them to do what Obama did and tell Congress to go pound sand.
Abortion: Alabama and Louisiana do the right things and Illinois goes mad.
First Amendment: Big win, again, for Christian baker Jack Phillips, Amazon now bans a Tomm Robinson Islam expose, McClatchey Papers continue to lie about Michael Cohen going to Prague even after Prague says openly he never went, and Jeffrey Lord rips hack propagandist Jane Mayer a new one.
Guns: Colorado legislature goes to grab guns as Colorado counties tell the legislature to screw.
Foreign Desk: What the hell is Islam-terror-pimping state Qatar up to in South Carolina, John Bolton hints at more pressure on Maduro, and two stories that cast doubt on the inevitability of a Chi-Com century.
We-All-Slam-For-I-Slam: Palm Beach synagogue sticks head in oven and Somali gang violence in Minneapolis means no peace and quiet while you bang your sister.
Domestic Affairs: Two stories on two left coast lefty shit-holes, Powerline on Trump's economy as a key to him winning in '20, steel companies spot the loophole in the Trump tariffs, and the millennial economic blues and what to do.
Crime Blotter: About that huge fentanyl bust and another #MeToo show trial goes tits up as an accused ex-NFL star gets acquitted in no time flat.
Healthcare: Yet another study debunks the anti-vaccination cultists about MMR shots.
Education: Two stories about the real front line battle to save America, and underscoring that we are not even on the battlefield at all.
Red-Greens: Daniel Greenfield rips the nihilistic Democrat anti-child death cult, the Dems are going to choke on the green nude eel despite Cuck Schemer's desperate attempts to distance the party from it, San Bernardino wins out, for now, over the Red Greens and the Green New Deal's real purpose is in fact to intentionally kill millions of people. To save the planet, of course.
Feminazism and Transgender Perversion Psychosis: Well either Martina Navratilova is or is not backing down on her comments. You decide.
Hither and Yon: Christian Toto pans Captain Marvel, Clarence Thomas the freedom man, new Netflix doc on the effects of Instagram on family relations and an essay on Holocaust remembrance as that generation fades into history. No doubt, the Democrat Party will be there to carry the torch... as a means to immolate what's left of the Jews.
NOTE: The opinions expressed in some links may or may not reflect my own. I include them because of their relevance to the discussion of a particular issue. Anyway, links from around the world, across the nation and up your street. Have a better one and remain blessed.
OFFICIALLY-SANCTIONED DEMOCRAT PARTY ANTI-SEMITISM

posted by at
07:49 AM
|
Access Comments