« Sunday Overnight Open Thread (3/3/19)
|
Main
|
Mid-Morning Open Thread (3/4/19) »
March 04, 2019
The Morning Report - 3/4/19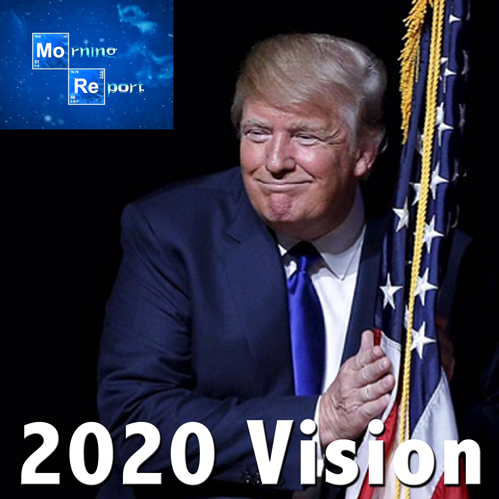 Good morning kids. Brand new week so let's get going. Top story for me was President Trump's incredible stem-winder he delivered at CPAC. It was a tour de force of embracing America - literally and figuratively - trashing his enemies, more importantly ridiculing and ripping Democrat-Leftist policies, and demonstrating why he was elected... and all things being equal, why he will probably be swept into a second term in 2020. As even the President himself noted:
"This is how I got elected, by going off script."
The full speech is embedded in the link for your dining and dancing pleasure. And with that preamble comes the caveat that is demonstrated in the Amnesty/Immigration section where Daniel Horowitz in Conservative Review is none too pleased with the Administration's embracing of TPS amnesty, as well as Breitbart also hitting the sour notes on lack of progress on multiple fronts although amnesty claims are down, with the majority going to Christians and fewer to Muslims which reverses the trend. That said, as a hack-in-black judge aids and abets the attempt to turn Texas blue at the ballot box, sanctuary cities still get Federal funds and sex-trafficking still is rampant, Luap the Lesser has joined the other traitors in the Senate and will vote against the national emergency declaration. It's disheartening to say the least (and Horowitz is a persistent and harsh Trump critic), but when we consider what might have been in 2016, I'll stay thankful for this President and what he is trying to do. He fights.
To politics where in Civil War 2.0 news, Richard Fernandez also weighs in on the notion of this new Civil War and Mark Levin lays down some cold hard truth about the Democrat Party. And speaking of which, "Bro-Fo" Omar gets into a feud with a fellow Dem about the never-ending flood of Joo-hate gushing from her filthy sewer and leading Jewish groups are calling for her removal from the Foreign Relations Committee. She and her clan should be removed from America for immigration violations. Also, the remaining Jews with guts in LA show their displeasure with a vile mural, and Nazi collaborator George Soros is using his ill-gotten blood money to fuel the BDS garbage.
Democrat Scandal Sheet: Kamala-Toe giving the cold shoulder to the sex assault victim of her key aide, will Coonman and Poonman screw up Virginia Dems in 2020, and where is the money that funds Donkey Chompers coming from?
Politics: In the wake of Trump's CPAC speech and the self-destruction of the Democrat field when any of them open their mouths, the President is positioned well for a big win in 2020. As he courts the black vote, there's a good piece on the lock-step Dem support from that voting bloc, two essays on the revolting history of Joe Bidet, an Obama flunky compares Trump's speech to one of Obama's fellow political travelers, Jeffrey Lord high on that speech, Bernie Sanders invades my old neighborhood to pimp the overthrow of America while hiring an open illegal alien as his press secretary, Fauxca-Has-Been trips all over her forked tongue to try to explain her big lie and two good pieces on the fatal allure of socialism including from the great Victor Davis Hanson.
Mueller Inquisiton: Andrew McCabe contines defending the phony Steele Dossier while the dipsomaniac Depends-wearer claims even if Mueller exonerates Trump the investigation should go on. Agreed; it's political poison for Democrats.
First Amendment News: Yet more in the war on Catholicism, Trump as the First Amendment's savior and tick-tock on neutering Big Tech.
Foreign Desk: Guaido risks arrest as he returns to Venezuela to lead the protests against Maduro, Trudeau is in deep merde, 16th week of Yellow Vest protests, India and Pakistan pull back from the brink but tensions stay high, more analysis of the aborted summit with Whoa, Fat! and Trump's trade and foreign policy gets a thumbs up.
We-All-Slam-For-I-Slam: Frisco ISIS collaborator gets 15 years in prison for plotting to kill 10,000 (just 15 years?).
Domestic Affairs: A call for PDT to veto a new federal land grab, Frisco could've had Bryce Harper were it not for their confiscatory taxes, two steps forward and one back for Fiat Chrysler, repo men hit millennial deadbeats hard and a rational reason for female income inequality.
Crime Blotter: No charges filed against cops in Stephon Harper shooting. Rioting to commence in 5-4-3-2...
Healthcare: Time to flush the DSM.
Education: Trump pushes free speech on campus or no Federal research funds, West Virginia being held hostage by Maoist teachers union (time to abolish the union and fire the miscreant teachers), and Arizona high school persecutes students for supporting the President.
Red Greens: Greenpeace co-founder rips Donkey Chompers and Dr. Judith Curry talks softly but destroys the Climate Change schtick.
Feminazi and Transgender Psychosis: Canada says "Parents? Never heard of them" and allows minors to chemically disfigure themselves without permission.
Hither and Yon: Green Book and Hollywood race hypocrisy, China sez "keep f***ing that kung pao," a look at the influence of the Torah on the West, with friends like Leftists you need conservatives, and a really fascinating article on the debunking of the Third World mythos.
NOTE: The opinions expressed in some links may or may not reflect my own. I include them because of their relevance to the discussion of a particular issue.
Anyway, links from around the world, across the nation and up your street. Have a better one and remain blessed.
BORDER WALL, MIGRANT INVASION, AMNESTY, IMMIGRATION, BORDER SECURITY