« Saturday Gardening Thread, March 9 [KT]
|
Main
|
Chess Thread 03-09-2019 »
March 09, 2019
Ace of Spades Pet Thread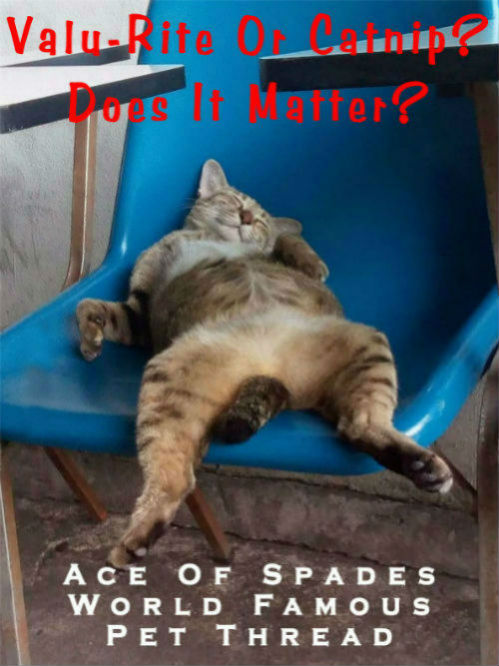 ***

Good afternoon and welcome to the almost world famous Ace of Spades Pet Thread. Why don't you forget about your troubles and enjoy the world of animals.
***
A Little of This. A Little of That.

WWII had some K9 heroes. Doberman Pinschers were used by US troops.
Few breeds of dog are as intimidating as the Doberman. Powerful, strong, and imposing, this breed was designed to be scary enough to ward off danger, which is why the Doberman breed was adopted by the United States Marine Corps as their canine companion of choice. The USMC's Devil Dogs, as they became known, served alongside the Marines…and the heroism of one of the Devil Dogs, Cappy, saved the lives of hundreds of men during the Battle for Guam.
***

From our friend Buzzion "Here's something for a Pet Thread. Pet Dogs in Ancient Rome. "You might get some dust in your eye when they start talking about the grave markers for dead pets and the tributes their owners wrote to them."
***

We all can use exercise, even your senior cat.

I have always said that if you get a couple of kittens, you can cancel your cable subscription. Kittens are fuzzy little packages of boundless energy that can amuse themselves and you for hours on end. As our cats get older and enter into their senior years, however, they become more sedentary; according to Cornell University, that in turn makes them more prone to obesity which puts them at increased risk of other serious, medical conditions such as:
***

Be kind to your pet. Get them on heartworm preventative medicine.

Heartworm disease is caused by a mosquito transmitted parasite. If left untreated, it can be a debilitating disease and sometimes prove fatal. Pets infected with heartworms can be found in all states, in spite of the fact that very effective heartworm prevention products are available. The good news is that I've noticed more and more pet parents are wondering about the symptoms of heartworm disease. Unfortunately, most of the time you're not going to see any, and here's why:
***

Talk about using one of nine lives. Truly a Feel Good Story of The Day. H/T Bertram Cabot, Jr
***
Meet The PetMorons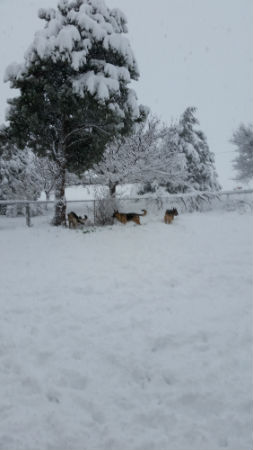 We got a lot of snow in one lump. Daphne, Jethro and Spock.

Veni Vidi Oblivi

Thanks for the photo. Dogs just love snow. Quite the group you have there!!!
***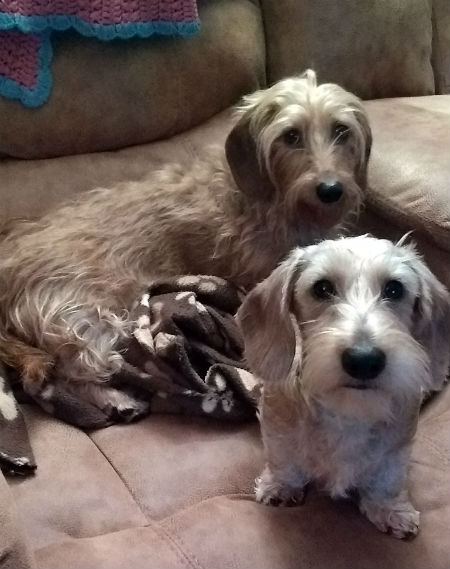 I look forward to seeing the Pet Thread every week! Read you daily, as well. Bingo lost his mentor (a half-doxie) in 2014. It took me over 2 years to talk my other half in to getting a buddy for Bingo. After trying several dachshund rescues, we ended up just buying a puppy. We found Eli at a breeder in Wyoming. He had to be sold a a "pet" versus "show" because a blood test showed he's a carrier for a retinal disease. Sad for the breeder, but awesome for us! He's now neutered and chipped... ours for life! Bingo is happy, most days, to have a pal.

Rytis and Lori
Congrats on the new addition to your home. Although we are a bit disappointed as they don't seem to have any pillows on that couch. Thanks for sharing with us and thank you for your support.
***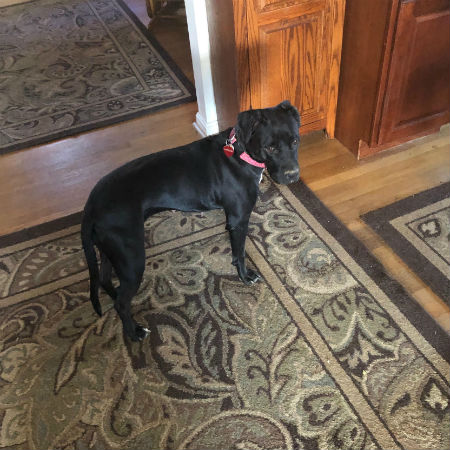 Well I'm not sure if you understand what you've unleashed when you published my goat picture last week on the pet thread. I've got lots of pets which means lots more pictures. This week I've got a pic of a dog that's actually my dad's now. This is Hannah. She's a pit bull that wandered up into our yard dragging a chain attached to a leather belt around her neck. Based on her submissive personality combined with the massive scarring on her face, shoulders and back, the general consensus (including our veterinarian) is that she was a bait dog used to train fighting dogs. We immediately took her to the vet when we found her but her health was so bad they couldn't even vaccinate her (it was about 3 weeks before she was healthy enough to vaccinate). We couldn't keep her because we already had 5 dogs, one of which is not good at all with strange dogs. Fortunately, my dad, a retired nuclear submarine commanding officer, happily agreed to take her. So I loaded Hannah up into my truck and drove her the 9+ hours to the panhandle of West Virginia to my dad's 5 acre compound. Hannah was great throughout the drive. I dropped her at dad's and went home 2 days later. Turns out Hannah is the sweetest dog you'll ever come across. She hasn't met a person, dog or cat that she doesn't love. She apparently loves not being chained up anymore because she enjoys nothing more than running laps around his 1/2 acre back yard. If she isn't running around the yard then she's curled up on the couch next to dad while he watches his beloved Duke Blue Devils on TV. -Andrew in S.C
***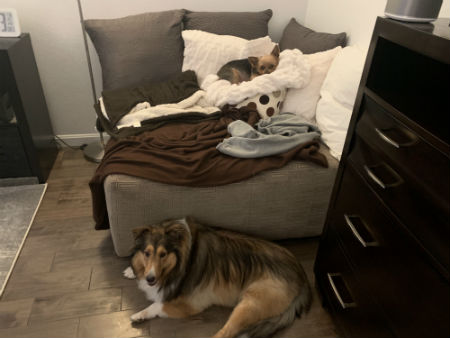 Hi there:

Long time lurker, have submitted to the pet thread before (Miss Lily the crazy derpy Sheltie). We have a recent addition named Miss Pinky - she was my Mom's dog, probably about 10 years old now we think, but I've had her off an on for a few years as my mother grew older. My septuagenarian Mother decided she no longer wanted to take care of dogs, and long story short I offered to take her well-behaved, super-smart and house trained Silky Terrier. Lily the derpy Sheltie enjoys cornering Pinks and paw-slapping her, drooling on her and chasing her under the bed...needless to say Lily gets daily reminders that Pinky is not a toy. Pinky just sits there and puts up with it, knowing Sheltie derp can only derp so far.

In any event, Miss Pinky is one of a kind...she and I were out walking in the 'hood a few years ago when my Mom came to visit me and we were attacked by a neighbor's loose pitbull. The dog pushed me down and pulled Pinks out of my arms, then shook her like a rag doll until myself and a neighbor pulled the dogs jaws off the little puppy...she dodged a bullet, no major damage at all and she was back on her feet in a few weeks, returning to begging for treats and car rides to Starbucks and WalMart. She's my little sleeping buddy and I don't know what I'd do without either of these two knuckleheads.

You can see that Pinky has taken over what used to be the reading corner in my bedroom...and clearly she doesn't have enough blankets to be fully comfortable. The rugs are Lily's and the blankets are Pinky's, the lines have been drawn it seems. Pinks pretty much rules things around here; she wields her extreme adorable like a weapon.

Love the pet thread, read it every weekend!

Lurker Tina
From the appearances of this photo it appears that these doggehs are mistreated and in need of S-N-A-C-K-S. What a feel good story. Thank you for sharing and being a fan of the Pet Thread.
***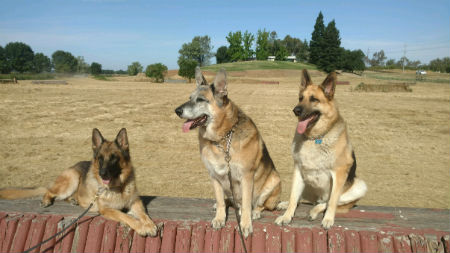 Long time lurker here and finally decided to share our pet Morons. I'd like to present (from left to right) Kona von Knighten, Balco von Bamberg and Wyatt Earp von Chapin. May be hard to believe from this photo but all three were rescues taken in by a local dog trainer after being mishandled and surrendered. After a lot of blood, sweat and tears on the part of said trainer (OJk9coach) and my husband and I, they are now social members of our family. Don't get me wrong, they're high energy and require a lot of management but they make us laugh every day! I so wish people understood the time and energy owning these beautiful creatures requires before they buy them and ruin them. It's so hard to salvage them and can be a heartbreaking process. BTW, I love the pet thread!

Shawna

Raising a puppy into a responsible dog is a job. It must be especially challenging taking a dog from rescue. Beautiful specimens. I'm so happy they got a good home and they make you laugh. Thanks for being a fan of the P.T.
***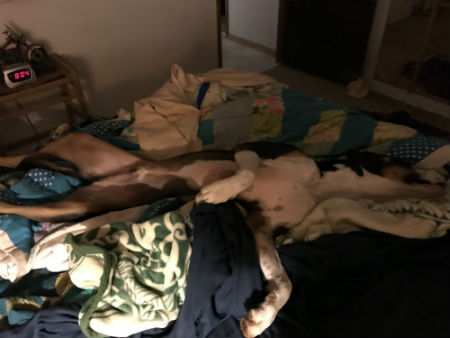 Sorry if too much information. This is one happy dog. Ekolu our lovely boy. - Suzanne

Stretched out at 8:04 quite the life there!!! Thanks for the photo. If you are around today why don't you tell us your bedhog's name?
***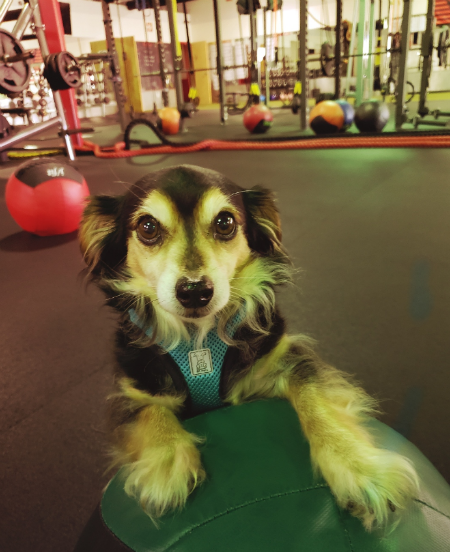 Leonard at the gym. My wife has been bringing him to the gym where she works on Sunday. The members love him and check to see if he's going to be there before they show up. -Scott

Adorable work out partner there. Thanks for sharing Leonard with us today.
***

Hmmmm......No cats this week. Did you felines all go on vacation?
A big thank you to the Pet Moron owners this week. As usual a great group of animals & Morons.
Do you have something you wish to share with us? You can reach out to us petmorons at gmail dot com.
Have a great week!!!!

posted by Misanthropic Humanitarian at
03:00 PM
|
Access Comments