« Monday Overnight Open Thread (2/25/19)
|
Main
|
Mid-Morning Open Thread »
February 26, 2019
The Morning Report - 2/26/19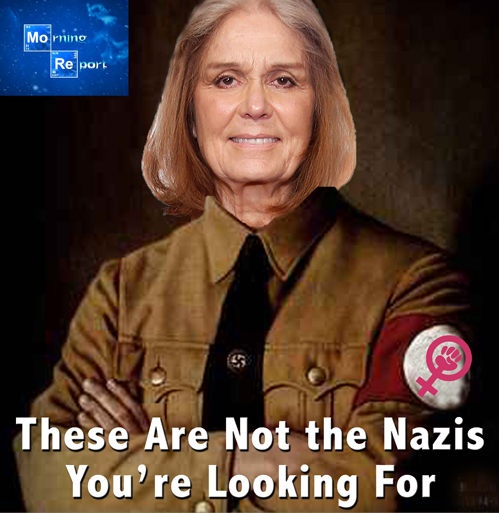 Good morning kids. Tuesday and lots of things going on so let's unpack it all, shall we? First up, the Ben Sasse-sponsored Born Alive Act was killed in the Senate essentially by the Democrats including all of their 2020 presidential candidates and sadly with an assist from a couple of Republicans, Lisa "the baked Alaskan" Murkowski who did not vote and Tim Scott who allegedly was on his way to the Senate at the time of the vote and was a "yes." RUFKM? In any case, what this tragedy proves beyond any reasonable argument to the contrary is that the Democrat Party is the party of death. The silver lining to this combined with the hideous laws sanctioning what amounts to infanticide in New York, Virginia and now in Vermont, is that a growing number of people - most significantly the younger generations of Americans - are more and more learning about the hideous nature of the abortion industry despite the propaganda about "choice" and "the right to privacy" and all the other rotgut that has heretofore gone unchallenged. Also, a good essay on the irony of an "R" rated abortion movie. One final note, the most utterly tone-deaf pig-ignorant remark about this was vomited up by none other than Gloria Steinem, the evil harridan who was a key horse's ass of the apocalypse that spearheaded the cultural rot we are dealing with to this day:
...on a more serious note, to put it mildly, [abortion] is why Hitler was actually elected, and he was elected and he campaigned against abortion. I mean, that was - he padlocked the family planning clinics. Okay, so that is still relevant in the terms of the right wing.
I'll give her this; Hitler certainly was anti-abortion to the extent of wanting to breed pure "aryan" children in order to populate a German-dominated global empire with his kind of people. As far as Jews, Slavs, blacks, Asiatics as well as the crippled, congenitally ill, mentally disturbed and others that were in Nazi terms "life unworthy of living," Hitler certainly was in favor of and even promoted mass sterilization and in the end mass genocidal murder on an industrial scale. I'm sure MISS Steinem must be familiar with her hero, Margaret Sanger, whose only intention in the founding of Planned Parenthood was to liquidate all non-white races. The Nazis - the actual socialist ones and not the fake Republican ones - were big fans of Sanger and in fact used her ideas that ultimately ended up in the mass graves of the Einsatzgruppen and the ovens in Birkenau (link here to Aktion T-4). By the way, there is no way MISS Steinem does not know this; one can somewhat excuse ignorance and lack of education of the Donkey Chompers Cortez generations but not MISS Steinem. That's what makes what she said that much more evil. And if the bug-eyed, bucktoothed pinhead is reading this, Mr. Hitler was a vegetarian who bemoaned industry and envisioned the ideal Germany as an agrarian society. More on green nude eels later.
Elsewhere, while Palsi Pelosi quotes from The Big Book of Ike Turner Wedding Vows vis a vis the National Emergency Declaration, a thrice deported illegal animal alien was caught on a body cam shooting at a cop. And that massive bipartisan letter condemning the declaration of an emergency was mostly Obama henchman. Lastly a particularly good essay that ties together corporate welfare and sanctuary cities vis a vis the hypocrisy of it all.
Democrat Scandal Sheet et al: First up, an IG report evidently has implicated a top dog at the DoJ in a sexual harassment charge. I will assume it's either a Deep State Democrat or some other anti-Trumper until proven otherwise. Moose out front says that's the new rules. Daniel Greenfield wraps up the Jussie Fruit fraud, a group of self-gassing Joo activists disrupts Shabbat services at UT and the poisonous Joo-hate of the UK Labour Party is a warning to the Democrats. Elsewhere, Green New Deal thugs storm the Russel Senate Building and get arrested, Sheldon Whorehouse has some hinky finances, another potential hate crime hoax featuring a transgender freak torching its own house, Rabbi Fischer on another hate crime that the media refused to cover in the wake of the Pittsburgh synagogue shooting and last but not least, cops are still searching for the pussy coward who sucker-punched a conservative at Berkeley last week. Meh, are they really looking that hard, all things considered?
In general politics, blue-on-blue action is breaking out all over, first between the Bernie and Hillary camps and now Donkey Chompers and Chi-Di-Fi are going at it over her child zombie protesters while Kamala-Toe sez the price of the Green swindle is not the issue (more on this in the Red Green section). Also, Tom Perez thinks the word "Socialist" is an epithet and claims the GOP is using it as such. Uh, Tom? It is and they are - and rightly so. That said, your message might conflict with the image the younger Dems have about the "S" word, so keep plucking that chicken. Lastly, Jon Cornyn flung a Mussolini quote about the "S" word at Donkey Chompers and she had another stupid freak out over it. Heh.
On the international scene, the big story remains the crisis in Venezuela where for a bit of comic relief, the detestable Jorge Ramos tried to be a journalist and showed Maduro footage of his citizens eating out of garbage trucks, which caused him and his crew to be arrested. El laughter de Nelson Muntz aqui! Meanwhile, Dondi Rubio sent an image of a bloodied and soon to be strung up Moammar Qaddafi to Maduro and after landing in neighboring Colombia, VP Pence announced new sanctions against Maduro. Over in Iran, which has links to Venezuela, the grinning foreign minister and friend of Kerry Javad Zarif has suddenly quit his post which gave Code Pinko Media-Whore Benjamin a case of the sads, PDT springs a Yank hostage from Yemen, France finally understands the meaning of anti-Zionism as Britain sees what Hezbollah is all about, the Swiss go after a citizen for defending Christians from ISIS (never the other way around for the fondue-flogging frauds) and Molly McCaughey on our President's foreign policy triumphs.
DEE-Fense: Angelo Codevilla with a downer on the US Space Force.
We-All-Slam: An appeals court reinstates a lawsuit from a radical "Palestinian" (BIRM) against Sheldon Adelson and what happens when a once quiet and nice Brooklyn neighborhood welcomes refugees.
Domestic News: Trump to cut spending(?), Chicago really is a third-world shit-hole and maybe Donkey Chompers was right, for the wrong reasons, in opposing Amazon. Also, a look at SCOTUS' unanimous asset forfeiture decision, bail reform in NYC goes bust, and a GOP move to push the good stuff in Obamacare to the fore (what good stuff?).
Education: Teaching and not preaching.
Red Greens: The price tag for the green nude eel is about $93 trillion and the big lie no one talks about in the thing is how it will be implemented: coercion.
Feminazism, Transgender Psychosis: More on the foney female athletes winning all the prizes and how the femmes killed romance.
Hither and Yon: JetBlue crashes and burns in honoring cop killer Chesimard for Black Histrionics Month, The Office at 20, Poland and the Holocaust, and the defrocked sex abuser Cardinal McCarrick presided over Teddy Kennedy's body dump. How perfect is that?
Anyway, links from around the world, across the nation and up your street. Have a better one and remain blessed.
NOTE: The opinions expressed in some links may or may not reflect my own. I include them because of their relevance to the discussion of a particular issue.
BORDER WALL, MIGRANT INVASION, AMNESTY, IMMIGRATION, BORDER SECURITY
UPDATE: For those who want to understand fully where the infanticide and its evil twin euthanasia will lead us, I recommend seeing this documentary.

posted by at
07:52 AM
|
Access Comments