« Sunday Overnight Open Thread (2/24/19)
|
Main
|
Mid-Morning Open Thread »
February 25, 2019
The Morning Report - 2/25/19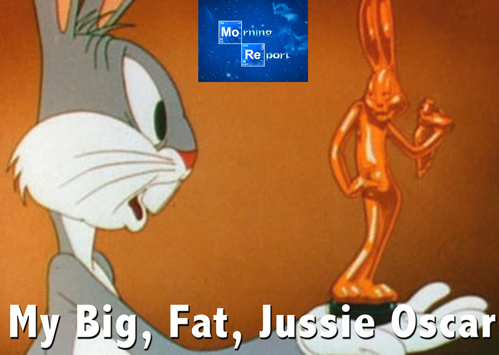 Good morning kids. Monday and the start of the new week so here we go. While no one was looking, they apparently held the Academy Awards last night which reminded me of how Woody Allen described awards ceremonies in Annie Hall - "the greatest fascist dictator award." That captures the essence of what passes for our self-described cultural elite. Blinkered, philistine, pig-ignorance wrapped up in blind rage that borders on, and occasionally crosses over, the line into psychosis. Essentially, it was three or so hours of revolting, sub-literate meat puppets vomiting up anti-American, anti-Trump diatribes that make the eye chart at the DMV eminently more fascinating and informative; and woe to anyone who dares voice a contrary opinion. That is, if anyone is allowed to do so.
Most execrable of the lot was Spike Lee, the bespectacled, homunculus who is so utterly embalmed in racism and hatred (I had the distinct displeasure of running in the same circle as he at the NYU Film School in the late 70s/early 80s and far from mellowing with age, his madness is even more pronounced and strident than ever before). Sporting a purple zoot-suit from the loss leaders in the Huggy Bear collection, he took to the podium to exhort Americans to boot Trump from office in 2020. One wonders to whom he is speaking since those he is attempting to appeal to he regards as dog excrement on the bottom of his shoe. It never ceases to amaze, disappoint and disgust me that the blood-libeling of this nation, and its founding is so engrained in creatures such as Lee, when the very people, party and movement he supports are the ones responsible for all the evils and "original sins" as it were that have been inflicted upon his fellow American blacks and others. Yes, hate crimes and lynchings are even more prevalent now than in the Jim Crow era that Jussie Smollett had to fake one just to draw the attention of the American people to them. That said, the uttering of his name was about the only thing you didn't hear last night. Funny, that. Let's move on before I throw up, not that much of the following won't have the same emetic effect.
Amnesty and immigration: With the insane jump in asylum-seekers, Obama's own DHS chief saying we do need more border walls an not less and even never-Trumper Rep Adam Kinziger agreeing with PDT, we do in fact have not only a national emergency on our hands, but coupled with the already upwards of 25-30 million or more foreign nationals already living among us - that's fully 10% of our total population - we have an existential threat to our national identity and future. That's why the census question among other things is so crucial. Also, the illegal alien cop-killer got false papers from seven other illegal aliens and the ISIS bride controversy may be a lynchpin to the whole bastardization of birthright citizenship.
Democrat Scandal Sheet: Bobby Rush is a crook and "Bro-Fo" Omar is already heading abroad to bash and conspire against us.
Civil War 2.0: More on the aforementioned mythical hate crime hoax epidemic, Dems target another Christian nominee, the Other McCain on MAGA derangement, and Daniel Greenfield on the totalitarians in NYC's human rights commission (jeez, we have one?).
Politics: The chutzpocrisy and irony of an Obama flunky stating he fears Trump won't accept losing in 2020 after what the aforementioned and his bosses did and continue to do via Mueller is just radiant, Liz Cheney calls out Kamala-Toe for her totalitarian instincts, for a candidacy that is DOA, Fauxca-Has-Been continues to put her foot in her maw, Palsi Pelosi's mouthpiece is a laugh riot, Klown-Kar Klobuchar is a real piece of work, Eric Garcetti is delusional and a fine essay on the abject failures of redistributionist policy.
Mueller Inquisition and the Deep State Coup: Anticipating the final release of the report - which will reveal absolutely nothing they were pimping for the last nearly 3 years - the first link highlights just who is on this team and the salient takeaway when its all said and done.
Abortion: Ben Sasse's abortion survivor bill comes up for a vote today. Good, let those who support baby-killing go on the record.
First Amendment Fake News Fakery: the attempt to destroy a World War 1 memorial is going to be a landmark decision one way or another at SCOTUS, and a look at the Leftist billionaire who helped sabotage the Alabama senate race.
Foreign Desk: Venezuela is on the verge of madness as Maduro seals his border an attempts to starve the citizenry while accusing the US of trying to overthrow him, Trump delays China tariffs until talks end, as well as perhaps granting a concession to Whoa, Fat! ahead of that summit, 15th week of Yellow Vest protests, Dubai-bound airline hijacking thwarted, Qatar raises the stakes in the Gulf by allowing Turkish troops in country, PDT's going after UNWRA will actually benefit the so-called Palestinians and two pieces on the sad state of affairs in the UK.
DEE-fense: Judge rules male-only draft registration unconstitutional and bio-terrorism.
We-All-Slam-for-I-Slam: A defeat for the BDS crowd as Black Law Enforcement approves Georgia-Israel po-po pow-wow.
Domestic News: Illinois' Pritzker thinks "Taxman" isn't just a song but an instruction manual and congestion pricing in NYC will be disastrous.
Economy: Airbus' jumbo A-380 goes the way of the dodo, and another look at the false narrative of the withholding tax.
Healthcare: Tell us what we don't know - three links about how we were sold a bill of goods by the CBO with Obamacare and its disastrous aftereffects.
Red-Greens: Sanity as the White House is reassessing the Climate Change hoax.
Feminazism: Two pieces on men competing as women. Patriarchy without a "P."
Hither and Yon: More about the Oscar shit-show, Christian Toto on what everyone got wrong about Green Book and new pro-life film of course gets an "R" rating and great news, California; you can now eat your road-kill! Yum...
Anyway, links from around the world, across the nation and up your street. Have a better one and remain blessed.
NOTE: The opinions expressed in some links may or may not reflect my own. I include them because of their relevance to the discussion of a particular issue.


BORDER WALL, MIGRANT INVASION, AMNESTY, IMMIGRATION, BORDER SECURITY


posted by at
07:48 AM
|
Access Comments