« Gun Thread: Shooting and 40's [Weasel]
|
Main
|
The Morning Report - 2/25/19 »
February 24, 2019
Sunday Overnight Open Thread (2/24/19)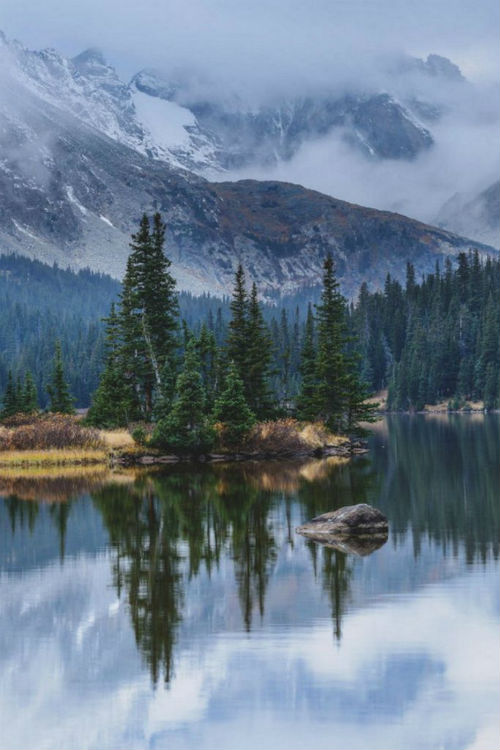 (Who needs Hollywood?)
***
The Quotes of The Day

Quote I

The rule of law is indispensable to a thriving and vibrant society. It shields citizens from government overreach. It allows businesses to invest with confidence. It gives innovators protection for their discoveries. It keeps people safe from dangerous criminals. And it allows us to resolve differences peacefully through reason and logic. Rod Rosenstein, Deputy US attorney General

Quote II

"This president is trying to keep a campaign promise to all of those people that he swore he would build a wall! And those people who want the wall are not patriots."

"They are not people who love this country. They are not people who stand up for what's right!" Rep. Maxine Waters (D-CA)

Quote III

"I don't come here for this rag every day, and it's a rag. That's all it is to me," said Chambers about respecting the flag. "When you show a way to persuade Jews to sanctify and worship the swastika, when you show me that I'll come up here and stand while you all hypocritically pretend that rag is something that it definitely is not." Nebraska state Sen. Ernie Chambers

Quote IV

The fly-over states have become the passed-over states, that's why red state voters are so pissed off. They don't hate us, they want to be us. They want to go to the party. It's like we're the British royal family and they're Megan Markle's dad. Bill Maher
***

For those that live in snow country, you'll appreciate. To those that don't......Just play along, OK?
***

One way or the other, You will be made to care and to keep your mouth shut.


John Wayne Airport Could Be Renamed After New Upset Over an Old Interview

The first shots may have been fired in a war against The Duke.

A debate is now underway over whether a Southern California airport should bear the name of screen legend John Wayne, who died nearly 40 years ago at age 72.


The discussion stems from the recent social media uproar that followed the resurfacing of a 1971 Playboy interview in which Wayne made remarks that critics described as racist and homophobic.

They really have more in common with Stalin then they probably know.
***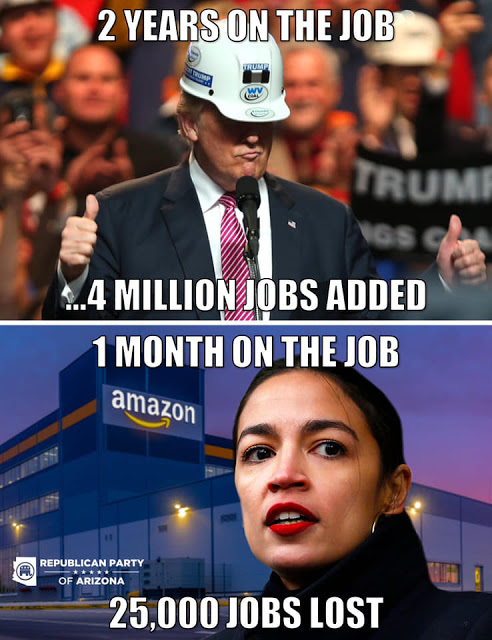 ***
Tonight's Deep Thought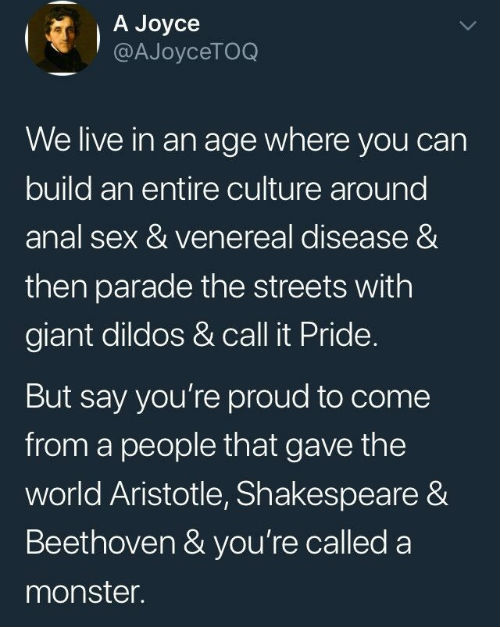 ***

A message to us from Rep. Ilhan Omar (D-MN)

***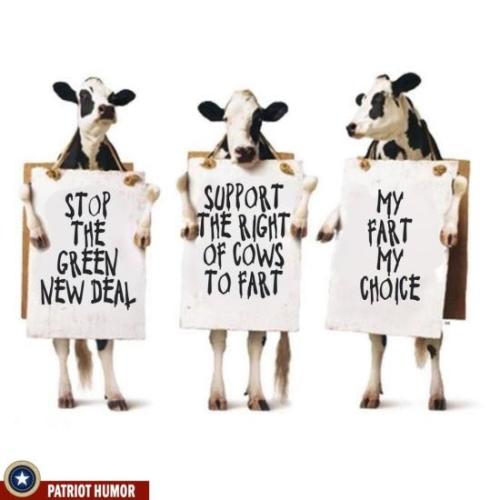 H/T Maggie's Farm

A 'funny thing' about the Green New Deal. Science sites do not express disbelief that many of the GND goals are not possible today. "Yet they can poke fun of President Trump.

US President Donald Trump today urged wireless carriers to deploy 5G and "6G" networks "as soon as possible," seemingly ignoring the small problem that 6G technology doesn't exist yet.

"I want 5G, and even 6G, technology in the United States as soon as possible," Trump wrote on Twitter this morning. "It is far more powerful, faster, and smarter than the current standard. American companies must step up their efforts, or get left behind."
***

The opioid crisis has entered the Neonatal Intensive Care Unit (NICU)

The opioid epidemic has become a national crisis. While most victims of this modern phenomenon are addicted adults, there are newborn babies born of those addicts who suffer from withdrawal the moment they enter the world. These babies end up in the Neonatal Intensive Care Unit (NICU) — an ICU for infants — and experience pain and suffering before they can experience anything else in their world.
***
For every action there is..........
Paul Joseph Watson and the ISIS Bride NSFW-Language

***
Munchausen syndrome is a factitious disorder, a mental disorder in which a person repeatedly and deliberately acts as if he or she has a physical or mental illness when he or she is not really sick. Munchausen syndrome is considered a mental illness because it is associated with severe emotional difficulties. via WebM
The California GOP is afflicted with Munchausen By Proxy.

To paraphrase the oft-misquoted Mark Twain, rumors of the death of the California Republican Party are greatly exaggerated. The results of the November 2018 elections, while not completed until December, got worse each passing day until we came up with the final tally. It was, to use the technical terminology preferred by political pundits, a massacre, a slaughter, a bloodbath. As I'm an eternal optimist, and in an effort to stop myself from curling up into the fetal position and avoid making plans to flee the once-Golden State like so many others, I am able to see the good news buried within these dismal results. ("There's got to be a pony in here somewhere!")

I wrote in October that the continued leftward lurch of California Democrats would result in such dismal living conditions that voters would have to take notice. Unfortunately, it's going to take a bit longer.
***
Fishermen, campers and the back yard enthusiast all know the dread bzzzzzz sound. Perhaps that noise will be a distant memory. Genetically engineered mosquitoes are on the way.

Scientists have launched a major new phase in the testing of a controversial genetically modified organism: a mosquito designed to quickly spread a genetic mutation lethal to its own species, NPR has learned.

For the first time, researchers have begun large-scale releases of the engineered insects, into a high-security laboratory in Terni, Italy.

"This will really be a breakthrough experiment," says Ruth Mueller, an entomologist who runs the lab. "It's a historic moment."

The goal is to see if the mosquitoes could eventually provide a powerful new weapon to help eradicate malaria in Africa, where most cases occur.
***

Figures don't lie, but liars figure. Or Sen. Bernie Sanders (I-VT) plays loose with the facts and figures.

Vermont Sen. Bernie Sanders made several claims about wealth inequality and the economy in a 2020 presidential campaign announcement video released Tuesday.
***

Danny Glover, Sean Penn and the congress critter Donkey-Chompers Occasional Cortex, No where to be seen or heard from.

What makes Venezuela's food crisis all the more grim is that experts agree it is a result of human decision-making. "It's not due to droughts, or floods," Deborah Hines, the World Food Program Representative in Colombia, told me. "The situation is purely political." Far from alleviating the crisis, Maduro has made basic necessities contingent on political loyalty. In 2016, to preserve his support, he launched a government-subsidized food program, known as the Local Food Production and Provision Committees (claps). Venezuelans are eligible to receive a monthly food handout, and other benefits, as long as they register for the Fatherland Card, which officials use to track voting participation. clap boxes usually arrive late and half-empty, but, during election seasons, they are stuffed, and recipients like Vegas get text messages from local representatives such as "Love is repaid with love."
***

Well it is a good thing he didn't tweet out #LearnToCode or he could have been locked out of his account for a week.

A few days ago, the Twitter account of Ali Khamenei, the Supreme Leader of the Islamic Republic, published a post calling for the murder of the British novelist Salman Rushdie.

Under the account called @khamenei_ir, (which, while not blue-checked, is the account Iranians say the mullah uses), Khamenei tweeted that the death fatwa pronounced in 1989 by Ayatollah Ruhollah Khomeini, the founder of the Islamic Republic, against Rushdie for his book, The Satanic Verses, was "solid and irrevocable."
***
The ONT Musical Interlude
***

Always check out your purchase. Genius Award Winner.

But police were still left quite surprised when a woman called in to report that her drug dealer had sold her brown sugar instead of the cocaine she ordered. She told officers in Craigavon, Northern Ireland, that she paid £200 for the transaction only to then realise she had been 'scammed' afterwards.
***

"I said, 'motherf*****, if you come any further, you're a dead son of a b****'," she recalled. Tonight's Feel Good Story of The Day.

Pistol-packing grandma describes confrontation with naked burglar
***

Tonight's ONT has been brought to you by Empathy.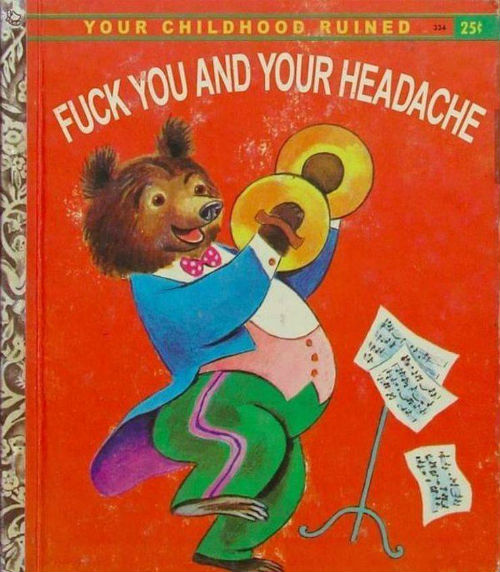 Notice: Posted with permission by the Ace Media Empire and AceCorp, LLC. Take 2 aspirin and call someone who cares in the morning.

posted by Misanthropic Humanitarian at
10:00 PM
|
Access Comments