« Food Thread: Cooking Without Recipes
|
Main
|
Sunday Overnight Open Thread (2/17/19) »
February 17, 2019
Gun Thread: Carbine Madness! [Weasel]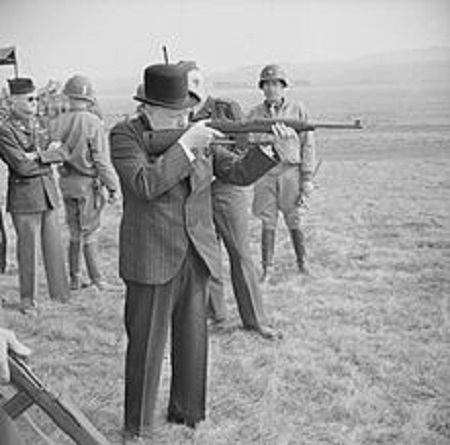 W. Churchill firing his favorite carbine
For Pete's sake! Even Churchill himself didn't fancy the Jungle Carbine! Just look at what he's shooting! Last week we saw what the Brits had to offer in a carbine rifle, so let's return to America and see what our guys were using, shall we?

After having a look at the Enfield "Jungle Carbine" last week I thought it only made sense to see what Americans fielded during WWII; the M1 Carbine. Where the No.5 Mk.1 was considered by most to be unpleasant to shoot, it was nearly universally praised for it's compact size and light weight. Even lighter and smaller, the M1 Carbine is an absolute pleasure to shoot with the most notable difference being the cartridge, as we'll see a little later.
The following example was made by General Motors, Inland Division, in 1944.



As often happens in the world of government contracting, the design and acceptance of the rifle is a complicated story, so I'll try to boil it down to the salient points. Prior to WWII, the Army had decided the M1 Garand primary battle rifle was too big and clunky for suport troops and paratroopers and requested a smaller, lighter rifle be developed. The Winchester design eventually prevailed and went into production in 1941. The semi-automatic carbine, a gas operated, rotating bolt design, is approximately 36 inches in length and weighs in at just over 5 pounds. An even more compact version with a folding stock was developed for Airborne units. With production ending in 1945, more than 6 million of the rifles were made and have seen use by armies and civilians around the world, even to this day.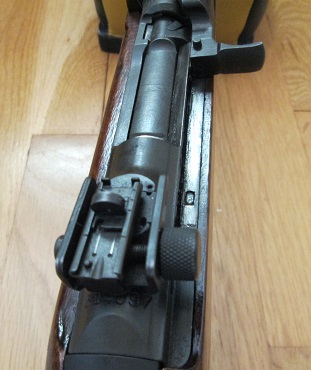 Bolt view - note rear sight adjustable for windage
Ammunition
A new cartridge was developed for the rifle based on the .32 Winchester. This new round, known as the .30 Carbine, is a rimless 7.62x33mm cartridge with a 110gr round nose bullet, a muzzle velocity of just under 2,000 fps, and an effective range of about 300 yards. The cartridge performance is remarkably similar in both velocity and energy to the .357 Magnum.
This makes the the rifle considerably less powerful than the M1 Garand, but with greater penetration than the .45 cal Thompson submachine gun. There were reports of marginal effectiveness at the extreme limits of it's range, but inside about 50 yards where most engagements occurred, it was highly effective.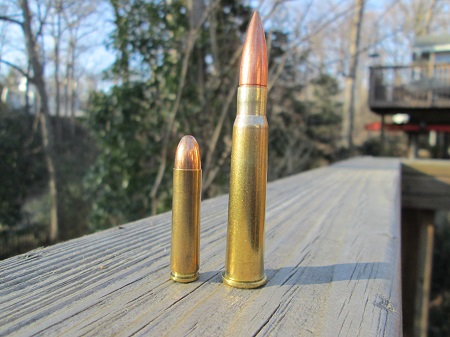 .30 Carbine (l) and .303 British (r)
So now we see the difference in the cartridges. A G.I. could carry considerably more ammunition for the M1 Carbine than they could for the Jungle Carbine, but with a significant corresponding reduction in firepower. The .30 carbine delivers around 970 ft lbs of energy versus about 2,550 ft lbs for the .303 British.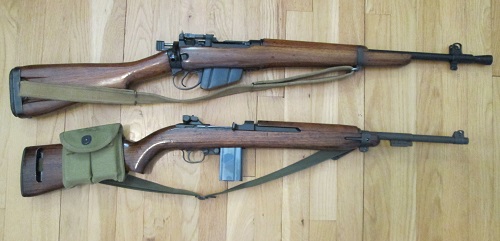 Enfield No.5 Mk 1 (top) and M1 Carbine (bottom)
Side-by-Side Comparison
The M1 Carbine is a semi-automatic rifle with a 15 round magazine where the Jungle Carbine is a bolt rifle with a 10 round magazine capacity. Later the M1 Carbine would be offered in a fully automatic version with a 30 round magazine. We sort of touched on this last week; the Jungle Carbine has significant felt recoil, but would you notice that in combat? I'm not sure that I would. Conversely, would you trade the knock down power of the .303 British for a greater number of .30 Carbine cartridges with excellent penetration, particularly at close range?
Manufacturers
Always of considerable interest to me is the list of companies who produced rifles and other war materiel under wartime contract. Manufacturers of the M1 Carbine included:
- Inland Division, General Motors
- Winchester Repeating Arms
- Irwin-Pedersen
- Saginaw Steering Gear Division, General Motors
- Underwood Elliot Fisher
- National Postal Meter
- Quality Hardware Manufacturing Corp.
- International Business Machines
- Standard Products
- Rock-Ola Manufacturing Corporation
- Commercial Controls Corporation
Does anyone else find the wartime production conversion from automobiles, typewriters, postal meters and juke boxes to rifles interesting? I once had someone suggest a couple of books on the subject, but cannot recall the titles now. Anyone have any recommendations?
*******
Link-O-Rama
Article: M1 Carbine
Book: M1 Carbine Wartime Production
Book: M1 Carbine Owners Guide
War Department Field Manual - U.S. Carbine, Caliber .30, M1
Book: M1 Carbine Assembly/Disassembly/Maintenance Manual
***Mail Bag***
Gun Thread Alertness Test!
Can you identify the element that does not belong in the photo? (h/t hcurmudgeon)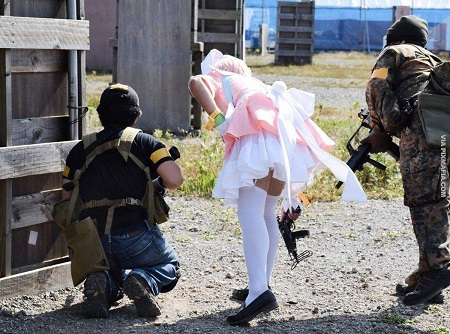 ***
Oh, and an extra special Gun Thread congratulations to Bozo Conservative and Shibumi on their impending nuptials!
Best of luck you wacky kids!
*************
Please note the new and improved gmail account morongunthread at gmail dot com. If you have a question you would like to ask Gun Thread Staff offline, just send us a note and we'll do our best to answer. If you care to share the story of your favorite firearm, send a picture with your nic and tell us what you sadly lost in the tragic canoe accident. If you would like to remain completely anonymous, just say so. Lurkers are always welcome!
That's it for this week - have you been to the range?

posted by Open Blogger at
07:04 PM
|
Access Comments