« Tonight's ONT is Under the Weather
|
Main
|
Mid-Morning Open Thread »
February 15, 2019
The Morning Report - 2/15/19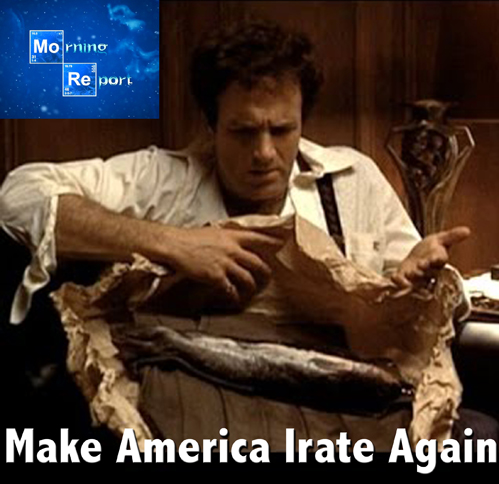 Good morning kids. Friday and the weekend is upon us as is perhaps one of the most if not the most pivotal moments in the Trump presidency. We've got a variety of analyses and opinions on both the granular details pertaining to the issue of border security, the border wall and immigration/amnesty as well as the political ramifications going forward should the President sign or veto and let the government shut down yet again.
The best analysis comes from John C. Wohlstetter at American Spectator linked here and below. I was going to try and break out some pull quotes but there are so many moving parts to this thing that it would be impossible. Do read it and then compare and contrast with your own thoughts as well as whatever else that's out there.
Along with links citing the alarm bells on some of the more egregious poison pills that have been discovered, we also have Joel Pollak at Breitbart who think that this deal along with the supposed $8 billion that has been cannibalized from other sources represents a win for the President. I am not so sanguine about that. I will say this. With the exception of the courts and the passage of the tax bill, everything this President has achieved over his first two years has been in spite of the GOP. The fact that they did all that they could to stonewall and outright sabotage the agenda while they controlled both chambers speaks for itself. Look at the Obamacare repeal fiasco for example. But just look at what is in this "bipartisan" insult. With one hand it gives the President money (less than the first go-round) but then essentially prohibits him from spending it. The entire GOP should have walked out en masse when all of these things were proposed. But, no; we can't shutdown the government because ZOMFG!! we might actually win a political fight!
The other really insulting thing is yet again, an 1,100+ page monstrosity is somehow cobbled together in record time and the President only has, what, 36 hours to read it? Total bullshit. If I were Trump, I would publicly announce my indignation over this, tell Congress that I'm going to take my time to read the bill page by page and cross out everything in it that I do not like and then send it back to the originator. Use your veto power, Mr. President. If the Dems and GOP the vote to override your veto, which is in fact the will of the people, then that will send a message to all of us about how DC is completely out of touch and out of control.
Yes, Nancy Palsi has made threats about some future Dem president (never again, G-d forbid) using a national emergency as a pretext to say abolish the second amendment. Look, they're going to go pedal to the metal to finish what Obama started and what Hillary was prevented from doing anyway the next chance they get. We face the predicament where one political party will use and abuse their power to overthrow the nation as founded while our side relies on the rule of law and previous norms of political comportment and protocol to try and stop them. The fly in the ointment is that the latter are corrupt and the former flagrantly disregards them anyway since they can get away with it.
So from the political standpoint, the president might very well do some damage to his base if he signs on to this knowing what we know is in it and rightly fearing what we don't know is in it. And the instant he declares a national emergency Judge Buch M. Danno will be there to stop him and no doubt the Dems will scream bloody murder to "impeach literally Hitler." Again, if I had my druthers I'd ignore the court and declare any stay null and void. I'd also ramp up the enforcement of our immigration laws already on the books to apprehend and deport any illegal aliens already in country. Their presence, no matter how long they have been here, constitutes a part of the national emergency and so should be dealt with swiftly and mercilessly. No hearings, no nothing. Pack your bags and get the hell out. Yeah, I know. Who am I kidding.
I stand by the President 100%. He's in a horrendous situation with one party that wants to destroy us from the front and his own party from his rear. I don't think he should play by their rules which would make him lose face and perhaps political clout with the electorate - exactly what they want. What he an do is force them all to own this, and that is by exposing the bill via the veto pen. Am I missing something here? I don't know. Anyway, the headlines are self-explanatory so see them for other angles and details I didn't rant about.
To politics we go where the officially sanctioned anti-Semitism of the Democrat Party takes center stage. In this instance we continue with the with and wisdom of Ilhan "Bro-Fo" Omar who that great example of Yiddishkeit Bernie Sanders stands by 100%. Along with a look at the Left's Joo-hatred problem from such luminaries as Jeffrey Lord and Daniel Greenfield, you'll be surprised, I'm sure, to learn that there is an Iran connection to the tightly-wrapped fraudster. And with all of this, California Dem bigwig Tony Cardenas is getting the stink-eye over his molestation of a co-ed. Meh, fake a photo of him in blackface from 80s, blame Trump and he's home free.
Elsewhere, Dominican kiddie-diddler Bob Menendez seems to have missed the announcement about there being zero collusion between Russia and Trump, "Blotto" O'Rourke wants to knock down the existing border wall, "Klown Kar" Klobuchar will have to explain to her base of crooks and thieves why she was a tough DA, "Drunken-Stupor" Hickenlooper travels to New Hampshire for some stupid reason, for a joker, smoker and midnight-toker Kamala-Toe sure locked up a lot of her fellow stoners when she was California AG while Fidel-loving leftist Barbara Lee has hitched her ass to that shit wagon.
Abortion: Tennessee's women fight back against the infanticide, voters in general are massively against the Dem baby-killing movement and a look at why abortion supporters refuse to renounce the latest barbarity.
First Amendment and Fake News: Pimping the hypothetical as fact and now that the Russia hoax has been exposed, watch the MFM say "Collusion? We never said there was collusion!"
Mueller Inquisition: Speaking of the aforementioned, disgraced traitor Andrew McCabe admits that they tried overthrowing the election, several good essays on the hoax as well as he destruction to our country left in its wake and creepy porn shyster Avenatti relinquishes control of his firm after his ex-partner says he bilked it out of millions. Hey, Democrats, he's now available to be your frontrunner for 2020!
Guns: A New Mexico county declares sanctuary status for 2-A supporters.
Foreign Desk: "Bro-Fo" Omar spews lies about cold war policy to obfuscate the abject failure of socialism in Venezuela while the Russkies are accusing us of using foreign aid to shield military intervention there, VP Pence blasts the Euro-Peons for trying to go around Iran sanctions, Mike Pompeo slams Farsi FM Javad Zarif for his accusations about US bombing IRGC thugs and Brexit is for boobs - literally.
We-All-Slam-For-I-Slam: One look at Bro-Fo and T-Labia and sharia just got real and the Salman Rushdie fatwa 30 years on.
Domestic News: What other multi-billion dollar garbage is in the CR aside from open borders insecurity, a couple of essays on the nixing of the Amazon NYC headquarters (I can argue both sides of the issue here but sine everyone came out looking like jerks, then that's fine with me) and IBD on a potential gigantic Dem tax hike.
Crime Blotter: Violent man gets prison for having homemade AR-15 and political hit list and San Francisco and the damage done.
Education: Harvard students seek to mau-mau a professor who defended Harvey the Ficus-Ficker.
Red Greens: I'm convinced Cuck Schemer has gag writers owing to his wooden, affected, fake delivery of utterly stupid non-spontaneous drivel and several good pieces on the Ludditism of Donkey Chompers Cortez and her fellow regressive time travelers.
And finally, a genius shrink has cracked the code; we love Trump because, homo.
NOTE: The opinions expressed in some links may or may not reflect my own. I include them because of their relevance to the discussion of a particular issue. Anyway, links from around the world, across the nation and up your street. Have a better one and remain blessed.
BORDER WALL, MIGRANT INVASION, AMNESTY, IMMIGRATION, BORDER SECURITY

posted by at
07:25 AM
|
Access Comments