« Tuesday Overnight Open Thread (2/5/19) State Of The Union Edition
|
Main
|
Mid-Morning Open Thread »
February 06, 2019
The Morning Report - 2/6/19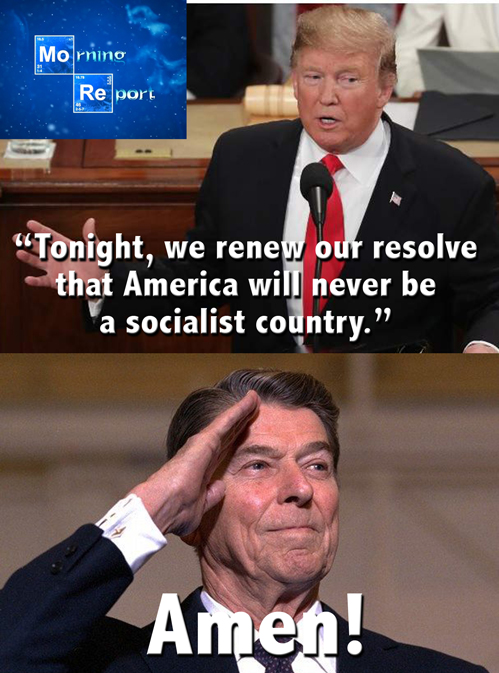 Good morning kids. Midweek and we interrupt our regularly scheduled "Coonman & Poonman Virginia Vaudeville Hour" for the big story which was President Trump's State of the Union speech. By any metric, OrangeManBadass topped his previous outings with yet another grand-slam-dunk-hat-trick of a stemwinder. And how fitting that it was delivered on the eve of the 108th anniversary of Ronald Reagan's birth. From my perspective, it's not just what he said and the manner in which he spoke the plain, unvarnished truth to power, it's the knowledge of all that has gone on in the past year and especially in the months since the midterm elections that powerfully underscore what he said and making it visceral for anyone who heard or saw it.
I've aggregated most of the speech-related links into the top bucket but you'll find excerpts that are particularly relevant to specific issues in those appropriate buckets as well. Morning Report fave Daniel Greenfield at FrontPage Mag sums it up best, along with outings from IBD, Michael Goodwin at the NY Post and even NeverTrumper crackpot Podhoretz praised him with faint damnation in his column, if you care to indulge.
Best moment for me far and away was the President's damnation of legalized infanticide in and out of the womb, his equally forceful damnation of Socialism where you could almost smell the diarrhea and halitosis through your TV screen seeping out of Bernie Sanders' top and bottom holes, calling out the rise in anti-Semitism, singing Happy Birthday to a Shoah survivor and acknowledging real American hero Buzz Aldrin. And the cunning stunt of the Dem women dressed in white was a total waste of time, especially when they gave the President a standing ovation on his women's employment numbers. That said, it did not look good at all to see them sitting on their hands when the historic high black and Latino employment stats were announced. And Kamala-Toe's shaking her head "no" to Trump wanting to stop drug and human trafficking across the border is not something most real Americans want in a presidential candidate.
Lastly, the great unmasking of the Democrat-Left-Media complex by directly calling them out and also by actually keeping his promises to the American people (GOP-e enemies, Deep State saboteurs and Hawaiian judges notwithstanding) is, for me, Donald Trump's greatest achievement. What he has forced them to say and do and what he is doing in turn is not pretty. But this is what fighting back looks like. I've lived virtually all of my nearly 59 years witnessing nothing but political kabuki theater as the Overton window ratchets ever more leftward. Sometimes it was slow, sometimes quicker and perhaps it only paused briefly here and there. But it never moved in the other direction. That is, until January 20th of 2017. To paraphrase Winston Churchill, it's not the end, nor the beginning of the end, nor can we even be sure if it is the end of the beginning or if there will in our lifetimes even be an end to the beginning. But it is undeniable that the words and deeds of President Trump are having a salutary effect on the body politic.
Whether America as founded will ever be restored to a pre-1913 state from a Constitutional perspective is for sure in doubt, even for a cockeyed-optimist such as yours truly. But one thing is for sure. What has gone on before can no longer continue. At the very least, this President has laid down a gauntlet and in his way given a choice for everyone in this country: either you're with us or you're with the terrorists.
As mentioned I'm going to jump around across categories because of the SOTU speech and in that vein, Ruth Fadeout Ginsburg was not at the SOTU and despite being incommunicado for about 7 weeks already since they transplanted her brain into the Rosie Greer portion of him and Ray Milland, it does coincide to her historic rudeness of boycotting all GOP presidential SOTU speeches, mirror universe Lauren Hutton, aka "Tank" Abrams gave the Democrat response wherein all she did was continue to bitch about the Georgia gubernatorial election being stolen from her and continuing to belch up the bromide of President Trump putting illegal alien kids in cages at the border.
Speaking of Amnesty and Immigration, a flash CBS poll during the speech gives Trump a whopping 72% approval on his policies from viewers, close on the heels of calling for the abolition of ICE, an MS-13 animal shoots someone to death on a subway platform in Alexandria Ocasio-TacoRosado's district. But not to fear, the NYPD covered up his immigration status so as not to sully the little darling's spark of humanity (*pukes*). Also, 1,500 new invaders have reached the unguarded area of the border in Texas, and a Border Patrol bigwig is reporting that human smugglers are recycling children to pose as family members for asylum seekers.
Abortion: Trump calls out Mengele-maven Coonman Northam at the SOTU while he and Kathy Tran are the harbingers of Democrat policy going forward.
Civil War 2.0: A young model for Maxim magazine finds herself the center of unwanted attention for wrong-think Trump support, the University of Iowa has persecuted 32 religious groups and the continuing war on Michigan's Christian adoption agencies. Put that in your Taunto peace pipe and smoke it.
Politics: Howard Schultz's potential presence as an independent candidate puts bigwig Lefties like Thunderbirds puppet lookalike David Brock in panic mode, the Senate has passed anti-BDS legislation that the Reichstag/House of Reps I'm sure will get right on, a look at the fraud of Fauxca-HasBeen, the overplayed Dem women's card, and two good essays highlighting my view on the masks being ripped off the Dems.
First Amendment and Fake News Fakery: Gavin McInnes has slapped the SPLC with a defamation suit and Mark "Ol' Yeller" Levin on how the first amendment is the last thing the media cares about.
Mueller Inquisition: The entire Russia "colluzhnikov" thing is a complete fraud and smear tactic and even Schiff-For-Brains accidentally confirms it by inserting his foot in his mouth.
Foreign Desk: Trump confirms the next summit with Whoa Fat! at the SOTU for later this month in Vietnam, global summit on ISIS and Iran meets in DC, a look at the EU, Macron and Urban through the lens of or federalism problem and even critics acknowledge PDT's foreign policy is a winner.
We-All-Slam-For-I-Slam: Who better than an extremist imam to keynote a civil rights fundraiser, and Sweden's brand of female empowerment means lie back and enjoy it if its a swarthy migrant.
Domestic Affairs: Neomi Rao handles the ham-fisted attempts to smear her in her confirmation hearings where Spartacus flops again, the DoJ interfering with "states rights" vis a vis online gambling and if we're going to expand our military we have got to take better care of the G.I.s.
Crime: Andrew "Cui-Bono" Cuomo wants to ban mugshots because they're embarrassing for criminals to have to go through.
The Economy: Speaking of the mobbed-up dolt, several links about his sounding the alarm bells over NY State's $2 billion shortfall including Rush Limbaugh underscoring Cuomo's own admission that the heretofore demonized wealthy carry virtually all the tax burden and that higher taxes causes them to flee to red states' greener pastures. If only they would keep their insane politics that caused them to flee in the first place behind. Sigh. And lastly, Molly McCaughey on the Dems latest attempts to deny and/or obfuscate the Trump boom.
FemiNazi and Transgender Psychosis News: Don't try finding this in the agitprop media but a professor who changed sexes 14 years ago says it was a horrible mistake.
Hither and Yon: Christian Toto interviews Mike Lindell who, aside from making My Pillow is also an investor in an anti-Planned Parenthood series, Prager U's latest outing on why debating a Leftist is well-nigh impossible, Rabbi Fischer weighs in on the Super Bowl as only he can, the Scientology fraudsters are targeting Mr. Peanut, and Universal Orlando debuts Cory Booker's 2020 campaign mascot.
Anyway, links from around the world, across the nation and up your street. Have a better one and remain blessed.
STATE OF THE UNION SPEECH

posted by at
07:47 AM
|
Access Comments